Visiting Greece
Tourism in Greece is very important and contributes 18% [1] of the country GDP. The government and private enterprise regularly invest in making international tourism a relatively simple affair for the traveller (for example, some 51% of Greeks around Athens are rated to have some English language skills) with a high regard for the visitor's comfort and enjoyment, with an extensive focus on just getting a tourist entourage from one place to another effectively.
Each year the tourist season (heaviest May to September, though tourism flourishes all year) edges upward in total numbers of visitors such that records seem to be broken almost yearly for total number of arrivals, and 2018 is expected to bring an all-time high of 32 million people.
The economic crisis brought about a 26% contraction in the Greek economy between 2007 and 2013 [2] resulting in extensive turmoil in employment, business and banking, and this hurt tourism somewhat, but another result was an even sharper focus on this renewable income maker for the country, and as the Greek finances have improved, so has an explosion of activity to expand the tourist trade.
Related: Places in Greece
---
---
Using EURAIL to visit Greece
The EURAIL system carries passengers into 31 different countries, and beginning in 2019 EURAIL include 53 islands by way of ferries, in particular Blue Star Ferries and Superfast, both part of the EURAIL system. The island pass system does not include the Greek mainland, which is a separate add-on that can be purchased for use with a EURAIL pass.
For purchasing tickets for EURAIL, use the EURAIL WEBSITE RESERVATION PAGE.
For more info and an overview of costs, see this short but informative March 2019 article online at Travel and Leisure
---
VISITING GREECE
Top locations:
---
Disney Cruise system including Greece in 2020
March 2019: Story at Orlando Sentinel about the expansion of the Disney cruise offerings to include Piraeus, Katakolon, Santorini, Mykonos and Crete.
---
Tourist tips for visiting Athens
Jan 23, 2019: This Anthony Grant piece at MSN Online is a down-to-earth description by this Athens resident of acclimating to Athens (and Greece). Tips on eating authentic food and avoiding tourist-pricing, when to use the subway and when to find another method, and how to visit the islands to the best advantage (and avoiding an experience the writer describes as a "blur" from doing too much, too quickly). The writer's reasoning for the tips are explained (there's quite a few more than what's mentioned here) and in an easy to understand way. (And this cracked me up, referring to Santorini: "...plans are afoot to triple the size of its sardine can of an airport, but absent some major volcanic activity, Santorini won't be getting bigger any time soon.")
---
Recommended resource:
Athens Survival Guide - There's nothing like this site, it is full of photos and the personal experiences of Matt Barrett over many decades in Greece.
---
Online eTickets
Online etickets for archeological sites, etc. - etickets.tap.gr - managed by the Archaeological Resources and Exploitation Fund of the Ministry of Culture and Sports.
---
Advice, Tips and promotional pieces on Greece from the world of travel media
---
Driving yourself in Greece
Here Are 13 Essential Tips on How to Drive (Safely) in Greece - Greek Reporter
---
Visiting Greece Articles from World Media
---
---
---
---
Media lists of Greece
List: Greece oriented News Sites - Official Media and Newspapers
List: Embassy addresses in Greece, Grocery Stores, More
---
---
Footnotes
1, 2 Economic contraction - Source: CIA World Fact Book
Fodor's Essential Greece: with the Best Islands (Full-color Travel Guide)
---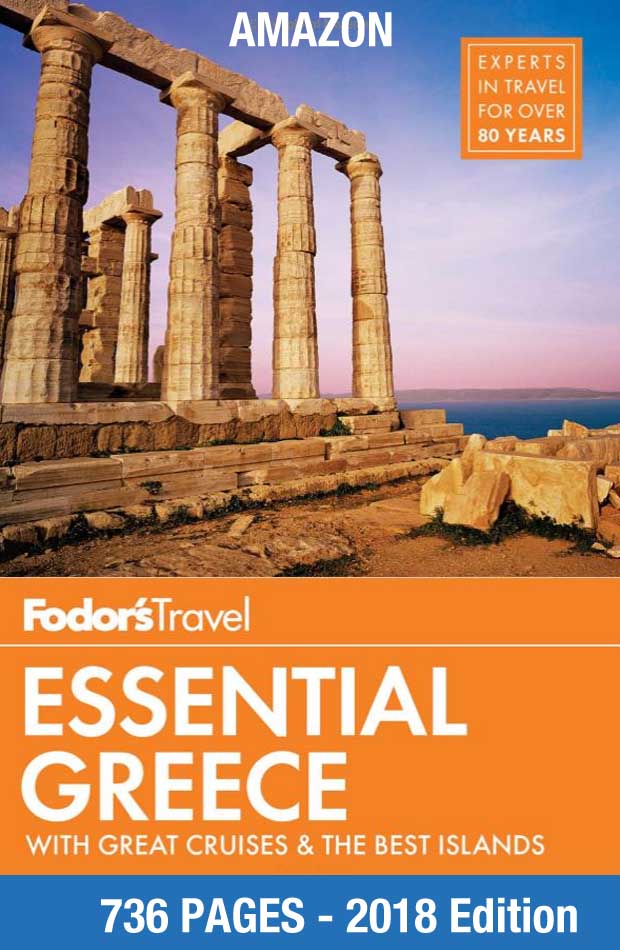 AMAZON: Fodor's Essential Greece: with the Best Islands (Full-color Travel Guide)