Stoa of Attalos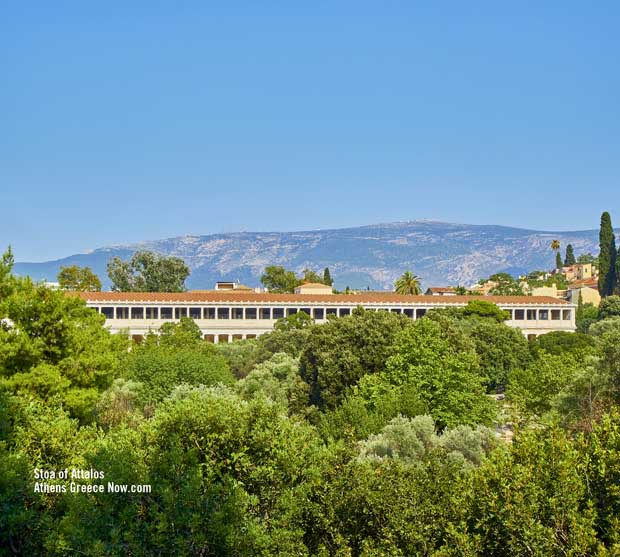 The Stoa of Attalos is a two story reproduction of the ancient two-story Stoa of King Pergamon.
'Stoa' means "covered or enclosed colonnade arcade" or simply "enclosed by pillars."
The original building included shopping and official office space for the royal government. It was built by Attalos II (159 BC - 138 BC) as a gift to the Greeks made with Pentalic and Hymettus marble, and limestone. It is of similar design to a Stoa built by Attalos brother Eumenes II on the southern slope of the Acropolis. The reproduction used marble from the same quarry locations as the original, additionally using quarries in Piraeus.
The original Stoa of Attalos was destroyed with fire by marauding Herulians warriors in 267 AD during the general sacking of the Aegean by Herulains, Goths and other Scythians coming from the Black Sea. At that point it had stood for approximetely 417 years.
The modern Stoa is 377 feet long and 66 feet wide built upon the original foundation, with 134 columns in total. The lower outer columns facing toward the Agora are 45 large Doric pillars and the smaller upper columns are Ionic, and there are 22 interior support columns topped with Pergamene capitals. The building has a small museum (The Agora Museum) and is still a shopping area as it was in ancient times, often referred to in the travel books as "an elite shopping district" for Athenians and tourists. The original Stoa had a single central column which featured a chariot at the top which was dedicated to Attalos.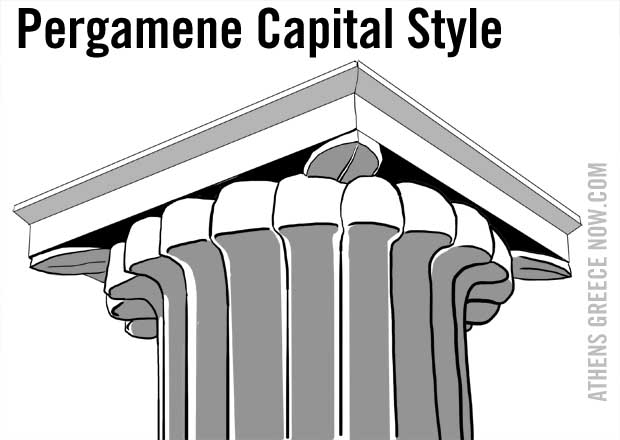 The rebuilding of the Stoa (begun 1953) is due to the archeological excavation work done by the American School of Classical Studies between 1952-1956, funded by John D. Rockefeller Jr. and the Rockefeller Foundation with $1.5 million. Greek architect Ioannis Travlos and Greek Civil Engineer Yeoryios Biris designed the rebuilding. Over 400 modern buildings were removed in order to excavate and prepare the area to be both a modern area of archeological study, but also a shopping and tourist destination.
---

---

---
References for this page:
Holiday Magazine Guide to Greece, 1971, page 42
Eyewitness Travel Guide Greece, 2004, page 90
Athens Encounter, Lonely Planet 2009, page 17
Fodor's Greece, 1976, page 133-134
Wings over Hellas, Oxford Univ., 1974, page 31
---
---
---
The Acropolis in Athens Greece
The Acropolis - Parthenon and More
---



---
Advertisement: I am an Amazon affiliate
Fodor's Essential Greece: with the Best Islands (Full-color Travel Guide)