The Theatre of Dionysus Eleuthereus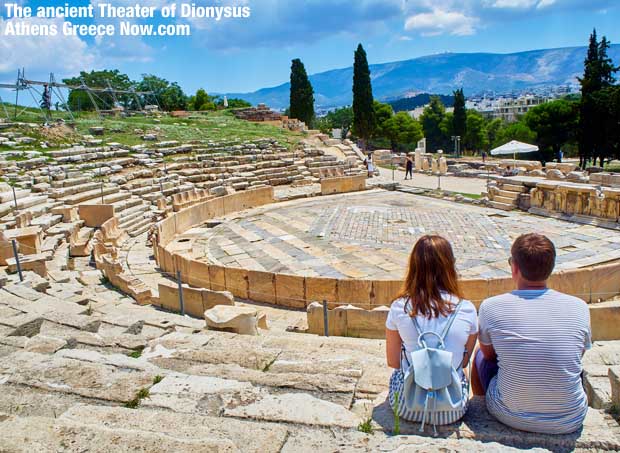 The Southern Slope of the Acropolis - Dionysos Theater
Archeological evidence shows that human beings were using the southern slope area in the Neolithic period (i.e., the "stone age"), and the slope was particularly prized as a place where fresh water was available. By the 6th century BC, the area was considered a sacred place dedicated to the gods and beings of the classic Greek era religions. The flat top of the Acropolis became the home of the temples and religious buildings for the performance of those faiths and their rituals.
The amphitheater of Dionysos (also spelled Dionysus) was the original home of "Greek Tragedy" and was where plays by Aeschylus, Sophocles, Euripides and Aristophanes were performed for the first time. The Dionysos theater was re-constructed on the eastern slide of the slope in 342-326 BC in stone, the original theater being made presumably from wood and earth. Later expansion by the Romans made the theater capacity go to some 17,000 seats, and the theater was used for gladiatorial events.
Ancient theaters of Greece
The Southern Slope of the Acropolis - The Dionysos Theater
Odeon Herodes Atticus in Athens
Odeon Theatre in Patras, Greece
---
---
The Trip to Greece - online streaming
The Trip to Greece - Steve Coogan and Rob Brydon reunite in Greece for the fourth installment of THE TRIP series in a delightful odyssey of gut-busting comedy.
---
Oxford Greek-English Learner's Dictionary - 1024 pages - Amazon
---
---



---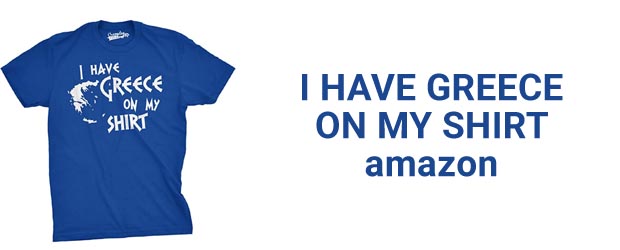 I Have Greece On My Shirt Funny Pun Geography Country Tee (Blue) - XL
---
Create Amazon Business Account - save time and money on business purchases with competitive B2B prices and discounts
---
Andros: The Little England of the Cyclades - AMAZON