The Odeon of Herodes Atticus
at the Acropolis in Athens Greece
What is an "Odeon" theatre ?
O`de´on

n. 1. A kind of theater in ancient Greece, smaller than the dramatic theater and roofed over, in which poets and musicians submitted their works to the approval of the public, and contended for prizes; - hence, in modern usage, the name of a hall for musical or dramatic performances.

Source: Webster's Revised Unabridged Dictionary, published 1913 by C. & G. Merriam Co.
About the Odeon of Herodes in Athens Greece
Built of stone, the Odeon of Herodes is on the south slope of the Acropolis in Athens. Herodes Atticus(a wealthy Greek aristocrat who served as a Roman Senator, lived 101-107 AD) built the amphitheater in 161 AD as a memorial to his wife, Aspasia Annia Regilla. As originally built, it had a wooden cedar roof, and a seating capacity of 5,000 with a three-story stone-front wall structure that was used during performances and served as a back wall for the theater stage.
During restoration work begun in the 1950s, pentelic marble was used to create orchestra stands and places for audience seating. The theater is used as a dramatic arts showplace in an annual season for the "Athens Festival" which takes place between June to September in some years, or May-October in other years.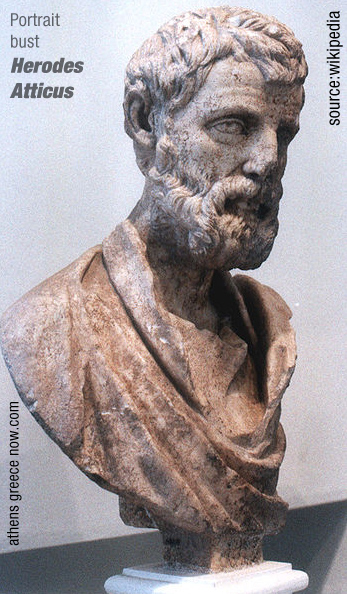 Visiting or attending a performance:
Limited parking near the Acropolis and specifically the Odeon or Herodes theater makes subway metro travel the better option for visitors. A 50% reduction in a subway ticket is made for persons who can produce proof of traveling for theater performances. The theater has been made handicap assessable via wooden non-slip ramping. A1 section seating into he lowest section contains 8 special handicap seating spots, and a special drop-off area is close by for vehicles unloading wheelchair-bound theater-goers. Food and smoking is prohibited, along with children under the age of six. High-heeled shoes are also banned, along with photography and cell-phone usage.
The Odeon has hosted performances by such artists as Maria Callas, Maurice Béjart, the Bolshoi Ballets, Karolos Koun, Mikis Theodorakis, Manos Hatzidakis, George Dalaras, Haris Alexiou, Marinella, Dionysis Savopoulos and a host of modern 20th and 21st century pop music stars, such as Elton John, Sting and many others.
Ancient theaters of Greece
The Southern Slope of the Acropolis - The Dionysos Theater
Odeon Herodes Atticus in Athens
Odeon Theatre in Patras, Greece
---
---
The Acropolis in Athens Greece
The Acropolis - Parthenon and More
---



---
Advertisement: I am an Amazon affiliate
Fodor's Essential Greece: with the Best Islands (Full-color Travel Guide)