Lefkada, Greece
Also known as Lefkas, and Leukas. There is also a city on the island known as Lefkada or "Levkas Town".
The island is 126.6 square miles in size.
The Greek mainland is reached via a long causeway floating bridge, and because of this closeness, Lefkada is often considered to be more similar to mainland Greece than are the other Ionian islands which in general receive more attention (Lefkada was originally attached to the mainland and was separated by Corinthian engineers in the 7th century BC.)
The Ionian Islands are Corfu, Paxi, Ithaca, Kefalonia, Zakynthos (Zante), Kythira and Lefkada. (The islands in Greek Κύθηρα, Ζάκυνθος, Κεφαλονιά, Ιθάκη, Λευκάδα, Παξοί, and Κέρκυρα.)
A Lefkada live cam is at meteolive.gr
Lefkada the Island (map)
---
Lefkada the City (map)
---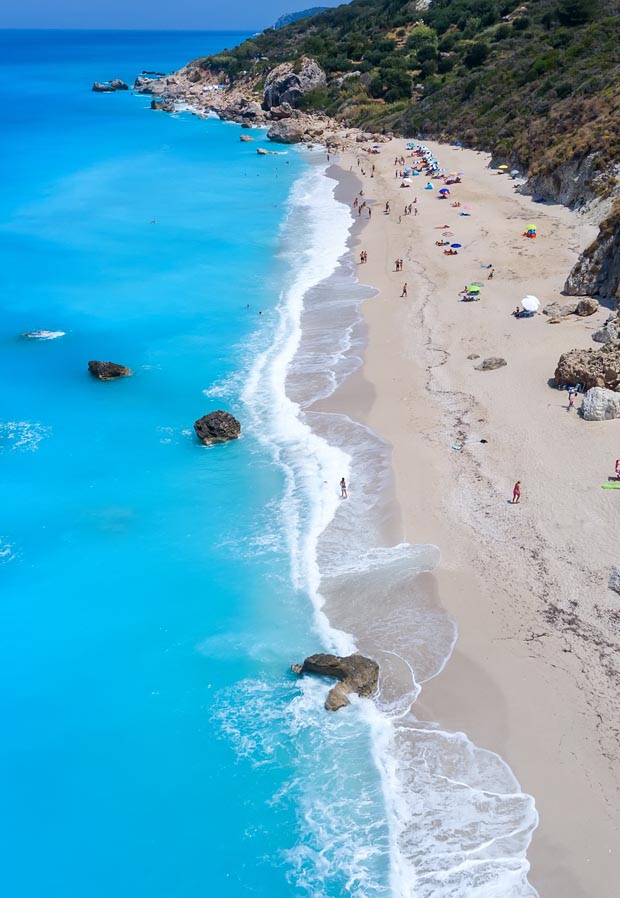 Popular beaches on Lefkada
Kathisma – This is a highly accessible beach that is populated with food and drink establishments, and with a geography that is perfect for snorkeling.
Porto Katsiki – Although there is a road to this beach, it is somewhat difficult route by car, and it is often suggested to take a boat to this destination. Facing to the west, this beach provides an ideal view of the sunset.
Egremni – A steep set of over 300 stairs are used to reach this beach, and it is certainly easier going down to the beach than going back up, though the beach itself is highly rated and considered "worth the trek."
Mylos – A wide beach that is usually only lightly used by people due to the long walk necessary to reach it, but it is well suited for those willing to make the hike, bringing the things they'll need for a visit.
Vassiliki – This is a popular resort beach on the southern end of the island.
---
The Greek islands in the Ionian Sea are also referred to as Heptansa, meaning Corfu, Lefkada, Paxi, Ithika, Kefalonia, Zakynthos, and further to the south the island of Kythira.
The archeological remnants of the ancient Mycenaean civilization (approx. 1600-1100 BC) are found on Lefkada and Kefalonia. During the 8th and 7th BC centuries the city state of Corinth had domination, led by the Bacchiad family. It was at this time that the Peloponnesian War began, started by the revolt of Corfu. By 2 BC the island group had fallen under the control of the growing Roman Empire, and it wasn't until the disintegration of the Byzantium empire (approx. 330 AD until 1453) that the islands resumed something like independence. Only Corfu was able to resist (through an alliance with the Venetian empire) the occupation of Greece by the Ottomans, and the other six Ionian islands were areas of conflict during the rapidly shuffling of powers in the Mediterranean. By 1815 the islands became the "Ionian Republic" with various commissioners from Britain administering the islands. In 1864 the island chain officially joined the reborn country of Greece which was no longer under Ottoman control.

Nidri Bay on Lefkada Island
---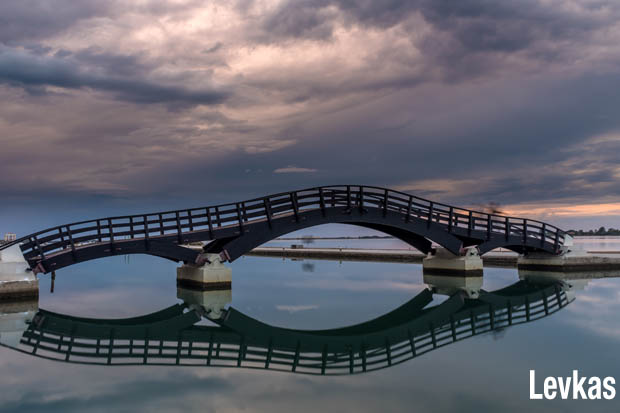 ---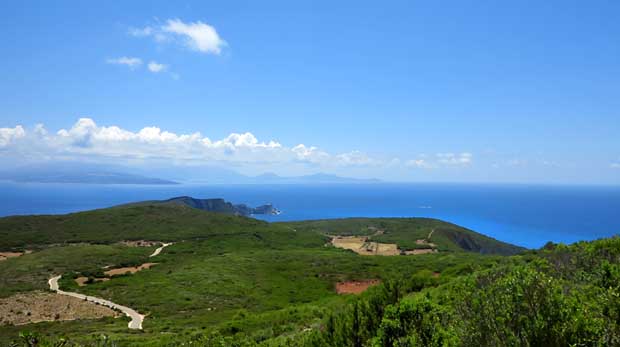 ---
Related: Islands of Greece
---

---

---
---
---
The Acropolis in Athens Greece
The Acropolis - Parthenon and More
---



---
Advertisement: I am an Amazon affiliate
Fodor's Essential Greece: with the Best Islands (Full-color Travel Guide)