Visiting Greece 2019
Highlights from 2019
---
Tourist tips for visiting Athens by a resident
Jan 23, 2019: This Anthony Grant piece at MSN Online is a down-to-earth description by this Athens resident of acclimating to Athens (and Greece). Tips on eating authentic food and avoiding tourist-pricing, when to use the subway and when to find another method, and how to visit the islands to the best advantage (and avoiding an experience the writer describes as a "blur" from doing too much, too quickly).
The writer's reasoning for the tips are explained (there's quite a few more than what's mentioned here) and in an easy to understand way. (And this cracked me up, referring to Santorini: "...plans are afoot to triple the size of its sardine can of an airport, but absent some major volcanic activity, Santorini won't be getting bigger any time soon.")
---
2019 List of Visiting Greece articles on Internet
A selection list of links with tips and facts on visiting Greece
---
Visiting Greece for $1,500 roundtrip
Article at Elitedaily explaining how a traveller can arrange an extremely low-budget tour of Greece based on real-world experience and steps.
---
---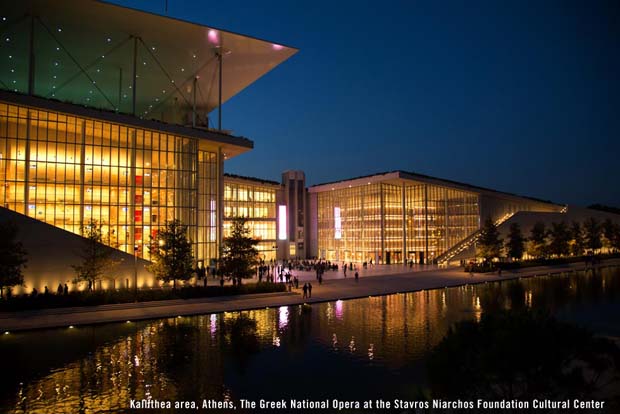 Kallithea Area - the National Opera
---
Footnotes
1, 2 Economic contraction - Source: CIA World Fact Book
You will see Amazon links on this web site because I am an Amazon affiliate. I earn from qualifying purchases.
---
International Real Estate
Buying Real Estate Overseas For Cash Flow (And A Better Life): Get Started With As Little As $50,000
Published by Wiley, 1st edition August 11, 2020, 240 pages
---
Try Prime Discounted Monthly Offering
---
Greece: Biography of a Modern Nation - AMAZON - Published March 2020 - 600 Pages
---
Related: Touring Greece
---



---
Advertisement: I am an Amazon affiliate
Fodor's Essential Greece: with the Best Islands (Full-color Travel Guide)