Visiting Greece Archived Internet Links
Visit the main page: Visiting Greece
---
2019 Visiting Greece articles on Internet
Secluded beaches - LocalNews8 - list and description of the less populous beaches of Greece
Zante (Zakynthos) sheds its package tour reputation - Suitcase Mag - a guide to the changing island
Going home to Milos Island - Yahoo - How Travel + Leisure  named the island the "best in Europe"
The 14 Top Beaches of Greece - Travel Pack - Greece is a brimming treasure chest of culture with the best beaches in the world
Visiting the Ionian Islands - Goway.com - a mild and temperate climate with villages and fascinating old mansions, palaces, and monasteries
Why Crete should be your next Greek Island escape - PointGuy - Emphasis on Heraklion, Rethymno, Chania and Matala.
Another reason to go to Greece this year - Forbes Magazine - Profile of Astir Beach
The Stunning Islands of Greece by Criuise Ship - Daily Times - Describes trip through Athens, Mykonos, Milos, Santorini, and Heraklion.
The Smaller Greek Islands - UK Telegraph - They call them the "Lilliputian" islands (compared to Mykanos and Santorini) but the article describes the charms of Iraklia, Schinoussa, Donousa, Koufonissia and Naxos and what it is like to travel by boat through this assortment.
---
---
Disney Cruise system including Greece in 2020
March 2019: Story at Orlando Sentinel about the expansion of the Disney cruise offerings to include Piraeus, Katakolon, Santorini, Mykonos and Crete.
---
---
2018
It's not just sun, sea and Santorini! 7 things you must do in Greece Explore secret islands, encounter rare wildlife, and eat and drink to your heart's content – Wanderlust - Greece is the perfect European year-round destination whatever your interests
Gold Standard: Maria Lalaounis On Where to Eat, Drink and Play in Athens, Greece - Forbes Magazine - Interview with Maria Lalaounis
Skiathos: where Caribbean azure meets emerald green - Protothema - Discover the island's "rosy coastline", as Papadiamantis often described the 60-odd wonderful beaches of Skiathos. Go swimming at Koukounaries, a world-renowned beach also known as Hrysi Ammos (Golden Sand)
Gold Standard: Maria Lalaounis on Where to Eat, Drink and Play in Athens, Greece - Forbes - Local sites, hotels, restaurants, etc., evaluated
Forget Mykonos and Santorini. I found a little-known island in Greece that's twice as beautiful and half the price. - Business Insider - I visited Tinos, an island well-known to Greeks that's about a 30-minute ferry ride from Mykonos
Christos Stergiou's 16-day Trip Around Greece - Travel and Leisure - Athens - Patmos - Santorini - Porto Heli
Kimolos, Greece's tiny island gem in the Cyclades - Tornos News - though it's tiny, it is extremely beautiful and is located in the western part of the Cyclades, a stone's throw away from Milos.
20 secrets of the Greek islands - UK Telegraph - A survey of 20 islands with a brief description, tips and highlights. Islands covered are: Corfu, Spetses, Andros and Tinos, Kimolos, Koufonisia, Ikaria, Kythnos, Lesvos, Meganisi, Amorgos, Hydra, Alonissos, Paxos and Antipaxos, Kefalonia, Crete, Mykonos and Delos, Andros, Antiparos, and of course Santorini
Best of Greece: Secret Spots Where The Locals Go - Forbes - We tapped into a handful of local experts who know this dreamy country inside out and got their insider tips for the best places to go now, from Athens to the islands.
7 beautiful and unusual things to do in Greece - Inside Travel lab - a collection of beautiful, cultural things to do in Greece, peppered with a bit of soul and a lot of golden olive oil...
Everything You Need to Know When Planning Your Destination Wedding in Greece - Greek Reporter - The wedding planning business for destination weddings in Greece has seen a steady increase over the past few years.
The 35 Best Beaches in Greece and the Greek Islands - Fodors Travel - Sarakiniko, Balos, Pisini, Voidokilia, Porto Katsiki, Simos - more
The ultimate Greek island-hopping experience – minus the crowds and ferry timetables - UK Telegraph - sailing the Cyclades instead of ferry-hopping: "We go places they can't reach," said Jose, joining me at the wheel. "On here, you're free. There's no strict schedule or hotel checkout times."
Santorini: More than just a pretty face - Chicago Tribune - It seems, at least in most photographs, that Santorini towns like Oia are nothing but white. The whitewash, while scenic today, was originally practical: White reflects the powerful heat of the sun. What's more, the lime that makes the whitewash is a good antiseptic -- villagers knew it would naturally disinfect the rainwater that was collected on rooftops. And I love the way the blue and white of the townscape seem inspired by the colors of the Greek flag.
Greece's Corinth Canal: The Complete Guide - Trip Savvy - Travelers to Greece have three main options to see the Corinth Canal. First, cruise lines with small ships like Silversea Cruises, Crystal Cruises, and SeaDream Yacht Club transit the canal on eastern Mediterranean itineraries. Second, several private companies depart from Piraeus, the port of Athens, and offer a cruise through the canal. Finally, cruise ships with a day in Athens often offer a half-day shore excursion to the Corinth Canal for those who have visited Athens before.
The most flat-out gorgeous beaches in Greece - Thrillist - the Greek islands are definitely among those excessively hyped dream destinations that actually do live up to their excessive hype and look the way they look in all the postcards and calendars and Pinterest posts.
Why nothing compares to Summer in Greece - Greek City Times - Greece over Summer is pure magic and for anyone lucky enough to have experienced some time here over the months of June, July and August, would surely agree that every day in Greece over the warmer months feels like a non-stop celebration of life, love, food, sea, sun and good times!
The Old-World Charm of Folegandros, Greece, Awaits - Mansion Global - Life in Folegandros moves at a slower pace... With its wild landscape and relaxing atmosphere, Folegandros is among the most impressive islands of the Cyclades. There isn't much here other than beautiful beaches and hiking trails, but that is what's inherent to its draw.
Croatia and Greece: the island tours of a lifetime - World Travel - The advantages of a private yacht charter are clear – you will spend days floating leisurely between charming island ports, and enjoying attentive service to fit your personal interests and needs.
Majestic natural pools you have to visit (Photo Giola-Thassos) - Protothema
9 Most Charming Small Towns in Greece to Visit - Trip Discover - Article and pictures of Kalambaka, Naxos, Santorini, etc.
7 Tips for Exploring Greece on A Budget - Tripzilla - the misconception that a holiday in Greece carries a hefty price tag does deter people from making the trip. Fret not, this useful guide will upend all those myths about this "high-end" destination
Why Greece Should be on Every Traveler's Bucket List - Lazy Penguins - The Greek mainland is often given a miss by tourists as most head straight to the islands. However, the idyllic charm of the mainland, the highlands, and its old cities hide some wonderful sites.
The Best Cafes in Larissa, Greece's Coffee Capital - Greece Is - the best specialty coffee you've ever had
Top Reasons to Visit Greece During Spring - Greek Reporter - Article discusses visiting the Aegean and the Ionian, the Peloponnese, and Crete
Athens off the beaten track - Lonely Planet - Visiting the Tatoi royal estate, Museum of the Bank of Greece, Cantina Social, Koimtzis Cosmic Globes - more
Greece on a Budget – A Comprehensive Guide - GreekAdventure - Greece consists of 13,676 km of shoreline and the majority of it is swimming and activities friendly. So Greece is not only about the islands.
Ioannina: The New Weekend Destination - Greece Is - walks by the lake, museums and unique sites.
The 10 Cheapest Places To Travel In Greece For 2018 - Mitblog - 10. Poros, 9. Andros, 8. Kalymnos, 7. Antiparos, 6. Symi, 5. Thassos, 4. Lemnos, 3. Tinos, 2. Serifos, 1. Milos
Money in Greece – Currency, Banks, ATMs and Credit Cards - davestravelpages
Tips on how to manage currency while in Greece
The timeless appeal of island hopping around Greece - Screeny - There are around two hundred Greek islands to visit and every one of them has something unique to offer. No other country in the world has scattered its treasures so abundantly around itself. So far I've managed only about 30 of them, but this year I added three more to the tally by visiting the Sporades archipelago. Skiathos is easily reached – there are direct flights from Gatwick and Manchester – and makes for a good starting point. The island is famous for its superb beaches.
Why Greece Is Best Seen by Boat - Conde Nast - Our journey ended where it began, in Kos Town. Here, the ruins of the ancient agora (marketplace) stand next to the modern-day equivalent, where locals sell thyme honey and powdery loukoumi (the Greek version of Turkish Delight). Kos is an easy enough town to explore on foot, with its winding cobbled alleyways full of trinket shops, and town square where the medieval Phoros Gate is stocked with perfumed Aubrieta flowers. Visit the Tree of Hippocrates, where the Greek physician taught his pupils, then stop at Aegli Cafe, the island's first women's cooperative. Everything served here is made on the island, including fresh fennel seed biscotti and garlicky tzatziki.
A Tranquil Oasis in Greece - NYT - As a Greek-American who visits Greece frequently, I was a bit disheartened that the hotel did not pay greater homage to the country's rich history and culture in its décor, music and even TV channels.
Saturation of the senses: Why Greece is the ultimate summer holiday destination - UK Express - the winning trifecta of culture, culinary excellence and that propitious warm climate.
14 Most Gorgeous Small Towns in Greece - Touropia- 14 Towns described with a representative photo for each location
The Stunning Blue Caves of Zakynthos Island- Popsugar - The arches formed thousands of years ago through erosion. Their geological formations are noteworthy alone, but the name comes from the hue of the sea that reflects onto the cave walls. The largest cave, Kianoun, can be visited by boat, and many of the boats are available to tourists for rent. You can swim around the caves yourself...
Serifos, Greece: great interiors, even better outdoors - The Guardian - How do you choose which Greek island to visit? There are thousands, and of course the most famous cannot be the best. For unspoilt beauty, you need a tip-off, and for one that has a little more life, you follow those in the know: the Athenians...
Best places to visit in Greece on a Road Trip - Daves Travel - I love it when people ask me what are the best places to visit in Greece on a road trip. I always reply with 'how long have you got'? And this answer applies to both how long it will take me to answer, and the length of the road trip the person has in mind. I like a challenge though, and so I have put two lists and four road trip itineraries together.
3 Best Day Trips in Greece - Touropia - Mycenae and Epidaurus: Day Trip from Athens, Day Trip from Athens to Hydra, Poros and Egina, Day Trip from Athens to Delphi
18 mouthwatering desserts you should eat in Greece - thisisinsider - You'll want to save room for these decadent treats.
Tips If You're Visiting Greece - Huffington Post - Most everything closes at noon for a few hours. In Spain its called "siesta" and they have it in Greece too. In some of the more touristy areas you'll find everything stays open but if your visit takes you off the beaten path they will most likely be closed in the afternoon. Make sure you make that trip to the market and get your errands done in the morning and spend your "siesta" down at the beach.
A Supreme holiday in Greece - UK Telegraph - Relax with a four-night stay at the marvellous Electra hotel, perfectly located on Ermou street, the city's central shopping hub, within easy reach of famous Monastiraki and historic Plaka districts.
How To Plan Your Trip To Greece - Lost Waldo - The first thing you want to do is plan how you are going to get there. When you take Greece tours, you will typically find that all transport costs are covered. If you are traveling on your own or with your family, you can pick out multiple ways to get there and then get around once you are in the country.
Hungry times: A taste of Greece's street food revolution - CNN - When morning coffee is served as thick, dark and potentially brain-exploding as this, we can only be in Athens.
Greece: Five Days, Five Islands - Video - Pink Bike - - Bicycle trip through Kos, Patmos, Lipsi ("it has the highest concentration of chapels for its population. 50:500, there's also a lot of rock"), and Leros.
World's most beautiful street located in Greece - Neo Kosmos - The wining image submitted by freelance photographer Konstantinos Stamatelis, shows a narrow street in the village of Molyvos, lined with small shop fronts and a 'roof' covering formed by nature itself with the overgrowth of trees and flowers.
A winter visit to Athens offers a pleasant alternative if you've got more than beaches on your mind - National Post - The city is easy to get around by bus or metro and most major attractions are within walking distance. Temperatures in January average 50 F (10 C). Here's a suggested itinerary for a three-day visit.
The Stunning Blue Caves of Zakynthos Island- Popsugar
"You can take a dip into the clear blue waters surrounding Zakynthos Island in Greece where you'll find the famous Blue Caves.

The arches formed thousands of years ago through erosion. Their geological formations are noteworthy alone, but the name comes from the hue of the sea that reflects onto the cave walls. The largest cave, Kianoun, can be visited by boat, and many of the boats are available to tourists for rent. You can swim around the caves yourself, but exploring the formations that continue underwater should be limited to experienced swimmers and divers."
---
2017
Greece Maintains its Status as a Superyacht Hotspot - Yacht Charter - Greece remains at the heart of southern Europe's yachting world and, looking back on its popularity and ranking over the past 12 months, it's easy to spot the country's ever-growing appeal as a charter destination.
A Healthy Guide to Greece - Greece is - If you want purely Greek food, there are now a plethora of options for fresh, organic, gourmet and quality traditional products to choose from, from pasta and berries to rare cheeses and fish.
Greece's Chicest New (and Very Old) Beach Destination - WSJ - A road-tripping guide to the best of Greece's Peloponnesian Peninsula, home to major ancient ruins, a clutch of stylish new resorts and a secret island hideout.
Island Hopping Around The Cyclades - Huffington Post - As for beaches, there is an endless choice and it's also worth noting that every one on the island is rated as excellent quality according to the Ministry of Environment, energy and climate change. In addition, the neighbouring uninhabited island of Polyegos is known for it's turquoise waters and is accessible via water taxi.
The Top 5 Places to Visit on Your Holiday to Hellas - Santorini, Delphi, Marathon, Ancient Olympia, and Athens.
---
From the UK to Greece: Ramblings From Rhodes - blogexpat.com
Interview with John Manuel, born in Bath, UK, now living on Rhodes.

8. What custom/ habits do you find most strange about your adopted culture? What the Greeks eat for breakfast. Olives, Feta, those horrible little crispy bread-type biscuits, Ham!?

9. What is a myth about your adopted country? That all Greeks are lazy. A lot of them may not be dead keen on paying their taxes, but they work harder than most of the rest of Europe.
---
Andronikos Hotel by KLab, Santorini - There's not a sharp edge in sight within Greek studio KLab's design for the Andronikos Hotel
Greece and Italy top European luxury hotel list - Euro News
Top 7 Things To Do in Greece - Luxury Travel Magazine ...If you fall in love with this magnificent country, then why not make the move here permanently? Shopping around and seeing what could be whilst in town is a great way to get to the know the area you're staying in and to see what your money could buy.
Mykonos and Santorini among the 11 most expensive European beach resorts in August -Tornosnews - The survey compared the cost of accommodation in all European resorts during August and concluded that the most expensive destination is Playa d'en Bossa in Ibiza...
Rhodes, Greece August package just £306pp - incl. flights, 7 nights hotel & transfers - Holiday Pirates - "Ahoy Pirates! Still looking to book your summer holidays? Well we have a real bargain for you in August to Rhodes, Greece, on our package comparison tool! Of course this time of the season offers are rare to find and you need to act super quick to ensure it does not sell out!
Enjoy A Late Summer Yacht Charter In Greece And Turkey This Year - Yachtcharterfleet though the party scene may have left the region, the warm and dry climate sticks around through September and October, allowing charterers the chance to experience its charms in uninterrupted quiet.
7 things you must do in Greece - UK Wanderlust Convinced that all Greek islands are swarming with tourists? Well, think again! With over 6,000 islands and islets, it's easier to find one that matches your fantasies without the crowds. Anafi is Santoríni (just west) without the hussle or the hassle. Pserimos sits between between Kos and Kalymnos and offers white sand, green sea and a church clinging to a low cliff. Even on islands that get 'busier' in summer like Donoússa, (and we're talking relatively here), it doesn't take much to find a deserted beach or a welcoming tavern.
Straight out of a dream: Now's the best time to visit Greece's Cyclades - hindustantimes- "The geopolitical turmoil that Greece is currently facing should not deter you visit this haven of tranquillity in Southern Europe. In fact, there is no time more opportune than now as a fall in bookings has led many hotels to cut prices already."
From party animals to families, Greece's Cyclades have something for everyone - Euronews - A top destination for summer vacations, Greece is suffering from the geopolitical situation this year. But holidaymakers would be wrong to shun this haven of tranquility in Southern Europe as a fall in bookings has led many hotels to cut prices already. Anyone keen to snap up a bargain break can head to the Aegean Sea where Greece's Cyclades islands have something in store for all kinds of travelers.
9 foods that prove it's possible to be a vegetarian on holiday in Greece - BT Online - We have a look at some of the country's most traditional natural produce to show there's more to the national cuisine than a lamb kebab.
5 Best Traditional Coffee Houses in Greece - Greek Reporter - hidden in picturesque squares and narrow streets... generously offering locals and foreign visitors all those cultural and social elements [of] genuine Greek hospitality
Eating Out in Greece. 10 Ways to Eat Like a Local - HuffPost You can eat like the locals and by knowing what to expect...
'My Big Fat Greek' holiday - USA Today Travel tips from the stars. Who better to ask about a Greek vacation than Nia Vardalos?
Visit Greece: Ideal destination for winter vacations as well - You will enjoy the natural beauty of the mountainous areas with the numerous cloud–capped peaks and the wide network of signposted trails while you go hiking or mountaineering. If you love mountain biking, or you use a 4WD vehicle, you will discover many off-road routes that will lead you deep into the heart of Greek nature.
---
Media lists of Greece
List: Greece oriented News Sites - Official Media and Newspapers
List: Embassy addresses in Greece, Grocery Stores, More
---
---
Footnotes
1, 2 Economic contraction - Source: CIA World Fact Book
You will see Amazon links on this web site because I am an Amazon affiliate. I earn from qualifying purchases.
---
International Real Estate
Buying Real Estate Overseas For Cash Flow (And A Better Life): Get Started With As Little As $50,000
Published by Wiley, 1st edition August 11, 2020, 240 pages
---
Try Prime Discounted Monthly Offering
---
Greece: Biography of a Modern Nation - AMAZON - Published March 2020 - 600 Pages
---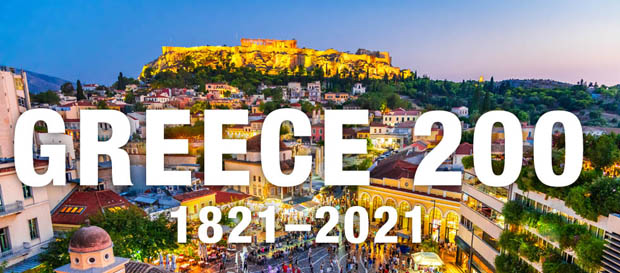 ---
You will see Amazon links on this web site because I am an Amazon affiliate. I earn from qualifying purchases.
Fodor's Essential Greece: with the Best Islands (Full-color Travel Guide)
---

---