Greece and the economic crisis 2018
NEWS ARCHIVE - Jan 26 - Jan 31
---
---
January 31, 2018
Greece wants clean break from lenders, preparing own post-bailout plan: finance minister - Reuters
"Euclid Tsakalotos said in an interview, the country is building up its own protective buffer that, along with unused European bailout funds, will cover Greece "for well over a year", if needed. In coming months, he said, the country would be preparing its own post-bailout plan with an emphasis on reforms, social policies and growth."
---
New poll gives opposition ND big lead over SYRIZA, in name talks too - eKathimerini
"The poll, which was conducted for Action24 TV, found that 29 percent of respondents would vote for conservative New Democracy if elections were held now, against 19 percent who would back SYRIZA."
---
Yield-Hungry Markets Set to Welcome Greece's New Seven-Year Bond - Bloomberg
"Greece wants a cash buffer of about 20 billion euros by the end of August in order to secure the repayment of debt and other obligations until the end of 2019. Half of this amount is expected to come from European Stability Mechanism during the bailout program and the rest should come from markets until summer. Investors, who've seen Greece yields slide, say the country's debt still remains attractive."
---
The Strange Beauty of Greece's Weirdest Town - BBC
"[Lakki, on the Dodecanese island of Leros] origins date back to the early 20th Century when Leros, along with the rest of the Dodecanese, was under Italian rule. Strategically placed and gifted with one of southern Europe's biggest natural harbours, it was here that Mussolini decided to house the Royal Italian Navy, as part of his plan to establish control over the eastern Mediterranean."
---
Why the EU's flagship refugee program in Greece faces an uncertain future - Devex
"In August, the European Commission announced a 209 million euro ($245 million) emergency support package to provide cash assistance and rental housing for refugees in Greece...

...Cash allowances were first introduced in Greece by Mercy Corps at the peak of the refugee crisis in 2015... Cash providers were issuing payments at different dates and in different amounts, causing a perception of unfairness among refugees..."
---
More News:
Greece sells six-month T-bills at significantly lower cost - Capital GR
GVC Subsidiary Slapped With €187M Tax Bill In Greece - Law 360
The Holocaust in Greece - My Jewish Learning
Poll: 59% of Greeks against the use of term Macedonia by FYROM - Protothema
---
January 30, 2018
Germany not accepting more refugees and migrants from Italy and Greece - Neo Kosmos
"...Germany is currently resettling the last groups of populations it has received from Greece and Italy, a process that will continue in the coming weeks, however, Germany has only taken one third of the initial number it agreed to receive."
---
U.N. envoy, in Athens, says time to end Macedonia name dispute - Reuters
"Everyone knows what the issues are. There is a time for decision-making, and I think we are there," said Matthew Nimetz, U.N. special envoy on the "Macedonia" dispute since 1999. "I know the (Greek) government is very sincere and energized to reach a solution to the problem ... I think there is a will here, and I think also in Skopje, to try to reach a settlement," he told reporters in Athens."
---
Koh: The reasons for not investing in Greece - Naftemporiki
"Regarding energy, he said that while the cost of production in the member countries of the European Union does not show any significant differences, however, the final prices have a large variation, due to taxes, fees and other charges, including subsidies for Renewable Energy Sources. The kilowatt hour price in Greece, he noted, is 30% higher than the EU average, which is double the US price..."
---
More News:
Israel president attends Holocaust museum ceremony in Greece - ABC News
Everything you need to know about 'Greece by Greeks' - Neo Kosmos
Prehistoric Giant Tortoise Discovered in Greece - Greece-Is
---
---
---
January 29, 2018
Greece to tap markets for 7-year debt - Financial Times
"Greece aims to raise up to €3bn in seven-year paper, to be followed by a three-year bond and a 10-year bond in the coming months, according to a source familiar with the situation."
---
Increased danger at University of Athens - Liberal GR
"...ncreasing delinquency in the vast area of ​​the Zografou campus with criminal groups acting undisturbed. At sunset, it has become overtly dangerous for teachers and other staff of the NDC..."
---
More News:
Vodafone Greece raises MMS prices - Telecompaper
Albania starts exhuming Greece's WWII unburied fallen - Yahoo
Praet: QE will stop when the ECB makes sure on inflation rate - Naftemporiki
Varoufakis launching new political party March 26 - Protothema
University professor calls for stop to 'unprecedented crime and lawlessness' - eKathimerini
World Bank: 600,000 Court Cases Stuck in Greek Legal Limbo - Greek Reporter
Greece's Asylum Service report: 58,661 asylum applications submitted in 2017 - Keep Talking Greece
---
January 28, 2018
Cypriots vote for new president who could unify divided island - eKathimerini
"Opinion polls show incumbent President Nicos Anastasiades leading his two main rivals but he may not get the 50 percent support needed to avoid a February 4 runoff. Concerns have arisen over widespread voter apathy, especially among young people unhappy with a political system they see as tainted by corruption and ineptitude."
---
President Reuven Rivlin is due to leave Israel on Sunday night for a state visit to Greece - Jerusalem Post
"In addition to meetings with Pavlopoulos, Tsipras and other senior officials, Rivlin will join members of the Jewish community of Athens to observe International Holocaust Remembrance Day. During his visit to Thessaloniki he will participate in the laying of a corner stone for the Museum to the Victims of the Holocaust, and plant a tree in their memory."
---
More News:
Afghans Arrested with 7 detonators in the center of Athens - iefimerida
National Defense Minister Panos Kammenos throws wreath at Imia, Turkish coastguard tried to block him - efsyn
---
Athens Sunset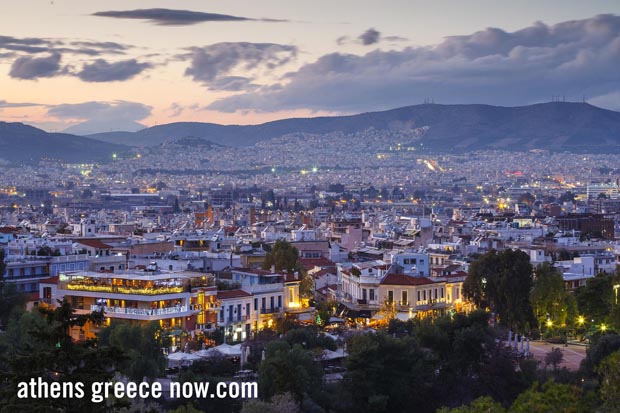 ---
January 27, 2018
Elliniko holds key to takings from sell-offs - eKathimerini
"...this latest estimate may prove too optimistic as well, given that besides the approval of the necessary presidential decree by the Council of State, the start of the casino licensing process is also among the outstanding issues yet to be settled. The representatives of the country's creditors estimate this year's revenues from state asset utilization will amount to 2 billion euros, evenly divided between the two halves of the year."
---
Tsipras fails to get political backing for deal with Skopje - Reuters
"Mitsotakis, whose party is leading in opinion polls, blamed Tsipras for not asking for constitutional changes in Skopje as a "necessary precondition" for any talks, noting that the window of opportunity for a deal has closed. A United Nations envoy, Matthew Nimetz, is due in both countries next week to further discussions."
---
Tsipras 'Divided Greeks' Blasts Opposition Leader - Greek Reporter
"Greek opposition parties have been left angry by what they say is an unacceptable delay in being briefed by the country's leader amid international and UN-brokered talks on the 'Macedonia' name issue."
---
Research shows 7.7% drop in ownership - Naftemporiki
"According to research findings, the ownership rate fell from 81.6% in 2006 to 73.9% in 2018 (-7.7 percentage points). More are those who find it more advantageous to rent a home (49%) than own (42.1%), while six out of ten owners find it unprofitable to own real estate to rent them."
---
More News:
Police issues warning over rise in domestic violence - eKathimerini
Archbishop Ieronymos: 9 from 82 Church leaders attended Macedonia rally - Protothema
---
January 26, 2018
Cipra: Greece's bond yields and returns reflect the new era of the Greek economy - Toxwni
"According to information from government sources, the Tsipra-Moskovishi meeting stressed that now everyone must work together to successfully complete the program next August. Main objectives: Greece to return to the regularity of the European semester in Spring (ie the 6-month audit procedure to which all EU countries are subject, while those subject to a program have additional obligations of course), to complete the debate to regulate Greek debt and to determine the last steps before the country leaves the markets. Finally, complete the development of the national development strategy. Al. Tsipras and P. Moskovis will be back on February 8, when the Commissioner will be in Athens."
---
Kere: The last thing the world needs is a currency war - Naftemporiki
"We see great volatility caused recently by different statements and I think that does not help," said [executive director of the European Central Bank, Benoua Kere]. "Volatility does not help and if it reaches a level where it would create unjustified implications for us, an unjustified tightening for monetary policy, we will have to rethink it."
---
Greece gets 'disproportionate' number of EU migrant requests - MSN
"...of the 25,814 applications received on the Aegean islands last year, 20,377 were ruled eligible to be moved to the mainland, with 5,437 rejected. The greatest number of Greece's applicants came from Syria, with 16,396, followed by Pakistan with 8,923, Iraq with 7,924 and Afghanistan with 7,567."
---
Macedonia's airport concession for Greece - Reuters
Video Report with Karolina Tagari and footage of Macedonia and brief duscussion of the issues
---
Lagarde claims "The IMF was vastly misunderstood on Greece's pensions cuts" - Keep Talking Greece
"What counts now is: What is the necessary limit for the safety net? What is the threshold beyond which you protect pensioners?" [IMF Chief Executive Christine Lagarde] asked but failed to give an answer to her own apparently pure rhetorical question. Neither did she bother to explain why not just the highest pensions were cut but the cuts were made horizontally across all levels: whether small, medium or large. Neither did she gave an explanation as to why the IMF put pressure to cut the poverty allowance (EKAS) to thousands of low-pensioners.
---
More News:
Exhumation of WW2 fallen Greek soldiers in Albania to start - Protothema
IMF's 'Iron Lady' in Greece to Move On - Greek Reporter
Greek Opposition Head Raises FYROM with US Ambassador - Greek Reporter
Two Greeks on Forbes 30 Under 30 Europe list - eKathimerini
Ving Research: 91% of Swedes have vacationed Greece and want to return - Tornos News
Turkish Foreign Ministry hits back at Greece over Tsipras' 'aggressive neighbor' accusation - Hurriyet Daily News
UEFA Hungary will face Estonia, Finland and Greece - Daily News Hungary
Varoufakis announced he will present his political party in Greece - Keep Talking Greece
---
Athens Greece from Lycabettus Hill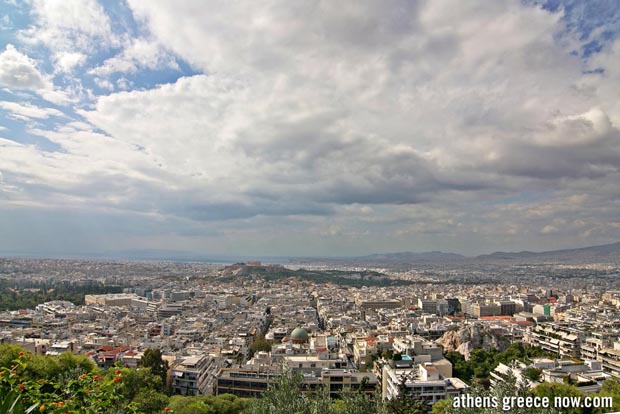 ---
You will see Amazon links on this web site because I am an Amazon affiliate. I earn from qualifying purchases.
---
International Real Estate
Buying Real Estate Overseas For Cash Flow (And A Better Life): Get Started With As Little As $50,000
Published by Wiley, 1st edition August 11, 2020, 240 pages
---
Try Prime Discounted Monthly Offering
---
Greece: Biography of a Modern Nation - AMAZON - Published March 2020 - 600 Pages
---
NEWS ARCHIVE - January 2018
---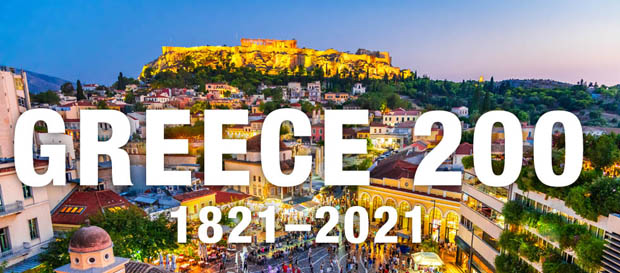 ---
You will see Amazon links on this web site because I am an Amazon affiliate. I earn from qualifying purchases.
Fodor's Essential Greece: with the Best Islands (Full-color Travel Guide)
---

---