Greece and the economic crisis 2018
NEWS ARCHIVE - Jan 1 - Jan 7
---
---
The Trip to Greece - online streaming
The Trip to Greece - Steve Coogan and Rob Brydon reunite in Greece for the fourth installment of THE TRIP series in a delightful odyssey of gut-busting comedy.
---
Oxford Greek-English Learner's Dictionary - 1024 pages - Amazon
---
January 7, 2018
HSBC: Greece will need bailouts exit monitoring - Tornos News
"HSBC agreed with central bank Governor Yannis Stournaras that a precautionary program or increased monitoring will be necessary for Greece once the country has emerged from eight years of rescue packages as harsh austerity measures will continue and fiscal goals have to be met to avoid triggering automatic spending cuts."
---
Greek Culture Ministry in contact with NY prosecutors to claim back stolen antiquities - Keep Talking Greece
"General Secretary of the Greek Culture and Sports Ministry, Maria Andreadaki-Vlazaki said on Sunday "the Ministry is in contact with the prosecutor's office of Manhattan and we wait for the official briefing so that we can see which objects we will ask to be returned."
---
Multi-bill with prior actions heading to Parliament - eKathimerini
"One of the sorest points in the bill is the provision aimed at facilitating electronic auctions, as leftists had opposed foreclosures when in opposition."
---
Macedonia, Greece name issue to be solved with national consensus: PM - Xinhuanet
"Macedonia is the name of a northern province in Greece and Athens is worried that the use of the same name by the neighboring state could lead to territorial claims.

"My optimism is based on what I feel as preparedness from the Greek side through meetings with Greek foreign minister Nikos Kotzias, but also from the talks I had with Prime Minister Tsipras and as a general assessment of the political manner in Greece," said Zaev."
---
Anti-Migrant Attacks Surge In Greece's Piraeus - Malaysian Digest
"More than 30 homes where migrant labourers reside - most of whom are Pakistani nationals - have been targeted since December 25, the anti-racist group Keerfa said on Friday."
---
Europe's Healing Starts and Ends with Greece - Gonzaloraffo infonews
"Greece represents the last big bet on lower yields left in European government bonds. Moreover, if Greece is to exit its bailout, it will need to keep the bond market happy: building a cash buffer, as Ireland and Portugal did, will be an important step."
---
More News:
Everton forward Kevin Mirallas heads to Greece on loan - teamtalk.com
Clashes in Piraeus during Popular Unity protest - Presstv
---
January 5, 2018
Upgrading Greece is expected by S & P and Fitch in two weeks - Athens News Agency
"...according to the financial website of Zonebourse... In particular, the website states: "Greece and Portugal could be the two big winners of the upgrading of national credit ratings by the big rating houses this year. Under CRA3 regulations, all three firms - Moody's, Fitch and Standard & Poor's - have published the government credit review timeline."
---
State to start its own e-auctions - eKathimerini
"...as of the first quarter of the new year homes, land plots, stores and corporate buildings owned by state debtors will go under the hammer at market rates, which tend to be far below the taxable ones, known as "objective values," as dictated by the law."
---
Why Greece's First Lady Cries Every 5th of July - Greek Reporter
"...[Betty Baziana] spoke about the July 5th, 2015 referendum, when 62 percent of Greek people voted against the country's creditors proposal for a bailout program. It was only days later, when the Greek prime minister turned the "No" of the voters to a resounding "Yes" for another rescue program, full of austerity measures, that he signed with Greece's international creditors."
More: "SYRIZA took over the government but did not take power" - Efsyn
---
More News:
Twitter blocks account of Greece's far-right Golden Dawn party - Euronews
Greece to tap markets with five-year bond; first since 2013 - Financial Times
As attacks on migrant homes spike, group fears Golden Dawn threat - eKathimerini
---
January 4, 2018
Breaking News Weather warning: Snow, strong rainfalls and thunderstorms and wind up to 9-10 - KTG
"Real winter weather with unpleasant rain, snow-rain, stormy winds and low temperatures."
---
Greece risks complacency as its bailout cycle winds down - Financial Times
"Barring some unforeseen turmoil in domestic politics or global markets, Greece will leave its third bailout, this one worth €86bn, in August. European governments and EU institutions will declare that Mr Tsipras and his government have done enough, by maintaining a fiscal surplus and carrying out economic reforms, to justify an exit. To everyone's relief, this will, in principle, draw the curtain on the acute phase of a crisis that has dragged on for eight years of the eurozone's 19-year existence."
---
Greece says it wants to settle Macedonia name dispute this year - Reuters
"Greece wants to settle a decades-old row this year over the name of the former Yugoslav republic of Macedonia, its foreign minister said on Thursday - a move that could unblock the Balkan state's ambition of joining the European Union."
---
More News:
Justice Minister: The eight Turkish servicemen could be tried in Greece - Capital GR
Greek govt defends ban on educational school trips abroad - ap.org
Breaking News Hundreds flock to bid Farewell to legendary Dutch coach Eugene Gerards - KTG
---
January 3, 2018
Greece sells 1.6 bln-euro treasury bills in first auction of 2018 - xinhuanet
"The six-month treasury bills were sold at an interest rate of 1.65 percent, down from 1.95 percent in the previous similar auction in December."
---
Maria Karamessini: 20,000 public sector jobs planned for 2018 - AMNA
"OAED director Maria Karamasini ...commented: "Right now we have fallen to 864,000, which is about 60,000 less than in the same month of the previous year, so this is a major drop in registered unemployment."
---
Greece Shuts Down Ancient Nemea Site Says Archaeologist Who Recovered It - Greek Reporter
"He found it very difficult to explain that "for the last 50 years, the Greek state had decided that tourists only came to Greece for the island beaches in the summer months," he writes."
---
4 tough European Union battles in 2018 - Naftemporiki
"For European institutions, 2018 is officially a year of Eurozone reform. Emmanuel Makron's vision of deeper economic and political integration, largely in line with the relevant Commission proposals, though slightly more bold, provides for a joint Treasury Department, a single budget, financial transfer mechanisms, joint debt issuance and joint insurance deposits, as well as the creation of a European Monetary Fund. Will the year 2018 be the basis for the Economic and Monetary Union to finally justify the first half of its name?"
---
More News:
Cyprus-Greece-Israel trilateral meeting postponed - Parikiaki
Fraport Greece unveils €10m expansion plans for Kavala International Airport - RusTourism
Chinese Students Enjoy Greek Studies at Athens University - Greek Reporter
Tsipras will visit Cyprus and Italy in the first two weeks of January - Protothema
---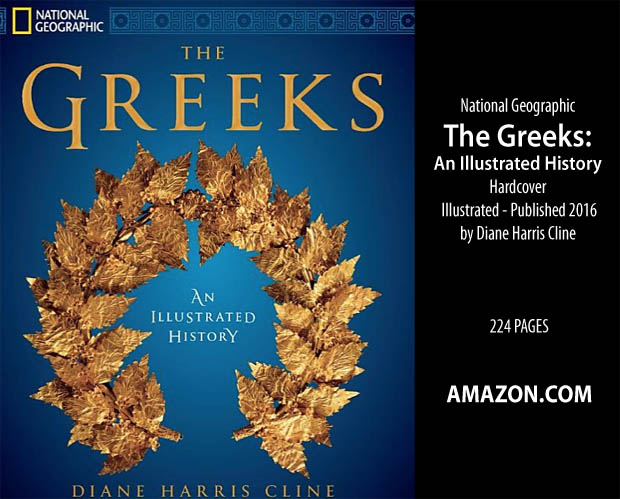 National Geographic The Greeks: An Illustrated History - AMAZON
---
January 2, 2018
Turkey threatens Greece over asylum for pilot - UK Times
"The spat threatens to sink relations between the two Nato partners to their lowest point in decades. Hakan Cavusoglou said that the decision was like "dynamite that could explode", leaving Greece destroyed."
---
St. Pitsiorlas: Starting point for tax cuts in 2019 - Naftemporiki
"That's why 2018 is the year that we will have the exit from the crisis, and in 2019 will be the starting point for tax cuts to start people to feel an improvement."
---
Greece's manufacturing sector is climbing, according to IHS Markit - AMNA GR
"Companies also increased their purchasing activity during the last investigation period. Indeed, the rate of growth was the most significant that has been recorded over more than ten years. Despite this, manufacturers reported a further drop in supply stocks. However, the rate of decline was the least significant recorded in the current period of about ten years decreasing."
---
10 Reasons to Visit Greece this year … or any year! - Daves Travel Pages
"Athens has probably had something of a bad press over recent years. Take my word for it though, it's not all protests and riot police! Instead you will find a multi-layered vibrant city waiting to be discovered. Many people stay just a few days in Athens to visit the main attractions in the historic centre, and that's cool. There's certainly plenty to see here, such as the Acropolis, Ancient Agora, and Temple of Zeus. Put your urban explorer hat on though, and you'll find inspiring street art, a relaxed coffee culture, hidden neighbourhoods, and much more! By staying longer, you can also see some of the other significant archaeological sites in the surrounding areas by taking day trips from Athens."
---
More News:
Government concedes fiscal supervision will continue post-bailout - Tovima
Greece earthquakes rock Brit tourist hotspot Thessaloniki with SEVEN tremors in just 24 hours - UK Sun
---
---
January 1, 2018
A pivotal but tough year looms - eKathimerini
"Concluding the economic reforms demanded by the country's creditors by August is expected to be doable but upheaval within the ranks of leftist SYRIZA over some of the more socially painful measures, such as the relaunch of foreclosures of homes of overindebted Greeks, remains a lingering concern.

Other changes, such as restrictions on the powers of trade unions and contentious plans to sell off state power plants across the country have also prompted objections from leftist cadres."
---
Greece Becomes a Magnet for Well-Off Arab Tourists - Greek Reporter
"According to a report in euro2day.gr, the Middle East is the fastest growing market for Greek tourism. A significant proportion of guests in the five star hotels of Athens and other cosmopolitan destinations such as Mykonos and Santorini, come from that region."
---
Joint declaration of 11 former lawyers on asylum for the Turkish officer - Naftemporiki
"The 11 former presidents point out that the decision of the 3rd Independent Second Asylum Committee "must be fully respected by any Greek government" and add: "More importantly, it must be respected by the present government, as through the competent authority Minister for Migration Policy Yiannis Mouzalas identified the persons who will constitute the Secondary Asylum Committees, which are now composed of two acting administrative judges and a representative of the High Armor the United Nations. That is, the competent persons responsible ".
---
Cavusoglu threatens Greece over judges decision - Protothema
"....They took into account reports from human rights groups and the Council of Europe, according to the source, that warned Turkey has regularly committed human rights abuses against coup suspects. Despite Turkey's assertions, the judges said there was no evidence to suggest the co-pilot had participated in the failed coup."
---
More News:
Turkey rages after 'coup' officer granted asylum in Greece - Yahoo
Gov't Moves to Block Asylum for Turkish Officer Tied to 2016 Coup Attempt - WSJ
Mitsotakis: 2018 should 'turn page' for austerity-weary Greeks - eKathimerini
Tsipras among the world's top-10 'Hottest Heads of State' - NeoKosmos
ND: Democratic Greece is neither threatened nor intimidated - Liberal GR
---
Fodor's Essential Greece: with the Best Islands (Full-color Travel Guide)
---
NEWS ARCHIVE - January 2018
---



---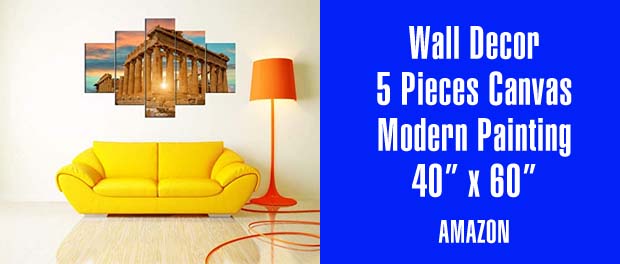 Parthenon Temple on the Acropolis of Athens Greece Artwork Wall Decor 5 Pieces Canvas Modern Painting Wall Art Home Decoration for Living Room Pictures HD Printed Framed Ready to hang(60''Wx40''H)
---
Create Amazon Business Account - save time and money on business purchases with competitive B2B prices and discounts