Greece and the economic crisis 2018
NEWS ARCHIVE - Jan 13 - Jan 19
---
---
The Trip to Greece - online streaming
The Trip to Greece - Steve Coogan and Rob Brydon reunite in Greece for the fourth installment of THE TRIP series in a delightful odyssey of gut-busting comedy.
---
Oxford Greek-English Learner's Dictionary - 1024 pages - Amazon
---
January 19, 2018
In Greece, nationalists seek momentum amid Macedonia talks - MSN
"Amid signs of a possible breakthrough, with new talks this week in New York between Greek and Macedonian negotiators, Greek nationalists plan to protest this weekend against any deal allowing Macedonia to use the name."
---
National Bank has eliminated its dependency on ELA funding - Capital GR
"According to sources the bank has not only managed to wean itself off costly ELA funds but already has surplus liquidity to draw on if liquidity conditions in the market deteriorate."
---
More News:
Greece closing in on end of bailout years - Washington Post
Whilst holidaying in Greece, I could see Pakistan in the little, everyday things - Dawn.Com
Two month closure of casino owing back wages in Greece - Tornos
---
January 18, 2018
Greece closing in on end of bailout years - Fox News
"A senior EU official ... said Thursday that eurozone finance ministers meeting next week had "a great willingness to say that, basically, nearly everything had been done" to complete its latest bailout review..."
---
NATO head urges Macedonia to end dispute with Greece, reform - AP
"Negotiators from both sides met in New York on Wednesday at a meeting held by the U.N. mediator on the issue. Shortly after the talks, the Macedonian government said the outcome would depend "on the willingness to compromise on both sides."
---
Banks strengthened but remain vulnerable - Naftemporiki
"In 2018, banks are being asked to adapt to new challenges, mainly by applying new accounting standards, tightening up the handling of forecasts for new Non-performing Exposures, and by undertaking a pan-European stress testing exercise by the ECB."
---
AP Explains: Macedonia-Greece name dispute goes back in time - Fox News
"The term "Macedonia" is a source of such nationalist fervor on both sides that the dispute has left the Balkan country without a universally recognized name and unable to join international institutions such as NATO."
---
More News:
Greece to Test the ADCOR Defense Adcor A-556 Elite Rifle - Fire Arm Blog
Greece, UNWTO Strengthen Ties at FITUR 2018 - GTP
FYROM media reports UN mediator's name proposals - eKathimerini
Most Greek CEOs Want Creditors to Scrutinize Government - Greek Reporter
Remarkable 4,500-year-old engineering feats discovered on ancient Greek 'pyramid' island - IB Times
---
---
January 17, 2018
Tourists reached 26 million in the January-September 2017 period - Athens News Agency
"...from non-EU-28 countries, travel traffic from Russia increased by 1.1% to 531 thousand travelers, while that from the US increased by 11.6% to 715 thousand travelers."
---
Dimitrov: Use of term "Macedonia" not exlusive privilege of Greece - Capital GR
"He noted Greece΄s concern that there is a "clear distinction" between his country and the Greek region of Macedonia, saying it was important for his country that there are no doubts as regards "matters of identity."
---
Surplus of 11.5 billion euros in the nine-month travel balance - Naftemporiki
"Overnight stays in Greece amounted to 188,272 thousand in January-September 2017, compared with 171,754 thou. in the corresponding period of 2016..."
---
More News:
Greece gets interest for new offshore oil and gas tenders - Reuters
Three investigated in Greece for insulting Turkish President Erdogan - Hurriyet Daily
Greece's Parliament Votes on Another Bailout Reform Package - WSJ
Cyprus, Greece and Jordan aim to bolster region's security - Washington Post
---
January 16, 2018
Piraeus Port Gets Ready To Welcome Mega Vessel - Greek Reporter
"At the start of January, Cosco — the Chinese-state owned shipping and logistics giant which also controls 80 percent of Greek rail cargo to central Europe — unveiled ambitious plans to expand at Piraeus. Cosco — which won a majority stake in the Piraeus Port Authority in 2016 — currently runs operations at Piraeus able to handle three 19,000 20-feet equivalent unit (teu) vessels with no draft limitation plus one 10,000-teu ship with a maximum draft of 13.8 meters (45 feet)."
---
In 'Macedonia' Name Dispute, Optimism In The Air - rferl
"At the forthcoming meeting, [UN mediator Matthew Nimetz] is expected once again to present the parties with a list of names that have been under discussion before, with only minor changes."
---
Greeks pay dear for mobile services - eKathimerini
"OECD data revealed this week that Greek mobile phone users pay much more for their service than the average European..."
---
After Years of Turmoil, Greece Is Close to Exiting Its Bailout - WSJ
"Athens hopes for post-bailout boost; program has been traumatic for citizens and strained the eurozone By Nektaria Stamouli Jan. 16, 2018 5:30 a.m. ET For Greece, there is finally light at the end of the tunnel. After nearly eight years of economic and political turmoil, the country is within striking distance of freeing itself from a bailout regime that has been traumatic for its citizens and has badly strained the eurozone."
---
Earthquake rattles Greece, felt in Athens - Straits Times
"The region has been active in recent days and the latest earthquake seems to be the peak of this activity, Papadopoulos said without ruling out the possibility of another earthquake. "Residents should remain calm," he said. "The data is in our favour."
---
Police, protesters clash as Greece reforms industrial action - MSN
Brief video report showing protestors (with comments from them subtitled in English) battling truncheon-wielding police.
---
Greece's Eurobank sees Balkan units doubling profitability -deputy CEO - IN
"Foreign operations contribute more than 50 percent of the group's profitability. Our immediate target is to grow this to 200 million euros (from 110 million)," Deputy Chief Executive Stavros Ioannou told reporters."
---
Greece plans three new bond sales to build post-bailout buffer - Kitco
"It expects to get about 9 billion euros more from official lenders in the coming months to build up the buffer and plans to raise about another 9 billion euros from markets by issuing three new government bonds."
---
More News:
Conditions are horrific at Greece's 'island prisons' for refugees. Is that the point? - Washington Post
Parliament Approves More Bailout Reforms Despite Protests - The Wire
Israel grants oil and gas exploration licence to Greece's Energean
---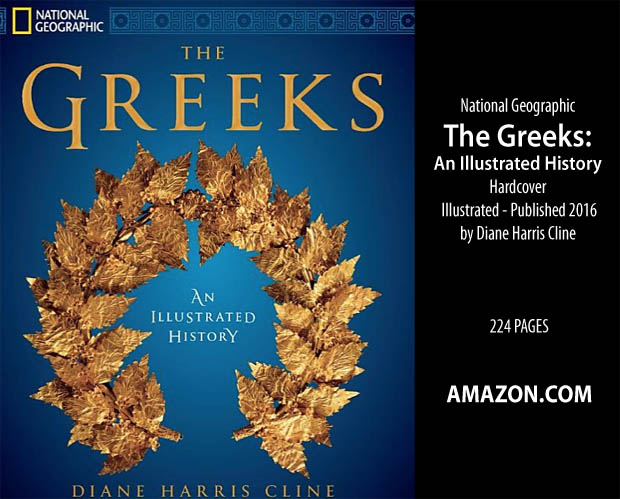 National Geographic The Greeks: An Illustrated History - AMAZON
---
January 15, 2018
Greece braced for strikes over planned move to limit industrial action - UK Guardian
"In the nearly nine years since its descent into economic crisis, an estimated 50 general strikes have been held in Greece with workers viewing industrial action as sacrosanct. Under the new law, Alexis Tsipras's leftist-led government has agreed that unions will have to have much larger quorums to enable strikes to be called."
---
New strikes in Greece as lawmakers debate new reform batch - ABC News
"Labor unions shut down all public transport in the Greek capital, while state-run schools and public hospitals also faced disruptions as teachers and doctors participated in work stoppages. Dozens of flights were being either rescheduled or cancelled due to a three-hour walk-out by air traffic controllers."
---
Greece to negotiate FREMM Frigate acquisition with France - navyrecognition
"According to Kathimerini, this move comes after a verbal agreement between Prime Minister Alexis Tsipras and French President Emmanuel Makron during his last visit to Athens last September. If an agreement can not be reached on the frigates because of their cost, the discussion will likely veer to the Gowind corvette."
---
The highest performance since 2001 with 143,535 new jobs in 2017 - AMNA
"In December 2017, there is an increase in wage employment in the private sector, as a positive balance of recruitment of 15,315 jobs is emerging. Specifically, according to the December 2017 employee employment figures, recruitment announcements amounted to 172,064 while retirements to 156,749."
---
Citizens to face foreclosures for debts over 500 euros to state - Protothema
"According to provisions in a report by the General Accounting Office, article 61 of the omnibus bill is amended regarding the classification of the State in case of compulsory foreclosures and seizures of movable or immovable assets..."
---
More News:
Greece set to allow medical cannabis use - Yahoo
EU Commission urges Greece to implement smoking ban - KTG
Greece's new restrictions on the right to strike leads thousands to protest - CSM
JP Morgan hires Papadopoulos to head Greece investment banking - Reuters
---
Fodor's Essential Greece: with the Best Islands (Full-color Travel Guide)
---
NEWS ARCHIVE - January 2018
---



---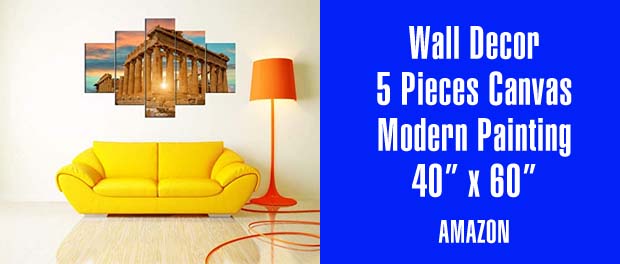 Parthenon Temple on the Acropolis of Athens Greece Artwork Wall Decor 5 Pieces Canvas Modern Painting Wall Art Home Decoration for Living Room Pictures HD Printed Framed Ready to hang(60''Wx40''H)
---
Create Amazon Business Account - save time and money on business purchases with competitive B2B prices and discounts