Greece and the economic crisis 2018
NEWS ARCHIVE - Jan 21 - Jan 25
---
---
January 25, 2018
Macedonia to rename airport to help resolve name row with Greece, PM says - Reuters
"The name of the airport - Skopje Alexander the Great Airport - has particularly riled Greeks because Macedonia is also the name of the ancient Greek kingdom ruled by Alexander. Prime Minister Zoran Zaev did not say what its new name would be."
---
Turkish PM disputes Greek sovereignty, as Tsipras cites 'aggressive neighbor' - eKathimerini
"In comments made to local media on Wednesday, Yildirim accused Athens of pursuing a repeat of the 1996 Imia crisis, when the two countries came to the brink of war over ownership of the uninhabited Aegean islets, adding that such an attempt "will not go down well" in Ankara.

... Turkey disputes Greece's territorial sovereignty over the rocky formations, known in Turkish as Kardak, on the basis of its "gray zones" theory."
---
Draghi: Greek banks still have a very high stock of NPEs - Capital GR
"According to Mr Draghi Greek banks still have a very high stock of NPEs. He also added that it is of crucial importance for the economic recovery in Greece and the forward-looking capital adequacy of Greek banks that swift progress be made on NPE resolution, in line with the targets that banks have communicated to ECB Banking Supervision."
---
Lagarde: All pensions in Greece too high - Protothema
"[IMF Chief Executive Christine Lagarde] said on Wednesday from the Swiss resort that pensions in Greece were much higher than the average ones in other countries in the EU, stressing that this was true for all levels of pensions, lower, medium and higher ones. "They were too high and the Greeks had to manage it. Cutting existing pensions is a difficult political dilemma", she underlined."
---
More News:
2018 collection target is 5.6 billion - Naftemporiki
Greece and Italy demand EU takes more immigrants and gives aid in 'Marshall Plan' for Africa - UK Telegraph
Tax debt bubble out of control - liberal.gr
Investors Welcome Greece Back Out of the Naughty Corner: Gadfly - Washington Post
Greece and Macedonia Are Fighting Over Who Gets to Use the Name 'Macedonia'. Here's Why - Time Magazine
Fighting Fascism: The gym owner behind Greece's anti-fascist fight club - Bloodyelbow
---
January 24, 2018
Greece gets fresh cash on road to leaving bailout - MSN
"The latest tranche will be split into 5.7 billion euros paid in February and the remaining one billion paid later in the spring once eurozone officials have checked that Greece has carried out all the reforms, the Eurogroup said in a statement.

[Portugal's Mario Centeno, head of the Eurogroup of 19 finance ministers] chairing the Eurogroup for the first time after replacing Jeroen Dijssebloem of the Netherlands, said the cash would cover debt servicing, arrears and boosting Greece's cash reserves, said Centeno."
---
Jordan, Greece and Cyprus say more support needed to states on refugee frontline - Reuters
"Jordan hosts over 1.3 million Syrian refugees, while thousands of refugees and migrants are stuck in Greece after its Balkan neighbors sealed off a route used by more than a million people in 2015 and early 2016 to get to other European states."
---
Greece broaches problem of shell companies opened in Bulgaria to flee taxes - Tornos
"The main goal by the Greek side is to stem a growing phenomenon of Greece-based businesses using a national transfer of their registered headquarters to neighboring Bulgaria, in order to take advantage of the latter's lower corporate tax rates."
---
More News:
ESM Chief: Greece Will be Supervised After Bailout - Greek Reporter
EU creditors to start Greece debt-relief talks - BBC
Athens to not extradite Turkish soldiers, possible trial floats in Greece - Hurriyet Daily News
---
January 23, 2018
Euro zone holds back new loans to Greece, starts work on debt relief - Reuters
"To meet that condition, Greece's parliament passed a so-called omnibus bill last week. Lenders' experts said, however, that so far only 92 of the agreed steps were implemented."
---
Greece to receive better repayment terms for bailout loans - Irish Times
"The next slice of concessional loans from the euro area's crisis-fighting fund will help Athens pay its debt obligations, clear arrears to domestic suppliers and build up a cash buffer after the completion of its €86 billion bailout. It will also further boost investor confidence, paving the way for an imminent bond sale, as the government seeks to prove it has regained full market access ahead of the expiry of its bailout in August."
---
Taxes and contributions have increased - Naftemporiki
"According to quarterly non-financial general government accounts analytical data, additional taxes coupled with spending restraint are the main factors that have led to a widening of the primary surplus to 3.91 billion euros from 3.557 billion euros in the corresponding quarter of 2016. Production and import taxes amounted to EUR 8,344 billion between July and September 2017 from EUR 8,027 billion in the corresponding quarter of the previous year. As for taxes on income and wealth, they attributed € 5.043 billion from € 4.932 billion in the corresponding quarter of 2016."
---
Turkey, US on collision course - eKathimerini
"Turkey's aggressive threats and active troop movements dissolve US hopes for a more stabilized region and further diminish America's already waning influence in the broader Middle East. An increasingly present and embraced Russia and more regionally assertive Iran also further sideline America. The newly developing anti-American power dynamic certainly dashes any plans to "take the oil" from Iraq and Kurdistan, as candidate Donald Trump suggested in 2016."
---
More News:
Protest of squatted building arson brings tear gas - Fox
Finance Minstry denies an agreement for 130,000 auctions - Efsyn
Turkish troops invade Syria on German tanks - Protothema
US uses gentle persuasion on FYROM naming issue: The time is right - Tovima
Greece Moves Closer to Ending its Bailout Regime - WSJ
---
Meteora in Winter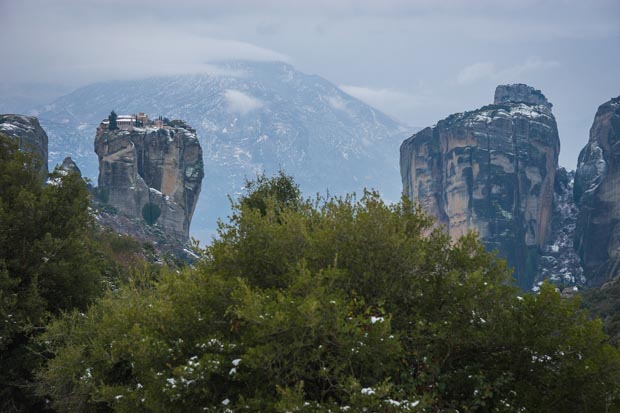 More Meteora
---
---
January 22, 2018
Five tests that will judge Greece's bailout exit - Financial Times
"The yield on two-year Greek bonds fell below that of the equivalent US government paper earlier this month, as the global economic recovery saw investors repricing Treasury debt and shifting into equities in anticipation of rising interest rates."
---
Greece's new restrictions on the right to strike leads thousands to protest - CSM
"The draft law has outraged many Greeks, who have seen living conditions and incomes plummet since the country first sought international aid to stave off bankruptcy in 2010, and required another two bailouts thereafter."
---
Muslim Refugees Team Up With Anarchists To Shame Greece - The Atlantic
"...in Greece, which as a first point of entry for many migrants has borne a disproportionate share of the housing challenge amid economic malaise, City Plaza serves as a home while making a political point. Olga Lafazani, a Greek academic and one of the founding members of the collective, says it's not just about finding a more humane response to the refugee crisis. "Our idea was not to make a thousand City Plazas," she said with a laugh. The squat, she explained, has an expansive definition of the term "refugee" that includes migrants fleeing any war, political persecution, extreme poverty, and environmental devastation; it's a rejection of the legal distinction that distinguishes between different kinds of need for migration. City Plaza residents are either waiting for formal resettlement after having had their asylum applications approved or people who have managed to escape the camps. Coming in search of basics like shelter and food, they are also welcomed with private bedrooms, bathrooms, and balconies."
---
More News:
German Finance Minister says Greece has made progress - Reuters
ERT sets date for national final - esctoday
---
Acropolis Museum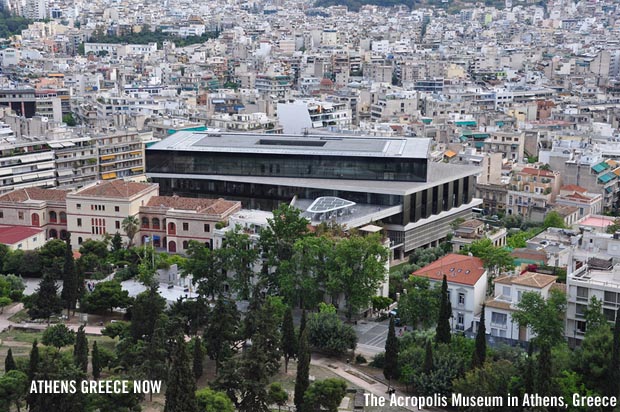 ---
---
January 21, 2018
Greece set to win plaudits but not next tranche of bailout cash - Financial Times
"For Greece to receive its next allocation of bailout money, estimated at €6.7bn, a further check will need to take place in early February to ensure that the remaining measures have been completed. But at Monday's meeting ministers will say the recent progress in effect closes the latest review of the bailout.

A delay could push back a bond sale that Athens had pencilled in for the end of this month — a big step for a country that is seeking to recover sovereignty over its economic policy and end its dependence on creditor cash."
---
Large protest in Greece over Macedonia name row - Straits Times
"Hardline clerics, far-right leaders and Greek diaspora groups had called for yesterday's (Sun) rallies, with the turnout exceeding media estimates of 30,000."
---
S&P upgrades Greece by one notch to 'B' - Reuters
"Our ratings on Greece are supported by the unusually low cost of servicing much of its general government debt burden and official creditors' ongoing support in the form of very long-dated concessional loans and debt relief," S&P said in a statement.
---
More News:
Thousands rally in Greece to demand Republic of Macedonia change its name - Toronto Star
Fury in FYROM, Greece Over Rights to Macedonia Name - National Herald
15 investors interested in coal-fired plants sale - 4-traders.com
---
You will see Amazon links on this web site because I am an Amazon affiliate. I earn from qualifying purchases.
---
International Real Estate
Buying Real Estate Overseas For Cash Flow (And A Better Life): Get Started With As Little As $50,000
Published by Wiley, 1st edition August 11, 2020, 240 pages
---
Try Prime Discounted Monthly Offering
---
Greece: Biography of a Modern Nation - AMAZON - Published March 2020 - 600 Pages
---
NEWS ARCHIVE - January 2018
---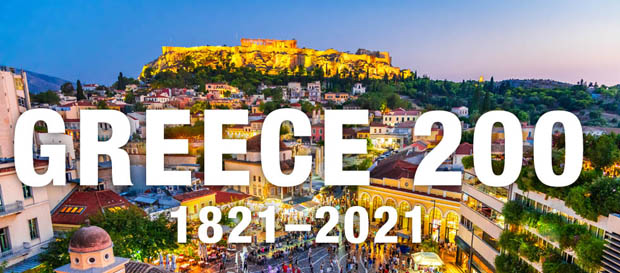 ---
You will see Amazon links on this web site because I am an Amazon affiliate. I earn from qualifying purchases.
Fodor's Essential Greece: with the Best Islands (Full-color Travel Guide)
---

---