Greece and the economic crisis 2018
NEWS ARCHIVE - June 7 - June 13
---
---
June 13, 2018
FYOM
Macedonia president refuses to sign deal with Greece changing name of country - UK Independent
Political firestorm over name deal - eKathimerini
Greece-Macedonia name deal meets with mixed reaction - Washington Post
Macedonia to change its name after Greece strikes deal following 27-year dispute : Greece will lift its objections to Macedonia's joining NATO and the European Union once the dispute is resolved - Sky News
Opponents criticize Greece-Macedonia name deal - Fox News
FYROM President Ivanov refused to see PM Zaev – He will address the nation! - Protothema
US welcomes 'historic' name deal, says ready to support agreement - ekathimerini
Finance
Greece says decisions on new bond issue after next week's Eurogroup - Finance
Filambriff on pension cuts - Naftemporiki
"He noted that the final disbursement of the program is expected to be between 11 and 12 billion, underlining that it is up to the Eurogroup to decide on the amount of the overall reserve for the post-programming period."
Cyprus
Fresh attempt to limit time in office for president and MPs - Cyprus Mail
Tourism
By the end of June, the Airbnb registry will be ready - Tanea
24 Hour taxi strike in Athens - iefimerida
---
June 12, 2018
FYOM
'We have a deal,' say Greece and Macedonia over name dispute - Reuters
Northern light: Macedonia makes name change deal with Greece - ABC News
Macedonia agrees to new name after 27-year dispute with Greece : Greek and Macedonian PMs settle on the name Republic of Northern Macedonia - UK Guardian
Tsipras to address parliament on FYROM developments - Tovima
Greece and Macedonia say close to deal to resolve dispute over country name - Reuters
Tourism
Fraport Greece sees double-digit percentage rise in 2018 passenger traffic - Reuters
Finance
Citigroup: Do not expect meaningful Greek debt relief measures to be agreed in June - Capital GR
Moscovici says front-loaded measures for Greek debt will enhance confidence - eKathimerini
Mitsotakis: The Government's Responsibilities for the Lost Money from Recapitalization - Naftemporiki
More
Cyprus, Greece, and Israel Chart a Common Path - algemeiner
---
Athens coast from the sky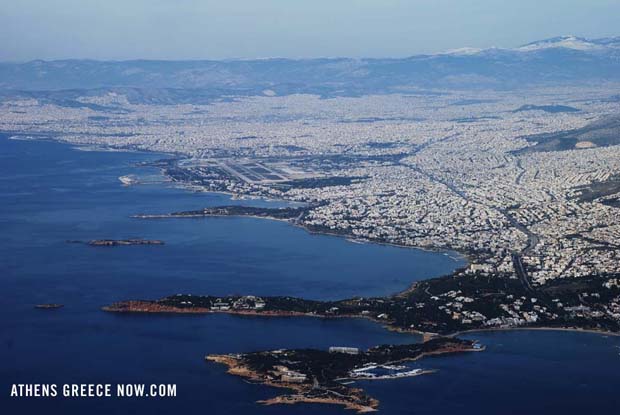 ---
June 11, 2018
Finance
Parliament begins processing fast-track bill on prior actions to conclude 4th review - Athens News Agency
Greece Commits to Post-Bailout Actions - Greek Reporter
Greece shows limitation of capital controls - Financial Times
Greece submits reforms to parliament, aiming to unlock last bailout loans - Hellenic Shipping News
Don't Forget Greece - FX Street
Eurogroup chief says Greece ready to take charge post-bailout - Reuters
Tourism
Support and objections by mayors on Elliniko development - Naftemporiki
Over tourism and pollution real threats for Greece - AU Greek City Times
FYOM
FYROM's Zaev says Athens, Skopje close to a deal - eKathimerini
After name row, Macedonia faces revising how to teach its history - YAHOO
Turkey
Long-range Sorties in 'Enemy' Territory: Israel Air Force Drilled With Greece - Haaretz
Greece puts men accused over Turkey coup attempt under armed guard - UK Guardian
---
June 10, 2018
Greece Remembers the Nazi Massacre at Distomo - Greek Reporter
FYROM dismisses rumors of rift between PM and FM on name talks - eKathimerini
House Multi-Bill Guarantees €25 Bln to ESM for Greece's Loans - Greek Reporter
Staikouras: The only thing that is completed is the country's funding through the program - Liberal GR
---
June 9, 2018
Greece submits reforms to parliament, aiming to unlock last bailout loans - Reuters
Greece has received about 260 billion euros in emergency loans since 2010 in exchange for unpopular austerity measures and reforms. The money has kept it afloat but has also increased its debt, which now stands at 180 percent of GDP.
---
Finance
Greece govt presents final creditor-mandated reforms - Washington Post
"ND: The myth of the so-called "clear exit" ended last night: validation of the "fourth memorandum" with new measures of € 5.1 billion - Naftemporiki
ESM postpones disbursement of loan tranche to Greece - Tovima
The deadline for disbursement of the one billion euros is 15 June. Otherwise the earmarked money reverts to the ESM
Turkey
Turkey to implement EU deal despite suspension of agreement with Greece: Diplomat - Hurriyet Daily News
EU body calls for continuing Turkey-Greece migrant deal - World Bulletin
The new migrant path to Europe: People smugglers open new Balkan route through Albania to EU member Croatia after Hungary sealed its borders following 2015 crisis - UK Daily Mail
More
The temperature is soaring today - it will reach 37 degrees - iefimerida
In Greece, Fire Reveals Ancient Artifacts, Possibly Hidden By Thieves - NPR
Prostitution on the rise, university study shows - eKathimerini
---
June 8, 2018
Finance
June 21 Eurogroup to decide on medium-term measures to ease Greece's debt - AMNA GR
Euro zone holds off on 1 billion euro tranche for Greece - MSN News
Don't Forget Greece: End Of Third Bailout Program Looms Near - Investing
The markets will be tested next week in Greece, Italy Bond issuance is limited overall by European governments - Naftemporiki
Turkey
Turkey's suspension of migrant deal with Greece doesn't affect EU-Turkey deal-Germany - Reuters
NATO chief calls for 'calm' amid Turkey-Greece crisis - Hurriyet Daily News
More
Sotheby's sues Greece over ancient bronze statue - UK Times
At Least Five Migrants Killed in Northern Greece Road Crash - NY Times
6 dead as jeep smuggling migrants through Greece crashes - AP
Mediterranean turning into 'plastic trap,' WWF warns - eKathimerini
Cyprus President lays foundation for "Europe's biggest Casino Resort" - Protothema
Archaeologists Discover 2,200-Year-Old Ancient Greek Writing in Egypt - Greek Reporter
---
Noutsos Bridge in Athens Greece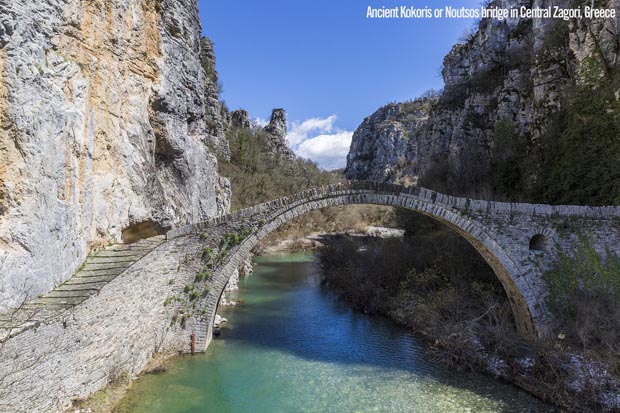 ---
June 7, 2018
FYOM
Macedonian leader still optimistic on name deal with Greece - ABC News
Turkey
Clarifications from Ankara are demanded by Brussels - Naftemporiki
Turkey orders Navy ships to be on alert in the Aegean, Anadolu reports - eKathimerini
Turkey suspends migrant readmission deal with Greece: Hurriyet - Reuters
Finance
Greece optimistic for June debt relief deal - Reuters
Unemployment at 20.1 pct in March, ELSTAT says - Athens News Agency
Political games with the ECB - Naftemporiki
No agreement on Greek debt from meeting of the Washington Group - Liberal GR
Greece Denies Postponing Bond Issue Due to Italy Crisis - Greek Reporter
More
Greece Sizzles in First Heatwave of Season - Greek Reporter
Cyprus Defense Minister visits Israel, closer military ties seen - Protothema
Greek C-Section Rates Dwarf International Limit - Greek Reporter
---
Greece should not hound man who refused to falsify the figures - Financial Times
"...He and his Greek staff, helped by international experts, cleaned up the statistical Augean stable. The corrected numbers, which showed a much bleaker picture than the earlier data, were vetted by Eurostat and accepted by the European Central Bank, the EU and the IMF as the basis for major financing. One would have thought that Mr Georgiou would have received praise and high honours. But the opposite was the case, conveniently so for those politicians who wish to evade responsibility for the earlier debacle and undermine the independence of the Greek statistical office. In a terrible irony, Mr Georgiou is the one accused of bringing harm to Greece and dereliction of duty by refusing to falsify the figures.
The letter is signed by : Ulrich Baumgartner, Eduard Brau, Warren Coats, K. Burke Dillon, John Hicklin, John Karlik, Linda M. Koenig, Emmanuel van der Mensbgrugghe, Jon Shields, Onno Wijnholds
---
Plaka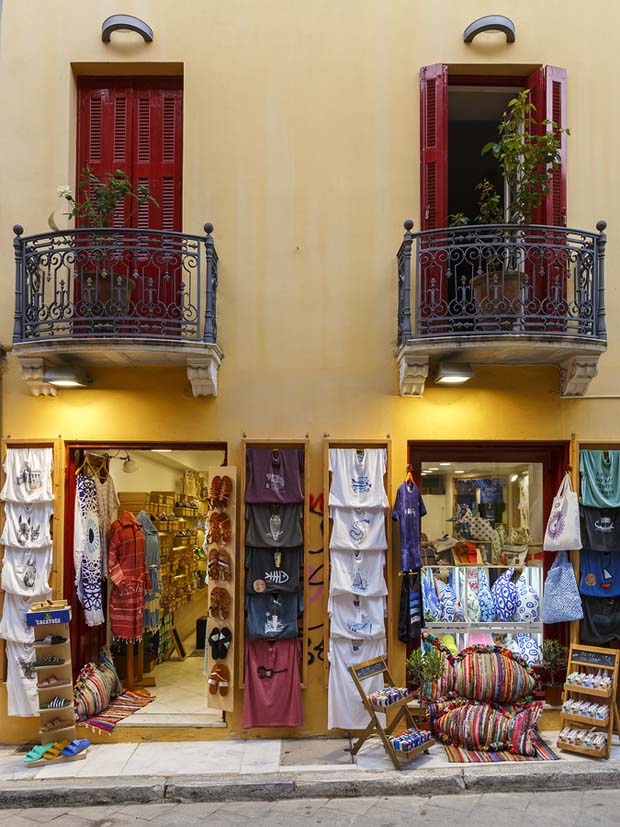 ---
You will see Amazon links on this web site because I am an Amazon affiliate. I earn from qualifying purchases.
Try Prime Discounted Monthly Offering
---
Greece: Biography of a Modern Nation - AMAZON - Published March 2020 - 600 Pages
---
NEWS ARCHIVE - June 2018
---



---