Allowed Travel to Greece 2021
Important travel links:
Passenger Locator Form used by Greek gov for admittance during visit.
Protocol for Arrivals in Greece - Hellenic Republic Government page in English.
A negative coronavirus test 72 hours before travel (see this list of labs that are approved by the Greek government for the tests)
For more general visiting Greece info, visit the Visiting Greece page

A QR code on paperwork is given by officials during entry that will indicate if you must quarantine for a particular time limit

Masks are mandatory in public whether outside or inside.
---
Current news January 11, 2021

The existing restrictions on foreign travel stays in force until January 27, 2021. This means foreign travelers have a required 7-day quarantine, by order of the Civil Aviation Authority, if allowed into the country. Travellers must have had a negative test for the virus within 72 hours of arrival. Sample testing is done at the border entrances. All passengers must have a completed Passenger Locator Form (form available online here).

After 7-day quarantine, people from the United Kingdom must then take a PCR test, and a positive result will continue the quarantine for another 14 days.

Retail operations in Greece are severely curtailed at present. See this overview of the situation at Ethnos (in Greek).

Churches are open, but operations are curtailed.

Hunting and fishing continues to be shut down.
---
Countries allowed entry to Greece
Allowed travel to Greece - list updated December 30, 2020. People from countries not listed (for example the United States) are not allowed entry except under special conditions.
All Schengen Zone countries allowed: Austria, Belgium, Czech Republic, Denmark, Estonia, Finland, France, Germany, Greece, Hungary, Iceland, Italy, Latvia, Liechtenstein, Lithuania, Luxembourg, Malta, Netherlands, Norway, Poland, Portugal, Slovakia, Slovenia, Spain, Sweden.
Additional countries allowed entry: Switzerland, Norway, Liechtenstein, Iceland, United Kingdom, Australia, Japan, New Zealand, Rwanda, Singapore, South Korea and Thailand.
---
---
Additional notes on travel:

No air travel from Turkey, Catalonia

Israeli travellers are limited to 10,000 per week

Russian travellers are limited to 500 per week

Albania and N. Macedonia travel is allowed only through the Venizelos airport.

Still no flights for American citizens (and all non EU citizens) into Greece to visit (exception for repatriation of Greek citizens and for special categories of "essential" travel).
---
Important Links:
List of Embassies in Athens Greece
US Embassy COVID19 page covering travel to Greece Scroll down and review the "Entry and Exit Requirements"
Greece pandemic metrics at Statistics.gr [English] and Greek language Statistics
---
The 2020 roundup of news on restrictions for travel to Greece is archived here
---
---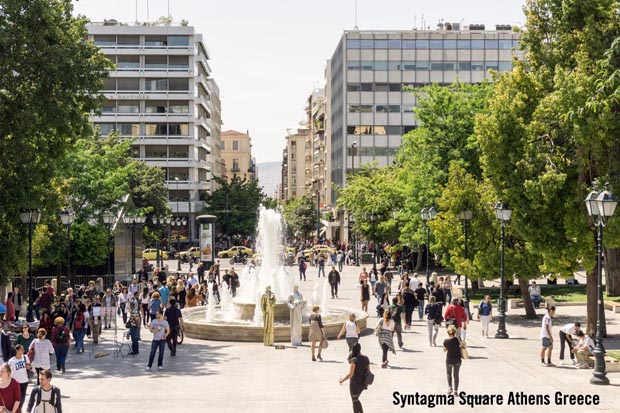 ---



---