Covid-19/Coronavirus in Greece
---
History of the Pandemic in Greece
January 2020
The beginning of Koronaios in Greece
With the incidence of coronavirus all over the world and especially in Europe increasing, it is not unlikely to reach Greece."
---
February 2020
February 1, 2020: Three Greeks in quarantine in China
Coronavirus in China - Story at Protothema [English]
---
March 2020
First documented case in Greece of Covid-19
March 4, 2020
Dimitra Voulgaridou was the first person in Greece diagnosed with coronavirus. The successful businesswoman tells how her Milan Fashion Week trip left her and her nine year old in a hospital isolation chamber"
Story at Marie Claire Europe
---
Last of the pandemic restrictions are coming off
March 15, 2023: Story at EFSYN [Greek]
---
Covid Snapshots: stats
Greece Covid-19 stats as of July 26, 2020
Pandemic Cases: 3,203
Deaths: 187
Recovered cases: 1,374
Intubated cases : 11
Their average age is 69 years
Underlying disease or are over 70 years old: 72.2%
Source: Eleftherostypos
Male cases: 52.2%
Female cases: 47.8%
Related to travel abroad: 21.8% (698)
Median age: 76
Total number of tests made to date: 264,930
Source: Liberal
---
MORE GREECE COVID-19 statistics last update: July 26, 2020:
Confirmed cases: 4,193 [worldometers.info] July 26, 2020
Confirmed cases: 3,203 [worldometers.info] June 17, 2020
Number of cases attributed to travel abroad: 1,174 (28.0%) [Source July 26: Liberal]
Number of cases attributed to travel abroad: 591 [Source April 30: iefimerida]
Number of cases attributed to travel abroad: 580 [Source April 24: Capital.gr]
Number of cases attributed to travel abroad: 569 [Source April 17: Tanea]
Number of cases attributed to travel abroad: 542 [Source April 12: Iefimerida]
Number of cases attributed to travel abroad: 501 [Source April 7: Iefimerida]
Deaths: 202 [July 26 eKathimerini] and 77.8% having underlying diseases [Liberal]
Deaths: 146 [May 5 eKathimerini] and 91% having underlying diseases [Liberal]
Deaths: 140 [April 30 eKathimerini] and 89.2% having underlying diseases [Liberal]
Recovered cases: 1,374 [April 30 source: worldometers.info]
Critical cases: 59 [April 30 source: Ethnos]
Tests performed:83,750 [MAY 5: EFSYN]
Tests performed:75,170 [April 30: eKathimerini]
Tests performed:61,407 [April 24: Capital.gr]
Tests performed:50,771 [April 15 source: Liberal]
Tests performed:42,261 [April 12 source: Iefimerida]
Tests performed:28,584 [April 7 source: Iefimerida]
Proportion that are male: 57% [Source: Liberal July 26, 2020]
Proportion that are male: 56% [Source: iefimerida April 30, 2020]
Proportion that are male: 55.5% [Source: iefimerida April 26, 2020]
Proportion that are male: 55.6% [Source: Capital.gr April 24, 2020]
Proportion that are male: 57% [Source: Iefimerida April 10, 2020]
88% have an underlying disease or age 70 or older [Source April 24: Capital.gr]
Average Age of 67 Years Old [Source: Iefimerida April 17, 2020]
Average Age of 73 Years Old [Source: Tanea April 17, 2020]
Average Age of 73 Years Old [Source: Liberal April 15, 2020]
Average Age of 67 Years Old [Source Liberal April 8, 2020]
60 patients have been discharged from the ICUs [Source April 24: Capital.gr]
Greek cases doubled in:
20 Days [ourworldindata April 24, 2020]
10 Days April 9, 2020
8 Days April 6, 2020
First case: Feb 25, 2020
Resources:
Live Coronavirus numbers site koronoios-live [English]
Live Coronavirus Blog Naftemporiki [Greek]
Live Coronavirus Blog Skai [Greek]
Live Coronavirus mini-site Ethnos [Greek]
Graph statistics on worldwide coronavirus at Statistica
Greece Demographics
---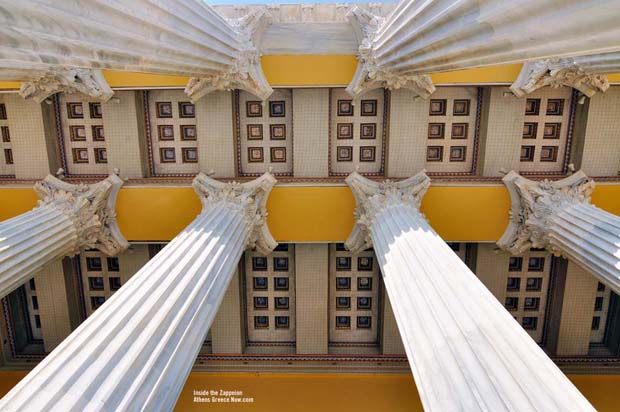 Inside the Zappeion
---
July 26, 2020
Total cases worldwide: 16,321,464 [Source: World Meters]
Total deaths from COVID19: 650,357
Total recovered cases: 9,983,208
6.5 million pandemic cases world wide
June 3, 2020 story at Naftemporiki [Greek]
---
WORLDWIDE COVID-19 statistics (worldometers) July 26, 2020:
Coronavirus Cases: 16,321,464 (July 26, 2020)
Coronavirus Cases: 8,036,812 (June 15, 2020)
Coronavirus Cases: 3,251,143 (April 30)
Deaths: 650,357 (July 26, 2020)
Deaths: 436,471 (June 15, 2020)
Deaths: 229,813 (April 30)
Recovered: 9,983,208 (July 26, 2020)
Recovered: 4,152,681 (June 15, 2020)
Recovered: 1,018,724 April 30
Active current cases: 2,002,606 (April 30)
Active current cases: 1,830,223 (April 24)
Closed cases: 1,248,537 (April 30)
Closed cases: 971,426 (April 24)
Recovered cases from the total: 1,018,724 (229,813 died) (April 30)
Recovered cases from the total: 775,988  (195,438 died) (April 24)
---
World Case Count
July 26, 2020: 16,321,464
June 15 – 8,036,812
April 30 – 3,251,143
April 24 – 2,801,649
April 23 –2,661,504
April 19 – 2,344,964
April 14 – 1,968,893
April 10 – 1,667,689
April 9 – 1,593,515
April 8 – 1,467,224
April 5 – 1,236,842
April 4 – 1,191,067
April 3 – 1,056,581
March 31 – 824,529

World Fatality Count
650,357 – July 26
436,471 – June 15
229,813 – April 30
195,438 – April 24
185,504 – April 23
161,191 – April 19
123,783 – April 14
100,482 – April 10
95,047 – April 9
85,374 – April 8
---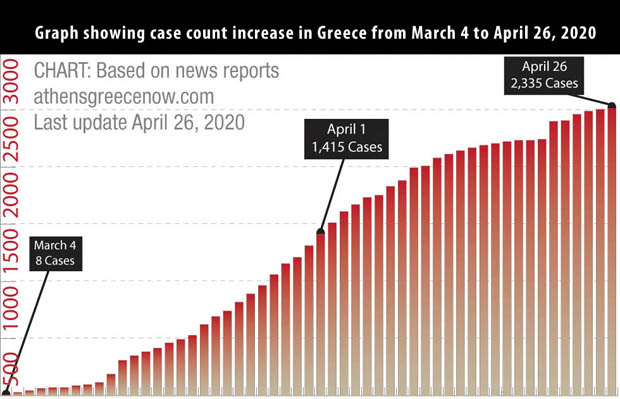 Chart showing covid-19 case count increase in Greece from march 4 to April 26 2020
---
List of COVID infections by community area
May 3, 2020
Story at Tovima [Greek]
---
July 15, 2020
ELSTAT publishes new page on Pandemic
Webside link at Statistics.gr [English] and Greek language
---
Log of the pandemic cases in Greece
March 2020 – Feb 2021
Covid-19 case count February 23, 2021: 182,783 - Naftemporiki
Covid-19 case count February 6, 2021: 163,213 - eKathimerini
Covid-19 case count January 31, 2021: 156,957 - Naftemporiki
Covid-19 case count January 23, 2021: 151,646 - Naftemporiki
Covid-19 case count January 4, 2021: 140,526 - Naftemporiki
Covid-19 case count December 30, 2020: 137,918 - EFSYN
Covid-19 case count December 17, 2020: 128,710 - Naftemporiki
Covid-19 case count December 1, 2020: 107,470 - Naftemporiki
Covid-19 case count November 20, 2020: 87,812 - Iefimerida
Covid-19 case count November 4, 2020: 46,892 - Eleftherostypos
Covid-19 case count October 21, 2020: 27,334 - Naftemporiki
Covid-19 case count September 5, 2020: 11,386 - Naftemporiki
Covid-19 case count Aug 3, 2020: 4,662 - iefimerida
Covid-19 case count July 26, 2020: 4,193 - eKathimerini
Covid-19 case count July 1, 2020: 3,432 - Keep Talking Greece
Covid-19 case count June 22, 2020: 3,287 - Ethnos
Covid-19 case count June 17, 2020: 2,642 - Eleftherostypos
Covid-19 case count June 1, 2020: 2,918 - Eleftherostypos
Covid-19 case count May 5, 2020: 2,642 - Liberal
Covid-19 case count May 1, 2020: 2,612 - Liberal
Covid-19 case count April 26, 2020: 2,517 - Protothema 
Covid-19 case count April 25, 2020: 2,506 - Iefimerida 
Covid-19 case count April 24, 2020: 2,490 - Liberal 
Covid-19 case count April 23, 2020: 2,463 - EFSYN
Covid-19 case count April 22, 2020: 2,408 - Liberal
Covid-19 case count April 21, 2020: 2,401 - Liberal
Covid-19 case count April 20, 2020: 2,245 - Liberal
Covid-19 case count April 20, 2020: Easter
Covid-19 case count April 18, 2020: 2,235 - Naftemporiki
Covid-19 case count April 17, 2020: 2,224 - Tovima
Covid-19 case count April 16, 2020: 2,207 - Liberal
Covid-19 case count April 15, 2020: 2,192 - EFSYN
Covid-19 case count April 14, 2020: 2,170 - Liberal
Covid-19 case count April 13, 2020: 2,145- EFSYN
Covid-19 case count April 12, 2020: 2,114- Iefimerida
Covid-19 case count April 10, 2020: 2,081- Naftemporiki 
Covid-19 case count April 10, 2020: 2,011- Protothema
Covid-19 case count April 9, 2020: 1,995 - Liberal
Covid-19 case count April 8, 2020: 1,884 - Ethnos
Covid-19 case count April 7, 2020: 1,832 - Liberal
Covid-19 case count April 6, 2020: 1,755 - Liberal
Covid-19 case count April 5, 2020: 1,735 - Liberal
Covid-19 case count April 4, 2020: 1,673 - Liberal
Covid-19 case count April 3, 2020: 1,613 - worldometers.info
Covid-19 case count April 2, 2020: 1,514 - Liberal
Covid-19 case count April 1, 2020: 1,415 - Liberal
Covid-19 case count March 31, 2020: 1,314 - Liberal
Covid-19 case count March 30, 2020: 1,212 - Ethnos
Covid-19 case count March 29, 2020: 1,156 - Liberal 
Covid-19 case count March 28, 2020: 1,061 - Liberal and Reuters
Covid-19 case count March 27, 2020: 966 -  Naftemporiki 
Covid-19 case count March 26, 2020: 892 - Iefimerida 
Covid-19 case count March 25, 2020: 821 -  Liberal 
Covid-19 case count March 24, 2020: 743 - Iefimerida 
Covid-19 case count March 23, 2020: 695 -  Liberal 
Covid-19 case count March 22, 2020: 624 - Reuters 
Covid-19 case count March 21, 2020: 530 -  Liberal 
Covid-19 case count March 20, 2020: 495 -  Liberal 
Covid-19 case count March 19, 2020: 464 - Liberal 
Covid-19 case count March 18, 2020: 418 - Liberal 
Covid-19 case count March 17, 2020: 387 - Protothema 
Covid-19 case count March 16, 2020: 352 -  Iefimerida  and at Skai 
Covid-19 case count March 15, 2020: 311 - Liberal 
Covid-19 case count March 14, 2020: 228 - Protothema 
Covid-19 case count March 13, 2020: 190 -  Iefimerida  and at Liberal 
Covid-19 case count March 12, 2020: 117 - Iefimerida 
Covid-19 case count March 11, 2020: 99 - Iefimerida 
Covid-19 case count March 10, 2020: 89 - iefimerida 
Covid-19 case count March 9, 2020: 73 - Naftemporiki 
Covid-19 case count March 8, 2020: 73 - Iefimerida 
Covid-19 case count March 7, 2020: 66 - Liberal 
Covid-19 case count March 6, 2020: 46 - eKathimerini 
Covid-19 case count March 5, 2020: 31 - Protothema 
Covid-19 case count March 4, 2020: 8 - Liberal 
---
---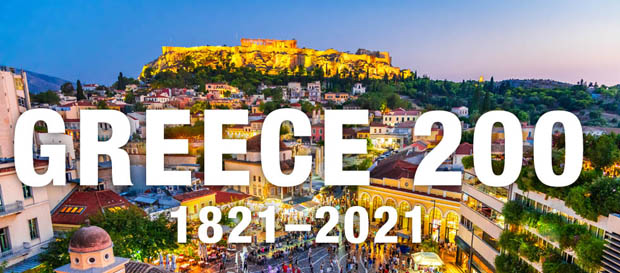 ---
Advertisement: I am an Amazon affiliate
Fodor's Essential Greece: with the Best Islands (Full-color Travel Guide)
---