Greece and the economic crisis 2018
NEWS ARCHIVE - Sept 27 - Sept 30
---
---
September 30, 2018
FYOM referendum has low turnout
eKathimerini suggests this may pose a problem for the vote count to be accepted as definitive. Protothema says the count so far puts "yes" for the name change at 90%. Liberal GR says the vote is 91% for "yes" with 20% votes counted.
People missing following storm
Reuters on the affect of the storm on the island of Evia and the southern Peloponnese peninsula. china.org.cn lists 4 people missing.
11-metre (36 foot) high wave expected
Tovima on the wave action at the southern end of the Peloponnese.
---
September 29, 2018
Medicane "Zorbas"
Harsh weather through October 1 - more at Keep Talking Greece - gale force winds in Athens - more at eKathimerini. Radar maps and more at Naftemporiki. [Surfing during the cyclone sounds dangerous, but it is being done - video and photos on this page at KTG].
ND wants early elections to stop FYOM deal
Tovima article on New Democracy pledging to stop the Prespa Agreement, saying that the use of "North Macadonia" will inevitably devolve to "Macodinia."
4 Month high on Greek bonds
More on this at Protothema
West Nile Virus
Xinhua Net on 31 deaths from West Nile in 2018.
Pension cuts not in budget draft
eKathimerini on how Italy's defiance of EU budget deficit caps has impacted the Greek bond market, and makes the possibility of SYRIZA's plan to not cut pensions in January (as originally agreed upon with creditors) likely to run into opposition in Brussels.
---
Phaleron War Cemetery in Athens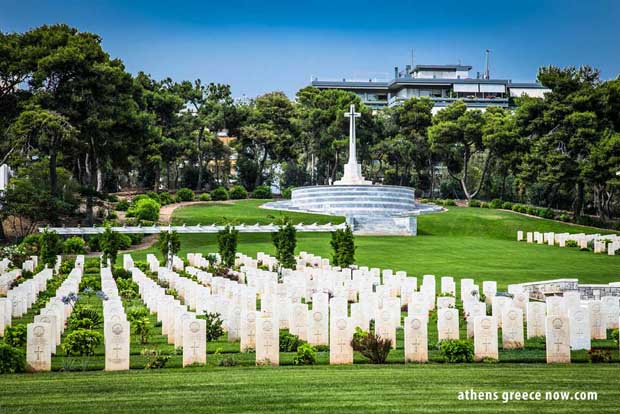 ---
September 28, 2018
Evros Crossing
Irin news on the use of Evros for border crossing, but 29 have died this year trying to do so.
High winds and rain
Cyprus Mail on the gale force weather pounding the mainland. Protothema on school closures in Attika. 36 foot waves possible - more at Greek Reporter.
Medicane
Accuweather on the heavy weather, with maps showing its progress. Mentioned in the article is the fear for mudslides and flooding. UPI has more on the storm. (Some news outlets - not mentioned here - are a bit mixed up, they think the storm is named "Medicane," like a traditional Atlantic Ocean hurricane.)
Sailing Marathon cancelled
The Second Annual Sailing Marathon sponsored by the Yacht Club of Greece has been cancelled due to the rough weather - eKathimerini.
The Trans Adriatic Pipeline is almost cleared
Trend AZ says that 99% of the 878 km/548 mile route has been cleared.
FYOM Vote
eKathimerini on the clashing forces in the Skopje government, with the country's political leadership butting heads: President Gjorge Ivanov calls for a boycott and Prime Minister Zoran Zaev wants as many citizens as possible to vote in the name referendum. Zaev has said "I know we have to make a concession and accept a geographical definition in the name of Macedonia. But no one can now question our national identity " - more at Tovima.
Number three for Andreas Georgiou
Georgiou is the former chief of ELSTAT and his journey through the courts (and especially the Council of Appeals Court which has cleared him twice) has been epic. He is now to be ruled on shortly on whether a criminal charge against him can go to trial (more at Naftemporiki) Accused of falsifying data, a lot of the substance of the charge has relied upon whether his figures were by the European standard or not - eKathimerini has more on that. Georgiou was hit with a two-year suspended sentence in 2017 for supplying data to the EU statistics agency which the accusers against Georgiou have said created a false picture of Greek indebtedness which prejudiced the EU in the matter of designing the bailout program - this 2017 article at Business Insider has detail on the conviction which was later thrown out by the Appeals Court, which is now ruling a third time in the matter.
---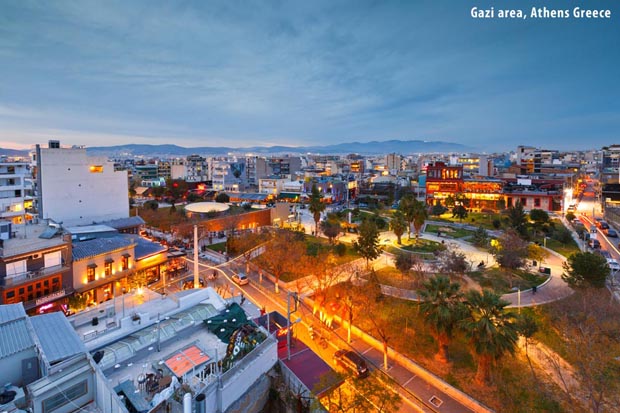 Gazi area Athens, Greece
---
September 27, 2018
Gale Force Winds
Washington Post on the unusually harsh weather moving in around Greece today - story at eKathimerini with more information and updates.
Oct 1 for easing of capital controls
ABC News on the end of limits on cash withdrawals.
Extension on bids
The deadline for selection of a purchaser from six bidders for a share of Greece's Public Power Corp is expected to be extended one month, this revised schedule depending upon a decision form the European Commission - story at Reuters. For more about the European Commission (which conducts "Fiscal surveillance in Greece") go to Europa EA.
Richter 5.2 earthquake near Pylos
No damages reported - story at Tanea GR
Schools closed on Friday due to weather
Story at Naftemporiki on closures.
Privatization schedule
Reuters reports on the coming efforts: in early 2019 a 30% percent stake in the AIA Athens International Airport will be available, sale of concessions rights at AIA Airport, and a portion of Hellenic Petroleum going up for sale.
Greece behind on recycling
GTP reports that there is a joint EU goal of recycling of municipal waste by 50 percent by 2020, and along with 14 other EU states, Greece is lagging behind.
Bakari Henderson trial
Los Angeles Times on the court case against the nine people involved in the death of the 22 year old black American Bakari Henderson who was beaten to death outside of a bar on Zakynthos. This July article from USA Today describes the incident as beginning with anti-Americanism by Serbian bar customers and then developing into an anti-black assault.
Heavy Weather
Naftemporiki on the medicane storms in the Mediterranean that are effecting Greece. eKathimerini reports the hurricane weather expected in the Ionian Sea on Friday.
---
Mikrolimano Marina Athens Greece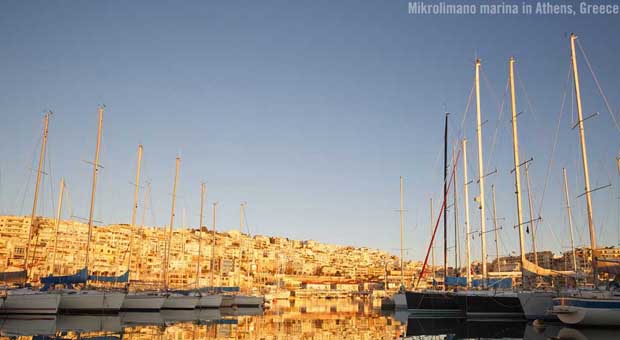 ---
View of Athens Greece from Odeon of Herodes Atticus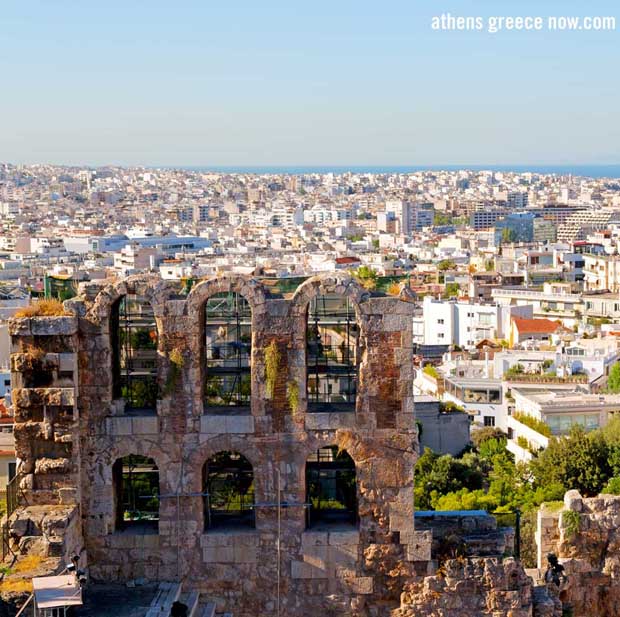 ---
You will see Amazon links on this web site because I am an Amazon affiliate. I earn from qualifying purchases.
---
International Real Estate
Buying Real Estate Overseas For Cash Flow (And A Better Life): Get Started With As Little As $50,000
Published by Wiley, 1st edition August 11, 2020, 240 pages
---
Try Prime Discounted Monthly Offering
---
Greece: Biography of a Modern Nation - AMAZON - Published March 2020 - 600 Pages
---
NEWS ARCHIVE - September 2018
---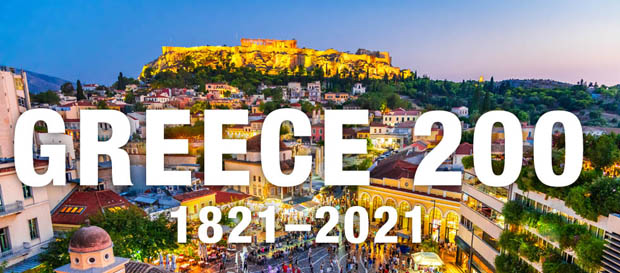 ---
You will see Amazon links on this web site because I am an Amazon affiliate. I earn from qualifying purchases.
Fodor's Essential Greece: with the Best Islands (Full-color Travel Guide)
---

---