Greece and the economic crisis 2018
NEWS ARCHIVE - March 17 - March 31
---
---
March 30, 2018
Greece Demands 'Clear Answers' from Turkey on Detained Soldiers - Naharnet
"The soldiers told prosecutors shortly after their arrest that they mistakenly crossed the border after getting lost in the fog. But according to Turkey's state-run Anadolu news agency, they have been charged with "attempted military espionage" as well as entering a forbidden military zone."
---
Soccer - PAOK boss gets three-year ban for gun incident, Greece faces ban - Reuters
Juwi commissions 8.6MW of solar projects in Greece - PV Tech
---
Macedonia, Greece seek to settle name spat at last - Yahoo
"Last year, UN mediator Matthew Nimetz, a 78-year-old veteran US diplomat long involved in the row -- reportedly for a token $1 a year -- was able to relaunch the process, meeting both sides separately and together."
---
Lawyer says Pilatus Bank whistleblower fears for her life - report - independent.com.mt
Government to bring new bill in April speeding up asylum - eKathimerini - eKathimerini
Eurogroup chief Centeno not worried about Greece΄s next day - Capital GR
New Democracy attacks government over Skopje meetings - Naftemporiki
---
Greek President Pavlopoulos visits NAVY headquarters at Salamina naval base - Protothema
"Greece's armed forces are fully ready to meet any threat, Defence Minister Panos Kammenos said on Wednesday as he received President of the Hellenic Republic Prokopios Pavlopoulos at the Hellenic Navy's Fleet Headquarters in the Salamis Naval Base."
---
March 29, 2018
Greek football club owner banned for three years over pitch invasion - PRESS TV
Greece, Albania move to advance Strategic Cooperation Agreement - Tovima
Airbus order: Deal with Greece's Aegean Airlines worth up to $5B - USA Today
Police break ring linked to more than 1,000 burglaries - eKathimerini
Greece's NBG says deal to sell insurance arm to EXIN terminated - Reuters
Greece urged to give distressed borrowers "last chance" - Washington Post [PAYWALL]
Greece's National Bank widens loss after higher impairment charges - Reuters
Kammenos: Armenia and Greece face common challenges - Yerevan, Armenia News
Greece: Soccer fans clash with police at political event - USA Today
Malta activists urge Greece to grant asylum to whistleblower - Trust Org Reuters
---
Athens Subway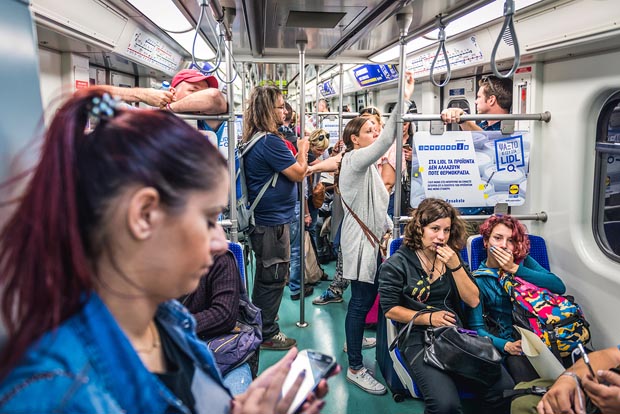 ---
March 28, 2018
Greece vs. Turkey: Are We Headed for an Intra-NATO War? - Weekly Standard
"...polls say 92 percent of Greeks believe Turkey constitutes Greece's biggest threat. Is Turkey generating grievances as a pretext for war? Who would gain from such a war? How would America react? And why has Erdogan chosen this moment to escalate tension?"
The article at the Weekly Standard gathers together the disparate pieces of contention that are ongoing between Greece and Turkey, in particular how Erdogan's government is building a legal argument to challenge the status quo.
"Turkey has instead escalated to questioning not the jurisdiction of islands but their very ownership. "In the 1990s, various papers started circulating from [Turkish] think-tanks that took a legalistic approach, and said that if an island or islet or rock isn't specifically mentioned in an international treaty, then it reverts to the previous power, which is the Ottoman Empire. And as Turkey is considered the successor regime, they belong to Turkey," says a Turkey-based expert who wishes to remain anonymous."
---
UAE's Mubadala, Greece's Taneo to invest 400 mln euros in Greece - Reuters
Greece gets green light for 6.7 billion euro bailout batch - ABC News
Salah-less Egypt lose to Greece in World Cup warm-up - Times of India
Greece's fiery former financial chief forms new party to tackle debt Yanis Varoufakis, Greece's former finance minister who transfixed Europe with his unconventional style at the climax of the debt crisis, has launched a new party promising to free his country from debt - Washington Post [PAYWALL]
Racist violence creeping up in Greece, report finds - Yahoo
Meet Marie-Chantal, Crown Princess of Greece - and buggy enthusiast - UK Telegraph
---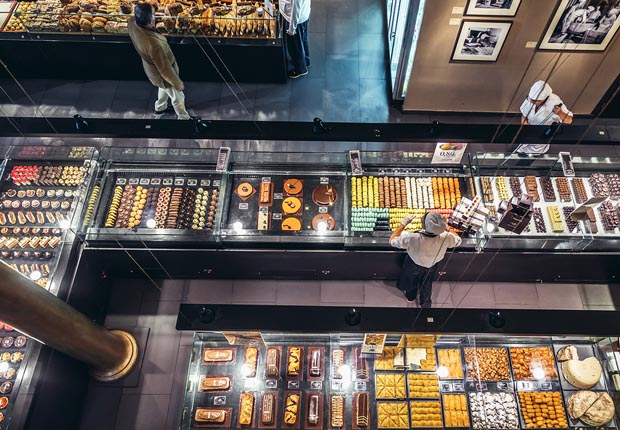 Beneth Bakery - Pastry Cafe in Athens Greece
---
March 27, 2018
Greece gets green light for 6.7 billion euro bailout batch - ABC News
"The ESM said the initial 5.7 billion euros are to be disbursed Wednesday. The remaining 1 billion euros, to be used for clearing arrears, may be disbursed after May 1 if the country "makes progress in reducing its stock of arrears."
---
More News:
VAT will be applied at two rates to short-term leases, Airbnb. In a circular of the AAD governor, G. Pitsilis clarifies the landscape - Naftemporiki
EBRD eyes extending mandate in Greece to 2025 to spur growth - Reuters
Europe's bailout fund approves 6.7 billion euros for Greece - Washington Post
Sahara desert dust cloud blankets Greece in orange haze - Sky News
Egypt face Greece in a friendly match on the 27th of March 2018 at the Letzigrund Stadium - Yahoo
Turkish prosecutor rejects another appeal for Greek soldiers' release - eKathimerini
---
March 26, 2018
Greece could create new market shocks as banks face critical test - CNBC
US drones to be based at Larisa Air Force base as of May - Tovima
"Athens and Washington have decided to use either a 1992 military cooperation agreement, or one of 100 other bilateral agreements, as the legal basis for the stationing of the drones, without requiring approval from the Greek parliament. Expert US military personnel have been working on the infrastructure at the Larissa air base for the last several weeks, so as to allow the stationing of MQ-9 Reapers, which will focus on information-gathering, surveillance, and reconnaissance, in an exceptionally sensitive region."
---
Haze of African dust shrouds parts of Greece - Fox News
EU membership remains strategic goal - eKathimerini
The markets for the stress tests of Greek banks are worried - Naftemporiki
---
Greece's Varoufakis promises to end debt bondage with new party - Reuters
"The academic economist - who once described the austerity imposed by Greece's creditors as "fiscal waterboarding" - said his new MeRA25 party would revive the economy through debt restructuring and other measures."
---
March 25, 2018
Putin to Tsipras: I will raise Turkish provocations against Greece to Erdogan - Protothema
---
March 24, 2018
Security services avert plan to install Gulenists in Greece - eKathimerini
"Greek security services averted a plan to install in Greece supporters of Fethullah Gulen, the exiled Turkish cleric accused by Ankara of orchestrating the failed coup in 2016, according to information obtained exclusively by Kathimerini."
---
Marc poll: ND leads SYRIZA by over 10 points - Protothema
Pavlopoulos: Comply with the rules of international law - Naftemporiki
Citi: Greece will not be able to achieve growth and surplus targets - Capital GR
Greece's GEK Terna to offer 7-year bond next week - Reuters
Controversial Nottingham Forest owner charged with drug trafficking in Greece - Yahoo
Greece optimistic on ending 27-year name row with Macedonia - Irish Times
Greece awaits response on Macedonia name dispute proposals - Wisdomsave
Schoolbooks and the revolution of 1821 - efsyn.gr
---
The Homeland is back - Liberal GR
"Erdogan forces us to rethink the concept of borders, the notion of a constitutional state, the concept of National Defense. It compels us to understand that these are not theoretical constructions."
---
March 23, 2018
Greece concludes sale of 67 percent stake in Thessaloniki Port - Reuters
An obvious aspect of this transfer, not mentioned in the Reuters article, is that the sale to a group of German, French and Cyprus companies will partially offset the domination of China over the Pireas port.
---
New Traffic Violations Bill sets fines according to income criteria - KTG
"...Those with low and medium income will pay less but those with annual income of more than 50,000 euros will pay more. The new fines are reduced at 40 percent when compared to current situation and only for certain violations."
---
Saharan dust storm causes disruption in Greece - MSN Video
Brief video shows reduced visability in Thessaloniki
---
Turkey slams 'unacceptable' EU stance on Cyprus, Greece - Press TV
Kountoura Expects Over 30 Million Tourists in Greece in 2018 GTP
Lignite mining: Greece's dirty secret - in pictures - UK Guardian
Extreme-right group claims arson on Afghan center - eKathimerini
Greece Seeks 'Honorable Compromise' with FYROM - Greek Reporter
Macedonia, Greece move to resolve decades long name dispute, Greek FM says - Trust org
---
---
March 22, 2018
EU sides with Greece in Cyprus dispute with Turkey - Press TV
European leaders were on Thursday set to strongly condemn Turkey's "illegal actions" toward Greece and Cyprus in a blistering denunciation that could upend an EU-Turkish summit in Bulgaria next week.
---
EU Leaders to Condemn Turkey for Provoking Greece, Cyprus - Keep Talking Greece
According to a text obtained by Bloomberg dated March 21, EU leaders will "strongly condemn Turkey's continued illegal actions in the Eastern Mediterranean and the Aegean Sea".
---
Reuters: Joint Declaration of "28" against Turkey for the Cyprus EEZ - Naftemporiki
IMF ready to re-enter Greek bailout programme: Brussels sources - Protothema
Handelsblatt: Merkel's efforts to release Greek soldiers - Naftemporiki
Israel and UAE Fly Together in Annual Joint Exercise in Greece - Haaretz
Greek Banks Preparing to Dump Bad Loans Find a Buyer in Sweden - Bloomberg
---
March 21, 2018
Greece signs deal with charitable foundation for healthcare - Fox News
The funds are marked for constructing and equipping a children's hospital in the second-largest city of Thessaloniki and new buildings for existing hospitals in Athens and the northern town of Komotini.
---
Greece, Paneuropean in talks to jointly divest stake in Hellenic Petroleum - Reuters
Meghan Markle, Prince Harry Will Vacation In Greece Days Before May Wedding - International Business
Deutsche Telekom to buy additional 5 percent stake in Greece's OTE Telecom - Reuters
PM to broach soldiers, Turkish aggression at EU summit - eKathimerini
---
March 20, 2018
Greece awaits response on Macedonia name dispute proposals - Fox News
Greek government spokesman Dimitris Tzanakopoulos said Tuesday that the country's foreign minister would travel to Skopje Thursday for meetings with government officials, opposition figures and ethnic Albanian minority parties.
---
BoG governor: Greece needs steep increase in private investments - Capital GR
Private investments must increase by 50% in the near future if Greece΄s production potential is to improve, Bank of Greece (BoG) governor Yannis Stournaras said during an event at the Foundation for Economic & Industrial Research (IOBE) on Monday.
---
More News:
Greece sent five proposals to FYROM on name dispute - Protothema
Kammenos says Turkish handling of Greek soldiers reminiscent of the 'Midnight Express' - eKathimerini
Turkish national runs across border while drunk - Washington Post
Greece launches its own space agency - Geo Spatial World
Mini Electric Hummer Production Could Start In Greece - GM Authority
Erdogan sends hydrocarbon exploration craft for drilling in the Eastern Mediterranean - Naftemporiki
Kammenos addresses MPs, meets with PM to bridge chasm in coalition - Tovima
---
March 19, 2018
Tsipras to meet with defense minister to discuss Greek soldiers - eKathimerini
Greece's NBG looking at options on Romanian unit after sale rejected - Reuters
Greek court convicts Syrian man of Islamic State membership - ABC News
At € 2.44 billion, public-sector liabilities to individuals - Naftemporiki
No more free tax ride for Airbnb homeowners - Tavima
---
March 17, 2018
At least 16 dead as migrant boat capsizes off Greece - AFP
"The UN refugee agency the UNHCR said that 500 people had perished or gone missing in the Aegean in the past two years -- adding to the 1,000 who drowned in the narrow channel between Greece and Turkey in 2015 and 2016 at the peak of the migration crisis."
---
At least 15 die as boat capsizes off Greece - BBC
"Coastguard vessels and helicopters are searching for more survivors off the island of Agathonisi, close to the Turkish coast."
---
New Democracy retains strong lead over Syriza in new poll - Tovima
Greek FM Kotzias gets bullet in mail - Kathimerini
Greece: Europe's Two-Year-Old Deal with Turkey Traps Thousands in Disastrous Conditions - Relief Web
FYROM Foreign Minister Dimitrov's statements torpedo upcoming talks - Protothema
Pavlopoulos: We will never accept the existence of gray zones - Naftemporiki
---
You will see Amazon links on this web site because I am an Amazon affiliate. I earn from qualifying purchases.
---
International Real Estate
Buying Real Estate Overseas For Cash Flow (And A Better Life): Get Started With As Little As $50,000
Published by Wiley, 1st edition August 11, 2020, 240 pages
---
Try Prime Discounted Monthly Offering
---
Greece: Biography of a Modern Nation - AMAZON - Published March 2020 - 600 Pages
---
NEWS ARCHIVE - March 2018
---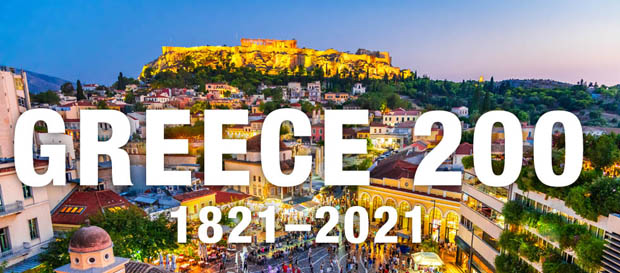 ---
Advertisement: I am an Amazon affiliate
Fodor's Essential Greece: with the Best Islands (Full-color Travel Guide)
---