Greece and the economic crisis 2018
NEWS ARCHIVE - Feb 7 - Feb 13
---
---
February 13, 2018
Greece officially complains to Turkey, briefs EU, NATO, UN; situation remains tense - KTG
"The Greek Foreign Ministry has summoned the Turkish Ambassador to Athens and also filed an official complain to the Turkish Foreign ministry in Ankara. Furthermore, the Greek Foreign Ministry has briefed about the incident the USA, Germany, the European Union, the NATO as well as the 5 permanent members of the Security Council of the United Nations, state broadcaster ERT said on Tuesday afternoon."
---
Erdogan warns Greece, Cyprus over gas search, Aegean islets - ABC News
"We recommend that foreign companies don't allow themselves to be an instrument of issues that surpass their limits and strength, by trusting the Greek Cypriot side," he said. "Their show of strength lasts only until they see our ships and our planes." Turkey opposes the drilling, which it says disregards the rights of breakaway Turkish Cypriots. It also claims as its own part of the area Cyprus has designated for exploratory drilling.
---
Greece Says Turkish Coast Guard Rams Greek Boat - New York Times
"Greek authorities say a Turkish coast guard patrol vessel has rammed a Greek coast guard boat near a pair of Aegean Sea islets over which the two countries came close to war in 1996."
---
Failing migrant deal means majority will never leave Greece - UK Times
"Only one in six of the thousands of asylum seekers marooned on Greece's islands will ever be sent to Turkey under the controversial European Union deal signed in 2016, a senior Greek official has claimed. The agreement, drawn up in haste as a vast tide of refugees, mostly Syrians, headed for Europe, was intended to ensure that only those granted political asylum remained in Greece, with Turkey given billions of euros to accept the rest."
---
More News:
Turkish Forces Violate Greek Airspace, Waters - Greek Reporter
Greece launches tender for 5 percent stake in OTE telecom - Customs Today
Greek PM calls for inquiry into bribery claims against two predecessors - MSN News
10 migrants bound for Greece missing in Turkish river - Times of India
Turkey warns Greece, Cyprus not to 'step out of line' with oil search in Mediterranean, claims on Aegean islets - Washington Post
---
Lykavittos, Athens Greece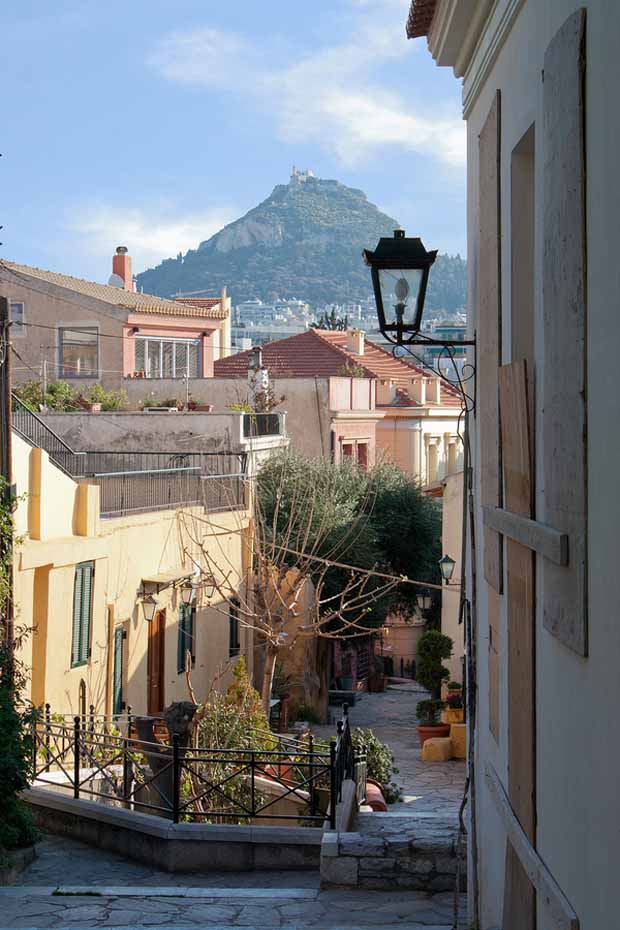 ---
February 12, 2018
Turkey: Greece shouldn't impose name on Macedonia - Fox News
This wasn't hard to see coming. After negotiating without firm result, it was a natural move for Skopje to align a little with someone big and influential on the otherside of Greece's border in order to add a little more pressure to the matter.
"Speaking at a joint conference with visiting Macedonian Prime Minister Zoran Zaev on Monday, Binali Yildirim said: "it is wrong for another country to determine the name of a country."
---
Greek PM wants politicians investigated in alleged Novartis bribery case - Reuters
"Last week, Greek prosecutors referred the case to parliament. The house will decide whether to investigate if conservative and socialist politicians are found to have been involved in alleged bribes by Novartis to doctors and public officials. Politicians, who have been named in parliament, have strongly denied the allegations, calling the claims a fabrication and a witchhunt by Tsipras' leftist-led government seeking to discredit them, a little over a year before scheduled elections in the country."
---
Greece Slams Turkish Violations in Cypriot Waters - Egypt Today
"Cyprus is testing Turkey's patience in the Eastern Mediterranean, a retired Turkish naval officer has claimed, according to a Cyprus Μail report. Former vice-admiral of the Turkish navy, Cem Gurdeniz, said in an interview to Turkish newspaper Milliyet on Sunday that the harassment of Saipem 12000 is a serious demonstration of the power of the Turkish fleet."
---
More News:
PAOK hammers Larissa to go top in Greece - Yahoo
Greece: Bribe scandal involving politicians faces probe - World Bulletin
Qatar Airways to Launch Direct Flights from Doha to Mykonos, Greece - GTP
Olympiakos to appeal points sanction for fan violence - foxsports
---
Athens street view of Acropolis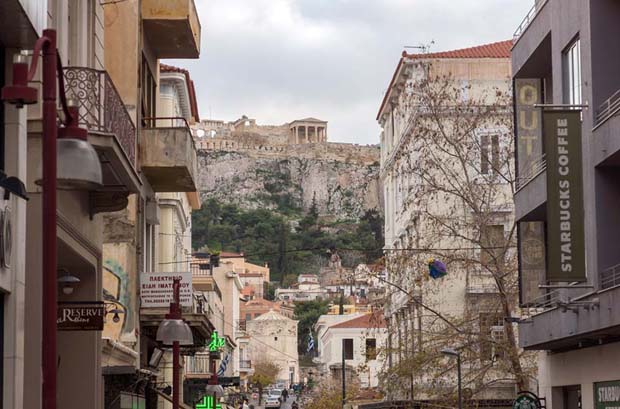 ---
February 11, 2018
Only '16% of asylum seekers' in Greece to be sent to Turkey: report - MSN
...despite a deal Turkey struck with the European Union in 2016 in which it agreed to take back illegal migrants landing on Greek islands in exchange for incentives including financial aid. The deal, chastised by rights groups, has curbed the number of migrants seeking to cross the Aegean Sea.
---
More News:
AEK beats Asteras 1-0 to go top in Greece - USA Today
Macedonia Proposes Geographical Name Change to End 25-Year Dispute with Greece - VOA
Greece launches new bond as recovery gathers speed - UK Times
Convicted Terrorist Convicted terrorist Koufodinas in Greece returns to jail after furlough - Washington Post
---
February 9, 2018
Gunman's furlough draws protest from US, UK - Washington Post
"Dimitris Koufodinas, 60, is serving life for participating in 11 of the group's 23 assassinations, including of diplomats and military officials from the U.S., Turkey and Britain. He was granted a 48-hour leave, and walked out of an Athens prison where he was greeted by relatives and friends.

Heather Nauert, a spokeswoman for the U.S. State Department condemned his temporary release, adding: "We fundamentally believe that convicted terrorists do not deserve a vacation from prison."
---
Tsipras says Greece will not need credit line when it exits bailout - Irish Times
"Greece, which has received €266 billion of aid to date a result of three international bailouts since 2010, is preparing to exit its third programme in August, as the country has returned to growth and as the market interest rate, or yield, on its 10-year government bonds have fallen to pre-crisis levels."
---
Whither Greece - Israel relations? - Jerusalem Post
"From another perspective, it is noteworthy that the Greek-Israeli partnership – which began to flourish in 2010 – has been boosted despite the leftist ideological orientation of the Greek government.

The governing Syriza party belongs to the European family of United Left and Nordic Green Left, which has been critical of Israel on many occasions...

But as with many other issues – principally his July 2015 political turnaround vis-à-vis Greece's creditors – Tsipras soon faced reality and abandoned utopian ideas. Visiting Jerusalem for the first time in November 2015, he publicly praised the strategic cooperation between Greece and Israel. Since then, he has been clearly a pragmatist in approaching the latter."
---
PM to recommend inquiry committee for Novartis case - eKathimerini
"Prime Minister Alexis Tsipras will be recommending the formation of a parliamentary committee to conduct a preliminary inquiry into claims made in a prosecutors' report that several high-ranking politicians were bribed by Swiss drugs firm Novartis."
---
End in sight for Greece's EU bailouts, but not its problems - Handelsblatt
"...the jury is still out on Greece's prospects. This week, the European Commission predicted the country would grow by 2.5 percent this year and next year. Unemployment is still a painful 21 percent, although that figure fell by almost 3 points last year."
---
More News:
Greece Must Tax Fuel Headed For Non-EU Nations, Court Says - law360
Wage increases in the state due to "deflation" of wage development - Naftemporiki
Greece, Ghana, Nigeria: Korean alphabet puts hottest nations first - Reuters
Greece wraps up seven-year bond sale, raises €3bn - Financial Times
EU approves capacity mechanisms for Belgium, France, Germany, Greece, Italy and Poland - PV Magazine
Why Greece always leads the parade of athletes at the Olympic opening ceremony and how the rest of the order is determined - Business Insider
UN warns of rampant sexual violence in Greek refugee camps - citizen
Is the Greece-Macedonia 'Name War' Finally Ending? - Strategy Page
FYROM PM to visit Turkey on Sunday - eKathimerini
---
February 8, 2018
Macedonia: Why the row with Greece over the name runs so deep - BBC
"Macedonia is rolling back on the trolling. Its policy of "antiquisation" served for a decade as an epic act of nose-thumbing at its southern neighbour, Greece."
---
Greece launches bond in key step to exiting bailout era - ABC News
"State finance officials said the auction was launched Thursday, with a starting rate of 3.75 percent. The decision followed a two-day delay due to this week's turmoil in global financial markets."
---
Greece's Fast-Growing Aegean Air Prepares US$5.5 Billion Jet Deal - China Aviation Daily
"The aircraft, to be delivered between 2020 and 2024, will replace an aging all-Airbus jet fleet, as well as add capacity for expansion, according to Gerogiannis. Aegean said it'll probably need 75 planes by 2023, a figure that includes turboprop models to link Athens with domestic locations."
---
Greece won't need fourth bailout, EU's Moscovici says - Reuters
"Asked if measures to reduce Greece's debt would be agreed by August, Moscovici said: "I think that in June there must be a comprehensive agreement..."
---
Is the Greece-Macedonia 'Name War' Finally Ending? - Townhall
"When "the northern political entity" retained the name Macedonia, Greeks interpreted that as a Slav-Albanian threat and asserted the use of the name indicated a Macedon claim to Greek Macedonia and its Aegean ports... Greek government officials indicate they would accept a name with a modifier like North or Upper Macedonia."
---
More News:
Greece's Macedonian Touchstone - NY Times
Greece takes the plunge after markets calm - Reuters
Moscovi: Clean exit, but also commitments - Naftemporiki
Tsipras: This summer will be a milestone for Greece - Athens News Agency
---
---
---
February 7, 2018
The growth of the Greek economy to 2.5% is forecast for 2018-2019 by the Commission - Athens News Agency
"...The Commission estimates that net exports were the main driver of the recovery in the second and third quarters of 2017, as Greece has begun to benefit from the wider recovery in Europe and the improvement of its competitiveness achieved through structural reforms. It is also noted that the increase in private consumption was generally stable in the first three quarters of 2017, somewhat reducing the savings gap. However, there has been a decrease in investment..."
---
EU migration chief hits out at 'sick minds' over Greece bribery probe - BBC
"The EU's migration chief has denounced a major corruption investigation in Greece as an "unprecedented plot". Dimitris Avramopoulos is among 10 Greek politicians named by prosecutors in a probe involving the Swiss pharmaceutical company Novartis."
---
Greece welcomes Macedonian move to settle name dispute - UK Guardian
"Among the new names being considered are Upper Macedonia, New Macedonia, Northern Macedonia and Macedonia (Skopje), according to well-placed diplomats."
---
Greece still waiting for dust to settle - Reuters
"Following a day of volatility in equity markets, Greece on Wednesday continued to monitor conditions and collect investor feedback ahead of bringing the trade... "We are on standby. We want to see markets normalizing," a Greek official who requested anonymity told Reuters."
---
Moscovis: Greece must once again become a normal country after the program - Naftemporiki
"[Economic Affairs Commissioner Pierre Moscovic] added that his personal position has always been that Greece belongs to the "heart" of the Eurozone and the EU. "In addition, I believe that after the end of the program, a" normal country "with full rights and obligations could gradually come again..."
---
More News:
Greece sells nearly 1.14 bln euros of treasury bills - xinhuanet
Stock market turmoil prompts Greece to delay bond issue - Fox
EU creditors to start talks on structuring debt relief for Greece - Financial Times
Macedonia Renames Airport, Highway In Bid To Settle Row With Greece - Radio Free Europe
Zbogar: Negotiations with Greece are promising, we are hoping for a happy ending - EWB
Greece opens new Tithorea - Leianokladi line - railjournal.com
The Perfect Greek Wines for the Meat-Feast of Tsiknopempti - Greece Is
The best beach hotels in Greece - UK News Post
---
You will see Amazon links on this web site because I am an Amazon affiliate. I earn from qualifying purchases.
---
International Real Estate
Buying Real Estate Overseas For Cash Flow (And A Better Life): Get Started With As Little As $50,000
Published by Wiley, 1st edition August 11, 2020, 240 pages
---
Try Prime Discounted Monthly Offering
---
Greece: Biography of a Modern Nation - AMAZON - Published March 2020 - 600 Pages
---
NEWS ARCHIVE - February 2018
---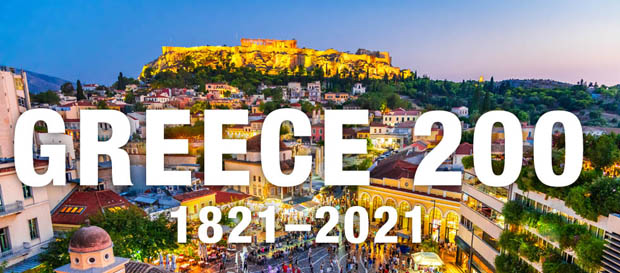 ---
Advertisement: I am an Amazon affiliate
Fodor's Essential Greece: with the Best Islands (Full-color Travel Guide)
---