Greece and the economic crisis 2018
NEWS ARCHIVE - Feb 14 - Feb 18
---
---
February 18, 2018
Final bailout review in focus at Eurogroup - eKathimerini
"The meeting comes amid concerns about a jump in the yield of Greek government bonds following a bond issue earlier this month."
---
Greater growth leads to an increase in inflation and interest rates - Naftemporiki
"Higher wages are translated into accelerating inflation, and this in turn will probably translate into a more sharp rise in interest rates from the major central banks on the planet. The ECB is currently excluding any interest rate increase before 2019, but many expect it to "pick up" sooner than the quantitative easing program, with which it gave the market a lot of cheap cash."
---
As Greece Celebrates Carnival, Rioters Attack Athens Police - Greek Reporter
Ireland President Higgins to visit refugee camp during state visit to Greece - Breaking News
Greece seeks to calm Brussels' bailout fears - Financial Times
Bad Greek Mortgages Qualify for Partial Write-Offs - Greek Reporter
---
February 17, 2018
Turkish Reactions 'Detached from Reality', Says Greece - Greek Reporter
Former PM Samaras files lawsuit against Tsipras - Protothema
The Turks know that any aggressive turn to Greece will not be an easy walk - Liberal.gr
The great damage to the Gavdos from the Turks in Imia - Iefimerida
---
February 16, 2018
Government talks tough on Aegean but divisions remain - eKathimerini
"...government spokesman Dimitris Tzanakopoulos [warned] on Friday that Greece will respond to any further acts of aggression. "If there is another act of Turkish aggression on Greek territory, there will be a response and there is no other way for us," he told Skai TV on Friday morning.
---
19 violations on Friday by Turkish fighter planes - Naftemporiki
"19 Turkish airplane violations have taken place on Friday in the northeast, central and southeastern Aegean."
---
Government poised for further easing of capital controls - Tovima
"If the Bank of Greece, and by extension the European Central Bank under which it operates, grants approval, the finance ministry plans to raise the monthly withdrawal limit from a single bank account from 1,800 to 2,300 euros."
---
US policy: Equal distances, false equivalences - ekathimerini
"Washington, though, has probably begun to understand that its tolerance has created a monster... When the United States treats Turkish aggression as equal to Greece's defending its national sovereignty, when Cyprus's rights are not more important than Turkey's claims, then why should Turkey not declare the Kurds terrorists, why should Ankara not see itself as the equal of Washington..."
---
6 Turkish reporters receive life sentences - efsyn.gr
'Greece is not going to allow any challenge of its territorial integrity' - Neo Kosmos
War of words between Greece and Turkey, on the aftermath of Imia incident - Neo Kosmos
Greece among 10 Most Miserable Economies in the world - KTG
The Far Right Is a Growing Threat in Greece - The Nation USA
Greece Launches European Cultural Heritage Year Events - KTG
---
February 15, 2018
Greece says won't tolerate border challenges after Turkish collision - Reuters
"Each side blamed the other for Monday's collision off an islet known as Imia in Greek and Kardak in Turkish. They came to the brink of war in 1996 in a sovereignty dispute over the islets. Seeking international support, Prime Minister Alexis Tsipras underlined that Greece's border was also that of the 28-nation European Union, and his foreign minister briefed the head of NATO and the U.S. military chief on Turkey's "provocative behavior"."
---
Greece: National Final in Doubt? - Eurovoix
The three finalists due to take part are:

Areti Ketime – Min ksehnas ton ilio (Don't Forget the Sun)
Chorostalites – Apo tin Thraki os tin Kriti (From Thrace to Crete)
Gianna Terzi – To oniro mou (My Dream)
Greece was represented by Demy at last year's Eurovision Song Contest in Kyiv, Ukraine. With her song "This Is Love", she placed 19th in the Grand Final with 77 points.
---
Macedonia willing to add name 'qualifier' to satisfy Greece - Fox
"Prime Minister Zoran Zaev said Wednesday that Macedonia's government is willing to add a "geographical qualifier" to the country's name, a change Greece has wanted. But Zaev says there are other outstanding issues, including what the Macedonian language will be officially called."
---
There is no optimistic scenario for the Aegean - Interview with Giorgos Finikakis - Liberal GR
"I assume that the US will do that they can reduce tension. We can not expect more. My concern is whether the US has the weight it once had in Ankara. President Trump will hardly throw the weight of the White House on the Greek-Turkish tug-of-war.

...Let's hope that Greek diplomacy has already done its best to ensure that the US has correctly estimated Greek red lines."
---
More News:
Greece won't renege on privatizations after bailout ends: state fund CEO Rania Ekaterinari  - Reuters
Vote on Novartis in the House on Wednesday - Naftemporiki
Samaras files suit against Tsipras, claiming plot behind bribery claims - ekathimerini
Europe's Left has finally renounced the Syriza Party - Counterpunch
---
View of Athens Greece from atop Acropolis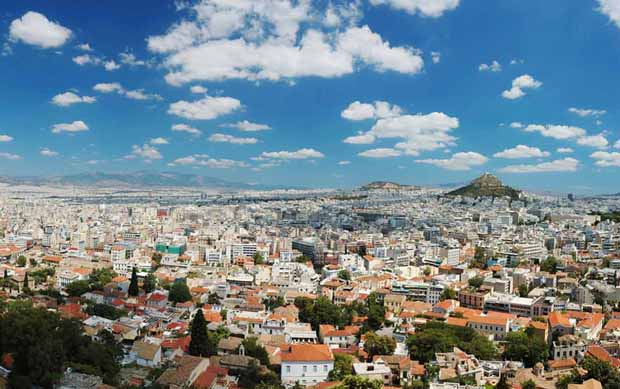 ---
---
---
February 14, 2018
Greece's new bond issue trading underwater amid wider market turmoil - Financial Times
The yield on Greece's 10-year debt has also risen, up 80 basis points in the past week to 4.47 per cent...
---
Moscovici: Greece needs no 'precautionary credit line' but own growth strategy - Euroactiv TV
"Speaking at a EURACTIV event on the future of European Economic and Monetary Union, moderated by business editor Jorge Valero, Moscovici firmly opposed any scenario of a "forced" program for Greece after the much-awaited exit from the current bailout this summer. Asked whether Greece will need a "credit line" at the end of the program, Moscovici replied "no"."
---
Erdogan advisor says Greece 'like a fly picking a fight with a giant' - eKathimerini
"Bulut made similar comments earlier in the month referring to Imia over which Greece and Turkey came close to war in 1996. "We will break the arms and legs of any officers, of the prime minister or of any minister who dares to step onto Imia in the Aegean," Bulut said..."
---
Greece, Turkey try to calm tensions after Aegean Sea crash - ABC News
"Tensions between the NATO allies already were rising over the warships Turkey deployed in recent days to block a rig from reaching a location off of Cyprus where Italian energy company Eni is scheduled to drill for natural gas."
---
The status of the Aegean is absolutely clear... under international law - AMNA
"D. Tzanakopoulos stressed that "the status of the Aegean is absolutely clear, there is no question in this regard under international law", to note that "any move by Turkey - which we must not anticipate and work on so that it does not happen - it will be answered, not only from the Greek side, but also from the EU side and from all international organizations. "
---
Fife Gennemats: Inertia hurts national interests - Naftemporiki
"The head of the Movement of Change, Fofi Gennimata, unleashed on the government criticism for wrong handling of the Turkish challenge, stressing that "it is a major mistake that the government did not immediately and unequivocally respond to the Turkish Turkish statement and downplayed the issue by talking only about geography" .
---
Tsipras: "We are working for the return of scientists, for the first time investment in research and innovation is at 1% of GDP" - Toxwni
"The government is stimulating the return of young scientists from abroad through the Foundation for Research and Innovation with a funding budget of € 240 million for creation of 1,100 new researchers positions in Universities and Research Centers."
---
Greece is the word: Fiscal recklessness portends a crash - Washington Examiner
"Greece and Portugal have economies whose GDPs hover right at the $200 billion range – a minuscule one-93rd the size of the U.S. economy. Even the act of bailing out their tiny economies stretched the capacity of the Western world, and neither of those nations is anywhere near out of the woods yet. But no other nation or even collection of them has the capacity to bail out the U.S. if we collapse under our debt load. What Trump and Congress are doing, indeed already have done with their fiscal incontinence, is putting the entire world economy at risk."
---
U.S. Defense Secretary Mattis to press European allies on military spending - UK Reuters
"...NATO data shows that Britain, Greece, Romania and the Baltic countries of Estonia, Latvia and Lithuania meet, or are close to, the 2 percent goal, while France and Turkey are among those countries set to reach it soon."
---
AADE Guidelines for Short-Term Rentals in Greece - GTP
"In efforts to clarify misunderstandings and provide guidelines for individuals wishing to rent out their properties for tourism accommodation, Greece's Independent Authority for Public Revenue (AADE) issued a manual on its e-platform that includes frequent questions and answers regarding short-term rentals."
---
More News:
Turkey tells Greece it must take necessary measures to decrease tension in Aegean Sea - MSN News
Turkey 'explicitly' asks Greece to refrain from tension - Hurriyet Daily News
Giannis Antetokounmpo gives ailing teen from Greece 'the best day of my life' - USA Today
Varoufakis offers a new "Mera" as he reveals name of Greek political party - Protothema
---
You will see Amazon links on this web site because I am an Amazon affiliate. I earn from qualifying purchases.
---
International Real Estate
Buying Real Estate Overseas For Cash Flow (And A Better Life): Get Started With As Little As $50,000
Published by Wiley, 1st edition August 11, 2020, 240 pages
---
Try Prime Discounted Monthly Offering
---
Greece: Biography of a Modern Nation - AMAZON - Published March 2020 - 600 Pages
---
NEWS ARCHIVE - February 2018
---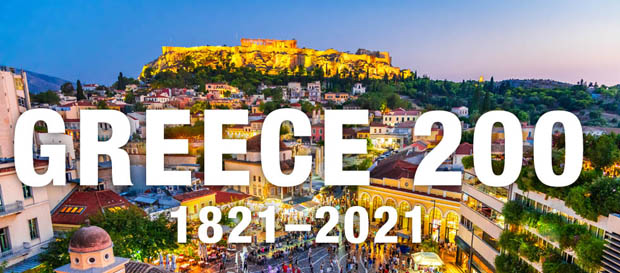 ---
Advertisement: I am an Amazon affiliate
Fodor's Essential Greece: with the Best Islands (Full-color Travel Guide)
---