Greece and the economic crisis 2018
NEWS ARCHIVE - Feb 23 - Feb 28
---
---
February 28, 2018
Tsipras makes small changes to cabinet, keeps finance, foreign ministers - Reuters
"He gave Deputy Prime Minister Yannis Dragassakis the Economy and Development portfolio after Greek American economist Dimitri Papadimitriou quit his post this week in response to public anger over his wife's use of a housing allowance. Tsipras also replaced Migration Minister Yannis Mouzalas..."
---
Weather warning: Snow, rain, thunderstorms, frost - Keep Talking Greece
"..Strong rainfalls and thunderstorms, accompanied by strong South winds and possibly also hail locally. Snowfalls, temporarily very heavy. Frost. Temperature drop."
---
Composition of the new government - Naftemporiki
"...Mr Tzanakopoulos said, "the responsibilities of the new Deputy Ministers and Deputy Ministers will be determined in the next few days, while no other change will happen to the government."
---
Anastasiades: Turkey's gas search blockade prevents peace talks - eKathimerini
"Nicos Anastasiades told lawmakers after taking his oath of office Wednesday that he's ready to negotiate as long as Turkey stops its "illegal" actions... He said only a negotiated settlement can ensure peace, but an accord must eclipse Turkey's guardianship of Turkish Cypriots and by extension, control of the island."
---
FYROM PM to FT: Greek demand for Constitution amendment is unreasonable - Protothema
...Mr Zaev said his country had no claims on Greece, making it clear in the interview that Greece's demands on the issue of the Constitution risked torpedoing the deal that each side said it wanted.
---
174.4% jumped in tax evasion, revealed by the AAD checks - Naftemporiki
"An increase of 174.4% was revealed by the Independent Authority for Public Revenues (AADE) in 2017. The amount of revenue foregone resulting from audits amounted to EUR 104,321 million last year, against EUR 38,618 million in 2016."
---
More News:
Turkey expects to receive first batch of F-35 jets in next 12 months, reports say - eKathimerini
Life expectancy in Greece dropped in 2015 for the first time, says OECD - Keep Talking Greece
Flambourar: I asked the US Ambassador for Novartis help - Liberal.gr
Behind the EU's Cautious Courtship of the Balkans - Bloomberg
Greece eases capital controls ahead of bailout exit - ABC news
IDF Chief arrives in Greece to discuss security with head of Greek Army - Jerusalem Post
Thermal Springs Are Focus of Investment Workshop - Argophilia
Greece loosens capital controls, raises cash withdrawal limit - MSN News
Protesters burn the Greek flag, as Zaev seeks compromise in Macedonia dispute - keeptalkinggreece
Macedonia has four options to resolve name dispute with Greece: PM - Reuters
The Olive Harvest in Crete, Greece - Daily Star
---
February 27, 2018
FYOM proposes 4 name options - Yahoo
"Macedonia hopes the issue can be resolved in time for an EU meeting in June and a NATO summit in July, and is proposing a geographical 'qualifier' to ensure there is clear differentiation in the two names."
---
Greece, lenders start final review of reforms before bailout ends - Reuters
"The talks on Monday between Greek officials and inspectors from the European Union and the International Monetary Fund focused on energy issues and privatizations. With its debt still the highest in the 19-nation euro zone, Greece has already started discussions with its lenders on further debt relief and on the terms of its bailout exit. It sees its economy growing by 2.5 percent this year."
---
Greece Registers Best January Room Rate Since 2009 - GTP GR
"According to the STR's monthly survey, Greek hotels achieved an ADR increase of 8.6 percent at 93,81 euros in January 2018, while the average revenue per available room (REvPAR) increased by 5.6 percent to 46,36 euros."
---
Turkey: relationships with Greece, Syria impact regional ministry - Missions Network
"...Ioannidis says it's possible that the latest tensions between Turkey and Greece are simply a way for Turkey to draw attention away from their costly war in Syria. "Part of the reason that they are more aggressive in other areas is to mobilize the nationalist sentiments among their own population and draw some attention away from what is happening in Syria."
---
More News:
Greek economy minister quits after outcry over wife's rent allowance - Reuters UK
Landslides bring houses to collapse, cause severe damage traffic network in Central Greece - Keep Talking Greece
Great Britain lose 75-70 to Greece in Fiba World Cup qualifying - BBC
Greeks' life expectancy fell in 2015 for the first time! - Protothema
Wealthy minister quits after rent subsidy furor - Washington Post [PAYWALL]
Turkish Mother Wins Custody Battle for Greek-Turkish Child - Greek Reporter
Three other SYRIZA ministers have applied for a rent allowance - liberal.gr
"In difficult times we do not tolerate privileges" - efsyn
ENI/TOTAL drilling in Cyprus' EEZ goes forward, despite Turkish manouevres - Tovima
---
February 26, 2018
Greece temporarily shuts Corinth canal for ships after rockfall - Reuters
"The coastguard was notified today, went to the spot and after seeing the landslide, banned ships from sailing," a Greek coastguard official told Reuters on condition of anonymity. The canal's operator will need about 15 days to restore it, the official said.
---
Greece, lenders start final review of reforms before bailout ends - MSN
"With its debt still the highest in the 19-nation euro zone, Greece has already started discussions with its lenders on further debt relief and on the terms of its bailout exit. It sees its economy growing by 2.5 percent this year."
---
Greece enters final round of reform talks with creditors - Yahoo news
"...negotiations were upstaged by a continued spat between Greece's central bank governor, Yannis Stournaras, and the government over financing policies after the bailout runs out in August... Stournaras repeated his argument that the government should consider setting up a precautionary credit line from the bailout rescuers that would secure the country — and its banks — cheap funding if needed..."
---
Greece needs post-bailout safety net, central banker says - Reuters
"...a precautionary support program should be considered additionally," Stournaras added. It would reduce Greece's borrowing costs and would give the government and the banks access to credit after the bailout ends, he said."
---
Greece's Piraeus port enters new era with increasing handling capacity
"Piraeus port, where the modern maritime Silk Road connects with the land route, has changed impressively since the COSCO Shipping Corporation subsidiary PCT took over the management of the site eight years ago for a span of 35 years. The terminal has been extended and upgraded with new infrastructure projects. It has been linked with the Greek railways since 2013, and new gigantic cranes have been installed, while efforts are underway to transform the wider area into a major logistics centre as well."
---
More News:
Arsonists destroy Albanian diplomatic vehicle in Thessaloniki - Washington Post [pay wall]
Police fires teargas at municipality workers protesting kindergartens legislation - keeptalkinggreece
Greece enters final round of reform talks with creditors - Fox News
Claims minister took rent subsidy for Kolonaki home prompts mini gov't crisis - eKathimerini
Greece needs to consider precautionary support programme - Foxlive
Turkish President Erdogan urges citizens to be prepared for military draft - Protothema
---
February 25, 2018
Snow coming on Monday - Toxwni
Is disgust a political position? - eKathimerini
The powerful pressure groups that lobby for the pharmaceutical industry -AMNA
---
February 24, 2018
European Central Bank's chief supervisor Daniele Nouy: Greek banks must do more to cut non-performing loans - MSN News
"...Banks have agreed with European Central Bank regulators to shrink NPEs by about 40 percent by end-2019. Cutting them would free up more capital to fund productive sectors of the economy, which is slowly recovering."
---
No Hurry' to Solve FYROM Name Dispute - Greek Reporter
"For us it would be a positive development, but for FYROM (becoming an EU member) would be of vital importance," and its European prospects "do not go through Ankara, they go through Athens; our neighbors must understand that," he stressed. Earlier, his FYROM counterpart Zoran Zaev expressed the wish that the two countries could arrive to a solution as early as the end of March.
---
Albania's Chams Want Greek Apology for Wartime Expulsion - NY Times
"The Chams are enraged that their demands are being neglected and at the idea that Tirana and Athens could agree to drop terms like Cameria and Northern Epirus, respectively the name Albanians use for lands in Greece and Greeks for lands in Albania."
---
More News:
Greece to auction 875mn euros of six-month T-bills on Feb. 28 - Business Recorder
Light earthquake, 4.3 mag strikes near Koroni in Greece - Earthquakes Today
Petition launched for Greece to be Included at World Disney's Epcot - Tornos News
Report: Elon Musk establishes Tesla Hub in Greece - Tornos News
Uncovering the profound effects that pension and health care reforms have had in post-crisis Greece - London School Economics
---
---
---
February 23, 2018
Merkel reassures Tsipras of support opposite Turkish aggression in Aegean - eKathimerini
"Merkel said the cooperation between the EU and Turkey in curbing illegal immigration was effective but stressed that it was important that there are no tensions in the Aegean, according to the Athens-Macedonia news agency."
---
Greece wraps up port privatisation after three years - Financial Times
"Greece's parliament has ratified the €1.1bn privatisation of the northern Greek port of Thessaloniki... The disposal of OLTH, operator of the port, takes the form of a combined share sale and concession deal..."
---
Hellinikon Tourism Project Gets High Court Approval - GTP
"According to the Council of State's 111-page ruling, all the works planned by property developer Lamda for Hellinikon are legal and in accordance with the constitutional provisions on the protection of the environment and of archaeological sites. The court has thus approved the construction, urban planning, architectural and other regulations for the development of the property including a highly-debated 45-storey skyscraper among six high-rise buildings, as included in the investor's master plan."
---
Greece starts casino licensing procedure for major tourism project - Reuters
"The decision was published in the Feb. 22 Government Gazette, the same day as Greece's top administrative court approved the project's development plan. A finance ministry official told Reuters that an advisor for the tender would be hired soon. Property developer Lamda signed a 99-year lease with the state in 2014 to convert 620 hectares of wasteland at the former Hellenikon Athens airport into a complex of luxury residences, hotels, a yachting marina, including a casino."
---
More News:
Albanian President blocks talks with Greece to determine sea borders - Neos Kosmos
Greece votes to probe politicians in alleged drug bribery case - Video / USA Today
Work has begun on whether Greece needs debt relief: EU rescue fund head - Reuters
Greece jails Palestinian over migrant smuggling - Fox News
2 ex-ministers sue witnesses in pharma bribe case - Wral
US says Cyprus has every right to explore resources in its Exclusive Economic Zone - Protothema
---
"Tradition is an imaginary line that unites us with our ancestors. But not to keep us trapped in an unknown past, but to lead in the future. By constantly being trapped in slogans and symbols we end up looking like families who are mourning for past majesty."
---
"KKE has been legalized" - liberal.gr
"An ominous confirmation of the government's involvement in the case for Novartis is the post of head of the Prime Minister's press office, Thanasis Karteros, on facebook [ Facebook link ] . First, he tries to create an ideological difference between the people who are tainted... a bad elite against the good left who are being persecuted..."
---
You will see Amazon links on this web site because I am an Amazon affiliate. I earn from qualifying purchases.
---
International Real Estate
Buying Real Estate Overseas For Cash Flow (And A Better Life): Get Started With As Little As $50,000
Published by Wiley, 1st edition August 11, 2020, 240 pages
---
Try Prime Discounted Monthly Offering
---
Greece: Biography of a Modern Nation - AMAZON - Published March 2020 - 600 Pages
---
NEWS ARCHIVE - February 2018
---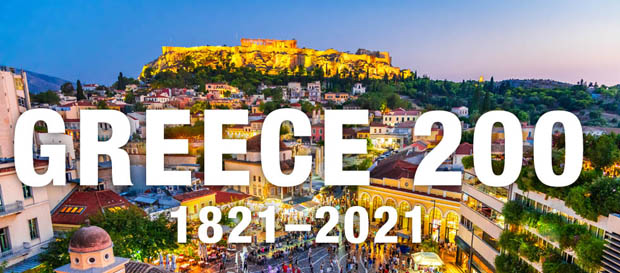 ---
Advertisement: I am an Amazon affiliate
Fodor's Essential Greece: with the Best Islands (Full-color Travel Guide)
---