Greece and the economic crisis 2017
NEWS ARCHIVE - Nov 13 - Nov 19
---
---
The Trip to Greece - online streaming
The Trip to Greece - Steve Coogan and Rob Brydon reunite in Greece for the fourth installment of THE TRIP series in a delightful odyssey of gut-busting comedy.
---
Oxford Greek-English Learner's Dictionary - 1024 pages - Amazon
---
November 19, 2017
Clashes break out on anniversary of 1973 student revolt in Greece - MSN
Video Report
"Tensions grew in the district of Exarcheia when Antifa protesters hurled rocks and Molotov cocktails at police who responded with tear gas. Earlier, thousands of protesters took to the streets to mark the anniversary of the bloody Polytechnic School Uprising."
Related Link: The Junta in Greece
---
Athens with Pireas in distance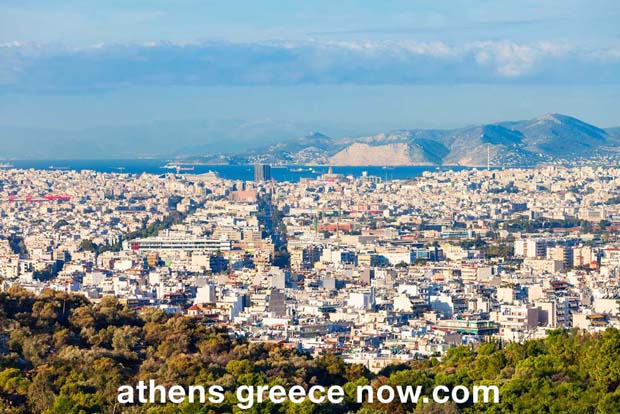 ---
November 18, 2017
Violence in Greece breaks out after annual US Embassy march - ABC News
The annual march is a centralized way for various groups (particularly Marxist derived) to get together and commemorate the 1973 Polytechnic bloodshed. From the ABC article:
"Resistance against fascism forever," read one banner, while protesters chanted "Americans, murderers of the people!"
There is a core tenant for some groups that the Georgios Papadopoulos (and Ioannidis) led Junta (1967-1974) was a mere puppet of the CIA.
"Hundreds of youths attacked police in Greece's two largest cities on Friday, hurling rocks, flares and gas bombs, following a large, peaceful march to mark the anniversary of the 1973 crackdown on a student uprising against Greece's former military dictatorship."
19 dead from deadly floods - Naftemporiki
George Papandreou: New delusion that Tsipras pulls out the country in 2018 from the third Memorandum - Efsyn
Vienna: where Greek first appeared in print - Neo Kosmos
Nice primer on Greek history vis-a-vis Vienna and the impact of relations via the Ottoman Empire, and afterward:
"After the Treaty of Passarowitz was signed in 1717, the borders stabilised and there was a push to reopen commerce and to begin the reconstruction of a vast area devastated by decades of war. Aside from fixing the boundaries between the two empires, a key provision was the right of Ottoman and Austrian subjects to engage in commerce in each other's realms. The Austrians lacked knowledge of the Ottoman Empire, and the Turks disdained commerce, so as a practical matter the opportunity fell on Ottoman minorities, Orthodox Greeks and Serbs, as well as Jews and Armenians."
---
---
November 17, 2017
Search continues for 6 still missing in flash floods - ABC News
ECHR orders Greece to pay damages over probe of death in wiretap case - Reuters
Greeks Clean up, Mourn after Floods Kill 16; 4 Still Missing - National Herald
Photos of the flood in Mandra along with video clips, too.
Tsipras: EU must recognize the major differences in labor markets - Naftemporiki
---
November 16, 2017
Group claims November 6 armed attack on riot police - Kathimerini
They are also being blamed for random assaults on the Mexican Embassey, French Embassy, and now PASOK headquarters in Exarchia. Reports elsewhere claim they've been using Kalashnikov military weapons.
"...the group admitted to firing a shot at a riot van parked in from of the offices of PASOK on Harilaou Trikoupi Street on January 10 as a "warning" and then "attacking again" on November 6." [Kathimerini]
In July Tovima had a story on this group's activities: "The group posted a declaration on the Athens Indymedia website, explaining that it decided to attack PASOK's offices in response to the party's "historical role in the service of capital..."
1 of 6 missing in Greece floods found alive - Fox News
Greece Offers Bond Swap in a Charge Toward Financial Freedom - NY Times
The announcement from the Bank of Greece is an offer to convert 20 Greek bonds valued at €30 billion into five new debt issues (details at the Bank of Greece website)
Get ready for Black Friday-Cyber Monday travel deals on Cuba, Greece and more - LA Times
The offers being described on the LA Times article page are mostly within very limited time frames for purchase.
---
November 15, 2017
At least 10 dead in flooding in Greece - UPI
Attika region flooding has been particularly devastating in areas around Mandra, Nea Peramos and Megara
"Severe rainstorms on Tuesday and Wednesday in Greece's Attica region damaged roads, homes and businesses. Although full damage assessments have not begun, the towns of Mandra, Megara and Nea Peramos were heavily damaged."
More Coverage:
Greece flash floods leave at least 10 dead - CBC News
Deadly floods hit Mandra, Nea Peramos and Megara - BBC
Flash Floods kill several people - Reuters
---
Greece in new market test with bond swap - France 24
There's a November 28 deadline for bondholders to decide.
"Greece on Wednesday offered to exchange some 30 billion euros ($35 billion) in bonds in a new market test for the country seeking to emerge from its latest bailout."
---
November 14, 2017
Greece Hopes Its Economy Can Get High From Medical Weed - Bloomberg
An official task force postulates some 400 jobs could be created by greenhouse cultivation for a cannibis industry that caters to anti-nausea usage for cancer and AIDs sufferers.
---
November 13, 2017
Croatia qualify for World Cup with Greece draw - Times of India
---
Fodor's Essential Greece: with the Best Islands (Full-color Travel Guide)
---
NEWS ARCHIVE - November 2017
---



---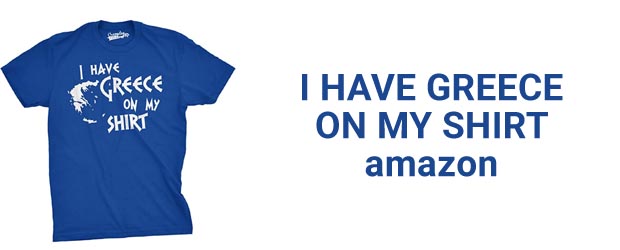 I Have Greece On My Shirt Funny Pun Geography Country Tee (Blue) - XL
---
Create Amazon Business Account - save time and money on business purchases with competitive B2B prices and discounts
---
Andros: The Little England of the Cyclades - AMAZON