Greece and the economic crisis 2017
NEWS ARCHIVE - Nov 20 - Nov 26
---
---
The Trip to Greece - online streaming
The Trip to Greece - Steve Coogan and Rob Brydon reunite in Greece for the fourth installment of THE TRIP series in a delightful odyssey of gut-busting comedy.
---
Oxford Greek-English Learner's Dictionary - 1024 pages - Amazon
---
November 26, 2017
ESM chief says Greek aid loan needs may be smaller than previously expected - Reuters
"...The issue of debt relief is expected to be part of negotations over Greece's bailout exit in the coming months but Regling said any debt relief was conditional on Greece fully implementing its reforms and on all euro zone states agreeing."
---
Volunteers keeping flooded Mandra afloat - eKathimerini
"The floods claimed 21 lives and caused serious damage to the homes and businesses of thousands of people in one the region's poorest areas."
---
"Croatia capitalised on a dismal Greece defensive display to take a commanding lead after the first leg of their World Cup qualifying play-off in Zagreb."
---
November 24, 2017
Erdogan to make first Turkish presidential visit to Greece 'since 1952' - Yahoo
"Greece and Turkey both joined NATO in 1952 but the thaw between the two countries only began in earnest in 1999 after destructive earthquakes struck both nations within weeks of each other.

They also cooperated closely in the 2015 migration crisis, with Greece backing an EU deal for Turkey to stem the flow of migrants."
---
Greece shares higher at close of trade; Athens General Composite up 0.31%
"Advancing stocks outnumbered falling ones by 65 to 37 and 12 ended unchanged on the Athens Stock Exchange."
---
Emirates' Black Friday Sale: Fly to Italy or Greece for $400 Roundtrip! - Running with Miles
---
Oscars: Greece Entry 'Amerika Square' Offers Stark Look at Refugee Crisis - MSN - Hollywood Reporter
"Sakaridis believes his film represents a particularly tough time for Greece, but fortunately today the situation is much better. "Our minister of migration, considering the situation, has done more than is humanly possible," he says of Ioannis Mouzalas. "You go to Athens and you don't see people living in the streets. They are able to find shelter."
---
---
November 23, 2017
Greece's Consumer Protection Body Tables New Trade Show Rules - GTP Greece
"Under the new framework, which is set to take effect in the beginning of 2018, trade and international exhibitions will be held exclusively in show spaces or exhibition centers... "
---
November 22, 2017
Greece, Looking to Move Past Bailouts, Unveils Ambitious Budget - NY Times
Still ahead: dealing with the approx 180% debt to GDP issue, along with restructuring. Also ahead, the big question of whether years of austerity has only been a spending restraint on the government in Athens, or has it been training wheels for a better run future economy?
"The budget "will mark the country's exit from a long period of macroeconomic adjustment," Greece's Finance Ministry said in a statement accompanying the proposed budget."
More Coverage:
General government debts at 4.49 billion euros - eKathimerini
---
New investigation into the death of Kostas Tsalikidis - Naftemporiki
"...order for a new investigation into the causes of death of former Vodafone deputy Costas Tsalikidis was given by the head of the Eparchy Prosecutor's Office, Antonis Liogas.."
More Coverage:
Prosecutor reopens probe into mobile executive's 2005 death - eKathimerini
---
Greece submits last bailout budget but austerity continues - FOX
"Greece is racing to complete the latest round of negotiations with rescue creditors by the end of the year, before the current bailout ends in August and the country will have to return to market funding."
---
Greece sees primary surplus at 3.82 percent, GDP growth 2.5 percent in 2018 budget - Reuters
"The final draft of the state 2018 budget submitted to parliament on Tuesday forecast an expansion in output of 2.5 percent next year, compared to a projected 1.6 percent in 2017."
More Coverage:
Greek 2018 draft budget foresees 3.82 pct primary surplus, 2.5 pct econ. growth rate - amna.gr
---
November 21, 2017
Leaders of Cyprus, Egypt, Greece pledge closer cooperation - ABC News
With recent closer ties between Israel and Greece, and relatively closer ties between Israel and Egypt, it looks like a bifurcated treaty alliance in the Eastern Mediterranean with Greece, Cyprus, Egypt and Israel on one side, and Iranian-backed forces in Syria and Lebanon on the other, with Turkey as the variable that can switch to go either way.
"Cyprus President Nicos Anastasiades, Egypt's President Abdel-Fattah el-Sissi and Greek Prime Minister Alexis Tsipras also agreed Tuesday during talks in the Cypriot capital, Nicosia, to broaden "strategic cooperation" on energy."
---
Greece to overshoot budget surplus targets in 2017, 2018 - Reuters
"The figures mark an upward revision. A draft budget submitted on Oct. 2 had put the surplus at 2.2 percent for 2017 and 3.57 for 2018."
---
PAOK shares lead with AEK after home win - USA Today
"PAOK added fresh drama to Greece's title race by coming from behind to beat Atromitos 2-1 at home and share the league lead with AEK Athens on Monday."
---
Greece invites bids for privatizing Alimos and Chios marinas - eKathimerini
"The deadline for the initial expression of interest by investors is January 16, 2018 for the marina of Alimos and January 18, 2018 for Chios."
---
In a trilateral EU-Greece-Germany meeting the issue of checks at German airports - liberal.gr
"...Germany is one of the countries that have temporarily reinstated controls at internal borders, specifically on flights from Greece, in order to address the risk of irregular immigration."
More Coverage:
Greek travelers flying into German airports since November 12 have described increased security checks as "humiliating." - eKathimerini
---
November 20, 2017
Greece probes central bank head over alleged leak - Financial TImes
"Details of the report on Attica Bank appeared in Greek media "only after [the report] was circulated to cabinet ministers and the 300 members of parliament", he added."
---
Greece: 2 still missing in deadly floods that killed 20 - FOX
"Government spokesman Dimitris Tzanakopoulos announced emergency aid for those affected, including a tax-free benefit of 5,000 euros per damaged household and 8,000 euros per damaged business."
---
Greece to give millions in compensation to flood victims - Reuters
"The disaster has prompted recriminations and finger-pointing over a perceived inability of Greek authorities to act on prior warnings that areas with poor infrastructure and unlicensed construction were vulnerable to flooding. Critics also asked why flood prevention projects had been delayed."
---
Greece unveils flood relief measures as death toll hits 20 - Yahoo
"Most of the victims were drowned, carried away by the floodwaters and mudslides, or trapped in flooded cars or basements. Several were found at sea."
---
Fodor's Essential Greece: with the Best Islands (Full-color Travel Guide)
---
NEWS ARCHIVE - November 2017
---



---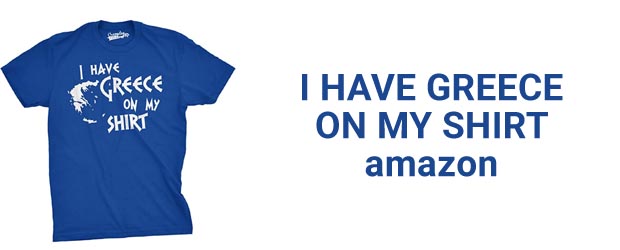 I Have Greece On My Shirt Funny Pun Geography Country Tee (Blue) - XL
---
Create Amazon Business Account - save time and money on business purchases with competitive B2B prices and discounts
---
Andros: The Little England of the Cyclades - AMAZON