The Junta in Greece
April 21, 1967 – July 24, 1974
The "regime of the Colonels" took control of Greece in 1967, suffered a defeat in a counter-coup led by Dimitrios Ioannidis in 1973, and then complete defeat with Ioannidis' ouster in 1974. This was followed by then exiled former prime minister Konstantinos Karamanlis returning to Greece to lead a resurrected democratic government and establishment of what became the Third Hellenic Republic.
Who were the Colonels?
The "colonels coup" in April 1967 was organized by a group consisting of Brigadier General Stylianos Pattakos, Colonels George Papadopoulos and Nikolaos Makarezos. Papadopoulos was the central leader and would eventually be named Prime Minister by Major General Georgios Zoitakis, who was named Regent by the triumphrat following the dissolution of the previous civilian government and the failure of the King of Greece, Constantine II, to succeed with his December 1967 "General's coup" against the colonels.
By 1973 Ioannidis, head of the military police, was alarmed by the growing efforts of Papadopoulos to liberalize Greece and to move toward elections. On November 25 his counter-coup arrested Makarezos and Papadopoulos and Ioannidis became de facto leader, though he appointed various figures to fill the governmental positions now vacated. Ioannidis efforts to retain the "revolution" of the 1967 overthrow disintegrated from a combination of internal Greek pressures, international pressure, and the failure of his coup against Archbishop Makarios III, the Cypriot president, which resulted in an invasion of the island by Turkey and bringing Greece to the brink of war with it's theoretical NATO ally.
The President of the Republic of Greece, Phaedon Gizikis, assumed leadership and combined with the efforts of other Greek leaders, obtained the return of Karamanlis from Paris and the re-establishment of a civilian government in Greece. The colonels, along with Ioannidis and many other Junta officials, were later tried in court.
---
Corinth Canal July 1974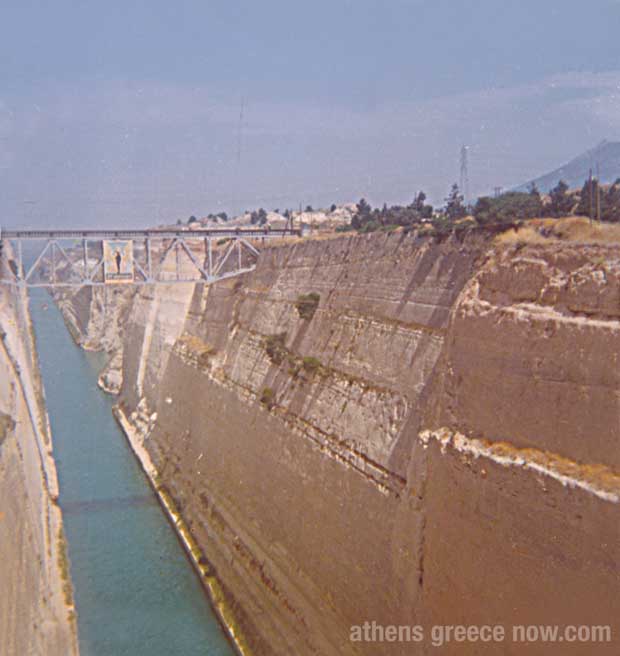 Note the Junta Phoenix symbol on the bridge
---
Junta Related Pages
Dimitrios Ioannidis 1923 – 2010
---
Media Links:
SEPT 2018: Henry Kissinger backed Turkish tactics in 1974 Cyprus invasion - Protothema
"There is no American reason why the Turks should not have one-third of Cyprus," Kissinger told Ford, according to declassified minutes of a meeting between the two..."
---
November 19, 2017 Clashes break out on anniversary of 1973 student revolt in Greece - MSN
Video Report
"Tensions grew in the district of Exarcheia when Antifa protesters hurled rocks and Molotov cocktails at police who responded with tear gas. Earlier, thousands of protesters took to the streets to mark the anniversary of the bloody Polytechnic School Uprising."
---
April 21, 2013 Startling polling results over Junta image and history - Eleftherotypia
Usually the image of the Colonels is extremely negative (at least in International news stories) but in Greece the matter isn't so simple. The Junta ruled Greece under 'invisible dictator' George Papadopoulos from April 21, 1967 until November 25, 1973. At that time Dimitrios Ioannidis used a countercoup to remove his previous boss (Papadopoulos) and assume control until the military crisis with Turkey over Cyprus forced his resignation in 1974. This was quickly followed by the swearing in of ex-Premier Constantine Karamalis on July 23, 1974, who returned from exile in Paris to lead a regeneration of democracy in Greece.
The poll question from Eleftherotypia shows that a large number of Greeks have different memories of that time period:
"The poll shows a significant percentage of voters answering positively to the question "In a few days we will have April 21. Some say that the dictatorship was better than today's government. Do you personally agree or disagree with this view?"

The majority (59%) believes that in the security situation on the Junta was better, 46% thought it had a better life and 24% believe that the country had a better international image."
---
Original page September 2018
---

---
Media lists of Greece
List: Greece Newspapers and Media
List: Embassy addresses in Greece, Grocery Stores, More
List: Visiting Greece information and Tourism links
---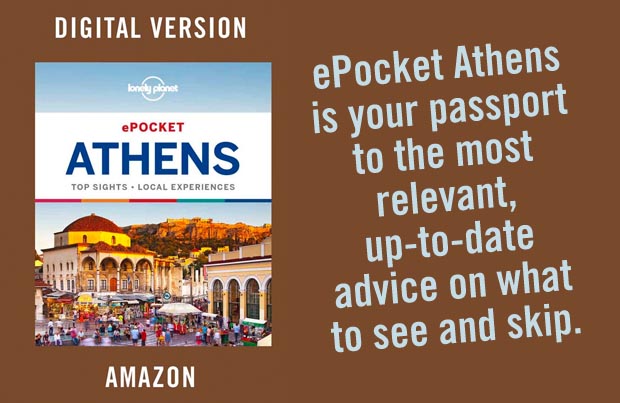 Lonely Planet Pocket Athens (Travel Guide)
---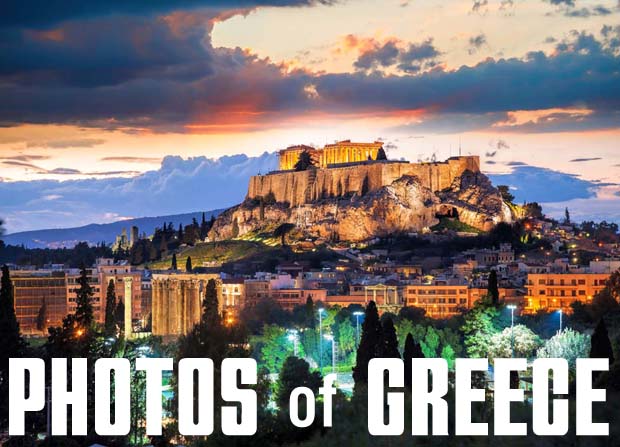 ---
The World Atlas - Greece and Adriatic Region - Amazon
"The Atlas steps into the digital age. A new one-of-a-kind World Atlas covering all parts of the globe with animated maps from Rand McNally and in-depth cultural and historical information. Each episode is dedicated to different countries, containing four distinct features - physical geography, political geography, popular locations, and thematic maps."
---