Greece and the economic crisis 2017
NEWS ARCHIVE - July 15 - July 21
---
---
August 21, 2017
Greek current account surplus shrinks in June, tourism revenues rise - eKathimerini
"The data showed the surplus at 842 million euros ($988.7 million) from 910 million euros in June 2016. Tourism revenues rose to 2.047 billion euros from 1.79 billion in the same month a year earlier.

"The current account of the balance of payments showed a surplus that was lower by 68 million euros than a year earlier, primarily because the primary and secondary income accounts turned to deficits from surpluses," the Bank of Greece said."
---
Giannis Antetokounmpo is sitting out EuroBasket 2017, and Greece is livid for some reason - sbnation
"That Giannis would participate in that exercise given where his career sits was a coup. It was too good to be true, though: Antetokounmpo and the Milwaukee Bucks decided that due to knee pain, he would not participate after all.

...The Greek federation did not handle the news well. They alleged a conspiracy by the Bucks (with complicity from the NBA) to keep Giannis out of the tournament and threatened to release the receipts proving as much."
More Coverage:
NBA denies Greece's claim of plot to keep Giannis Antetokounmpo from Eurobasket - cbssports.com
---
Greece Aims to Regulate Greek Yogurt Name - specialtyfood
"Greece Aims to Regulate Greek Yogurt Name Greece's Ministry of Agriculture is looking to protect the name "Greek yoghurt," hoping to require that all Greek yogurt sold in the EU is made in Greece. The organization aims to receive a Protected Designation of Origin and Protected Geographical Indication with the European Union Register, according to a Dairy Reporter report, cited by Food & Wine.

The group will set up a team of 14 members to investigate Greek yogurt production and apply for the name. The rule would not apply to U.S. products, however, and brands producing the yogurt in the EU outside of Greece, would not be barred from making Greek-style yogurt. They just wouldn't be able to use "Greek" as a descriptor."
---
SYRIZA backs decision by Greece to abstain from conference that condemns communist crimes - protothema.gr
"Despite the backlash caused by the refusal of the Greek government to take part in a conference on August 23 in Estonia focusing on crimes committed by communist regimes in the 21st Century titled "The Heritage in 21st Century Europe of the Crimes Committed by Communist Regimes", leftist SYRIZA party doubled down on the decision praising Justice Minister Stavros Kontonis for his stance. In an official statement SYRIZA labeled the decision for Greece to abstain from the conference-the only EU member-state to do so- as "appropriate and a given".
---
The revival of the theory of the two extremes - efsyn.gr
"The conscious confusion between the concept of communism in general and the regimes of the former Eastern bloc attempts to cancel the historic contribution of dozens of currents on the Left (in all its nuances) that fought for a socialist society with political freedom, workers' democracy and self-management.

It is in this context that the condemnation of Stalinist politics and their consequences and the equation of communism-Nazism is another matter. In the struggle for the achievement of socialism we owe much of what we consider today acquired and systematically removes neoliberalism and Nazism charged outright dictatorship, expansionism, the plunder of other countries, the Holocaust and the challenge of the Second World War slaughterhouse."
---
Symi Greece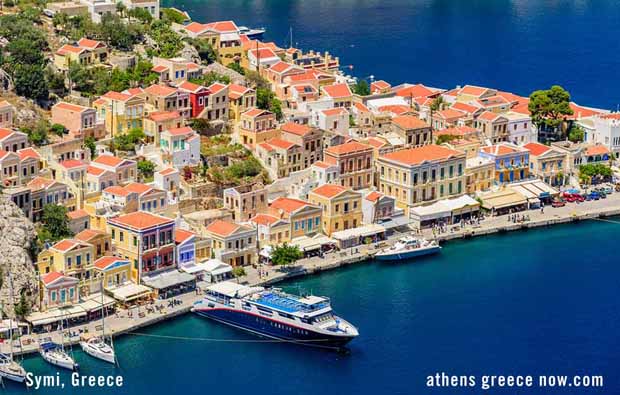 ---
August 20, 2017
Tsipras looks to press the reset button and stop slide - eKathimerini
"Aides close to Tsipras are reportedly pushing him to move ahead with cabinet changes even before the start of the Thessaloniki International Fair (TIF) in September, as it is becoming increasingly obvious that the government has displayed a lack of cohesion and several ministers appear to be running out of steam.

But Tsipras will have little leeway to bring radical changes to his cabinet due to the power politics at play, and the apparent dearth of capable candidates within ruling SYRIZA's parliamentary group."
---
Satisfaction at the Finance Ministry - Radio Thessaloniki
"The new positive outlook of the economy, and by rating agencies, reflects the expectations that the third evaluation will be completed without creating volatility, and the fact that there will be significant measures to alleviate the Greek debt will facilitate Greece's access to markets .

The government continues to work with a steady pace and a goal of fair development, so that the world of work, which has brought the main weight of the crisis, is a participant in the benefits of growth."
---
Athens' 17th Century Fethiye Mosque Opens to the Public - Greek Reporter.com
"The 17th century Ottoman monument, one of the most important historic buildings in Athens' historic center, will operate as an exhibition venue for photography or antiquities, the head of the Athens Ephorate of Antiquities told the Athens-Macedonian News Agency.

...The monument is located on the northern side of the ancient Roman Agora in Athens, near the Tower of the Winds and is a listed building. It was built on the ruins of a Christian basilica from the middle Byzantine period (8th-9th centuries), which was converted into a mosque. Initially it was believed its construction was completed to coincide with the visit to the city of Sultan Mehmed the Conqueror in 1458. However more recent studies, combined with excavation data, led to its redating and its integration in the second half of the 17th century, probably between 1668-1670."
More Coverage:
The Fethiye Mosque in Athens re-opens: Erdogan's dream comes true with Greek blessings! - Protothema
---
August 19, 2017
Fitch upgrades Greece's credit rating by 1 notch to B- - CNBC
"A Fitch statement adds that other European countries using the euro currency are expected to grant Greece substantial debt relief next year. It says that will boost market confidence and help Greece finance itself directly by issuing bonds after its current bailout program ends in a year. Fitch said late Friday that Greece's political situation has become more stable and there is "limited" risk of a future government reversing bailout-linked austerity and reforms."
---
Pensioners set for another blow - eKathimerini
"In some cases, pensioners will receive 30 percent less than what they would have received had the Katrougalos law not come into effect. The overall reduction is estimated at 12 to 16 percent. The hardest hit will be civil servants, especially those who have worked for more than 30 years and belong to the categories of University and Technological Education."
---
August 18, 2017
Greece Wants to Reclaim Greek Yogurt - Food and Wine
"The value of the American market for Greek yogurt—driven by well-known brands like Chobani—is estimated to be heading toward the $4 billion mark. And yet the vast majority of that yogurt has never actually been anywhere near Greece. (Chobani, for instance, is based in New York.) People understand that Greek yogurt is a style of yogurt – distinguished by its thicker consistency, a result of straining out whey. But now, like many geographic regions which have had their namesake products coopted, Greece is looking into reclaiming its yogurt.

Greece's Ministry of Agriculture is setting up a 14 member team to investigate Greek yogurt production and eventually apply for the name "Greek yoghurt" (and "yogurt"—one letter won't get you off the hook) to receive a Protected Designation of Origin (PDO) and Protected Geographical Indication (PGI) with the European Union Register, according to Dairy Reporter. If the request is accepted, all "Greek yogurt" sold in the E.U. will have to actually come from Greece."
---
Eurostat: Greek inflation steady at 0.9 pct in July
"In the Eurozone, annual inflation remained stable at 1.3 percent in July, compared with last month. In July 2016 the rate was 0.2 percent. European Union annual inflation was 1.5 percent in July, also stable compared to June."
---
Finance Ministry is not worried about the revenue despite the July delay - Naftemporiki
"... despite the delay of 730m euros in the revenue side in July, this year's budget will close within forecasts, a high-ranking executive of the economic staff spoken by Naftemporiki.

The same official admits that there was a significant lag in the previous month, especially in the income tax receipts of individuals, but adds that there is a time lag to be covered by other sources of income, for example the income tax...

...achieving this year's primary budgetary target of a 1.75% primary surplus should be taken for granted despite the revenue gap in the 7 months. In spite of the fact that it is still too early to secure forecasts, it argues that the year can be closed with a primary surplus of 2%, or even a slight excess over the target set in this year's budget (1.8% GDP)."
---
Wild weather patterns hitting summer crops hard across Greece - eKathimerini
"Farmers say weather patterns in recent years have been unprecedented and blame climate change. The Greek Agricultural Insurance Organization (ELGA) is unable to pay for all the crop damage farmers across the country have sustained. "We ask to be compensated, but despite the fact that the law stipulates it, ELGA is trying to avoid it by interpreting certain provisions differently," says Giannakakis.

According to the Pomology Institute of Naoussa, more than 90 millimeters of rain fell on the plains of Imathia within just 48 hours on July 16 and 17. That's compared to an average monthly rainfall for July of just 33 millimeters. "The heavy rains caused a lot of fruit to fall from trees prematurely and shrivel up," says Giannakakis."
---
Greek woman among those injured in Barcelona terrorist attack - Capital GR
"According to the official information from Spanish authorities so far, a Greek citizen is among the injured," the ministry said, adding that Greece΄s embassy in Madrid and the personnel in the Greek consulate in Barcelona are in continuous communication with Spanish authorities and are offering consular assistance.
---
---
August 17, 2017
Macron Adds Greece to Europe-Focused Agenda After Summer Break - US News
"President Emmanuel Macron will visit Greece from Sept. 7-8, a source in the Elysee Palace said, as he seeks to build momentum behind a drive to deepen European integration."
---
About sea frontiers - eKathimerini
"...While Greece was burning, Turkey's Foreign Minister Melvut Cavusoglu decided to stir tensions in the Aegean by claiming that there are no sea borders between Greece and Turkey, prompting a swift and unambiguous response from Athens.

..There may be many ways of interpreting this behavior. One is that Ankara has put the matter of "gray zones" in the Aegean on its agenda. There may be consequences that Athens will have to bear in the event of an precise sea border delineation, as certain islets may be handed over to Turkey."
---
Greece Should Copy New Zealand's Dramatic Policy Reform - Foundation for Economic Education
"...New Zealand made a radical shift to free markets in key areas such as agriculture, trade, fisheries, and industry.

...To give you an idea of New Zealand's overall deregulatory success, it is now ranked first in the World Bank's Doing Business.

...[it] occurred to me is that New Zealand's reforms are – or at least should be – a road map for Greece to follow.

..New Zealand ranks #3 for total human freedom, trailing only Hong Kong and Switzerland."
---
August 16, 2017
Fire-hit Greece calls off EU help as PM says conditions improve - citizen.co.za
"The worst has been avoided," Tsipras said after flying over the disaster zone northeast of Athens by helicopter, adding that about 3,700 acres (1,500 hectares) of forest and scrubland had been ravaged.

"Fortunately there are no victims… the damage was limited through your superhuman efforts," Tsipras told firefighters.

Authorities said they had finally placed under control a huge wildfire in Kapandriti and Kalamos that had broken out on Monday in an area dotted with vacation homes."
---
Firefighters contain destructive wildfire near Athens - eKathimerini.com
"Prime Minister Alexis Tsipras, who visited the scene on Wednesday, said Greece had "avoided the worst ... and we have to be alert."

Greece withdrew its request for help from its European partners after conditions in Athens improved, but authorities were on alert for new outbreaks.

Late July and August often see forest and brush fires in Greece, where high temperatures help create dangerous conditions."
---
Greece seeks EU help as wildfires rage - NY Daily
"The fire started in Kalamos, a coastal holiday spot some 45 km (30 miles) northeast of the capital, and has spread to three more towns, damaging dozens of homes and burning thousands of hectares of pine forest. A state of emergency has been declared in the area.

"The blaze is advancing with great speed. Because of the scale and intensity of the wildfires, the country submitted a request for aerial means," fire brigade spokeswoman Stavroula Maliri told a press briefing."
---
Lycabettus Hill from Areopagus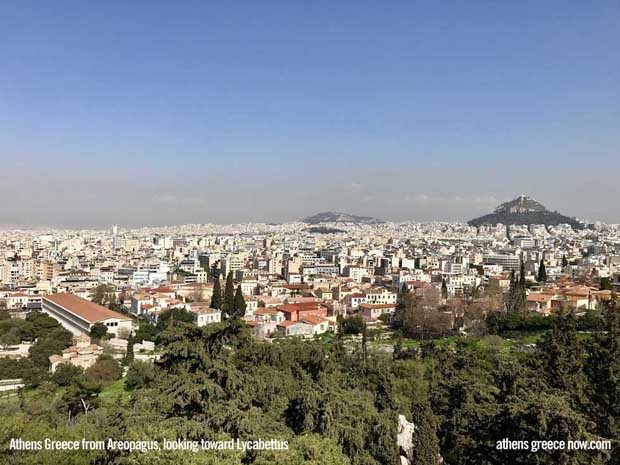 ---
August 15, 2017
Strong winds rekindle fires in Kapandriti - Protothema
"Hopes of containing the large fire front stretching from Kalamos to Kapandriti in northeast Attica are slim, despite the efforts of a large number of firefighters, local residents and volunteers, as winds have picked up notably stoking the raging flames in the forest areas. The wildfires, which started on Sunday, continue to burn through forest lands and are now threatening the areas of Polydendri to the west of Kapandriti and Malakasa. A little after midday on Tuesday, high winds rekindled small pockets of forest fires as firefighters had set up fire-safety zones along the front at the clearance of the Metochi gorge."
---
Greece arrests 3 suspected migrant smugglers - ABC
"Greek authorities say they have arrested three men on suspicion of ferrying 69 refugees or migrants on a yacht to the island of Zakynthos off the western coast of Greece's mainland.

The coast guard said Monday the people landed on the Ionian Sea island included two women in an advanced state of pregnancy who were taken to hospital for treatment."
---
My love affair with Greece just started - nation.co.ke
"...when you leave your bag with a passport on a bus and realise it 20 minutes after the bus is gone, you can follow the bus and your bag will be in the exact same place where you left it. Where you wake up to riotous chirping every morning and a sun that starts baking at a cool 25 degrees. Where most people welcome you with a smile because they know you are a clueless tourist and so the colour of your skin is to your advantage - and they almost always ask where you are from, and try and relate it to Obama, or a footballer, or some other African connection."
---
---
NEWS ARCHIVE - August 2017
---



---