Greece and the economic crisis 2017
NEWS ARCHIVE - July 22 - July 31
---
---
August 31, 2017
'Recognize New Reality', Macedonia Asks Greece - US News
"Kotzias said Greece would be ready to support Macedonia's bid to join EU and NATO, but only once all pre-conditions for membership are met. He did not elaborate.

The Macedonia name dispute has dragged on for almost 26 years with no clear progress. Athens has previously insisted that Skopje use a compound name such as "New" or "Upper" Macedonia."
---
Greece offers latest effort to reform public sector, a key bailout demand - businessinsider
"The leftist-led government says it aims to evaluate and educate state workers, distribute staff according to the sector's needs and seek candidates with digital skills, create online databases and simplify regulation by 2019.

"We are addicted to doubt, it's a reflex, when political leaderships announce a public sector reform," said Administrative Reconstruction Minister Olga Gerovassili, promising that by 2020 the Greek state sector will be independent and de-politicized."
---
Greece says Eldorado mine arbitration to start in September - Reuters
"We have decided to resort to arbitration to stop the tug of war which has been going on for many years and have things cleared up," Energy Minister George Stathakis told Greek state television.

Stathakis said the arbitration process will begin on Sept. 15 and will last three months.
---
Public sector hirings in 2018, Greek PM Tsipras pledges - Protothema
"Greek PM Alexis Tsipras ... "We are seriously considering the implementation of additional measures-incentives to repatriate young scientists", he noted. Defending the large government, Mr. Tsipras said the number of public servants in Greece was lower than the OECD countries.

"We are pushing large reforms in Health, Education, local government and changes in the Constitution. The ultimate goal is to regain our sovereignty", Mr. Tsipras underlined..."
---
In Greece, a city struggles to come to terms with its Jewish past - wuwm.com
"Some 96 percent of Thessaloniki's Jewish population — about 50,000 people — were killed during the Holocaust.

...In 2014, about 700 students visited the museum annually; today that figure has soared to more than 7,000, according to museum director Erika Perahia Zemour, a development not welcomed by all educators and parents. "We have teachers who have told us that they have problems with the parents of kids they bring to the museum," Zemour said. "Yesterday, for example, I had a teacher from ... an area of Thessaloniki that votes 15 percent Golden Dawn, and one of the parents told him 'Why are you teaching the kids these things? The Holocaust doesn't exist. It never happened.'"
---
120 installments for debts up to 20,000 euros - efsyn
"...In particular, the draft ministerial decision provides for the settlement of debts up to 120 installments with a minimum payment of 50 euros. For debts up to € 3,000, the settlement will be in 36 installments also with a minimum payment of € 50."
---
Greece warned over potential 'mass exodus' of shipping companies - seatrade-maritime.com
"Greece will need to work hard if Piraeus is to retain or strengthen its standing as a maritime capital, with an alarming one in two Greek shipping companies ready to consider relocating their administrative bases abroad. According to the findings of the study "Repositioning Greece as a Global Maritime Capital" conducted by multinational professional services firm, EY, some 56% of responding companies to the study would consider repositioning as the European Commission's Directorate-General for Competition is causing uncertainty for the Greek shipping industry with its prolonged examination of its legal framework.
---
Greece's shadow economy is 21.5% of GDP, says German IAW - keeptalkinggreece
"Some countries have much larger shadow or unofficial economies than others. Greece's shadow economy is worth over a fifth of its total output, and Italy's isn't far behind, says a research by German IAW. However, the chart refers only to selected industrialized countries. And Germany is not doing much better…

Shadow Economy is illicit economic activity existing alongside a country's official economy, e.g. black market transactions and undeclared work. "
---
Corinth Canal to become Athletic Center to boost sports tourism in Greece - Tornos
"Adopting the slogan "take your boat and paddle and come to the Corinth Canal for a unique experience", the organizing committee is sending out an invitation not just to foreign athletes, but also to all friends of paddling competitions, to measure their strengths and combine sport with entertainment on the natural track of the Canal.Last year, 300 athletes and kayak, canoe and SUP paddlers attempted this special pass through the canal with success..."
---
August 30, 2017
"So what's the reason? The euro reached a fresh high against the dollar Tuesday, which may have contributed to European stock weakness overall, though the iShares MSCI Poland Capped ETF (EPOL) slipped more, by 1.6%, as German Chancellor Angela Merkel weighed in on the dispute Tuesday between the European Union and Poland over judicial independence. The Vanguard FTSE Emerging Markets ETF (VWO) only fell 0.2%.

Greek Prime Minister Alexis Tsipras on Tuesday suggested unemployment could drop below 20% in 2018."
---
Greece Migrant Facilities 'Are at Breaking Point': Will Refuse Illegals Returned from Germany - breitbart.com
..."It would be tragic if not hugely nonsensical for Greece to take back refugees from Germany and other European countries as it battles to manage 60,000 refugees and migrants already stranded here," the official said.

"It's not an issue of Greece not wanting, rather of it not being able, to take back refugees because it simply does not have the space."
---
Experts to assess damage on ferry boat that ran aground - ekathimerini.com
"...Expert divers are expected on Wednesday afternoon the assess any damage that may have been sustained by the Blue Star Patmos ferry boat after in ran aground just before entering the port of Ios in the Aegean in the early hours of the day, carrying 206 passengers and 87 crew."
---
Greece's Eurobank grows Q2 profit as loan-loss provisions ease - nasdaq
"Eurobank, which is 2.4 percent owned by the country's HFSF bank rescue fund, reported net earnings of 40 million euros ($47.6 million) after profit of 37 million euros in the first quarter."
---
August 29, 2017
Greece's Syriza revives radical policies in effort to placate base - Financial Times
"Measures adopted last month by the Syriza government of Alexis Tsipras, prime minister, take aim at the party's traditional enemies: high-earning lawyers and doctors, foreign-trained academics and private investors from abroad.

A tax squeeze on Greek professionals is being tightened, new legislation on universities rolls back reforms aimed at boosting academic standards, and the authorities are further delaying a €1.5bn gold extraction project by Canada's Eldorado Gold, the country's largest foreign investor.

Meanwhile, self-described anarchists with links to Syriza's far-left faction have staged attacks on business premises and public buildings, smashing windows and throwing paint in scenes that recalled street protests early in the Greek crisis. Police made only a few arrests, and no case has so far come to court."
---
IMF demands and surplus questions could derail autumn review - eKathimerini
"Finance Minister Euclid Tsakalotos has called on the IMF to make its intentions clear with regard to the Greek program by Christmas – on the assumption that, by that time, the new German government will have revealed whether it intends to elaborate what debt relief measures for Greece it would be willing to support.

The IMF has repeatedly stressed that Greece's debt is unsustainable, and that a sustainable debt is among the conditions it has set to join the program."
---
The Rise and Fall of Syriza: Finding a New Way Forward for Greece's Radical Left - therealnews.com
Interview reviewing the new book
"This book, for me, being an outsider like you to Greece, who followed this Syriza history with such intensity, and who was there at a very critical moment after the referendum in July 2015, you've managed to capture this historical moment of Syriza so well, when the Syriza movement actually became a moment. I think that is what I appreciate the most about it, because I think that not only me but the world was following it. I want to ask you, what gave you the impetus to write this book, and what made you capture that moment so well? A lot of Greeks themselves who were part of this movement say that this is one of the most important books because it captures their reality so well."
---
Debt Cut for Greece Not on Agenda for Now, Germany's Schaeuble Says - usnews.com
"Starting a discussion about debt relief would send the wrong signal to Athens at a time when the economy was doing better and recovering, Schaeuble told Mannheimer Morgen.

"The country doesn't need a debt cut now, but it must continually work on its competitiveness," Schaeuble said. He pointed out that Greece's borrowing costs for the next 10 to 15 years were already relatively low."
---
Capital Controls: From September 1st to 1,800 euros per month - AMNA.GR
"...the latest announcement of the Hellenic Banking Association, from 1/9/2017, the beneficiary may withdraw up to a maximum of one thousand eight hundred (1 800) euro with one or more withdrawals per month."
---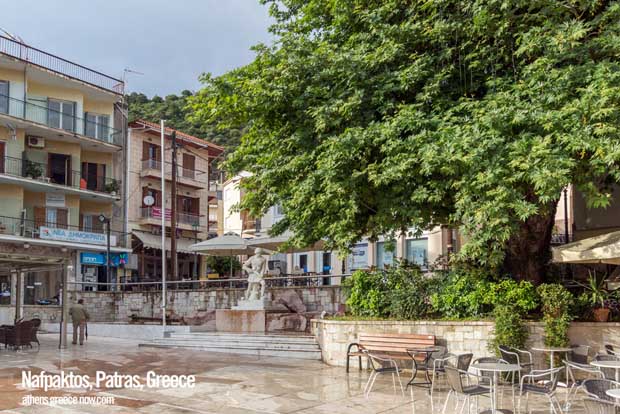 ---
August 28, 2017
Fire burns on Zakynthos for third day - eKathimerini
"The fire destroyed one home near the villages of Maries, in the eastern part of the island also known as Zante, while residents of nearby homes were on standby to evacuate, authorities said.

More than 150 firefighters with 53 fire engines were operating on the island Monday assisted by five water-dropping Canadair aircraft and four helicopters."
More Coverage:
Fire: Especially difficult situation in Zakynthosm - naftemporiki.gr
---
Europe΄s future, investments, Greek-French relations at the focus of Macron visit to Athens - capital.gr
"The talks will focus on three subjects: attracting investments in Greece, the country΄s stable access to the markets and the future of Europe. The two leaders will also discuss EU-Turkish and EU-Russian relations, Cyprus, the developments in the Western Balkans and migration."
---
President Pavlopoulos: "Greece must defend Cyprus & its sovereignty" - Protothema
"The role of Europe is not limited to its peoples. The role of real Europe, as envisioned by its founders, is universal. And this role is not about economic power, it is not about military power. Europe was not built to become the world's most powerful economic or military power. It was made to teach, through the example of its peoples and its culture, that people are at the centre… And that the principles of humanity are the ones to prevail," he added.
---
August 27, 2017
Chastised by E.U., a Resentful Greece Embraces China's Cash and Interests - nytimes.com
"While Europe was busy squeezing Greece, the Chinese swooped in with bucket-loads of investments that have begun to pay off, not only economically but also by apparently giving China a political foothold in Greece, and by extension, in Europe.

Last summer, Greece helped stop the European Union from issuing a unified statement against Chinese aggression in the South China Sea. This June, Athens prevented the bloc from condemning China's human rights record. Days later it opposed tougher screening of Chinese investments in Europe."
---
Tourism holds decisive role in Greece's economic recovery: survey - sina.com
"...Tourism revenue increased by 7.1 percent in the first half of the year compared with 2016, hitting 4.1 billion euros (4.9 billion U.S. dollars).

According to the Alpha Bank analysis which also cites World Travel and Tourism Council projections, the Greek tourism sector accounted for 18.6 percent of Greek GDP last year.

Tourism's contribution to Greece's GDP is expected to grow to 19.6 percent this year and more than 20 percent in 2018, according to the experts."
---
A 100+ Year Old Tree Growing Inside A Church In Greece - designyoutrust.com
"...At some point a small pine tree grew inside the church's temple and now it comes magnificently out of the roof! The tree is over 100 years old.

Samarina is a mountainous village of the Grevena district, one of the highest villages of Europe, built at around 1600m (5250ft) altitude. It is also known as the largest village in Greece and every summer it is full of locals and visitors. Its surroundings and landscapes are perfect for fans of mountains, forests and natural beauties."
---
Gov't sources see Erdogan tactics behind increase in migrant arrivals - ekathimerini.com
"...Although arrivals from Turkey are still way below the heights they reached at the peak of the refugee crisis in 2015, they have increased in recent weeks with more than 1,000 migrants and refugees landing on the islands of the eastern Aegean last week.

Government sources believe this increase is not accidental, but is occurring as Turkish authorities turn a blind eye to human smuggling along the country's coastline, and is expected to continue. The same sources do not connect Ankara's stance on the refugee issue to its cultivation of tensions with Athens in the Aegean – recent weeks have seen a spike in Turkish violations of Greek air space despite the moratorium that usually applies over summer – but with the recent deterioration of relations between Ankara and Brussels."
---
August 25, 2017
July budget targets missed as taxpayers fail to pay first installment
"Net revenues for July amounted to 4.931 billion euros – 756 million below the target set in the medium-term program for 2018-21.

Revenues from personal income tax were 215 million euros off target, while tax from businesses was 161 million euros short."
---
Justice minister says he feels 'fully vindicated' by Greek stance on Estonian conference - amna.gr
"Justice Minister Stavros Kontonis said on Thursday he feels "fully vindicated" by the Greek government's decision not to participate in an EU conference in Tallinn on crimes committed by communist regimes. "I feel fully vindicated for the stance held by the Greek government since the beginning," the minister told the Athens-Macedonian News Agency, when asked about the participation of only eight EU countries out of the 27 member-states in the conference."
---
Estonian EU presidency spox: We remember all the victims of totalitarian, authoritarian regimes - Naftemporiki
"In a statement to "N", spokesman Jüri Laas said "Estonia strongly condemns all crimes against humanity and the massive human rights violations committed by all totalitarian and authoritarian regimes and remembers the victims of all these regimes."

...Laas reminded that the European Parliament in April 2009 adopted a resolution on European conscience and totalitarianism, which he said called for the proclamation Aug. 23 as "a Europe-wide Day of Remembrance for the victims of all totalitarian and authoritarian regimes, to be commemorated with dignity and impartiality".
---
Schauble: Greeks will erect statue in my honour in future - Protothema
"The newspaper claims German politician, who is known for his biting humour, allegedly said during an election rally last week that the Greeks would be praising him everyday and erect a bust in his honour for pushing the necessary reforms that saved the country. The German Minister is convinced that Greece will never succeed without reforms, the article stresses. According to the Handelsblatt, Mr. Schauble intends to provide a fourth bailout package to Greece in 2018 if it is deemed necessary."
---
August 24, 2017
Parents of American tourist fatally beaten in Greece said he felt safer overseas due to U.S. race relations - nydailynews.com
"He just felt it was safer over in Europe and overseas in general. He said with the climate for African-American males in the U.S. that he just felt more comfortable overseas," Jill Henderson said during an appearance on CBS This Morning.

Her son, Bakari Henderson, was killed in July on the Greek island of Zakynthos — a hot spot for many tourists. Video from a nearby surveillance camera shows the 22-year-old traveler fleeing a mob of attackers in the seconds before his assailants force him to the ground."
More Coverage:
Parents of American beaten to death in Greece: "We want justice for Bakari" - CBS
---
Greece, Serbia Film Centers Ink Distribution Deal - gtp.gr
"Attending the event, Greek Film Center Director General Electra Venaki and her Serb counterpart Boban Jevtić agreed to support the distribution of up to 10 films annually in efforts to attract film lovers and promote the productions of both countries. Under the deal, distributors will also be required to secure at least 21 screenings and cover translation and subtitling costs.

Greece and Serbia, both members of the SEE Cinema Network, are already cooperating on a number of productions, with the most recent being the Greek-Serbian co-production "Her Job" of Greek director Nikos Labot."
---
Turkey not to be toyed with - eKathimerini
"...the European Union's commissioner for enlargement, Johannes Hahn, an Austrian, basically called on member-states to alter their position on Turkey after Erdogan's intervention in the German pre-election campaign. The issue here is that Turkey being completely blocked out of the European system would be entirely against Greece's national interest, as it is this country that would have to deal with that massive country should it distance itself from the West.

From Austria especially, we have been hearing ideas that are extremely difficult to interpret for some years now. In April 2016, for example, Foreign Minister Sebastian Kurz argued that Europe does not need Turkey in order to deal with the influx of refugees. Espousing the ideas of the early 19th century diplomat and statesman Klemens von Metternich, Kurz obviously believes that "Asia begins at the Landstrasse"
---
---
August 23, 2017
German returns gutter section from ancient Olympia to Greece - ABC
"Greece's Culture Ministry said Wednesday that the 75-centimeter (30-inch) long ancient marble fragment was handed over to the Greek embassy in Berlin.

It is now stored at the museum of ancient Olympia, in southern Greece, where the Games were held in antiquity from 776 B.C. to 393 A.D."
---
Macron to urge euro zone reform on trip to Greece next month - Investing
"He will go to Greece on Sept. 7-8 accompanied by French business leaders to promote investment in Greece, where the economy has been ravaged by a debt crisis which at one point threatened to engulf France and other bigger countries.

"The idea is for France to be on Greece's side to help this recovery," an adviser to Macron said, taking heart from Greece's return to the bond market last month after a three-year hiatus.

"But the symbol, the substance of this visit is also to say that the euro zone must be deeply reformed," the adviser said."
---
Gov't drafts flurry of bills to bolster positive narrative - ekathimerini
"The government is drafting a series of bills to go to Parliament in the coming days with the hope that Prime Minister Alexis Tsipras will be able to showcase them during his speech at the Thessaloniki International Fair (TIF) to bolster his narrative of the country turning a page and heading toward recovery and growth.

..The first bill expected to be presented to lawmakers in the House on Monday is being drafted by the Labor and Social Insurance Ministry and is expected to introduce changes to the system of social security contributions while trying to crack down on widespread uninsured labor."
---
August 22, 2017
Was the Greece Credit Rating Upgrade Ignored? - 247wallst.com
"...Greece has been an easy nation to bash for how it manages its finances. Still, maybe even countries such as Greece can eventually get their act together if forced. Fitch noted that Greece's public finances are improving, with a primary surplus of 3.9% of gross domestic product in 2016 versus an ESM program target of 0.5%. Fitch is targeting the Greek government to have an average primary surplus of 2.8% of GDP from 2017 to 2019.

Other positives were also cited. These included pent-up investment demand and a declining unemployment rate after peaking north of 20%. A continued clearance of government arrears are also said to be setting the stage to support domestic demand. Externally, growth recovery in the eurozone is expected to support Greece's export performance."
---
Thousands in public sector can claim pension before age of 67 - ekathimerini
"According to certain clauses within existing laws, thousands of public sector workers aged between 58 and 62 will be eligible for their pension before the age of 67.

Experts say this will apply until 2021 for some 20,000 people – previously insured with the pension funds of several public enterprises (DEKOs) and banks, as well the IKA social security fund – who will be entitled to pensions before they turn 62."
---
New €10 coin from Greece pays ode to Greek poet Sappho - coinworld
"The Greek poet Sappho is honored on a Proof 2017 silver €10 coin from Greece.

The Bank of Greece celebrates the artist, who lived circa 630 to 570 B.C., on the latest coin in its series showcasing Greek culture.

Sappho of the island of Lesbos was one of the greatest lyric poets in ancient Greece and one of the first in the Western world to consistently express personal emotions. She composed her poems in the Aeolian dialect and sang them to the accompaniment of a lyre."
---
---
NEWS ARCHIVE - August 2017
---



---