Greece and the economic crisis 2017
NEWS ARCHIVE - Aug 1 - Aug 7
---
---
August 7, 2017
Greece wants to slash OPAP VLTs to 25,000 - calvinayre.com
"The rollout of VLTs, which started operating in January 2017, is still in progress, with 53 gaming halls—as of June—hosting a total of 1,355 machines, according to OPAP.

... The company, which was fully privatized in 2013, saw its full-year earnings and net profit for 2016 fall 18.4 percent to €307.5 million and 19.2 percent to €170.2 million, respectively. The chief culprit behind the profit plunge was the Greek government, which raised OPAP's tax obligation from 30 percent to 35 percent of gross gaming revenue."
---
Officials say Kythera wildfire mostly contained - eKathimerini
"The situation has improved... There is no active flame at the moment," the head of Civil Protection Authority Yiannis Kalpakis told ANA-MPA news agency on Monday.
---
Macedonia naming dispute: Balkan nation set to resolve 25-year-old row with Greece for seats in NATO, EU - firstpost.com
"...A top official in Zaev's SDSM party, who also asked not to be named, warned that Greece "could keep the same position for two centuries. We should find a solution to deblock the process of integration with NATO and the EU".

...Suggestions to emerge in conversations include "Northern Macedonia", "New Macedonia" or even "Vardarska" after a river that runs through the country.

Upon an agreement, entering the 29-nation NATO is a much more likely prospect for Macedonia than the 28-country EU, which has frozen all enlargement until at least 2020."
---
August 5, 2017
Tourism arrivals to Greece reached 11 million during first half of 2017 - Tornosnews
"Arrivals by plane or overland by car accounted 10.97 million arrivals, up from 10.11 million during the same period of 2016. SETE΄s six-month report recorded that arrivals by air travel reached 6.53 million, up from 5.99 million during the first half of 2016, an increase of 10.5 percent."
---
How Greece Could Escape Debtors' Prison - US News World Report
"...despite the wave of optimism, Greece's staggering amount of debt looms menacingly over the country's economy and future. And the International Monetary Fund (IMF), while endorsing Athens' reform program, is urging its fellow creditors to offer Greece much greater debt relief.

... the troika has lent Greece about €265 billion in three separate bailouts, with the latest one set to expire next summer. Separately, Greece managed to restructure its private sector debt in 2012, reducing the amount it owed investors by about 53 percent.

Despite all this, Greece still owes a total of about €320 billion in debt, and its economy has suffered the equivalent of the Great Depression in the United States in the 1930s, having shrunk by a fourth."
---
Zakynthos - Zakynthos Town Greece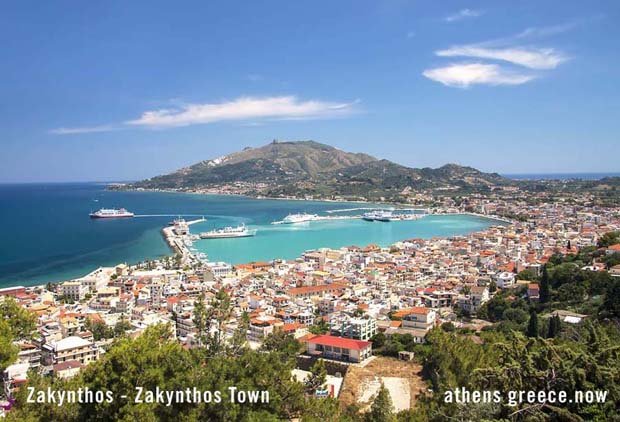 ---
August 4, 2017
Out-of-court debt settlement platform gets over 46,000 visitors on first day - eKathimerini
"According to data released by the Finance Ministry on Friday, 2,400 businesses started the process of applying to settle their debts to the state, but 310 had already been rejected by Friday on the grounds that they did not fulfill the criteria."
---
Cash versus culture: tourism projects hit trouble in Greece - NY Daily
"For frustrated developers, the suspicion is that Greece is biting the hand that feeds it. But many Greeks feel bound to protect their country's 3,500 year-old cultural heritage and some of Europe's most beautiful coastline from excess development, however pressing the need to raise cash.

"There are some people who think that antiquities are a pile of rocks and they say 'oh well, we already have enough of them'," said Thodoris Dritsas, a member of parliament for the ruling leftist Syriza party. "Syriza lawmakers don't share that view," he told Reuters."
---
The Scandalous Persecution of a Greek Whistle-Blower - Bloomberg
"...Throughout Georgiou's time in charge, the EU's own statistical agency, Eurostat, approved his work. That work was undertaken in the first place because the EU deemed it essential. The Greek government, under EU pressure, is paying only part of his heavy legal costs, and the administration of Prime Minister Alexis Tsipras continues to make him a scapegoat for Greece's economic disaster. "
---
EU savages Athens over prosecution of debt crisis statistics chief - UK Express
"He was found guilty of failing to brief the National Statistics Authority on 2009 budget deficit data before sending it to European counterpart Eurostat - even though, under EU rules, he was instructed to do exactly that.

...The legal cases against him has seen fellow senior economists and statisticians from around the world rally behind him. Some are helping to pay for his defence costs."
---
Meet the Greek Archaeologist Chasing Looted Antiquities but Shunned by Greece - Greek Reporter
"Tsirogiannis is researching antiquities smuggling networks and the market for looted cultural objects. He is a lecturer and an academic researcher at the Association for Research into Crimes against Art.

In late July he made headlines when, through his research, New York's Metropolitan Museum of Art was forced to hand over to Manhattan's district attorney a Greco-Roman vessel that was looted from Italy."
---
August 3, 2017
Brush fire south of Athens injures firemen, damages homes - Reuters
"Authorities had ordered the evacuation of dozens of homes in two communities in Lagonissi, a coastal area some 30 km (19 miles) from Athens with homes scattered across land plots.

Around 40 firefighters, 20 fire trucks and two water-dropping helicopters battled the blaze, which locals say broke out around 1100 GMT (2 p.m. local) and was fanned by strong winds."
---
Over 400 refugees granted permission to travel to Ireland from Greece
"The Department of Justice has confirmed that Ireland will take in a further 440 refugees from Greece this year.

The Government has pledged to take in a total of 4,000 refugees under the Irish Refugee Protection Programme."
---
Greece says arbitration over Eldorado mine plans to start in August - CNBC
"Eldorado is developing the Skouries and Olympias projects in northern Greece, where it also operates the Stratoni mine. Skouries has been a particular flash point with authorities, with differences persisting for years over testing methods applied to comply with environmental regulations.

"The ministry believes that resorting to arbitration with (Eldorado unit) Hellas Gold is the best solution to sort out all (outstanding) issues," the statement added."
---
Wildfires rage in Greece and Corsica as temperatures soar - independent.ie
"Wildfires are threatening homes south of Athens and a famed hikers' route in Corsica as high winds and unusually hot weather hit many areas of Europe."
---
Former Greek data chief given suspended sentence - Capital GR
"The conviction of Andreas Georgiou came as a surprise as the former chairman of country's statistical agency, Elstat, had been acquitted of the same charges by another appeals court only eight months ago.

...[He] said that he had been convicted for following "the principle of professional independence as required by EU and Greek law. In Europe we do not put statistical results up for voting [by a board]".
---
Parthenon - Acropolis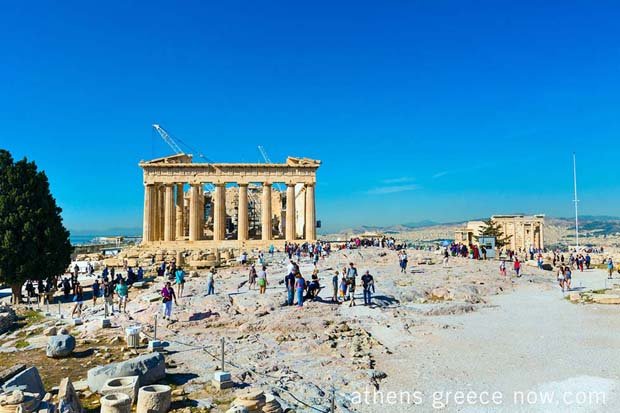 ---
---
August 2, 2017
Greek ports cannot cope with traffic - eKathimerini
"The problem is more acute this summer with the increase in tourism and the ever growing competition between ferry companies vying for the biggest possible market share. The result is major delays at ports when two or three big ships arrive to dock at almost the same time. The ports' inability to simultaneously cater to more than one vessel forces ships to wait offshore for the other to dock first."
---
IMF admits disastrous love affair with the euro - Protothema
"The International Monetary Fund's top staff misled their own board, made a series of calamitous misjudgments in Greece, became euphoric cheerleaders for the euro project, ignored warning signs of impending crisis, and collectively failed to grasp an elemental concept of currency theory.

This is the lacerating verdict of the IMF's top watchdog on the fund's tangled political role in the eurozone debt crisis, the most damaging episode in the history of the Bretton Woods institutions."
---
Eurobarometer: 98% of Greeks see the state of the economy bad - Naftemporiki
"98% of Greek citizens believe that the current state of the national economy is "bad", compared to 51% of European citizens. Only 2% of Greek respondents said that the state of the national economy is "good", compared to 46% of European citizens.

69% of Greeks (compared with 27% of Europeans) assess "bad" their current state of affairs, and 49% of Greeks (compared to 22% of Europeans) assess "poor" status of their work."
---
August 1, 2017
Greece Is Still A 'Rich' Country - Forbes
"Since ancient times, democracy has often created chaos in the street of Athens, but it has served as a diffusion mechanism for political tensions. And it has accommodated the peaceful transition from one political leadership to another -- a process that has accelerated in periods of economic crises.

...Greece has made a great deal of progress in building an efficient infrastructure system, which together with a highly trained and technologically savvy labor force will help Greece rise again. All it takes is a nudge, a few pro-market measures that will release the ingenuity and creativity of its people."
---
Greece's disappearing whistled language - BBC
"For some 2,500 years, residents of this mountainous village have used an astonishing language that only they understand. But there are only six people left who can 'speak' it.

...Known as sfyria, it's one of the rarest and most endangered languages in the world – a mysterious form of long-distance communication in which entire conversations, no matter how complex, can be whistled. For the last two millennia, the only people who have been able to sound and understand sfyria's secret notes are the shepherds and farmers from this hillside hamlet, each of whom has proudly passed down the tightly guarded tradition to their children.

Today, there are only six people left on the planet who can still 'speak' this unspoken language But in the last few decades, Antia's population has dwindled from 250 to 37, and as older whistlers lose their teeth, many can no longer sound sfyria's sharp notes. Today, there are only six people left on the planet who can still 'speak' this unspoken language..."
---
Greece's Road to Bailout Exit: 140 Reforms Down, Many More to Go - Hellenic Shippingnews
"A return to the bond market last week, the pledge of 8.5 billion euros ($9.5 billion) in new loans from euro-area creditors, the possibility of more money from the International Monetary Fund and a S&P Global Ratings outlook upgrade have coalesced to bolster investor sentiment that Greece has turned a corner.

Trouble is, much depends on the country implementing reforms — dozens of the 140 measures agreed to are in various stages of application and more than 100 additional actions are needed to access the remaining 26.9 billion euros in funds before the current bailout program ends in August 2018. While the evidence of belt-tightening is everywhere in Greece, from falling incomes to rising poverty, the country has less to show in terms of structural overhauls..."
---
---
NEWS ARCHIVE - August 2017
---



---