Greece and the economic crisis 2017
NEWS ARCHIVE - July 22 - July 31
---
---
July 31, 2017
Will Investors Sound the Alarm Bell On Rising NPLs Of Greece's Five Largest Banks - fronteranews
"Banks in Greece are plagued by elevated levels of non-performing loans (NPLs). NPLs currently form 37% of gross loans in Greece. Since 2015, the country has been working towards cleaning up NPLs but progress has been slower than expected. The government recently adopted a policy for the sale of NPLs but it still needs to be implemented fully. Bank sources have stated that NPLs have grown as much as $2.3 billion (2 billion euros) since the beginning of 2017."
---
Why Greece Has Been Slow To Embrace Clean Energy - NPR
"In a little over a month, Tilos is set to become the first island in the Mediterranean powered solely by wind and sun.

The remote Aegean island, with a population of 400 year-round that swells to 800 in the summer, is near the coast of Turkey. The port looks like a postcard with whitewashed houses, bright-pink bougainvillea and sage-covered hills in the distance."
---
Thomas Cook: Double-digit Growth in Summer 2017 Bookings to Greece - GTP
"According to the group's financial results for the April-June third quarter, the company's decision to expand its holiday offering to Greece this season was "paying off" with good volume growth. The tour operator is also seeing strong demand for Cyprus and Bulgaria with bookings up by 14 and 19 percent respectively. Moreover, the tour operator said that bookings to Spain are broadly in line with last year and to Turkey were showing signs of recovery."
---
July 30, 2017
Minister denies Rouvikonas anarchist group enjoys immunity
"His comments to a local newspaper came in response to accusations that the government was too lenient on a group of a dozen or so members of Rouvikonas who broke through security at Parliament last week to enter the courtyard, where they chanted anti-government slogans, threw fliers and held up a banner before departing."
---
Cyprus rejects "Secretive Tax Haven" label
A letter to the New York Times Jul, 29 2017

Letter from the Cypriot Ambassador to the USA

" In the first sentence Cyprus is described as a "secretive tax haven." Yet this is inconsistent with article's reliance on "the Cyprus documents obtained by The New York Times." Let me respectfully point out that secretive tax havens and jurisdictions typically keep no public records, are not cooperative and are unlikely to grant any information to journalists. As I watch the name of Cyprus being tossed around as a laundering place for Russian black money and as a secretive tax haven, and even though I understand the journalistic temptation to suggestively exploit the name of a small country that is defenseless against demonization, I am surprised to see that serious journalists do not notice the inconsistency of basing stories on information either provided by Cyprus authorities or otherwise obtained from Cypriot sources in order to argue a case for secretiveness and evasive behavior."
---
Greek debt has been calculated in the wrong way - It is just 91% of GDP and not 180% - Imerisia.gr
"What the institutions are discussing today is a political invention," the American investor said at the Süddeutsche Zeitung in Munich, who attended the conference co-organized by Economist and the German-Hellenic Chamber in Frankfurt yesterday.

"If Greek debt is calculated on the basis of international standards, then it does not reach 180, but only 91% of GDP. The calculation should no longer be made on the basis of the nominal value of the public debt, but on the basis of the time value of the loans, which takes into account the hitherto discounts, namely the lower interest rates, the longer the debt repayment and the transfer of the debt Of the repayment of loans. Greece can still do it today, "he said in the conference hall, the Munich newspaper reports.
---
Victoria Hislop: 'Patra represents the extremes of Greece – sublime and mundane' - UK Guardian
"In Patra, as in so many Greek towns and cities, beauty lives cheek by jowl with dereliction. Neoclassical nestles next to 1970s. To love Greece, you have to embrace rather than despair at this chaos, typified by the crumbling mansions, the black sheets at their windows flapping in the breeze. These buildings are funereal, dramatic, precarious, waiting to be saved, but even now adding to the city's fascinating texture."
---
PM Tsipras to meet with French Economy Minister Bruno Le Maire on Monday - Thens News Agency
"Prime Minister Alexis Tsipras will meet on Monday with French Economy Minister Bruno Le Maire at Maximos Mansion at 13:30. Earlier, Mr. Le Maire will meet with Finance Minister Euclid Tsakalotos."
---
---
July 28, 2017
Did Greece overpay investors for its bond issue? - Financial Times
"...in recent weeks the bond's trading price had risen to above par – although admittedly it did not top the €102.6 which Greece offered to investors for each €100 of nominal bond (although it has since, briefly).

Greece's pitch to bondholders was equivalent to a 15 (euro) cent premium to the price at which it was being offered for sale at the time. For context, the market buy/sell spread at the time was around 30 cents."
---
Greece needs to lighten up, Brits abroad are great fun - inews.co.uk
The argument presented by the writer (held mostly in the headline, which is badly reflective of the story itself), which gives a nice short anecdotal overview of the travails of the tourist in a foreign place, doesn't address the main issue of why Cretan hoteliers are dropping those block bookings.
"According to officials on the island, 95 per cent of hoteliers in the resort are now refusing 18-30 package tourists. Some 10,000 British tourists have been blocked from booking breaks in Malia and hotels are refusing to take group bookings larger than three rooms. Their focus from now on will be families of tourists from Germany, Austria and the Netherlands."

"We've given these tour operators a free hand in branding an image completely alien to what Malia really is," the deputy mayor of Malia said. "Malia isn't about sex, drugs and everything goes. It's the prime tourist destination in Crete."
---
Incoming tourist traffic up 2.5% in January-May 2017 in Greece - Tornos
"Incoming tourist traffic in Greece increased 2.5 pct in the five months from January to May, rising to 4.584 million travellers from 4.475 in the same period in 2016, the Bank of Greece said in a report on Monday.

Tourist traffic arriving through Greek airports rose 8.4 pct while that arriving by road fell by 9 pct, the report noted."
---
THI Australia calls on diaspora to help write a new chapter for Greece - Neo Kosmos
"The national initiative is a philanthropic endeavour aimed at helping the people of Greece by putting to use the strength and resources of the diaspora.

A series of events will kick off across the country in October with a premier at the Sydney Town Hall and follow on across Melbourne, Perth, Adelaide and Darwin."
---
Greece's islands tune up for summer events - eKathimerini
See the website at Kathimerini for dates and web site links for the events.
Corfu: 8th International Contemporary Dance Festival
Folegandros: 2nd Anemi Jazz Festival 
Spetses, Hydra, Poros, Galata, Methana and Kythera: 7th Saronic Chamber Music Festival
Ermoupoli, the capital of Syros: 3rd International Classical Music Festival of the Cyclades 
Palaia Vlachata - Port Sami: Saristra 5th Annual Festival
International Molyvos Music Festival 
Hydra: Hydra World Music Festival
---
Princess Olympia of Greece Celebrates Her Epic 21st Birthday - People
"The princess, who turned 21 on July 25, has been ringing in the milestone with a few parties this summer. Earlier this month, she and her father Pavlos, Crown Prince of Greece, who turned 50 on May 20, shared a joint party dubbed "5021 Revolution," in honor of the ages of the royal father and daughter."
---
---
Athens Greece Aerial View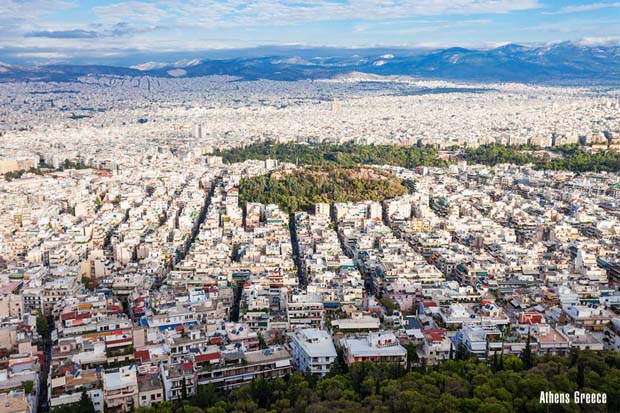 ---
July 27, 2017
EU announces new emergency support for Greek refugee crisis - The Republic
"The Commission said the new funding more than doubles the emergency support extended to Greece for the refugee crisis, bringing it to a total of 401 million euros. The rental project is in cooperation with the U.N. High Commissioner for Refugees and will provide 22,000 rental places with the aim of increasing the number of refugees living in rented apartments to 30,000 by the end of the year, including 2,000 places on Greek islands."
---
What does the new POS Circular say? - efsyn.gr
"The Ministry of Finance proceeded to clarify the need to install POS for card transactions until the end of the deadline for a number of categories of professions.

The fine for not installing POS is € 1,500, but it is reduced by half if paid within 30 days of its notification or if an invoice proving the acquisition of the device is presented within 30 days of the audit."
---
Major Bitcoin trading site in limbo as Greece arrests Russian man on US charges of laundering $4bn - RT.Com
"Vinnik was arrested in the resort area of Halkidiki, near the city of Thessaloniki in northern Greece, with two laptops, five tablets and multiple mobile phones found in his hotel room, Bloomberg reported.

He appeared before a prosecutor, with the US lodging an extradition request, which could be considered within the next two months. While the exact charges remain unknown, a US source told Bloomberg that the entrepreneur was wanted for operating "a website that carried out Bitcoin conversions for proceeds from online hacking ransom, drug running, identity theft and tax violations."
---
SETE calls for zoning plan for tourism - eKathimerini
The latest study by the Institute of the Greek Tourism Confederation argues that the country will not achieve the conditions required for the implementation of tourism investments without the immediate restoration of trust between the state and enterprises in the sector.

A key condition for that is the creation of an investor-friendly environment, which necessitates stability in the tax framework and the creation of appropriate zoning plans through an efficient special blueprint for tourism and sustainable growth.
---
Mount Lycabettus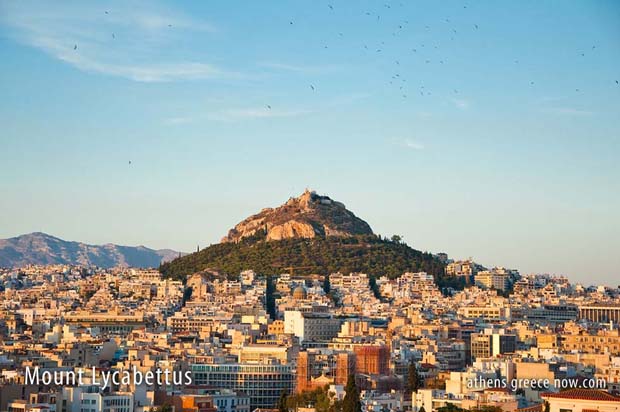 ---
July 26, 2017
Greece arrests Russian suspected of running $4 billion bitcoin laundering ring - Reuters
"Police did not name the 38-year-old, who was arrested in the northern Greek region of Chalkidiki on Monday on a U.S. warrant. He is suspected of heading a criminal organization since 2011 that "owns, operates and manages one of the world's leading e-crime websites", police said in a statement."
More Coverage:
Greece Detains Russian Alexander Vinnik for Bitcoin 'Fraud' - New York Times
---
Official data show refugees, migrants in Greece at 62,407 - Parikiaki
"The five Aegean islands hosting facilities are currently home of 15,222 asylum seekers and migrants, the majority of which are on Lesvos: 4,725 at the official state-run facility that has a total capacity for 3,500 and 188 at other centers. Chios is hosting 3,503 individuals, when it has an official capacity for 1,100, Samos's facilities for 850 people have to cope with 2,414 and Kos is also stretched with 1,830 people living in a camp designed for 1,000, as well another 1,048 people staying at other facilities. Only Leros has manageable numbers, with 865 refugees and migrants staying at a camp for 1,000 people, as well as an additional 160 individuals in other facilities."
---
July 25, 2017
Greece raises €3bn in first bond sale for three years - Financial Times
"Deal marks growing confidence in recovery and is a step nearer to ending bailout programme

The country has raised €3bn with a new five-year bond, of which around half came from existing investors in its 2019 debt who agreed to swap their holdings for a slice of the new issue.

They were paid 102.6 cents on the euro — amounting to a €40m premium — for doing so. The notes were trading as low as 90 cents as recently as February.

The bond was priced a yield of 4.625 per cent, tighter than the initial guidance from bankers of about 4.8 per cent."
---
Greece on right reform path, but needs to keep 'pedalling': Moscovici - NY Daily
"Moscovici, who was visiting Athens, said the crisis-hit country was at a crucial juncture and urged Greece to keep up economic reforms.

"To legislate a reform is positive but to implement it is more significant," he told reporters.

He also said he was confident Greece could return to bond markets at "logical yields".

"Returning to the markets is an important first step," Moscovici told reporters. "
---
Banks discern many benefits in Greece's new bond issue- eKathimerini
"Domestic lenders expect to absorb some 1 billion euros from Greece's first bond issue since 2014. The banks will swap paper maturing in 2019 for the new issue, a move set to fetch certain capital gains given the difference in interest rates and the maturity period. Besides the swap, local banks also intend to proceed with a slight increase in their Greek bond holdings.

Bank officials told Kathimerini that the country's return to the markets constitutes a major step toward restoring normalcy."
---
July 24, 2017
Greece launches first bond sale since 2014 - UK Guardian
"Greece's offer to buy back some of its existing five-year bonds is good news for investors.

Anyone who bought the debt last year, when they traded below their face value, can now sell them back for a profit: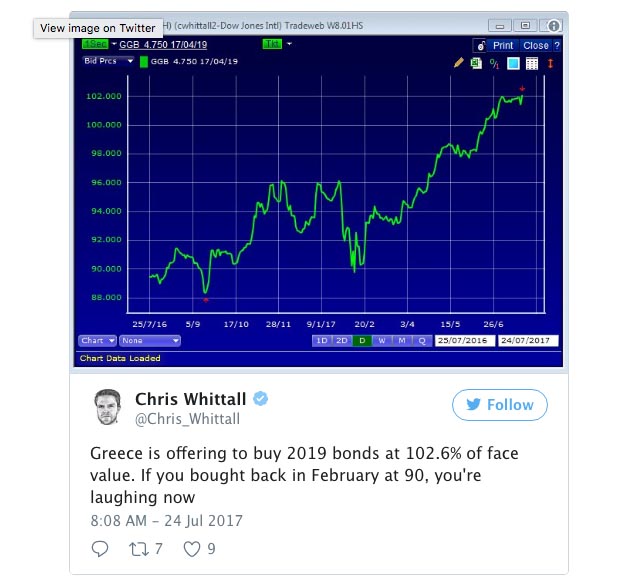 More Coverage:
Greece attempts bond comeback after 3-year absence - MSN
Greece announces new 5-year bond issue after 3-year market exile - Reuters
---
Goldman Sachs and HSBC are among 6 banks advising Greece on its first bond issue since 2014 - Business Insider
"The €4bn 4.75% 2019 bonds have been trading at a record low yield, bid below 3.5% according to Thomson Reuters prices, making it an opportune time for the country to issue its first deal since 2014.

Greece has a total debt pile of €325bn, according to Thursday's sustainability analysis from the IMF."
---
Inside of the Acropolis Museum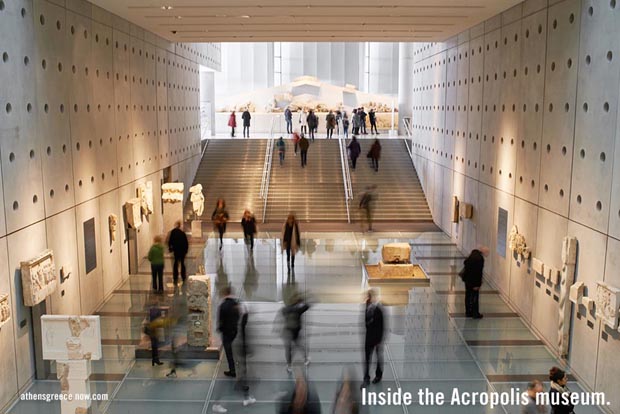 ---
July 23, 2017
Greece and Turkey struggle in aftermath of quake that killed two UK Guardian
"The 6.7-magnitude quake left hundreds more injured in the Turkish resort of Bodrum, about 12 miles (20km) across the sea from Kos. Tourists have faced flight delays and the damaged main harbour was closed for a second day.

"Given the amount of people outside at the time, having only two victims is a miracle," said the deputy Kos mayor, David Yerasklis.

The undersea quake struck at 1.31am on Friday between Kos and Bodrum, when many tourists in both places had been out enjoying the nightlife."
---
IMF: Greece Must Implement Measures in 2019 and Countermeasures in 2023
"According to the Fund, countermeasures (1% of GDP from social spending in 2019 and 1% from tax cuts in 2020) should be expected to apply from 2023 onwards.

The IMF report says that the high levels of non-performing loans in Greek banks and the weak quality of their funds represent a serious risk to the sustainability of public debt. The 10-billion-euro cushion for the recapitalization of banks may not be sufficient. For this reason, it proposes to carry out an assessment of their assets before the end of the program in order to identify in due time the impact that any additional capital needs may have on the sustainability of sovereign debt."
---
July 22, 2017
Residents, tourists in Greece sleep outdoors after quake - Bozeman Daily Chronicle
"Residents and tourists were too afraid to return to their homes and hotels, camping out instead in parks and olive groves, or slumbering in their cars or on lounge chairs.

The most seriously injured in Greece were airlifted to hospitals on the mainland and the southern island of Crete, and at least two were listed in critical condition Saturday."
---
Eurobasket U20 Final Prediction: Israel vs Greece - bangthebook
"Israel are perfect so far in the competition, finishing the group phase with a 3-0 record and placing first in Group C. In the first round of the playoffs they eliminated Iceland with a 74-54 score and in the semifinals they eliminated France with a 74-52 score...

Greece are perfect so far in the competition, finishing the group phase with a 3-0 record and placing first in Group A. In the first round of the playoffs they eliminated Lithuania with a 76-72 score and in the semifinals they eliminated Spain with a 77-56 score..."
---
UN's Eide in Cyprus on Monday amidst criticism - Protothema
"One day earlier, Greek Foreign Minister Nikos Kotzias said in Nicosia that Eide had not prepared satisfactory the failed UN-brokered Conference on Cyprus in Crans-Montana, Switzerland, earlier this month."
---
NEWS ARCHIVE - July 2017
---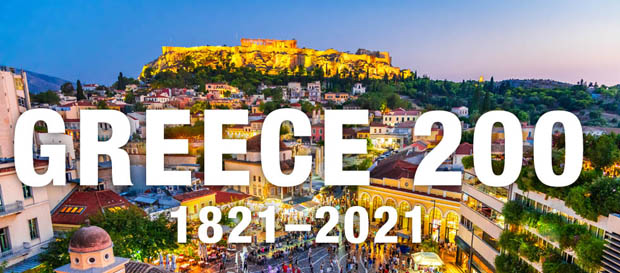 ---
You will see Amazon links on this web site because I am an Amazon affiliate. I earn from qualifying purchases.
Fodor's Essential Greece: with the Best Islands (Full-color Travel Guide)
---

---