Greece and the economic crisis 2017
NEWS ARCHIVE - July 1 - July 7
---
---
July 7, 2017
EU Rescue Fund Approves 8.5 Billion-Euro Aid Payout for Greece - Bloomberg
"A tranche of 7.7 billion euros will be disbursed on July 10, the Luxembourg-based ESM said, while the remaining amount will be available from September, and granted only once Athens has cleared sufficient domestic arrears.

...Out of the 8.5 billion-euro payout, 6.9 billion euros will go toward debt servicing, and 1.6 billion euros toward the repayment of money owed by the state to domestic producers. The Greek government must clear its arrears with one euro of its own resources for every two euros of money from loans."
More Coverage:
Greece to Get Its Latest Big Tranche by EU Creditors - WSJ
---
ESM agrees to release 8.5 billion euro tranche of Greece bailout - Reuters
"The board of the European Stability Mechanism approved the release of a third tranche of bailout funds to Greece worth 8.5 billion euros ($9.68 billion) on Friday, the ESM said on Twitter."
---
American tourist, 22, beaten to death in bar brawl - Herald Extra
"Greek police say a 22-year-old American tourist has been fatally injured in a fight at a bar on the island of Zakinthos.... Police say a 34-year-old Greek and a 32-year-old British man of Serbian origin have been arrested and were to appear before a prosecutor on murder charges.
---
Athens launches crackdown on businesses using public areas for free - eKathimerini
"The initiative is part of an effort by local authorities to put an end to the illegal use of public space by establishments in downtown Athens, and to clamp down on those who use these areas without paying their dues to city authorities."
---
New timetable for Pylos Marina tender in Peloponnese, Greece
"A new timetable for the tender for the Pylos marina in Peloponnese, Greece was announced by Hellenic Republic Asset Development Fund."
---
Aggressive victims and the ERT memorial - eKathimerini
"Those in government want the perks of power but also need to maintain the fantasy of being revolutionaries. It is understandable that they should want to keep creating myths so as to justify whatever they do as the result of others' crimes. They claim victims from the past, they fabricate victims of the present, to hide their responsibilities."
---
National Greek Library and Opera House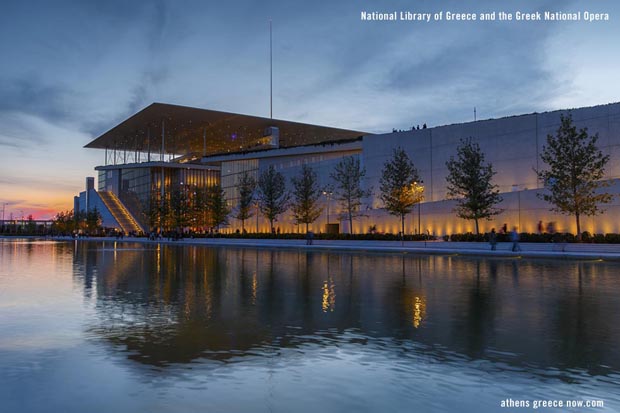 ---
July 6, 2017
Greece Aims at 6 Billion Euros in Privatisations Revenues by 2018 - NY Times
"...The country raised 500 million euros from asset sales last year, missing its bailout target by about 2 billion euros, mainly due to delays in completing the lease of 14 airports to a consortium led by Germany's Fraport.

The 1.2-billion-euro lease of regional airports was completed this year. Along with the sale of a 67 percent stake in Thessaloniki Port and a first 345-million-euro tranche from the lease of the former Athens airport Hellenikon, the lease will help Athens raise 2 billion euros in total this year, HRADF's chairwoman Lila Tsitsogiannopoulou said."
---
Greece's media watchdog decides for seven TV broadcasting licenses - Keep Talking Greece
"According to the decision a total of seven TV broadcasting licenses will be auctioned.

... The Council of State, the country's supreme administrative court, had rescinded the previous law legislated by Minister Pappas in 2016 according to which only 4 TV broadcasting licenses were to be auctioned. The Council of State ruled that the TV license law was against the Constitution."
---
Wildfire approaches birthplace of Olympic Games
"Greek authorities say a wildfire has come within 2 kilometers (1.2 miles) of Ancient Olympia — birthplace of the Olympic Games — as several large forest fires continued to burn around the country.

... By nightfall on Wednesday, two water-dropping planes had been deployed along with dozens of firefighters and local volunteers."
---
Glenn Kim presents Varoufakis's alternative currency plan - eKathimerini
"According to the plan, the government would start by handing civil servants vouchers amounting to 10 percent of their monthly salary, to be used exclusively for paying debts to the tax authorities, just like food vouchers are used. If the system had been successful it would have been expanded to other state payments and in other sectors."
---
July 5, 2017
UN chief heads to Cyprus Conference as expectations of deal take a nosedive - ekathimerini
"The return on Thursday to Switzerland of UN Secretary-General Antonio Guterres is part of the bid to push rival sides closer to an agreement after expectations of a deal took a nosedive on Tuesday, with Turkey insisting that it won't sign any agreement involving the withdrawal of all its troops from the island."
---
Another Blue Flag for Greece in Hersonissos, Heraklio in Crete - Tornos News
"Greece received another prestigious Blue Flag, the world imprimatur for quality clean beaches, as Lyttos Beach Hotel, located in Hersonissos, near Heraklio, on Crete was awarded the Blue Flag for a second year in a row for the water quality and cleanliness of its 350 metre shore."
---
EU beseeches member states to back Italy, Greece on migrants - ABC News
"EU Commission Vice President Frans Timmermans said, to the applause of legislators at the European Parliament on Wednesday, that "it would already make a world of difference in Europe if every single member state would live up to their commitments to show solidarity."
---
Archaeological sites in Athens to shut for strike - eKathimerini
"The three-hour work stoppage starting at 8 a.m. comes at the height of Greece's lucrative tourist season. Museums and archaeological sites are two of the main attractions for the millions who visit the country each year, particularly during the summer."
---
Turkish Foreign Minister demands guarantees and military on Cyprus - Protothema
"Turkish Foreign Minister Mevlut Cavusoglu said Turkey would out-rightly reject the prospect of withdrawing its military forces from the northern part of the island of Cyprus, during talks at Crans-Manotana in Switzerland on the Cypriot issue..."
---
Moody's expects NBG to be the first bank to repay its ELA over the next 12-18 months - Capital GR
"Moody's said on 3 July 2017 that NBG's sale of its 75% stake in Ethniki Insurance is credit positive because it will receive €718.3m that will boost its common equity Tier 1 (CET1) ratio by around 110bps and reduce its emergency liquidity assistance (ELA) funding."
---
Sunset on the Acropolis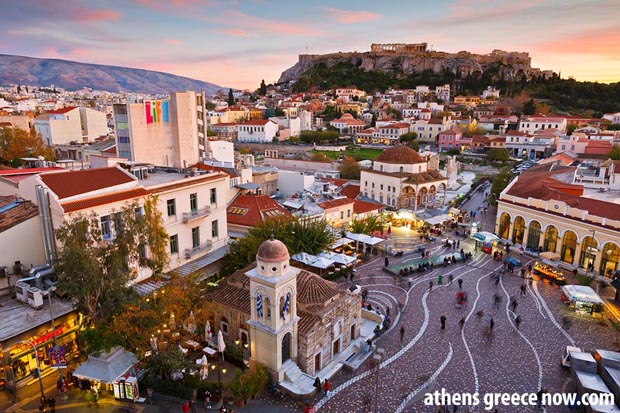 ---
July 4, 2017
New delay for Greece's tranche payment - eKathimerini
"....while the government is sounding triumphalist over the decisions of the June 15 Eurogroup, it has allowed the tranche payment to be delayed until the last minute before the date the July obligations are due. It may have voted for pension cuts and tax discount reductions totaling 4.5 billion euros, but it has got stuck on specific regulations that carry some special political weight.

Sources say that instead of the decision that was to be made on Thursday, July 6, the European Stability Mechanism will instead have to decide on the eagerly anticipated disbursement a week later, on July 13 or 14. Greece has to pay private bondholders 2 billion euros on July 17, another 290 million euros to the International Monetary Fund, and some 4 billion euros to the European Central Bank on July 20. The tranche will amount to 7.7 billion euros, with another 800 million due to be disbursed in the fall."
---
Greece's National Bank to sell Romania, Serbia, Cyprus operations - Reuters
"Greece's second-largest lender National Bank (NBG) (NBGr.AT) will sell more assets in the Balkans, including its Romanian operations, to complete a restructuring plan agreed with European authorities, its chief executive said on Tuesday.

Like other big Greek banks, NBG has been slimming down by divesting assets and foreign subsidiaries to focus on banking at home, with proceeds boosting capital ratios and liquidity."
---
Cyprus' record heat wave kills 2; Greece, Turkey also baking - ABC News
"Cyprus' Meteorological Service said weekend temperatures across the island were the highest on record for the month of July in 30 years except in the capital Nicosia where a scorching 44.6 degrees Celsius (112.3 Fahrenheit) was a degree less than the 2010 record."
---
Greece's Sovereign Debt And Economic Realism – Analysis - eurasiareview
"The crazy thing is that the real economic substance of the Greek debt resolution was settled long ago: the Europeans replaced private creditor debt with public sector debt, most of which will realistically never get paid, and also provided the Greeks with the additional funds needed to keep its banks open in the face of significant capital flight as well as some additional funds to permit small primary deficits. The arguments going forward are all about a few billion euros a year in possible repayments as well as aspirational reforms. But politics and accounting have left the parties – the Greeks, the IMF, and the Northern Europeans (Germans) – in a never-ending cycle of frustrating negotiations, unrealistic promises and projections, and short-term fixes."
---
July 3, 2017
Greece legalises medicinal cannabis - Neo Kosmos
"From now on, the country is turning its page, as Greece is now included in countries where the delivery of medical cannabis to patients in need is legal," said Prime Minister Alexis Tsipras.

The joint ministerial decision reached by Ministers of Health and Justice was published in Friday's edition of the Government Gazette.

It was noted that cannabis will no longer be classified as a Table A drug, where it was listed among the most restricted narcotics including heroin and LSD, to Table B which features methadone, cocaine and opium."
---
Downfall of Greece: What happened to the world's most glorious country? - Indian Economist
"One article, titled '2,000 Years of Decline', pronounced: 'The modern Greeks prove their dissimilarity to their ancestors almost daily. The country that gave rise to Socrates and Plato, Myron and Phidias, Pindar and Sophocles, Pythagoras and Thucydides, today has no significant poets, composers, artists or philosophers.'

That stereotype long predates the current crisis. A half century before that issue of FOCUS, in the hit film Never on Sunday (1960), the director Jules Dassin played the part of the American tourist Homer Thrace, a man who has journeyed to Greece in search of its ancient philosophers. Disillusioned within hours of disembarking, he interrogates a prostitute named Ilya (played by Melina Mercouri) about what has gone wrong: 'No society ever reached the heights that were attained by ancient Greece! It was the cradle of culture. It was a happy country. What happened? What made it fall?'

But was there ever such a Greek Golden Age? When, exactly, was Greece great? In fact, nostalgia for a lost greatness can be found in the so-called Golden Age itself."
---
Eurozone Manufacturing Accelerates as Greece Joins In - Wall Street Journal
[Uses paywall]
"Eurozone factories had their busiest month in more than six years during June, with the expansion even spreading to Greece, a persistent laggard.

The pickup is consistent with other indications that economic growth in the currency area accelerated in the three months to June, having already speeded up in the first quarter."
---
Printed media crisis and paywalls: We are closer to losing our news than we think - Protothema
"There is a lot of turmoil in the media and especially in printed Media as we know them. Every year the risk of traditional newspapers shutting down is increasing. And this is why many news media giants are testing new ways in making themselves sustainable. The years were you just had to be on the internet are long gone. Being on the Internet is not enough. New business models and sophisticated strategies are needed in order to continue "living". "The publishing business is being rocked by steep declines in print revenue that have yet to be matched by digital gains. Global magazine ad revenues are forecast to fall 10 per cent and newspaper ad revenues 9 per cent this year by Magna Global, the media buying agency."
---
Chouliarakis: We should speed up privatisation program - To Vima
"The privatizations that have been planned for this year is the selling of 66% of DESFA (Hellenic Gas Transmission System Operator S.A.) and 67% of OLTH (Thessaloniki Port Authority) Mr. Chouliarakis also admitted that "No one expected debt relief measures at this phase" adding that "medium-term measures would be clarified at the end of the bailout program, in 2018".
---
BoG downgrades its 2017e GDP growth forecast - Capital GR
"The weaker growth dynamics can be attributed to the long delay in completing the second review and to the consequent surge in uncertainty, which led to a considerable decline in investment. This, combined with the sharp increase in the tax burden, dampened the initial forecast," BoG said in its monetary policy report."
---
Tsipras defends gov't in Parl't, Mitsotakis calls him 'corrupted' - eKathimerini
"Referring to New Democracy and its leader Kyriakos Mitsotakis, Tsipras referred to a "disaster-mongering mill" that had been in operation until the deal was reached on June 15.

... Mitsotakis hit back hard, declaring to Tsipras that, "power has corrupted you" and reiterating his demand for snap elections.

He added that the government is a "champion" at imposing taxes but a loser in its purported crackdown on tax evasion."
---
---
July 2, 2017
Greece Civil Protection warns of high risk for wildfires - Keep Talking Greece
"The Civil Protection has set the risk at Level 4.

The areas where the risk of wildfires is extremely high are:

the Ionian Islands
Achaia Corinth, Messinia and Lakonia in Peloponnese
Attica
Boiotia and Fokida "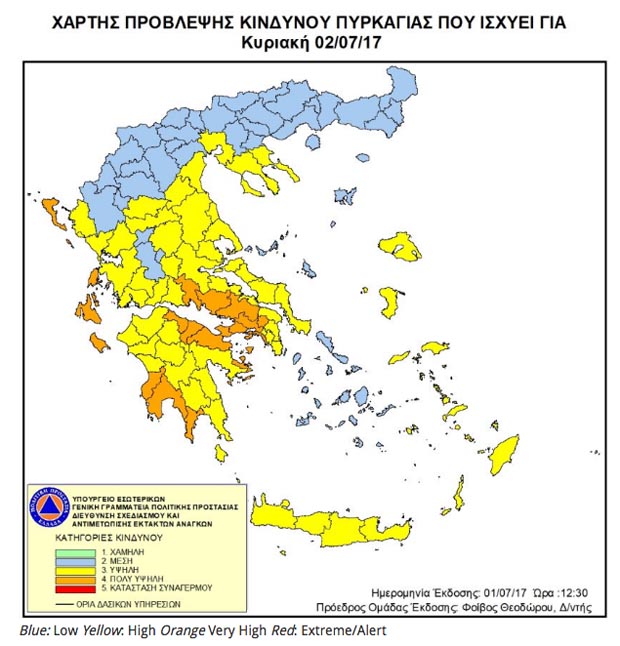 ---
Cyprus talks at Swiss resort to resume Monday - eKathimerini
"Guterres said his meetings on Friday between Cyprus President Nicos Anastasiades and Turkish-Cypriot leader Mustafa Akinci, and the Greek and Turkish foreign ministers were "positive and results-oriented."

For his part, Greek Foreign Minister Nikos Kotzias praised the UN chief as a "prominent personality on the international stage."
---
Schaeuble says Greek governments to blame for pension cuts - eKathimerini
"The German minister stressed in an interview with Ta Nea newspaper on Saturday that the Greek governments are the ones that decided the mix of policies needed to achieve the country's targets. He also said that the International Monetary Fund will never be involved again in a program to rescue a European country."
---
12 Greek SuperFoods for You to Enjoy on Your Trip to Greece - Adam Kemp
Article discusses 12 Greek foods that have strong health effects, not just as diet staplesbut as medicines forvarious problemsand injuries. Discussed are:
The Olive and Olive Oil
Kozani Crocus
Trahana
Chios Mastic Gum
Messolonghi Avgotaraho
Cretan Spiny Chicory
Sage
Raisins
Honey
Barley Rusks
Traditional Yoghurt
Oregano
---
Thassos Island Greece - Golden Beach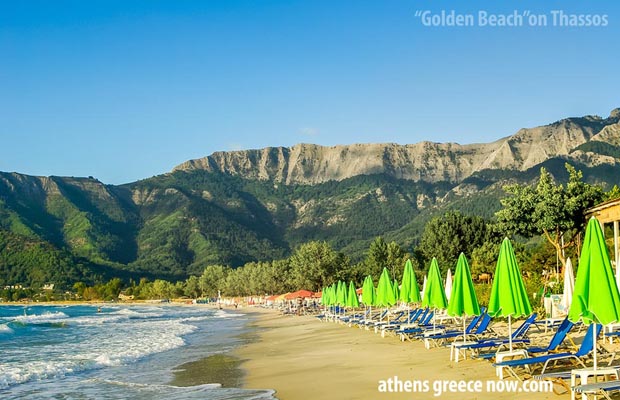 ---
July 1, 2017
'Tourism is our lifejacket': debt-stricken Greece gets record number of visitors - UK Guardian
"Debt-stricken Greece is braced for a record-breaking 30m holidaymakers this year, almost three times its population. Addressing the Panhellenic Exporters Association last week, the tourism minister Elena Kountoura said that between January and May there had been a noticeable increase in arrivals, revenues and occupancy rates with summer bookings in some areas rising by as much as 70%. Travel receipts grew by 2.4% or €23m (£20m).

After eight years of grinding austerity, the influx is a tangible gift, on a par with the €8.5bn financial lifeline thrown Greece earlier this month to once again avert default."
---
Cyprus talks at Swiss resort to resume Monday - eKathimerini
"The Cyprus talks in the Swiss resort of Crans-Montana are due to continue on a more optimistic note Monday as United Nations Secretary-General Antonio Guterres has said that there is a "clear understanding" between the Greek and Turkish sides with regard to what is needed to reach a comprehensive deal."
---
Greek central bank cuts growth outlook, warns of risks from debt pile - Reuters
"Greece's central bank on Friday cut its growth forecast for the year and issued a grim warning that lack of clarity from lenders over resolving the country's debt mountain held potential risks that may require further financial aid in future.

Presenting its annual monetary policy report, the Bank of Greece said Greece's creditors needed to specify their commitment to medium-term debt relief measures to ensure the sustainability of debt over the medium to long term."
---
---
NEWS ARCHIVE - July 2017
---
---
---
LIVE CAM VIEWS
---