Greece and the economic crisis 2017
NEWS ARCHIVE - July 15 - July 21
---
---
July 21, 2017
EU offers post-quake help to Greece - FOX
"The EU is offering emergency equipment, personnel and satellite imagery to help Greece deal with the aftermath of the overnight earthquake.

The bloc's commissioner for humanitarian aid, Christos Stylianides, offered condolences and said "the EU offers its full support" after Friday's quake that killed two people on the island of Kos. The quake, which also struck the shores of nearby Turkey, injured some 200 people."
---
Aegean Sea Earthquake Rocks Greece, Turkey Resorts - NBC
"The quake struck about 6.2 miles south-southeast of Bodrum but most of the damage was recorded on Kos, which is southwest of Turkey's southeastern coast, according to the Associated Press.

...Greece's deputy minister of shipping and island policy said on state TV that most of the injuries are believed to be minor. The temblor has prompted a warning to avoid beaches.

... "I saw everything shake. We really felt it. Everyone is in fear and out on the street," Elif Bereketli, 30, a journalist who was in Aydin province in Turkey, told NBC News by phone."
---
Earthquake rocks Greece and Turkey: Two dead on Kos as hundreds of tourists hurt amid tsunami - UK Telegraph
"At least two tourists have been killed and more than 500 others injured after a powerful earthquake shook the Greek Islands and Turkish coast, triggering a small tsunami.

The 6.7-magnitude quake struck in the Aegean Sea on Thursday night south of the Turkish city of Bodrum and east of the small Greek island of Kos - both areas popular with British holidaymakers.

It sent a building crashing down on tourists at a bar in the Old Town of the main port on Kos, killing two men - a 27-year-old from Sweden and a 39-year-old from Turkey - and injuring scores of others in scenes of panic."
Quake Kills Two in Greece, Injures 120, Some Critically - WSJ
Turkey and Greece hit by strong earthquake: two dead and 200 injured – as it happened - UK Guardian
---
July 20, 2017
IMF Board Set to Approve Greece's Latest Bailout - WSJ
"A new cap on debt in the International Monetary Fund's latest Greek bailout due to be approved later Thursday keeps pressure on Europe to deliver debt relief and prevents Athens from raising fresh cash in the markets anytime soon.

The IMF's board is set to green light Greece's bailout, but only "in principle," since it still considers the country's debt is "unsustainable" without significant debt relief by Athens' European..."
---
IMF approves in principle $1.8 billion loan arrangement for Greece - Reuters
"A second Executive Board decision will be needed to make the IMF program fully effective, the IMF said. The arrangement will expire on Aug. 31, 2018, shortly after Greece's European Stability Mechanism loan program ends.

"The program provides both breathing space to mobilize support for the deeper structural reforms that Greece needs to prosper within the euro area and a framework for Greece's European partners to deliver further debt relief to restore Greece's debt sustainability," IMF Managing Director Christine Lagarde said in a statement."
---
Greece waiting for 'right moment' for bond market return - nwitimes
"Greece lost market access due to high interest rates in 2010 and briefly returned with a 2014 bond issue before seeking additional bailout money the following year.

The current bailout program, funded by other eurozone members and monitored with help from the International Monetary Fund, ends in one year."
More Coverage:
Any market foray should be first step to full return, gov't says - eKathimerini
Greece's return to the bond market should be done in a 'lasting way': ECB president Draghi - MSN
Greece Explores Market Return After Three Years' Exile Under Lenders' Watch - US News
---
Greece's Trainose sale to happen next week and OLTH to wait - Tornos
"Greek state sell-off fund TAIPED is said to have received a few days ago a response from Trainose's prospective buyer, Ferrovie dello Stato Italiane, on the final touches to the transaction contract, including a provision that the public service subsidy will not exceed 50 million euros per year including value-added tax. "
---
July 19, 2017
A fourth bailout for Greece may yet be needed - Capital GR
"...the economy of Greece is again showing tentative signs of recovery. Arise in the manufacturing PMI to above the "no change" level of 50 suggests that GDP probably just about expanded again in Q2, after a 0.4% y/y rise in Q1. What's more, some success in fiscal consolidation has caused the EC to recommend the termination of Greece's Excessive Deficit Procedure.

This has all resulted in an encouraging drop in government borrowing costs, with the ten-year yield now at 5.3%. Accordingly, there is speculation that the Government will soon try returning to financial markets, starting with a five-year debt issue."
More coverage:
Goldman Sachs: Unlikely direct integration into QE, likely a fourth program - Naftemporiki
---
35 arrested in migrant camp clashes - SF Gate
"Clashes have broken out for the second time in eight days at a crowded migrant camp on the Greek island of Lesbos.

Authorities said 35 migrants were arrested Tuesday for public disturbance offences, after police used tear gas against stone throwing protesters at the Moria camp. "
---
Yes, Greece Can - Bloomberg
"The Hellenic Republic had been laying the groundwork to issue as much as 4 billion euros ($4.6 billion) in five-year bonds after repaying 6 billion euros of its existing debt this week. But the funds to pay down that debt came from the European Stability Mechanism, so Greece's overall debt hasn't been reduced, simply extended.

...Another option would be to allow some of Greece's 15 billion euros of debt that matures in a year or less to mature without being replaced with new debt."
---
Greece to Chair OECD High Level Meeting on Tourism Policies for Sustainable Growth - gtp.gr
"This is the first time Greece will chair the OECD's tourism committee's meeting. "This is a result of the efforts made to upgrade Greece's international presence and establish closer relations between the tourism ministry and the OECD in the field of tourism," the tourism ministry said an announcement on Wednesday. "
---
Light earthquake: M4.1 quake has struck near Crete, Greece - earthquakenewstoday
"Event epicenter was 59 km (37 miles) from Irákleion (c. 137 200 pop), 49 km (30 miles) from Chaniá (c. 54 600 pop), 9 km (5 miles) from Rethymno (c. 29 900 pop), 61 km (38 miles) from Néa Alikarnassós (c. 11 900 pop), 52 km (32 miles) from Gázi (c. 9 700 pop), 74 km (46 miles) from Goúvai (c. 7 800 pop). Country/countries that might be effected, Greece (c. 11 000 000 pop). Closest city/cities or villages, with min 5000 pop, to hypocenter/epicentrum was Goúvai, Néa Alikarnassós, Irákleion."
---
Government skyrockets prices with levy 2%-6% on computers, tablets, smartphones and cameras - Keeptalkinggreece
"The new tax, the so-called "tablet levy" of 2% will be imposed on any appliance with a RAM memory exceeding 4GB.

A levy of 6% will be imposed on devices recording image and sound as well as electronic storing discs of more than 1Tetrabyte (TB).

A levy of 4% will be imposed on photocopy machines, scanners, photocopy paper and hard disc of up to 1 TB."
---
Hydra Island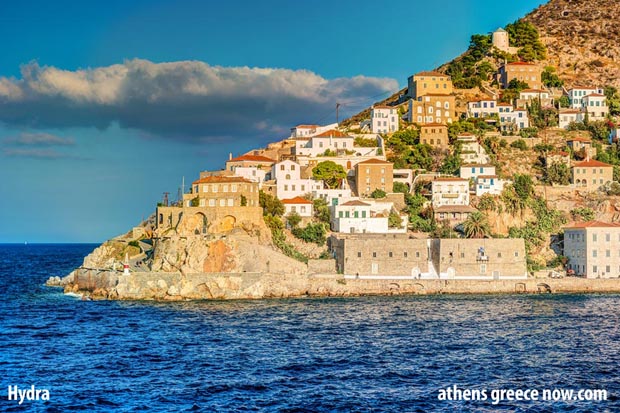 ---
---
July 18, 2017
Piraeus Bank Races to Reach ECB Target for Reducing Bad Loans - Bloomberg
"CEO Christos Megalou must offload 4 billion euros ($4.6 billion) in bad loans by the end of the year under a restructuring plan worked out with the European Central Bank's supervisory arm months before he took over at the largest Greek lender.

"There is a decision of this management to accelerate the implementation of the restructuring plan in order to pay back state aid as soon as possible," Megalou said in an interview at the bank's headquarters in Athens...
---
Greece aims to sell bonds for first time since 2014 - Financial Times
"Greece is looking to sell government bonds for the first time in three years in the latest sign of investor willingness to forget the past problems of former pariah sovereign borrowers.

...Since the 2010 eurozone debt crisis Greece has raised new debt only twice, in 2014, issuing €4.5bn of bonds at three- and five-year maturities."
---
Making Greece a medical tourism destination - Neos Kosmos
"...This prospect was discussed when Bill Papastergiadis met with the Mayor of Maroussi Giorgos Patoulis, who is also chair of two significant Greek institutions: the Athens Medical Association and the Central Union of Greek Municipalities. They were not alone.

Also present was Philip Dalidakis, Victoria's Minister for Small Business, as well as the vice president of the International Institute of Greek Doctors, Konstantinos Pantos. The meeting was about the upcoming medical tourism convention, in Melbourne on 25 and 26 November 2017 for business operators, academics, medical experts, and tourism professionals. For Greek Australian doctors, this is a unique opportunity for Greece to strengthen its position as a medical tourism destination, something that will be beneficial to both the medical sector and local communities around the country."
---
Record high number of insured vehicles - eKathimineri
"According to data from insurance companies, the number of insured vehicles has reached 6.2 million, the highest in the last few years at least, up from 5.6 million in end-2016.

The same data also reveal that the majority of newly insured vehicles are motorbikes..."
---
July 17, 2017
Draft law in the works for developing seaplane bases across Greece - Tornos
"Four years and three months after a law was passed regarding strategic and private investments to accelerate licensing for seaplane bases in Greece, this market remains on paper.

Nevertheless, government sources say that in the coming months the final draft of the bill regarding seaplane airports will be tabled in Parliament."
---
Bill pledging wage hikes and jobs under scrutiny by creditors - eKathimerini
"A European Commission official indicated over the weekend that Greece's lenders are aware of some aspects of the new bill but intend to assess it in its entirety.

Government officials had initially indicated that the bill would regulate the situation with local authority workers, thousands of whom have been employed on renewable short-term contracts for years."
---
Can Greece Become Global Maritime Capital? - marinelink
"...The study gauging the views and forecasts of 779 Greek shipping executives revealed that the most attractive and comprehensive framework among shipping hubs or "clusters" today is Piraeus, Greece's biggest port.

The executives believe that its enhancement would strengthen their business – in spite of the the growing attractiveness of competing maritime centers."
---
July 15, 2017
Suspect in killing of American in Greece claims innocence: 'Wrong place at the wrong time' - Fox News
Video Report and Article
"...Nenad Javanovic, a 22-year-old Serb, claims he did not take part in the fight that killed Bakari Henderson, also 22, in Zakinthos' rowdy tourist district of Lagana on July 7.

He told Serbian media that he was "at the wrong place at the wrong time."
More Coverage:
Suspect in beating death of US tourist in Greece is jailed - Washington Post
---
Greece hands Cyprus secret files on 1974 coup - Financial Times
"...Three rooms under Greece's foreign ministry have contained the 21,000 pages of the "Cyprus File", documenting the chain of events that led to the coup by the then military regime in Athens against Archbishop Makarios, the island's leader. The coup prompted a Turkish invasion of Cyprus days later, leading to the division of the island that has subsequently haunted regional politics, while it also sparked the collapse of military rule in Greece."
---
Turkey Still Awaits Greece's Decision for the Extradition of Eight Turkish Officers, Ambassador Cevik Says - Greek Reporter
"...Speaking to both Greek and foreign correspondents, Cevik said the attempted coup was led exclusively by "Fethullah Gulen's terrorist organisation FETO" and by Turkish military officers, using this opportunity to refer to those that had fled to Greece.

"Eight putschists fled to Greece in a helicopter on the morning of July 16. Greece condemned the attempted coup, expressed its solidarity and said that the putschists were not wanted in Greece," he said, noting Turkey's appreciation for Greece's stance."
---
Admin. Reconstruction Min Gerovassili expresses optimism over solution at Thursday's Eurogroup - Athens News Agency
"Administrative Reconstruction Minister Olga Gerovassili estimated on Monday that a solution will be reached on Thursday "that will reflect a new positive step forward for Greece" speaking to Flash radio."
---
---
NEWS ARCHIVE - July 2017
---



---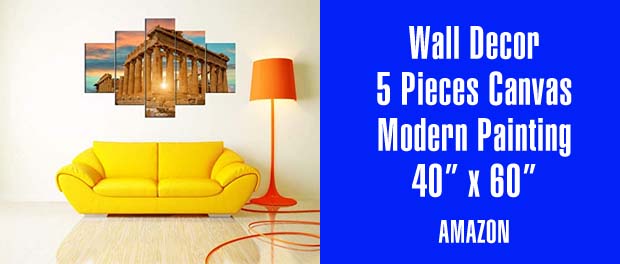 Parthenon Temple on the Acropolis of Athens Greece Artwork Wall Decor 5 Pieces Canvas Modern Painting Wall Art Home Decoration for Living Room Pictures HD Printed Framed Ready to hang(60''Wx40''H)
---
Create Amazon Business Account - save time and money on business purchases with competitive B2B prices and discounts