Greece and the economic crisis 2017
NEWS ARCHIVE - May 8 - May 17
---
---
May 17, 2017
Hundreds of Thousands Strike in Greece as Cuts Near Approval - NY Times
"The effects of the strike, which came in response to pledges from the leftist-led government of Prime Minister Alexis Tsipras to Greece's international creditors, were widespread: Flights and public transportation were disrupted, ships remained anchored in ports, government offices were closed and hospitals operated with limited staff.

In a statement, the Greek civil servants' union, Adedy, called the austerity measures "barbaric." It decried what it called the "looting of wages and pensions" and a "sellout" of state assets, referring to plans to privatize the state power board and other public bodies."
---
Quake jolts Rhodes - eKathimerini
"According to the Athens Geodynamic Institute, the tremor's epicenter was 24 kilometers southwest of the neighboring island of Halki at a depth of 10 kilometers."
---
Clashes in Greece as thousands protest austerity - My San Antonio
"A small group of protesters threw gasoline bombs and fired flares at riot police after the marches ended in Athens. Police responded with tear gas. The clashes broke out after peaceful marches involving around 12,000 people."
---
In Greece's deepening financial crisis, one family's struggle - NY Daily
"They live in a tiny, 49-square-metre apartment with their four small children and burn wood to heat their home in winter. Food is cooked on a small gas stove, and hot water is scarce.

The only evening light is the blue glare of a TV screen, for fear of racking up more debt. Five-watt lightbulbs provide a dim glow. The life they had hoped for appears as far away as ever."
---
What Merkel and Tsipras agreed on debt - Imerisia.gr
"... according to an announcement from the Office of the Prime Minister's Press, Alexis Tsipras on Tuesday morningheld a telephone conversation with German Chancellor Merkel Angkela. The focus was the issue of Greek debt. The two leaders agreed on the necessity and feasibility of finding a solution in the next Eurogroup [meeting on May 22]."
---
Thousands demonstrate in Greece in general strike over new cuts - citizen ZA
"We want to send a decisive message to the government, the European Union and the International Monetary Fund that we will not let them cut up our lives," Alekos Perrakis, a senior member of Communist union PAME, told reporters.

The mobilisation is aimed against new pension and tax break cuts forced on Greece by its EU-IMF creditors in return for bailout cash.
---
May 16, 2017
---
What does Greece tell us about the AS/AD model? - econlib.org
"Does NGDP matter for Greece? I'd say yes and no. Here's an analogy that might help. Suppose that we measured the NGDP for Detroit and Houston, and discovered that Houston's NGDP was rising fast while Detroit's was flat. Would we say that "AD shocks" explain the divergent paths of those two cities? Clearly not---Detroit has serious structural problems. Both cities are part of the US, and both face the same monetary policy at the national level.

So while I view the national NGDP as being almost completely under the control of the Fed (with an appropriate policy regime), at the local level, variations in NGDP tend to reflect supply-side factors."
---
Cat and mouse: Migrants and police in Greece - msn.com
Video report at the link
"Many migrants in the port of Patras, Greece are prepared to take huge risks to try to reach Italy. BBC News spoke to one of them, 17-year-old Mustafa."
---
Greece: Latest cuts extend austerity to decade mark - Business Insider
"Lawmakers in Greece are starting a four-day debate on a new package of spending cuts that will extend the number of years Greeks have lived under austerity to more than a decade.

...Greek public finances are currently being propped up by a third successive bailout, monitored by European Union institutions and the International Monetary Fund."
---
May 15, 2017
Turkish vessels violate Greek territorial waters after Tsipras, Erdogan meet - eKathimerini
"Hopes that tension between Athens and Ankara would subside after the meeting between Prime Minister Alexis Tsipras and Turkish President Recep Tayyip Erdogan on Saturday were dashed on Monday after two Turkish missile boats entered Greek territorial waters off the southeast Aegean island of Agathonisi."
---
Greece's Varoufakis reveals the worst kept secret in Europe in his tell-all book - Marketwatch
"The European Union, and especially the eurozone, is a German empire.

The new capital of Europe is not Brussels — let alone Strasbourg, the home of the European Parliament — but Berlin. The ultimate power of the EU is not the president of the European Commission, but the chancellor of Germany.

That's the takeaway from " Adults in the Room : My Battle With Europe's Deep Establishment," the sensational memoir by the ill-fated, but colorful, former Greek Finance Minister Yanis Varoufakis."
Amazon link: Adults In The Room: My Battle With Europe's Deep Establishment by Varoufakis
---
Greece Considers Extending EU Austerity to a Decade - Breitbart
"Greece is currently in the midst of its third bailout program — the current three-year program expires in the summer of 2018 and could be worth up to 86 billion euros ($95 billion) in total. In return for the money, the government promised to enact a series of austerity measures as well as economic reforms — its progress is continually monitored by institutions from the European Union and the International Monetary Fund.

While the austerity measures has seen Greece's public finances improve, the draconian spending cuts have seen poverty rates surge to more than 35 percent, high in relation to the EU average under 24 percent."
---
May 14, 2017
The Greek economy is now managing "austerity" OK - Marginal Revolution
... with all the catch-up they could be doing (but please don't assume that all or even most of the output gap represents potential catch-up). Still, the Greek economy is not shrinking, even though Keynesian fiscal theories predict it should be.
May 12, 2017
Greece eyes bond sale amid optimism over debt deal - Market Watch
"Earlier this month, Athens reached a deal with international creditors on fresh austerity measures that would unlock the next payment in its EUR86 billion bailout program ($93.48 billion).

But the bigger goal is a deal to restructure its EUR315 billion debt, possibly by stretching out maturities, capping interest rates and postponing interest payments."
---
EU Commissioner: Greece must pay due attention to digital market to get ahead - Tornos
"In the last two years, Greece has paid greater attention to the digital market, it is heading in the right direction but more needs to be done," Ansip said. The areas that needed to be improved included public-sector digital services, which must offer more efficient and cheaper services to citizens and thus create additional demand in the private sector, he noted.Greece's 'success stories' in this area included electronic medical prescriptions and the electronic tax portal, but a great deal more could be done, such as the 'single digital ID' introduced by Ansip's native Estonia using a smartcard, he pointed out."
---
May 11, 2017
European Commission 'Snips' Greece's Economic Forecasts - Greek reporter
"Specifically, the European Commission sees growth of 2.1% of GDP in 2017 and 2.5% in 2018 (compared with 2.7% and 3.1% respectively as the Greek government projected).

The government deficit is projected to fall to 1.2% of GDP in 2017 and to a surplus of 0.6% in 2018. In the Commission's winter forecast, the deficit was slightly lower for 2017 (1.1%) and the surplus slightly higher for 2018 (0.7%)."
---
Greece's OTE first-quarter core profit drops 1.7 pct
"A sluggish economy in Greece after seven years long debt crisis and three international bailouts in turn for tax hikes and wage cuts has also dented operations. But hefty spending in new high-speed VDSL broadband services and a fast-growing pay-TV business have helped the group win back fixed-line customers. Earnings before interest, tax, depreciation and amortisation (EBITDA) came in at 304.1 million euros ($331 million) in the first three months of the year, down from 309.3 million euros a year earlier."
---
Greece Says Bailout Review Conclusion Will Help Outperform Growth Forecasts - US News
"After six months of wrangling, Greece reached a deal with its foreign lenders last week on reforms and spending cuts it needs to implement in the coming years, paving the way for the conclusion of a key bailout review. But the delays have already hurt economic activity in the crisis-hit country. The European Commission on Thursday cut its growth forecast for Greece to 2.1 percent from 2.7 percent this year."
---
Greece Eyes Bond Sale Amid Optimism Over Debt Deal - WSJ
"As Greek assets rally on optimism of a deal to restructure the country's crushing debt, Greek government officials are planning a bond issue—the first by the country in three years—possibly as soon as July or September."
---
Cities urged to 'embrace new reality' of mass migration - eKathimerini
"...In Athens, for example, which struggled to cope with the arrival of thousands of refugees fleeing the war in Syria, some rent subsidies were provided to allow migrants to move into central parts of the city with access to key services and support networks.

"While we have managed 'the crisis within the crisis,' our biggest challenge remains how to successfully absorb newcomers in our society," wrote Athens Mayor Giorgos Kaminis in the report, explaining that migrants could help counter-balance Greece's population decline."
---
May 10, 2017
Capital controls to stay till at least end of 2018 - eKathimerini
"Greece will spend at least three-and-a-half years under the restrictions of capital controls as their abolition is not expected to come any earlier than the end of 2018, according to a competent credit sector source.

...Almost two years after the capital controls were imposed, by next Tuesday, according to the agreement with the creditors, the Bank of Greece and the Finance Ministry have to present a road map for the easing of restrictions."
---
EBRD: 2% growth in Greece in 2017 - Naftemporiki
"A growth rate of 2% already noted this year in Greece, the European Bank for Reconstruction and Development (EBRD) reported. In 2018 estimated that the GDP growth will reach 2.2%. "
---
IMF likely to take part in Greek bailout, Slovak finance minister says
"The International Monetary Fund is likely to take part in the financing of Greece's third bailout, Slovakia's finance minister, Peter Kazimir, said on Wednesday.

Speaking at the EBRD's annual meeting in Cyprus, Kazimir said the IMF's involvement was crucial for euro zone governments, who might approve the next package of aid by next month."
---
Greece's Economic Crisis Is Seriously Affecting Our Younger Generations - Huffington Post
"She is a 36-year-old woman, well educated and very good in the field that she has been working in for the last eighteen years.

However, it seems like these successes are not enough when you are forced to survive in Greece, where you have to ask every month for your salary, call or send e-mails to your boss reminding him that he has to pay your accrued income."
---
Greece's olive oil stars at New York International Olive Oil Competition 2017 - Tornosnews
"Greek extra virgin olive oils more than doubled their awards at the New York International Olive Oil Competition compared to last year. In spite of a difficult harvest year and competition from 910 olive oils from 27 countries, Greeks took home their highest number of awards and claimed their best success rate in the history of the competition."
---
The Greece ETF Suddenly Looks Extremely Bullish - ETF Daily News
"The source of Greece's partial stock market recovery (note that GREK is still 60% off its all-time highs set back in 2014) is quite clearly Emmanuel Marcon's election victory in France. Investors had been on edge that if populist candidate Le Pen won the election instead, that it would lead to France perhaps leaving the EU — or at a minimum, vehemently opposing further Greek bailouts."
---
Italy, Greece Look to Macron to Help Douse Anti-EU Fires - VOA News
"The ruling parties in heavily indebted Italy and Greece hope his enthusiasm for the EU will help them see off challengers such as Italy's Five Star Movement, which wants a referendum on ditching the shared euro currency.

A Greek official said Tsipras and Macron had an amicable discussion in which Macron noted his previous support for Athens in tough bailout talks with EU powers.

"I supported the need for a change of stance towards Greece," the official quoted Macron as telling Tsipras. "It is certain that if I'm elected we will work closely together to ensure that Europe meets the needs of our generation."
---
May 9, 2017
EBRD investments in Greece to hit 2 bln euros by 2018 - UK Daily Mail
"The EBRD will be investing in Greece up until the end of 2020. Given the limited time, the bank has been frontloading its investments.

It has laid out 250 million euros to help recapitalise the country's four big banks, provided 186 million euros of long-term financing to Fraport-Greece to upgrade 14 regional airports and committed 300 million euros to renewable energy projects.

"When we run out of deals to do, we will have done the job," Dziurman said. "But we are a long way from that. We're here to help the economy recover, the sooner we can do it, the more it will help."
---
Number of Chinese Tourists Visiting Greece to Rise 10-Fold - Bloomberg
"Tourism accounted for over one-quarter of Greece's gross domestic product in 2016, according to the Greek Tourism Confederation. Visitor numbers in 2016 reached 28.1 million, up 7.6 percent from 2015. Tourists generated 13.2 billion euros ($14.5 billion) in travel receipts, according to the Bank of Greece. Of these travelers, 150,000 came from China, Beijing says.

"Greece is a very safe place for visitors," said Qian who is also president of Fosun's Tourism and Commercial Group. There are also good opportunities for tourism investments in Greece, he said.

Fosun is in discussions to buy existing hotels and resorts, or for the construction of new ones, in Greece by its fully owned portfolio company Club Med SAS. An increase in Chinese visitors to Greece would eventually lead to direct flights from Beijing and Shanghai to Athens, Qian said.

The 54 year-old Qian said the situation in Greece has changed since the company first invested in Athens-based luxury goods retailer Folli Follie Group in 2011. "Greece's economy is recovering now and can also deliver very good opportunities for foreign investors," he said. "We look at the figures from retail sales and of the tourism sector," and see the improvement."
---
Greece Closer Than Ever to Debt Relief Deal - marketpulse
"Greek Prime Minister Alexis Tsipras kept up his demand for debt relief from international lenders on Tuesday, saying Athens was close to securing a solution to ease its debt mountain but that creditors must meet there commitments."
---
Millions of euros in funding for refugee housing wasted - eKathimini
"It is a very serious matter that 2.5 million euros in European Union funding for the development of housing units for unaccompanied young refugees is going to waste due to opposition from local residents to having such a unit in their area, but also major delays by the state in putting the funds to their proper use. We're talking about a program that is paid for with European funds from the Directorate-General for European Civil Protection and Humanitarian Aid Operations (ECHO)."
---
May 8, 2017
Greece turns against EU: Support plunges as Greeks face more austerity from Brussels - UK Express
"The survey by Dianeosis found 59.6 per cent wish to remain in the euro, compared to 73.9 per cent in April 2015.

Analyst Nikos Marantzidis said: "In international terms, we would say that we're seeing the emergence of an intense and potentially-threatening euroscepticism, which challenges Greece's place in the European Union."
---
Who is Greece's Eurovision Song Contest 2017 entry? Demy set to perform This is Love – All you need to know - UK Sun
"Greece started competing in the Eurovision Song Contest in 1976 and have featured 36 times since.

The Mediterranean nation has won the competition once in 2005 with the song My Number One, performed by Helena Paparizou."
---
ECB unlikely to ease up on tough love for Greece, but that may be in investors' best interest - Global Times
"Greek 10-year bond yields have fallen over a percentage point to 6 percent since April as Athens reached a deal with creditors on reforms. That should unlock enough funds to pay back bonds due in July. The next boost will come if the ECB decides Greek debt is good enough to buy as part of its money-printing scheme. That in turn depends on the kind of restructuring Greece and its creditors agree."
---
Greece's mainstream parties welcome Macron victory - eKathimerini
"Emmanuel Macron's victory is a breath for France and for the whole of Europe," leftist Prime Minister Alexis Tsipras tweeted. "I am sure that we will work together closely for Europe to change its course, re-inspire its people, not to live the far right nightmare ever again."

The Greek government is counting on Macron's support in the upcoming talks between the country's lenders to relieve its mammoth debt."
---
Great Flavors Brings Quality Products of Greece to America - iReach
"The series started at Boston's Top of the Hub restaurant where Michelin Starred Greek chef, Michael Psilakis hosted a cooking demonstration preparing traditional Greek dishes using these certified products. Chef showcased the various flavor profiles of feta, Naxos Gruyere and pistachios with delicious dishes including Watermelon and Feta; Saganaki with Bitter Greens, Lemon & Extra Virgin Olive Oil; Pistachio Crusted Misty Knolls Chicken with Pistachio & Extra Virgin Olive Oil "Butter" and Greek Yogurt with Honey Drizzle.

The following day in Manhattan, The Greek in Tribeca, hosted a cooking demonstration and luncheon featuring an assortment of classic Northern Greek inspired dishes and Greek wines. The event featured lunch and a cooking demonstration by its Executive Chef Dionisis Liakopoulos. Dishes presented included Greek n' Cheese using the Feta and Naxos Gruyere; Spanakopita Tart with Yogurt Feta Ice Cream; Rack of N.Z. Lamb; Pistachio Crust, Tourlou (Greek Ratatouille) and Feta Cheesecake."
---
---
---
NEWS ARCHIVE - May 2017
---



---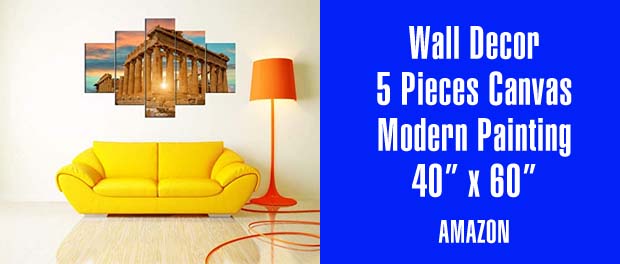 Parthenon Temple on the Acropolis of Athens Greece Artwork Wall Decor 5 Pieces Canvas Modern Painting Wall Art Home Decoration for Living Room Pictures HD Printed Framed Ready to hang(60''Wx40''H)
---
Create Amazon Business Account - save time and money on business purchases with competitive B2B prices and discounts