Greece and the economic crisis 2017
NEWS ARCHIVE - May 25 - May 31
---
---
May 31, 2017
Greece bids farewell to former leader Mitsotakis, early advocate of austerity - reuters
Mourners pay respects to late PM Mitsotakis - ABC News
Why Greece Needs 'Greleasing' From Its Taxing Debt Obligations & Europe Rebooting - Forbes
Greece denies report it may opt out of receiving more bailout money - NY Daily News
Greece Seeks to Lure U.K.-Based Shipowners, Brokers on Brexit - Bloomberg
TODAY visits the 'blue zone' of Greece where people live to 100 - MSN
---
---
May 30, 2017
Euro skids on Greece and Italy uncertainties - UK Telegraph
"A report in the German newspaper, the Bild, suggested that Greece might forego its next bailout payment if creditors cannot strike a relief deal is weighing heavily on the euro this morning.

Meanwhile, uncertainties about the Italian election have also pulled the single currency lower. At the weekend, former Italian prime minister Matteo Renzi suggested that Italy's next election should be held at the same time as Germany's, saying it made sense from "a European perspective".
---
Greece denies report it may opt out of receiving more bailout money - Reuters
---
May 29, 2017
Greece Calls for Debt Relief Deal in June, Says Lenders Have No Excuses - usnews.com
Constantine Mitsotakis, Former Prime Minister of Greece, Dies at 98 - NYT
4 days of mourning for former PM Mitsotakis - Newsok
to be Ambassador to Greece? - Greek Reporter
Mirage jet crash revives fleet fears - eKathimerini
Draghi: ECB waiting for measures that will make Greek debt sustainable long-term - Athens News Agency
---
May 27, 2017
Turkey, Greece in a war of words over Cyprus - In Cyprus
UN envoy in Athens after conference hopes dashed - eKathimerini
Toskas: Democracy is always strict with vigilantes - AMNA.gr
Pre-planning for Israel-Cyprus-Greece electric connection almost complete - in-cyprus
---
May 26, 2017
Greece on track to reach a deal with creditors within 3 weeks, IMF official says - CNBC
The remains of 17 Greek soldiers killed in Cyprus finally return to Greece - Protothema
Petropoulos: decrease of pensioners with pension below 500 euros - Imerisia
Lucas Papademos of Greece Is Hurt When Bomb Explodes in His Car - NYT
---
May 25, 2017
IMF: Differences narrowing with Europe over Greece debt relief - Business Recorder
Tax hikes have failed to pay off - eKathimerini
President Pavlopoulos: Partners should deliver on their promises - AMNA
Study: Earthquakes Threaten 8 in 10 Greeks - Greek Reporter
Prime minister to plug Greece's role at NATO summit - eKathimerini
Traveling to Greece? Give Athens a chance - Intrepidtravel
The Stunning Blue Caves of Zakynthos Island- Popsugar
---
---
---
NEWS ARCHIVE - May 2017
---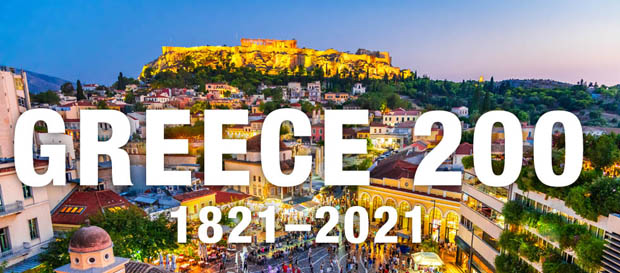 ---
You will see Amazon links on this web site because I am an Amazon affiliate. I earn from qualifying purchases.
Fodor's Essential Greece: with the Best Islands (Full-color Travel Guide)
---

---