Greece and the economic crisis 2017
NEWS ARCHIVE - May 1 - May 7
---
---
May 7, 2017
Greece paves way for debt relief after late night deal - XboxOneZone
The government is keen to secure the approval of bailout funds at that meeting but also the specification of measures for medium-term debt relief. Greek Finance Minister Euclid Tsakalotos was cited by the Wall Street Journal as saying that Greece and its creditors had agreed on a round of austerity measures and economic overhauls to keep the 86 billion euro ($93.86 billion) bailout program going.
---
EU Commissioner Moscovici: Macron will be Greece's ally - Tornos
"Moscovici said that being friend of Greece means, on the one hand, encouraging it to accept the responsibilities and follow the efforts for reforms until the end but it also means solidarity from its partners. Commenting on the second round of the presidential elections, the French Commissioner noted they are important for Greece, but also for all Europeans, because "in the second round you have an opposition which is almost a caricature, between a candidate who wants to destroy Europe, who wants to take France out of the euro and a candidate who is pro-European and pro-Europe."
---
Greece reaches new debt relief deal with creditors - ibusinesslines
"In a joint statement with Greece's European lenders, the International Monetary Fund said: "the Greek authorities have confirmed their intention to swiftly implement this policy package". Greece has been pushing for measures on debt relief.

What Greece's creditors haven't figured out, however, is how to make Athens' debt affordable.

Tsakalotos added he was certain that the agreement would enable Greece to secure debt relief measures from its creditors, which he has said is vital to spearhead recovery in the country's struggling economy."
---
Emmanuel Macron: I support a Greek debt restructuring - Protothema
"His position on Greece is most likely just a empty promise, as he would not risk engaging in a head on collision with Berlin, which has ruled out any such prospect of a debt relief. In fact, his economic advisor, Jean Pisani-Ferry has made his positions clear in the past on the Greek issue, claiming that the Greeks were fully responsible for the problem, adding, however, that there needed to be a European solution to the matter."
---
On May 18 voting for measures and countermeasures - efsyn
"On May 18 will be discussed and voted on measures of agreement for the closure of the evaluation by the plenary of the House.

This was stated by chairman of the House in a conversation with reporters, clarifying that the bill will be introduced for discussion with the urgency to committee on 15 May, will be completed in two meetings, on 17 and 18 will be completed in plenary."
---
May 6, 2017
Greece's privatisation agency appoints new chairwoman - Reuters
"May 5 Greece's privatisation agency (HRADF) has appointed executive director Lila Tsitsogiannopoulou as its new chair, it said on Friday."
---
PM defends deal to wary MPs - eKathimerini
"Hoping to sweeten the pill of further austerity, he said that any savings this year will be distributed to the Greek people, as was the case in 2016.

Even though he acknowledged that the government was forced to make some difficult concessions, such as pension cuts, Tsipras insisted that he got the best possible deal, claiming it will give much-need "breathers to millions of citizens" as, he said, it is "balanced" with "zero fiscal impact."
---
For Chanel Cruise, Karl Lagerfeld Brings Greece to Paris - NYT
"The weather was, perhaps, the only factor Chanel couldn't control. Rather than going to Greece, the fashion house brought Greece to Paris. What could be a larger display of its might? Perhaps presenting the collection in Greece itself; Mr. Lagerfeld had originally wanted to show at a historic venue, but was vetoed by the country's officials, company representatives said. Hence the decision to show in Paris. (Earlier this year, the Central Archaeological Council in Athens also publicly rebuffed Gucci in its bid to stage its cruise show on the Acropolis. Instead it will be held in Florence.)"
---
May 5, 2017
EU to cut Greece 2017 growth forecast to around 2 percent - Reuters
"The revision -- which brings the Commission closer to International Monetary Find projections -- is likely to increase pressure on Greek lawmakers to adopt a reform deal reached at staff level with euro zone lenders this week.

Greece's parliament must approve it before euro zone finance ministers release a new tranche of bailout funds.

The Commission will release its new forecasts on EU countries' growth and macro-economic performances next week, as part of a regular assessment of the European Union economy conducted three times a year by the EU executive."
---
May 4, 2017
Extra million tourists set to come to Greece this year - eKathimerini
"Greek tourism is projected to record an all-time high in terms of arrivals this year. However, no one is yet able to predict whether that positive development will also be reflected in tourism revenues or if the phenomenon observed last year will be repeated, with a rise in visitors but a drop in takings.

In a meeting with reporters on Wednesday the president of the Hellenic Hotel Federation and next chief of the Greek Tourism Confederation (SETE) Yiannis Retsos said that this year the occupancy rate and the number of nights spent by tourists at hotels will post new highs..."
---
Greece rejects new extradition request for Turkish soldiers - DW.com
"A Greek court on Wednesday blocked Turkey's second request for the extradition of three Turkish soldiers who fled the country last year in the wake of a failed coup.

The court accepted arguments made by the prosecutor that the men would not receive a fair trial and would place their lives in danger upon returning to Turkey.

"They may be subjected to torture and inhumane behavior," the Greek prosecutor said."
---
May 3, 2017
With deal in bag, government shifts its focus to debt talks, QE - eKathimerini
"The new measures – which include fresh pension cuts, tax hikes and changes to the labor and energy market – are to go to the House in one bill and the so-called countermeasures – chiefly social welfare benefits – in a separate bill, he said.

After the vote in Athens, the agreement will be the focus of a meeting of eurozone finance ministers on May 22.

The government is keen to secure the approval of bailout funds at that meeting but also the specification of measures for medium-term debt relief."
---
Greece, Foreign Lenders Reach Deal on Bailout Reforms - Leisure Travelaid
"In a joint statement, the creditors said Tuesday's agreement "will be the basis" for an overall review of Greece's economic performance and "will now be complemented by further discussions in the coming weeks on a credible strategy for ensuring that Greece's debt is sustainable".

The Greek government has agreed another bailout deal with its European creditors in exchange for further wide-ranging economic reforms, averting the prospect of a default when big debt payments become due in July and allowing negotiations around reducing its debt pile."
---
Greece, lenders reach deal on bailout reforms - Frozenmail
"The fourth memorandum is a joint achievement of Tsipras and [Panos] Kammenos", he said, adding that the deal has committed the country to measures beyond the current government's term in office.

The IMF says Greece can not maintain high primary surpluses unless it adopts more austerity and is granted further debt relief by the EU. Ministers in Athens have struck another deal with their global creditors to be able to get their hands on the next installment from a $94 billion bailout programme.
---
Greek Austerity Deal Opens Up Potential Path Out of Bailout - Capital.gr
"Enormous obstacles remain. Greece΄s serious problems mean the International Monetary Fund doesn΄t expect the country to grow more than 1% in the long term.

The insistence by Greece΄s creditors on large budget surpluses means the country, whose government debt is 179% of GDP, will live with extremely tight budgets for many years.

Greek banks are immersed in nonperforming loans, which make up 45% of all lending, contributing to a steady contraction in private credit since late 2010. And officials privately don΄t expect a wholesale solution to that problem soon."
---
May 2, 2017
Greece agrees to new bailout terms - and more austerity - foxnews
"Following months of tough negotiations, the Greek government agreed to make another round of pension cuts in 2019 and commit to new tax increases after the current bailout program ends next year.

In return, creditors will resume loan payouts, and start talks on how to ease the country's debt burden, which stands at nearly 180 percent of the country's annual GDP."
More Coverage:
Greece agrees to reform deal - Euro News
---
Greece Agrees to Tighten Belt Again in Return for Further Bailout - NY TImes
"The agreement — the culmination of months of talks — paves the way for the transfer of more than 7 billion euros, or about $7.6 billion, of emergency funds to Athens. It also comes before a series of elections in France, Britain and Germany in the coming days and months, with European officials eager to avoid giving fuel to far-right parties."
---
May 1, 2017
Ex-Defence Minister Tsochatzopoulos released on bail - Protothema
"Mr. Tsochatzopoulos, who was serving a 20-year sentence after being found guilty of receiving bribes via military procurement contracts, reportedly collected the bail money via friend donations. The development comes a day after a court turned down his appeal to for a reduction of the bail amount. The former PASOK Minister is waiting for the final administrative details to take their course before exiting the prison hospital ..."
---
Nonstop via Emirates. New York (EWR) to Athens, Greece for $581 R/T - airfarespot
"Information is valid at time of publication. So sometimes you may not find the price mentioned in the post (ex. after several days of the original posting date)."
---
Schaeuble says Greece on track to receive delayed bailout - ibtimes
"Creditors had demanded the reforms in exchange for a tranche of €7bn (£5.9bn) in aid that Greece needs to fulfil debt obligations in July.

European officials also resumed an audit of Greece's compliance with bailout conditions on 25 April.

"If the Greek government upholds all the agreements, European finance ministers could complete the review on May 22 and then soon after that release the next tranche," Schaeuble was quoted as saying by Reuters."
---
Berlin eyes compromise with IMF, report says - eKathimerini
"According to the report, Schaeuble has asked ministry officials to outline a possible agreement with the Washington-based Fund on Greek debt restructuring.

"The Germans would be willing to back down on the following IMF demand: For the government to provide a detailed document on the measures for debt relief," the report said."
---
---
NEWS ARCHIVE - May 2017
---



---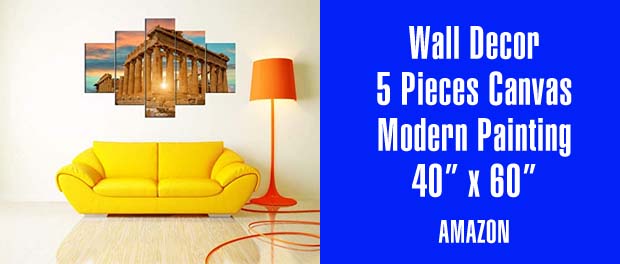 Parthenon Temple on the Acropolis of Athens Greece Artwork Wall Decor 5 Pieces Canvas Modern Painting Wall Art Home Decoration for Living Room Pictures HD Printed Framed Ready to hang(60''Wx40''H)
---
Create Amazon Business Account - save time and money on business purchases with competitive B2B prices and discounts