Greece and the economic crisis 2017
NEWS ARCHIVE - May 18 - May 24
---
---
May 24, 2017
Just a fraction of debts to state may be paid - ekathimerini
"No more than an eighth of the sum of the expired debts to tax authorities can be collected, as the Independent Authority for Public Revenue considers just 11.4 billion of the 92 billion euros of taxpayers' arrears to be collectible, with the greatest chance of collection being from small debtors."
---
Wrestling Defeat From The Claws Of Victory - seekingalpha
"The key sticking point so far is the scheduling of future primary surpluses (budgetary surplus before the debt servicing costs are factored in). The Eurogroup insists on these surpluses running at 3.5% of Greek GDP for the first 5 years following 2018, declining to 2% or 2.2% (depending on the version of the draft agreement) for 2023-2060.

In very simple terms, such commitments are absolutely bogus (and dangerous). They are bogus because there is absolutely no way anyone can project growth rates out to 2060 from today that can be in any way reasonably accurate to predict primary surpluses. They are dangerous because they will shackle Greek governments to running buffer funds to compensate for possible recessionary and non-cyclical shocks to the primary surpluses. These buffers will imply underinvestment within the Greek economy (public investment) over the long term. Which, of course, will damage the Greek economy and increase the risk of non-compliance with the deficit rules."
---
Greece Debt Deal on Slow Path as IMF and Germany Dig In - WSJ
"Late on Monday night, Germany and the International Monetary Fund found a formula on Greek debt that Greece couldn't swallow: Let's talk again after the German elections.

Greece is now expected to come under heavy pressure to accept, by mid-June, an agreement between its creditors to postpone further discussion about restructuring its €315 billion ($353 billion) debt."
---
Greece's 'In The Sky' Monasteries Have Withstood Time, War, And Many Odds
Online Video Report - basically travelogue for possible tourists - about Meteora
---
The grand-daughter of Eleni, executed by the communists, advertises Greece all over the world - Protothema
Young Eleni Gatzogianni first started as a writer in glamorous women's magazines writing for fashion, beauty, and so on, before turning to writing and travel literature. At the same time, she started a family with a Nicaraguan coffee merchant and has two "Greekaraguan" – as she describes her young children. She travels all over the world and definitely once a year in Greece. With the exception of two quite long periods when he moved to our country, Nicholas Gatzogiannis' daughter lives permanently in Worcester, Massachusetts.

Eleni N. Gage, as she is known, has in recent years voluntarily assumed the duties of an informal ambassador of Greece. She tells in every occasion and all over the world the beauty of our country, her distant homeland, her own and her ancestors', with great enthusiasm: "If I had signed a premarital agreement, it would contain the condition that every year my husband, Emilio, should accompany me to Greece", was the phrase by which Eleni Gage chose to start her tribute to Milos in "Condé Nast Traveler".
---
May 23, 2017
Greece Has the Resources to Heal Itself - Bloomberg
"After all these years, Greece still has a large resource it could use to fix the problem. The Athens think tank diaNEOsis found last year that the country loses between 6 percent and 9 percent of economic output in unpaid taxes -- at least 11 billion euros. The government's efforts to collect that money are often bizarre. Greeks, for example, are offered tax allowances if they spend a certain share of their income in non-cash form -- for example, 20 percent of an income that exceeds 30,000 euros a year -- and threatened with fines if they spend less. The government recently unveiled a piece of software that's supposed to check tax declarations against bank deposits dating back to 2002. Both measures create a bureaucratic mess for taxpayers, who need to keep or retrieve lots of records and receipts, but they hardly stop people from hoarding cash outside the banking system. Greece has far more self-employed workers than the European average, and, according to diaNEOsis, they hide up to 60 percent of their income."
---
German Finance Minister Sees Deal for Greece in Three Weeks 'if All Goes Well' - NYT
Speaking in Brussels, Schaeuble said no agreement had been reached on Monday, with the International Monetary Fund (IMF) proving to be difficult in the talks and one member state refusing to back a deal.

The German government is not blocking anything, it is just sticking to the rules...
---
Greece fails to win debt deal, as UK budget deficit widens - The Guardian
From Athens, Helena Smith reports: Without singling our Germany by name, Dimitris Tzanakopoulos told reporters: "Some cannot say 'yes' to reforms...but no to the restructuring of the debt."

"The solution presented yesterday corresponded neither to the targets that had recently been set nor the sacrifices of the Greek people."

That's a reference to the extra creditor-mandated pension cuts and tax hikes the Greek government pushed through parliament last week.
---
Tzanakopoulos says Greece can get 'clear' deal at June Eurogroup - eKathimerini
"We decided that it was preferable to work a few more days so we can achieve a better solution at the next Eurogroup," Tzanakopoulos told a media briefing.

"So we can have a clear solution and by that we mean with a clear determination of medium-term measures for debt [relief] so that the IMF can give the okay for debt viability," he added, referring to the International Monetary Fund.
---
New deadline for Greece set after another stalemate - Post Star
"Greece once again failed to get approval from its European creditors to receive the next batch of bailout loans that it needs to meet a debt repayment hump this summer. It also failed to secure an agreement on the sort of debt relief measures it can expect to get when its current bailout program ends next year.

Without the loans, Greece faces another brush with bankruptcy. The Greek government had hoped that Monday night's meeting of the eurozone's 19 finance ministers would at least have seen it cleared to get the money. After all, it legislated for further cuts and reforms last week to meet creditor demands."
---
IMF needs more realism in euro zone assumptions on Greece - capital.gr
"The International Monetary Fund needs to see more realistic euro zone assumptions about Greece΄s economy and more detail on planned debt relief measures to join a bailout, IMF΄s European Department head Poul Thomsen said.

...The basis of the discussions is a promise made by euro zone lenders in May 2016 which spells out some assumptions for the possible debt relief. The IMF wants euro zone governments to spell out the various measures in more detail."
---
Germany's Government Blocks Debt Relief for Greece, Despite Austerity Measures - Breitbart
"The terms of the bill include the following: relief.

Income tax increases will generate revenues of €1.9 billion. Pensions will be cut up to 18%, saving €2.3 billion.relief.

Asset sales: Sale of stakes in railways, Thessaloniki port, Athens International Airport, Hellenic Petroleum and real estate assets, to generate €4.22 billion in 2017-18. relief.

The main purpose of the talks was to get the IMF to join in the bailout. The IMF does not want to provide any more bailout money because it believes that Greece's debt is unsustainable, unless the Eurogroup agrees to give Greece more debt relief.

Germany's irascible Finance Minister Wolfgang Schäuble won't agree to release new bailout funds to Greece, unless the IMF participates. But with German elections approaching, Schäuble also won't agree to further debt relief for Greece."
---
Greece fails to reach bailout deal with eurozone finance ministers - RT.com
"Greece needs more emergency cash to avoid a default in July when the country faces debt repayments of nearly €7.3 billion.

To get a new installment of bailout funds, Athens has already approved tax rises and additional pension cuts.

However, the EU ministers concluded that the country has not made enough progress on that front and still needs to take further measures."
---
Schaeuble Pressed for Greek Debt Relief by German Election Rival - Bloomberg
"Greece's financial woes spilled over into the German election campaign, with Foreign Minister Sigmar Gabriel calling on the country's creditors to get serious about debt relief.

Gabriel, a Social Democrat, said Greece has upheld its side of the bargain by passing the latest measures to meet bailout terms, meaning it's time for creditors to end "political blockades" and flesh out plans for possible debt relief envisaged in 2018. That contrasts with guarded comments by Finance Minister Wolfgang Schaeuble, a Christian Democrat, who said euro-area finance ministers were discussing the matter on Monday in Brussels."
---
Schäuble and Gabriel clash over Greek debt relief - politico.eu
"On Monday morning, Schäuble and France's Le Maire acknowledged that the Greek parliament had last week backed further austerity measures in order to secure the bailout cash. However, Schäuble made clear that there would be no talks about further debt relief during Monday afternoon's meeting in Brussels.

"We're not talking about a new program but the implementation of the program agreed in 2015," he said, stressing that no "additional measures" would be considered before the current program ends in 2018."
May 22, 2017
---
Greece looks for debt help after backing further cuts - KSL
"The left-led Greek government hopes that a package of measures, including further spending cuts and economic reforms, passed by lawmakers last week will be enough to break the logjam and allow the so-called eurogroup to release a new bailout installment, without which the country would struggle to meet its debt servicing obligations in July. Agreement will also accelerate negotiations on easing Greece's debt repayment terms."
---
Germany 'must not isolate itself' with Greece stance - in-cyprus.com
"A spokeswoman for the conservative-led finance ministry added that everybody wanted a solution "in the interest of Greece", adding it was up euro zone finance ministers to find a solution during talks in Brussels later on Monday.

Euro zone finance ministers and the International Monetary Fund will seek a deal on Monday on Greek debt relief that balances the IMF's demand for a clear "when and how" with Germany's preference for "only if necessary" and "details later"."
---
Greece΄s Eurobank stays profitable in first quarter - Capital GR
"The third-largest Greek lender by assets, reported net earnings of 37 million euros ($41 million), down 4.7 percent from 38 million in last year΄s final quarter.

The bank, which made an annual profit of 230.1 million euros last year, after losing 1.18 billion euros in 2015, said operations abroad were also profitable in the first quarter."
---
Greece's has met EU's conditions for fiscal deficit, Moscovici says - amna.gr
"Greece has met EU's conditions for its fiscal deficit, namely its reduction under 3.0 pct of GDP, European Commissioner for Financial Affairs Pierre Moscovici said in a press conference during which he presented European Commission's recommendations for each country.

However, Moscovici clarified that the official decision for the suspension of the excessive deficit procedure will be taken after a comprehensive political decision for the Greek issue is reached."
---
May 19, 2017
Greece passes austerity measures - UK Guardian
"Ahead of Monday's eurogroup meeting, Greek MPs have passed a series of new austerity measures introduced to help release the latest tranche of bailout funds from the country's creditors. While the forthcoming get together of finance ministers is likely to be a long and possibly contentious one, the Athens stock market welcomed the Greek vote and is currently up 0.25%."
---
Tsipras: 'In 2018, Greece will exit the memorandum programmes' - Athens News Agency
"In his first adress to parliament, Tsipras said that by the time the European elections come around in May 2019, Greece will have exited the memorandum programme since 2018 and the positive measures will have already provided relief to hundreds of thousands of Greek households.

"The review is concluding and after seven whole years we are heading toward a comprehensive agreement to extricate the country from the memorandums. We are passing to a positive agenda for the country and society," he said."
---
May 18, 2017
More protests, strikes ahead of major austerity vote - Miami Herald
"No more tax theft," they chanted. Pensions have been cut sharply over the past seven years as successive Greek governments have slashed spending in return for bailout money to avoid bankruptcy.

Their protest comes a day after a general strike disrupted services across the country. Ongoing stoppages have kept ferries tied up at port for three days and played havoc with public transport.

Left-wing Prime Minister Alexis Tsipras is seeking parliamentary approval for the pension cuts and further tax hikes through 2020, as part of an agreement with international bailout creditors to release the next bailout installment.
---
Social security measures soar to 6.5 billion euros since 2015 - eKathimerini
"Greeks are increasingly unable to meet their social security dues, with the collection rate of the Single Social Security Fund (EFKA) in March coming to less than 55 percent. In January – EFKA's first month of operation – the collection rate had stood at 69.3 percent and in February it dropped to 60.1 percent.

Although EFKA will not issue any official collection data, sources say that in March less than 55 percent of the contributions due were paid, estimated at about 140 million euros."
---
Pro-Migrant Activists in Greece Under Investigation for Sexually Exploiting Migrants - Breitbart
"The European Commission announced there would be a formal investigation, saying that members of a so far unnamed organisation may have sexually exploiting migrants they worked with in Greece.

The Commission has also confirmed it will be investigating the organisation on charges of corruption and has suspended all its EU funding, Salzburger Nachrichten reports.

The EU commission has said the priority will be first taking care of the victims of the alleged abuse. The Greek government has also been informed of the situation. The EU's anti-fraud agency Olaf will also be involved in the investigation against the pro-migrant organisation."
---
Potential travel chaos in Greece as more strikes announced - Travel Mole
"The Panhellenic Seamen Federation members, who walked out for 48 hours yesterday, will go on strike again on May 18 and 19.

The UK Foreign Office (FCO) is warning that all passenger ferry services across Greece are likely to be cancelled for a further two days as a result. Ships will remain in ports, it said.

Flights will also be disrupted this morning due to a four-hour strike by Greece's air traffic controllers, starting at 11am."
---
Eurozone official: ΄Discussion on debt still the most difficult issue΄ - Capital GR
"According to AMNA, the same official pointed to persistent differences between the institutions and certain member-states, however, noting that the forecasts currently gave a 50-50 chance of a final agreement on Monday.

The discussion on the debt remained the most difficult issue to be resolved by Eurozone finance ministers on May 22, the official added, while the obstacle to a final agreement was to find a solution that satisfies all sides.

The official pointed out that the decision of the Eurogroup in May 2016 was the basis for the discussion on the debt and that this was already quite detailed regarding the medium-term debt relief measures. The institutions and some member-states had different opinions on how these measures could be made more specific, the source added."
---
QE is not a Panacea: Stournaras - Tanea
"The participation of Greek bonds in the quantitative easing program (QE) will help return the country to the markets in 2018, but this is not a panacea, or so stressed the governor of the Bank of Greece, Yannis Stournaras, in an interview published by Rolitico.

He believes that the greatest danger threatening the country at this stage is the possibility of withdrawal of the International Monetary Fund from the Greek program..."
---
Clashes in Greece as thousands protest austerity - My San Antonio
"A small group of protesters threw gasoline bombs and fired flares at riot police after the marches ended in Athens. Police responded with tear gas. The clashes broke out after peaceful marches involving around 12,000 people.

In a separate evening protest, more than 3,000 police, firefighters and coast guards angry at impending pay cuts gathered outside parliament chanting slogans. A small number tried to force their way past police guards into the building and were repulsed."
---
---
---
NEWS ARCHIVE - May 2017
---



---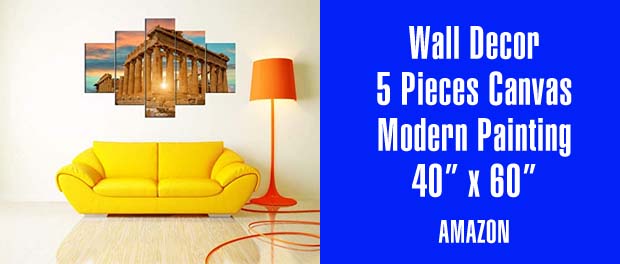 Parthenon Temple on the Acropolis of Athens Greece Artwork Wall Decor 5 Pieces Canvas Modern Painting Wall Art Home Decoration for Living Room Pictures HD Printed Framed Ready to hang(60''Wx40''H)
---
Create Amazon Business Account - save time and money on business purchases with competitive B2B prices and discounts