Greece and the economic crisis 2017
NEWS ARCHIVE - Jan 7 - Jan 13
---
January 13, 2017
U.N. alarmed at migrants dying of cold, 'dire' situation in Greece - Reuters
"UNHCR spokeswoman Cecile Pouilly cited five deaths so far from cold and said about 1,000 people including children were in unheated tents and dormitories on the Greek island of Samos, calling for them to be transferred to shelter on the mainland."
More Coverage:
AP PHOTOS: Cold, filth take toll on migrant moms in Greece - Washington Post
Driving to Greece's snowed-in migrant camps - BBC
---
Erdogan re: Cyprus: 'We are going to be there forever' - eKathimerini
"We have told Cyprus and Greece clearly that they should not expect a solution without Turkey as guarantor. We are going to be there forever," Erdogan told reporters in Istanbul after Friday prayers.
More coverage:
Greek Foreign Minister Kotzias: Turkey fled Geneva talks not Greece - Protothema
---
Maximos Mansion reacts to Schaeuble IMF comments - eKathimerini
"On Thursday, German Finance Minister Wolfgang Schaeuble said that the European Stability Mechanism (ESM) could supervise Greece's bailout program in the event that the IMF decided to withdraw.

"If the Fund for some reason decides not to participate, the Europeans… will have to impose what was agreed on, obviously more effectively," Schaeuble told Suddeutsche Zeitung."
---
Greece 2017: the official ERT press release - Oikotimes
"According to the release ERT internally selected Dimtiris Kontopoulos and Fokas Evangelinos to compose the Greek entry for the 2017 Eurovision Song Contest. The team appoints Demy as the most appropriate for them performer for their project."
---
January 12, 2017
Britain, Turkey, Greece meet to discuss Cyprus settlement - Reuters
"The foreign ministers of Britain, Greece and Turkey met on Thursday to thrash out a security deal for a reunited Cyprus and end a conflict rooted in Britain's colonial past and Greek and Turkish rivalry in the region.

For the first time in decades, the three countries were to discuss a 1960 treaty cited by at least one of them in the past as a basis for intervening in the Mediterranean island."
---
Greece jobless rate eases to 23%, still highest in eurozone - RT Com
"Greek unemployment dropped slightly for the second consecutive month, according to data released by the national statistics agency ELSTAT on Thursday. The jobless rate fell to 23 percent in October from 23.1 percent a month earlier. The figure is the lowest since March 2012, when it was 22.6 percent."
---
January 11, 2017
Navy ship sent to help freezing migrants - eKathimerini
"Greece's navy has sent a tank landing ship to the island of Lesvos to house refugees and migrants during a cold snap that has triggered public health warnings."
---
Greece wants to sell smaller stake in gas grid operator - Daily Mail UK
"Under its privatisation programme, a key part of its international bailout, Greece and its biggest oil refiner Hellenic Petroleum had agreed to sell the DESFA stake to Azerbaijan's SOCAR for 400 million euros ($422 million)."
---
Greece's Energean expects to spend up to $1.5 bln on Israeli offshore gas project - Reuters
"Greek company Energean Oil & Gas plans to build its own production system in the eastern Mediterranean at a cost of up to $1.5 billion to tap two Israeli offshore gas fields, the group's chief executive said on Wednesday."
---
January 10, 2017
Greek Supreme Court hearing for 2 of 8 Turkish servicemen - Missoulian
One of the two is appealing a lower court's decision to grant Turkey's the extradition request, while a lower court prosecutor is appealing a December court decision refusing extradition of the second man. The remaining six are to appear in separate hearings on Wednesday and on Friday. Their names have not been publicly released.

A decision for the two who appeared Tuesday is to be issued on Jan. 23.
---
Tsipras: We are determined to find a just and viable solution to the Cyprus problem - amna.gr
"He said the Greek side will fully exhaust all options, right up to the last minute, to find such a solution but also that the final result "does not depend on one side only." The fact that there was a common view among the political forces on the standing positions of the Greek side was especially positive, Tsipras added, as was the "full support of the Greek political world for the efforts of Cyprus President Nicos Anastasiades for a good outcome and a viable and just solution."
---
Greek government forced to admit it hired 36.253 employees after Proto Thema revelation - Protothema
"According to data by the Greek Statistical Services (ELSTAT), the SYRIZA government hired 27,700 contacted employees, 6,803 permanent employees and 1,750 through court rulings in the past year."
---
The harsh reality - eKathimerini
"...The problems faced by the refugee population are not tackled by prohibiting photographers from documenting the situation inside the Moria camp on Lesvos island.

You cannot remedy reality by banning its representation. Is it that we do not want to taint the nation's image in the eyes of our European partners? But the image of Greece is only part of the bigger European image...

...European Union countries, which had pledged to take in 160,000 people from Greece and Italy, have so far absorbed below 5 percent of that figure. Just 6,212 lucky few have been relocated from Greece and 1,950 from Italy, making a total of 8,162."
---
January 9, 2017
Refugees in Greece 'could freeze to death' in snow due to inadequate winter preparations, warn aid groups - UK Independent
"... Some 21,000 places have been found to accommodate those most at risk from the weather in apartments with host families, with another 700 places found for unaccompanied children, but rights groups are calling on the Greek government to act quickly to reduce overcrowding by moving the most vulnerable people on Greece's islands to the mainland.

The authorities have also been criticised for not preparing properly for the life-threatening winter weather. "Europe should stop making the lives of migrants and refugees more miserable," a statement from Medicins Sans Frontieres read."
---
The Major Obstacles to peace on Cyprus - Euronews
"The status of up to 40,000 Turkish soldiers stationed in the north of the island is a crucial issue, the Greeks want them to leave, the Turks insist some must stay.

Another difficult question is on territory. The parties must find a way to share the island between two communities in one unified state; a bilateral federation with only one sovereignty, one citizenship and one international identity. It comes against against the backdrop of still painful memories, as Ourania Peletie, a Greek Cypriot councillor in the northern part of the island explained: "I'm sure there are solutions around that… and I remind you of 1974 when we were displaced by force, by the Turkish troops we had no arrangements where to stay. We were living under the trees in tents."
---
January 7, 2017
Greece's Most-Wanted Terrorist, on Run Since 2012, Is Arrested and Charged - NY Times
"On Friday, the anarchist leader, Panagiota Roupa, was charged with theft, forgery and participating in a terrorist organization. She was arrested on Thursday in a house in Ilioupoli, a middle-class suburb southeast of Athens, where she was living under an assumed identity. Her 6-year-old was taken into protective custody.

...Greek officials called Ms. Roupa, 47 — known by her nickname, Pola — the country's "No. 1 most-wanted" terrorist. With her partner, Nikos Maziotis, she was a leader of Revolutionary Struggle, which carried out a string of bombings and shootings targeting the police and others starting in 2003..."
---
Kotzias: Greece position on Cyprus unmoved - In Cyprus
"In statements to the press referring to his meeting with Guterres he said that "we discussed mainly the Cyprus problem and the Greek views and reasons as to why the system of guarantees should be abolished."

"There shouldn`t be any intervention rights of any country in Cyprus and foreign troops should be removed, first and foremost the Turkish occupying troops," he stressed.

Replying to a question on Turkey`s position on security matters, in view of the Conference on Cyprus to take place in Geneva on January 12, Kotzias said it is a matter that Turkish President Tayyip Erdogan will have to decide how to handle."
---
NEWS ARCHIVE - Jan 2017
---
---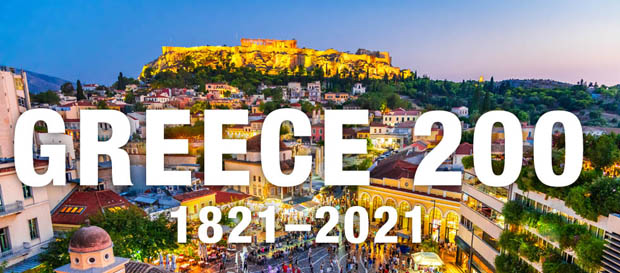 ---
You will see Amazon links on this web site because I am an Amazon affiliate. I earn from qualifying purchases.
Fodor's Essential Greece: with the Best Islands (Full-color Travel Guide)
---

---