Greece and the economic crisis 2017
NEWS ARCHIVE - Jan 23 - Jan 31
---
---
January 31, 2017
Eurozone unemployment drops, inflation jumps, but Greece still mired in misery - eKathierini
"...The growth and unemployment figures will likely be a welcome boost to supporters of the European Union and the euro currency – especially in a year that's likely to see electoral challenges from nationalist and populist anti-EU parties. Elections in France, the Netherlands, Germany and possibly Italy will give such forces a chance to test their support.

...Greece, which has struggled to get its finances under control despite three rounds of bailout loans from the other euro countries and the International Monetary Fund, remains mired in economic misery. The latest unemployment figures there, from October, showed 23.0 percent of the workforce out of a job."
---
IMF must participate: European Stability Mechanism Managing Director Klaus Regling - Reuters
"Greece will only receive more loans from the euro zone if the International Monetary Fund joins its latest aid program, the head of the bloc's bailout fund said on Monday, spelling out a condition thus far disregarded by Athens's creditors.

Greece needs a new tranche of financial aid under its 86 billion euro bailout by the third quarter of the year or it faces the risk of defaulting on its debts."
---
Greece plans to fast-track asylum claims to save EU-Turkey deal - UPI
"Since the EU deal with Turkey went into effect last March, 865 migrants and refugees have been returned to Turkey, among them Syrians who withdrew their request for protection. Recently, a leaked document showed that the U.N. refugee agency is unable to monitor whether most returned Syrians have reacquired protection status in Turkey. Some 1,183 others were returned to Turkey since the beginning of 2016 under an older bilateral Greece-Turkey agreement.

Yet, officially, not one Syrian has been forcibly returned under the terms of the EU-Turkey deal."
---
Not again? Why Greece could be on track for another bailout - CNBC
"The second review of the bailout program has been postponed and, at the moment, there isn't a date for creditors to return to Athens to make sure that the government is sticking to the terms of the bailout and therefore eligible for further payments. This brings into doubt the medium- and long-term economic sustainability of Greece.

According to Societe Generale, without the second bailout review concluded, Greece will struggle to repay 8 billion euros ($8.51 billion) it owes government and private investors due next July. Furthermore, talks on debt relief measures will be stalled."
---
Greece to establish its own Hellenic Space Agency - Protothema
"The name of the agency will probably be National Center for Space Applications (NCSA) Greece is about to launch its third satellite, the Hellas Sat 3, later this year. The establishment of the NCSA will take place shortly after."
---
---
January 30, 2017
Greece has three weeks to deal with 'potentially disastrous' debt - UK Guardian
"Faced with the dilemma of agreeing to additional austerity or calling fresh elections, prime minister Alexis Tsipras was weighing his options at the weekend. Fears of further uncertainty in Europe's weakest member state mounted as the International Monetary Fund (IMF) predicted that Greece's debt load could become "explosive" by 2030.

"It is critical that a compromise is found," said Aristides Hatzis, professor of law and economics at the university of Athens, noting that a slew of elections across Europe would only make Greece's predicament worse.

"If these negotiations are not wrapped up by 20 February [when eurozone finance ministers next meet] we could be looking at potentially disastrous political turmoil, which would bring back the scenario of Grexit with a vengeance."
---
To Vima and Ta Nea to cease publication due to debts - Yahoo
"'To Vima' weekly and 'Ta Nea' daily are forced to cease their publication within days due to financial reasons," the company said in a statement.

...Besides the two newspapers DOL owns numerous magazines, news sites and the Vima FM radio.
---
Germany says expects IMF to participate in Greece's bailout - Reuters
The spokesman said at a government news conference that the IMF had said in a document around two years ago that it would take part in Greece's aid package, adding: "Nothing has changed about that and it's much too early to think about 'what if'".
---
Turkish servicemen in Greece seek release from custody - Fox
"The men appealed that decision in an administrative court Monday. A ruling is expected within days."
---
Turkey threatens to scrap migrant deal after Greece ruling - The National
"In a bitter statement [foreign minister Mevlut Cavusoglu] accused the Greek judiciary of encouraging "impunity" and ignoring "international law norms and principles" as well as the rights of the victims of the coup. Referring to

Greece's own history under military rule, he said, "As a country which experienced coups in its past Greece, with this decision, has unfortunately become a country which protects coup plotters."
---
January 27, 2017
Eurozone, IMF fail to heal Greece bailout rift - MSN
"...Eurogroup head Jeroen Dijsselbloem insisted that Lagarde had promised him that the IMF remained committed to the Greek bailout programme.

"She reassured me that the IMF still has strong intent... to participate in the programme in full," said Dijsselbloem, who is also Dutch finance minister.

But he warned: "They've always made their terms very clear -- reforms need to be credible, the fiscal path needs to be credible, and debt sustainability needs to be credible."
---
Freedom or Death… On Holocaust Remembrance Day - Pappas Post
"Eleftheria H Thanatos" is embedded in our cultural DNA, our poetry and music, our literature. There are so many other examples throughout Greek history. Even Greece's great literary giant Nikos Kazantzakis gave one of his masterpieces this title.

There were the women of Epirus who donned their traditional costumes and danced off cliffs with their infants in their arms, rather than be taken as Turkish slaves in the early 1800s and the mass suicide at the Cretan monastery of Arkadi in 1866 when a thousand villagers sought refuge inside the monastery walls and ultimately ignited the storage of gunpowder opting to end their own lives as free Greeks.

As we pause today to remember International Holocaust Remembrance Day, I'd like bring to light one of the many unknown stories of Greek heroism, character and defiance that represent the "Freedom or Death" national mantra– that took place inside the Nazi death camp of Auschwitz in the summer of 1944.
---
Greece risking 'harsh' new bailout in 2018 - Fox News
"It said Greece's partners in the 19-country eurozone, faced with mounting political pressure from burgeoning parties opposed to the European Union, would likely impose "harsh" terms on Athens if new loans were needed.

Greece is pinning its hopes on additional debt relief to avoid a new rescue package..."
---
Teachers complain about freezing classrooms - eKathimerini
"The group said that the existing funding is not enough to cover the cost of heating schools from an hour before classes begin until the last students and staff have left, adding that cold temperatures pose a health hazard."
---
British initiative on Cyprus - Ta Nea
"The British plan for guarantees are: a) To guarantee an acceptable framework for a period not to exceed ten years. b) the strict limitation of the territorial limits of the Turkish region. c) The rapid withdrawal of the Turkish occupation forces immediately after termination. d) On the eve strictly limited in number and volume of weapons capabilities, without propagation of Cypriot territory. e) Revaluation of agreements in due time and with similar criteria."
---
This could be Greece's last chance to save itself - CNBC
"Without a substantial pace of reforms, Greece will be unable to narrow the gap in its real per-capita income relative to the euro zone and remain prosperous and competitive. This has prompted the euro zone's finance ministers to demand that Greece proceed with these necessary reforms until Feb. 20 or risk the IMF dissolving support of the Greek financial program."
---
Greece Is In Trouble Again: Bonds, Stocks Plunge As Bailout Talks Collapse; IMF Sees "Explosive" Debt - Tapnewswire
"Two years after its third bailout, Athens and the Troika, or is that Quadriga, i.e., its European and IMF creditors, are still at odds over the fiscal goals Greece can achieve after 2018, when its third rescue programme ends. According to Reuters, the talks have dragged on for months, hindering the conclusion of a bailout review that would help Athens qualify for inclusion in the ECB's much desied bond-monetization programme and return to bond markets as early as this year.

And, yes, the ongoing disagreements have rekindled fears of a new crisis in Greece, which never really emerged from any of the previous ones, which was forced to sign up to another bailout in July 2015 in order to stay in the euro zone."
---
January 26, 2017
Turkey issues arrest warrants for coup suspects - France24
"We protest this decision which prevents these individuals who have threatened the life of our president and took an active role in a coup attempt that killed 248 of our citizens ... from appearing in front of Turkish judiciary," the statement said.

"Once again Greece, an ally and a neighbour, has failed to fulfill the basics of the fight against terrorism," it said, also accusing Athens of harbouring far-left and Kurdish militant groups that have carried out attacks in Turkey."
More Coverage:
Turkey says Greece protecting coup plotters after court ruling on soldiers - eKathimerini
---
Greece and Creditors Face Pressure on Bailout Deal - WSJ
"Greece and its creditors held talks on Thursday in hopes of finding a solution for the country's deadlocked bailout before Europe's upcoming election season dominates the continent's agenda."
---
January 25, 2017
Tsipras marks 2 years as PM with no-austerity pledge - Retuers
"Greece's prime minister has marked two years in office, promising "not another euro" of new austerity measures by his left-wing government as talks with bailout lenders remain at an impasse over demands for deeper cuts."
---
Cold weather reignites fears for refugees poorly sheltered in Greece - UK Guardian
"Forecasts of freezing temperatures have also been met with trepidation by international agencies, aid groups and local mayors on islands.

"Thousands of people are poised to suffer needlessly in conditions that are becoming increasingly desperate," said Eva Cossé at Human Rights Watch. "Europe's failed policies have contributed to immense suffering for people warehoused on the Greek islands."
---
FAI/IRF claims responsibility for six arson attacks - Efsyn
The Conspiracy Nuclei of Fire (FAI-IRF) claimed responsibility for six recent arson attacks in Athens. Attacks were dedicated "under practical solidarity to the imprisoned members of the EA after the recent repressive operation, Pola Roupa and Constantina Athanasopoulos'.
---
Disposable income drops by 2.3 pct in Q3 on sharp rise in taxes - Macropolis
"Greek household disposable income fell for the eighth successive quarter in the third quarter (Q3) of 2016, when it decreased by 2.3 percent ..."
---
January 24, 2017
EU says will not sign off on Greece bailout review on Thursday - eKathimerini
"We will see how we can move to a swift conclusion... but this obviously cannot be achieved on Thursday," [EU economic and financial affairs commissioner Pierre] Moscovici told journalists in Dublin. "We hope it can be done as soon as possible."
---
Greeks are overworked and exhausted from the debt crisis - Econotimes
"Yet things are only getting worse and Greeks are – understandably – losing hope. The country is in desperate need of a government that will take responsibility for its bloated public sector. Instead, it continues mismanaging the economy and placing the blame for Greece's problems elsewhere. After eight torturous years in crisis, employed Greeks work long and hard with very little to show for it in their take-home pay."
---
Exposed: Asbestos in the Navy - eKathimerini
"His is one of several pending cases. Over the past decade, dozens of retired Greek naval officers have been compensated by the US for exposure to asbestos. In 2015, a Greek court ruled against the Greek state for the first time in a suit filed by a former officer who had been diagnosed with terminal cancer, awarding him 250,000 euros.

Having spoken to former servicemen and the doctors who examined them, as well as with their lawyers in Greece and the United States, Kathimerini can now reveal unknown aspects of the ordeals suffered by retired Hellenic Navy officers who served on old American-built destroyers. None of them had been officially briefed on safety measures or warned about the dangers to which they were exposed."
---
January 23, 2017
Greece to rule on Turkish servicemen later this week - Fox
"Supreme Court judges are considering recommendations from senior Greek prosecutors not to sanction the extradition.

The six-month legal battle has further complicated ties between neighbors and NATO allies Greece and Turkey, which remain at odds over war-divided Cyprus and boundaries in the Aegean Sea."
---
Trump & Tourism: The Impact on Greece - GTP
"Greek tourism experts expect that newly-elected US President Donald Trump's policies once put in place will have a positive impact on sector figures, which are already on a robust trend."
---
Bringing Greece back to growth - Naftemporiki
"Why three programmes? – By the start of 2010, investors would no longer lend money to Greece. Private investors did not believe that they would get their money back. Athens had to ask for help. It was an unprecedented event. The EU had not foreseen a possible default of a euro area member. There were no European institutions to deal with such a crisis. Markets were speculating that the euro area could break up."
---
No increase in retirement age - Ta Nea
"The debate around the issue of the judiciary age can only be done with the ultimate goal of producing a proposal for the revision of the relevant provision of the Constitution. Any other solution you overturn provisions of the Constitution with clear and unconditional content ", said senior judges giving le without leaving any room for doubt or even a different interpretation of the constitutional provisions.
---
---
NEWS ARCHIVE - Jan 2017
---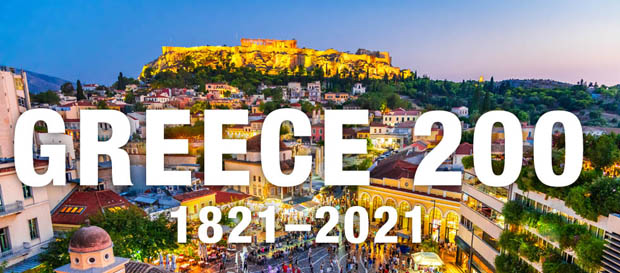 ---
You will see Amazon links on this web site because I am an Amazon affiliate. I earn from qualifying purchases.
Fodor's Essential Greece: with the Best Islands (Full-color Travel Guide)
---

---