Greece and the economic crisis 2017
NEWS ARCHIVE - Jan 16 - Jan 22
---
January 22, 2017
As Tsakalotos seeks to restart review, PM must keep lid on SYRIZA dissent - eKathimerini
"...since Germany's powerful Finance Minister Wolfgang Schaeuble made it clear that Berlin would not accept the withdrawal of the IMF, Athens has stopped the tough talk. Facing elections in the fall, Schaeuble is keen to ensure that Greece does not become a domestic problem for him.

...The Group of 53, to which Tsakalotos belongs, has expressed misgivings while it remains unclear how many MPs would seriously consider destabilizing the government by voting down new measures in Parliament."
---
As Another Economic Crisis Approaches, Greece and Euro Should Consider a Divorce - Huffington Post
This article by Doug Bandow is very much like the same one that appeared in Forbes (from Bandou) a week ago [Greece Heads Into Another Economic Crisis: Time To Finally Exit The European Union? - Forbes] - it contains more or less the same insulting description:
"Greece is a bit like your dissolute brother-in-law. A spendthrift, he gets himself into financial trouble and asks for a loan. You give it to him based on his promise to stop drinking, smoking, and romancing the ladies. He doesn't, of course, but you really didn't expect he would do so. However, you still want your money back. Although he promised to repay you, he doesn't understand why you are asking. Your wife gives him some more money, based on his redoubled promise to reform his bad spending habits. And so it goes.

Greeks long have enjoyed a Mediterranean culture very different from that of the northern European states. Time is flexible, leisure is mandatory, and work is unfortunate. Government is a tool by which everyone attempts to live off of everyone else, though politics is the only sure means to succeed in doing so."
---
January 21, 2017
Germany says IMF plans to stay involved in Greece bailout talks - Reuters
"Christine Lagarde spoke with Schaeuble about Greece's bailout program during the World Economic Forum in Davos this week and told him the IMF aimed to continue its participation, the spokesman told a regular government news conference.

The German Finance Ministry this week denied a report in Bild newspaper that Berlin was preparing for a deal without the IMF, which has said it will take part only if it includes significant debt relief."
---
Digital policy minister Nikos Pappas assures Greek-Americans Greece is doing better - Tornosnews
"The country is doing better, that's the absolute truth...We want all of you here tonight to become Greece's ambassadors. It's crucial for the new government of the United States to know the truth about Greece. To know our country is doing better," the minister said at a dinner in honour of the Greek-American members of the new administration in Washington.
---
Greece says it may extend fiscal contingency mechanism to 2019 - Reuters
"Greece's EU lenders want the country to achieve and maintain a primary surplus - after interest payments - of 3.5 percent of GDP beyond the programme's end in 2018.

"The government can't accept and legislate extra measures beyond 2018. It can only legislate the extension of the fiscal adjustment mechanism for one more year," Tsipras said in a meeting with pensioners earlier on Friday, according to a statement from his office."
---
January 19, 2017
Greece favors IMF withdrawal from rescue loan program - Fox
"Government spokesman Dimitris Tzanakopoulos is blaming the Washington-based fund for "pointless delays" in the negotiations.

Athens hopes a deal with European creditors and the IMF will boost Greece's battered economy, allowing access to the European Central Bank's bond-buying program and, later, to international markets."
---
To stay on in Greek program, IMF wants gov't to pass reforms - eKathimerini
"But if there is no progress next month, with the Greek government agreeing to legislate some of the measures its creditors (and not just the IMF) will demand, then the review runs the risk of remaining pending for the coming months, up until May or even June, according to the estimates of two eurozone officials."
---
Flamingo lagoon in Greece frozen over - MSN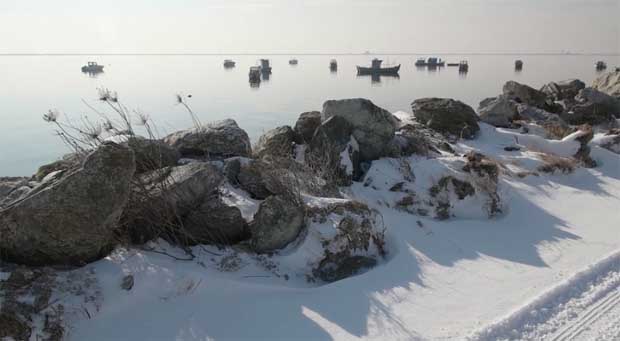 Video report
"Rare footage of a frozen lagoon, usually home to tropical flamingos, completely frozen over due to Arctic temperatures in Greece."
---
Draft report on loans to political parties, media, show ΄blatant΄ violations of bank rules - Capital GR
"The draft conclusions on a parliamentary investigation into shady loans granted to political parties and media groups by banks was handed over by the majority to the rapporteurs of the opposition parties, the president of the parliamentary committee and SYRIZA MP Antonis Balomenakis said on Monday."
---
January 18, 2017
Greece Sells State-Owned Railway Operator to Italian Firm - NYT
"The agency says the sale of its 100 percent stake to the Italian railway company is subject to approval by European Union authorities.

Wednesday's agreement is part of Greece's huge, but dragging, drive to sell off state assets, required under the terms of its bailout agreements with the country's European partners and the International Monetary Fund."
---
Tsipras: Programme review to be concluded without new measures - AMNA GR
"He stressed that the people understand who is trying to pull the country out of crisis and who is blocking the country's recovery. "We are moving forward and we are committed that things will always get better for the country," he said and referring to main opposition, he said "even if that means that they will get worse for your own political plans."

"We have complied with the programme, being full aware of the difficulties, and we have met our targets, because we made the state work and not serve its friends," he said."
---
Blackout on islands due to short circuit the Cyclades - Tanea GR
"Blackout occurred Wednesday morning in the cluster of islands of Paros, Naxos, Ios, Sikinos, Folegandros, short circuit in the transformer of the Autonomous Paros Power Plant."
---
January 17, 2017
Greece aims to conclude review to be able to refinance debt from markets in August 2018 - Reuters
"Athens hopes a meeting of euro zone finance ministers later this month will help speed up its talks with lenders which have dragged on for months mainly due to differences on reforms, fiscal targets and debt relief measures beyond 2018, government spokesman Dimitris Tzanakopoulos said."
---
Excluding IMF is no panacea for Greece - eKathimerini
"The response from Athens was that if the IMF is out of the picture, the review which has been dragging on since last year will be concluded almost overnight and without the need for any new measures to be legislated. It is no surprise that the SYRIZA-Independent Greeks administration was taken by the idea of the IMF being excluded from the program. Many government officials, including Prime Minister Alexis Tsipras, have suggested in previous months that life would be much easier if the Fund withdraws as there would be no need to discuss austerity measures that Athens has described as "illogical."

The thinking appears to be that if the IMF is left out, the swift conclusion of the review that would – theoretically – follow would unlock the benefits that could flow from that (e.g. inclusion in the European Central Bank's quantitative easing scheme and strong growth) and the government would not be forced to absorb the impact of having to enter a new and damaging round of discussions domestically about unpopular measures, such as cutting pensions or reducing the tax-free threshold for incomes."
---
Greece's EMST Among Top 10 New Museum Openings in 2017 - GTP
"The EMST, which had a "soft launch" in October 2016, is the third new museum on the list.

Located in the old Fix brewery on Kallirrois Avenue and Amvrosiou Frantzi Street in Athens, the EMST inaugurated the temporary exhibition space with the show "Urgent Conversations: Athens–Antwerp". The museum's permanent collection is expected to be unveiled in autumn 2017, when the museum is expected to open in its entirety."
---
Provisional data shows state budget surplus above target - Protothema
"According to provisional data released by the Greek Finance Ministry, the 2016 budget target exceeded expectations recording net revenues amounting to 53.968 billion euros."
---
January 16, 2017
Schaeuble advises against IMF departure from Greek program - eKathimerini
"Should it not come to a successful second review [of the steps Greece must fulfill under its support program], and should the IMF draw the consequences from this, then the current program would be obsolete. The program was agreed to only on the expectation that the IMF would participate," Schaeuble was quoted by the WSJ as saying.
---
Greece: Refugees struggle as cold snap intensifies - MSN
Video report on temperatures in Northern Greece (-10C). A nonsensical aspect of the reporting is that it shows the drinking water in the refugee camp as frozen from the water spout above the ground in an open, though covered, location. Then the reporter demonstrates each refugee "container" where families are residing has a large portable kerosene heater installed which keeps the people warm. Do the Greeks not allow the refugees to find a way to isolate the frozen water spout and lay kerosene heaters near it, enveloping the drinking water facility with heat so it does not freeze? Heavy tarps would possibly suffice, or better yet one of the "containers" shown which looks to be made from fiberglass or a heavy plastic, perfectly suitable for modification. It seems unlikely that the refugees themselves do not have anyone who has not thought of obvious solutions. The same with the filthy (and frozen) toilet facilities. If portable heat is available throughout the camp, why aren't simple efforts made to preserve the water and toilet facilities?
These are question not addressed by the video reporter. There could be limitations not being reported on, such as the Greek authorities not allowing anyone to take action to preserve the drinking water or toilets, or it could be one of the aid organizations won't allow this as it makes for a better story and so a stronger plea for assistance and attention via and from the media.
---
State funeral held for Greece's slain ambassador to Brazil - Fox
"Kyriakos Amiridis, 59, went missing Dec. 26 in Nova Iguacu, a city near Rio de Janeiro where he had been vacationing with his wife. His charred body was found in a car three days later. Brazilian police say they believe he was killed by his wife's lover under her orders. Those two and a third person have been arrested."
---
Turkey will only withdraw troops from Cyprus if Greece does the same, Turkish president Erdogan warns - UK Telegraph
"Turkey maintains a garrison of around 30,000 in the northern third of Cyprus while Greece has about 1,000 soldiers in the south. President Erdogan said that even if troops were withdrawn, Ankara would want to maintain a presence in the island as one of its guarantors, along with Greece and Britain, the former colonial power.

"We have told Cyprus and Greece clearly that they should not expect a solution without Turkey as guarantor. We are going to be there forever," he said in Istanbul. He said there was a plan for 650 Turkish troops and 950 Greek soldiers to remain on the island after a settlement."
---
Germany to deport asylum-seekers back to Greece - DW
"Germany is set to reverse a six-year-old block on the deportation of asylum-seekers back to Greece, despite a humanitarian crisis in the refugee camps there. Refugee organizations are horrified."
---
Greece's second city to get German co-funded Holocaust museum - i24 News
"The Jewish community in Greece's second city Thessaloniki has finally got the go-ahead to build a Holocaust museum part funded by Germany, the group's president told AFP on Monday.

"...The museum's construction project has been adopted by the town hall and will be co-financed by the German government and the Greek Foundation of ship-builder (Stavros) Niarchos," Jewish community president David Saltiel told AFP."
---
NEWS ARCHIVE - Jan 2017
---
---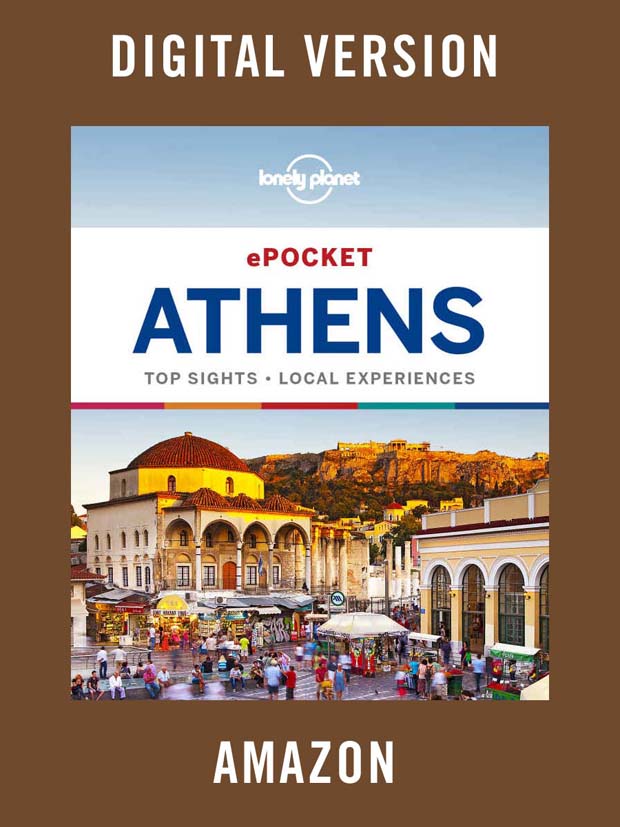 Lonely Planet Pocket Athens (Travel Guide)