Greece and the economic crisis 2017
NEWS ARCHIVE - Jan 1 - Jan 6
---
January 6, 2017
Greece Heads Into Another Economic Crisis: Time To Finally Exit The European Union? - Forbes
Forbes presents a long-ish article by Doug Bandow which provides a overview of the Hellenic economic crisis and contains a nicely done short version of how it got to be this crazy. The history of actions by the EU and Greek politicians detailed in the article is more or less what you have probably heard before, that is, decisions based upon immediate political need with numbers distorted to fit that need (most of the blame here is leveled onto the Greeks, though it would have been good of the author to extrapolate further on how the austerity program was born and why, as he writes "...Which led in 2010 to the start of three bail-outs cumulatively worth almost $370 billion. Greece was the nominal recipient of the cash"). Some have more flatly stated the cash transfers look sometimes like an international money-laundering operation.
In the article there seems to be an attitude that this whole issue is a shell-game of expectations vs reality that can only go on for so long (the piece also contains the de rigueur cheap-shot at the Greeks in general as being 'lazy' - i.e., "... Greeks long have enjoyed a Mediterranean culture very different from that of the northern European states. Time is flexible, leisure is mandatory, and work is unfortunate. Government is a tool by which everyone attempts to live off of everyone else...") That the article provides genuine insights and then tries to wrap it together with such smelly generalizations hurts what Forbes is offering.
There is the alternative view (not in the Forbes piece) that with austerity as a program rolling onward into it's eighth year it seems more likely all of the parties involved will just keep right on "shoveling money" (as the author says) at the problems. What would be best (in this article or some other) would be something that investigates in a definitive fashion what the trigger has to be to end the numbers charade, a political position that forces math to finally take over the matter, if only for a little while. Also unaddressed is the EU's need to keep Greece embedded into it's EU system in order to directly influence (or, really, control) the immigration influx that uses Greece as the door to Germany, Sweden, France, etc.
The article's author hopes that Greek government will unleash entrepreneurial liberty for the Greeks but the article then completely ignores two realities: one is that Greece has a shadow-economy and the entrepreneurial spirit is unleashed there, but obviously nearly invisible to the statistics quoted by the writer. The second item is that Greece has seen a net outflow of 500,000 people during this period, and the Greek 'brain drain' has been significant. The Forbes article should address this more clearly than just saying legislation on easing of business regulation is needed. It certainly is needed, there's no argument there, but that alone would not deal with the other two matters. Merging the underground economy into the above-ground, insuring that Greece doesn't have to lose any more capable people and can lure back some of those lost, is as important, because fudging the regulation laws alone can't fix the other two.
"...Tsipras mocked "fool technocrats … who can't even get their numbers right." Looking toward a possible early election, he added: "we are not going to ask anyone about giving surplus money to those most in need." His finance minister charged the IMF with "economizing with the truth." The deputy education minister, representing a small, right-wing coalition partner, charged that his country was being "blackmailed." Indeed, he added, "For centuries, Greeks have been mercilessly oppressed by the Westerners."

...Greece's debt to GDP ratio hit about 100% in 2000, with the country preparing to replace the Drachma with the Euro. Debts began heading up in the latter part of the decade. When creditors finally noticed that Athens might be in a bit over its head back in 2009, Greece's debt to GDP ratio was about 127%. Today Greece owes around $320 billion and its debt to GDP ratio is roughly 174%, second in the world only to far wealthier Japan. (The debt relief being discussed would only drop that by about 20 points—by 2060!)
---
Shaky start for Greece's new social security fund - Neo Kosmos
"After years of speculation, debate and mismanagement, Greece has finally launched the Single Social Security Entity (EFKA), a fund to cover all the country's citizens' health, pension and welfare needs.

The fund will incorporate all previous social security funds, such as IKA (the largest fund of the state), OAEE (the traders and business owners' fund), NAT (for those working in the shipping industry) and so on. This seems to be a long, arduous process, given that the organisational chart of the new fund has not been completed."
---
January 5, 2017
For Greece and Turkey, an Old Rivalry Flares - NY Times
"Ankara's persecution of lawyers, judges, academics, journalists, opposition politicians and others is one of the main causes of friction with the European Union and human rights organizations. Greece, a member of the European Union and already struggling with more immigrants than it can handle, now has to balance respect for asylum seekers with the possible fallout from an angry Turkey."
---
Istanbul prosecutor's office says 8 Turkish officers involved in Erdogan assassination plot - eKathimerini
"According to Turkish media, Turkish authorities have evidence that on the evening of July 15, the night of a failed coup in the neighboring country, the 8 officers held phone conversations with Turkish officers who are believed to be directly involved in an assassination attempt against Erdogan in the coastal town of Marmaris, where the Turkish president was vacationing."
---
ELSTAT: More Than 500,000 Greeks Left Greece Over Past 5 Years - Greek Reporter
"What is interesting is, that as Greeks flee their country because of the economic crisis, their arrivals in Greece when they come back to reside or visit are often recorded as "flight arrivals from abroad," when in reality they are nationals returning to their homeland and do not represent tourists from abroad, ELSTAT says."
---
Greece captures far-left militant who had been a fugitive for more than four years - MSN
"Roupa and her companion and co-leader Nikos Maziotis were arrested together in 2010. They were released pending trial but subsequently fled, becoming fugitives.

Maziotis was recaptured in 2014 after a shootout with police in Athens. Last year Roupa hijacked a helicopter in a failed attempt to spring Maziotis from prison."
---
Employers expect small rise in hirings - eKathimerini
"The sectors with the strongest employment prospects are agriculture (+15 percent), the financial domain, insurance, property and services to business (+14 percent). On the other hand, the sectors expected to suffer a drop in employment are manufacturing (-4 percent) and transport and communication (-3 percent)."
---
January 4, 2017
Siberian High pressure system to hit Greece from Thursday - eKathimerini
"According to forecasts so far, temperatures in Athens will drop below the 0-Celsius mark for about three days from Friday, with the wind-chill factor making it feel like -10 Celsius in the capital's northern suburbs and mountains. In other parts of the country that are accustomed to wintry conditions, the wind-chill factor is expected to be as low as -25 Celsius."
---
Greece may propose a "Friendship Pact" between Greece-Cyprus-Turkey- Protothema
"Nikos Kotzias will meet with UN envoy on the Cyprus dispute Espen Eide this afternoon. According to the same sources the government wants to set a specific agenda in order for a new balance to be found with Turkey, thus taking advantage of the international conjuncture to start a new and constructive relation between Athens and Ankara."
---
How Greece's Troubled Economy Could Turn Around in 2017 - Fortune
"Following a defiant stance in early 2015, which resulted in closed banks, capital controls, reversal of growth and exclusion from money markets, the present radical left Greek government signed an onerous agreement. The agreement provided Greece a new loan of €87 billion, yet required that Greece achieve a 3.5% of GDP surplus (through more austerity) for a number of years. This target was clearly not feasible, and the Bank of Greece proposed a surplus of 1.5% to 2% of GDP. The IMF agreed with this target, and has asked the EU to restructure Greek debt obligations consistent with this target as well as for implementation of structural reforms that would make the Greek economy competitive. However, the EU has insisted on the 3.5% surplus target and painted an unrealistically rosy picture of the Greek economy to make this target appear feasible, while not pressing Greece on reforms."
---
NBG likely to sell its insurance unit this year - Reuters
"Last month Greece's second largest lender hired Goldman Sachs and Morgan Stanley as advisers on the sale of the insurance unit, banking sources close to the deal said.

"It has been public that from a business point of view we would have liked to keep the insurance company," NBG's Chief Executive Leonidas Fragkiadakis told Reuters."
---
January 2, 2017
'Patients who should live are dying': Greece's public health meltdown - UK Guardian
"Data and anecdote, backed up by doctors and trade unions, suggest the EU's most chaotic state is in the midst of a public health meltdown. "In the name of tough fiscal targets, people who might otherwise survive are dying," said Michalis Giannakos who heads the Panhellenic Federation of Public Hospital Employees. "Our hospitals have become danger zones."

Figures released by the European Centre for Disease Prevention and Control recently revealed that about 10% of patients in Greece were at risk of developing potentially fatal hospital infections, with an estimated 3,000 deaths attributed to them."
---
National Bank of Greece to sell unit to KBC - MarketWatch
"KBC said they were buying the companies for EUR610 million ($637.7 million) from the National Bank of Greece, the Greek parent company of United Bulgarian Bank, or UBB. KBC said they expect the deal to close during the second quarter of 2017 at the latest."
---
New year brings fresh challenges for over-burdened households - eKathimerini
"For salaried workers and pensioners, 2017 will see the introduction a new tax scale with a lower tax-free threshold and a higher so-called solidarity tax levied from all of their incomes for 2016, while property owners with tenants will pay as much as 36.4 percent more tax on the rent they receive."
---
January 1, 2017
Greek President expresses condolences to Turkish people over Istanbul night club attack -Protothema
"In his message Mr. Pavlopoulos extended the solidarity of the Greek people to Turkey. The statement of support was forwarded to the Turkish Embassy by the Presidency with the President expressing his "disgust" over the attack."
More Coverage:
Greece Condemns New Year's Eve Massacre in Istanbul Nightclub - GTP
---
Greek Ambassador Killed by Wife's Lover, Brazilian Police Say- NBC
"Police in Brazil believe that Greece's ambassador to the country was killed by his wife's lover under her orders in a house in the Rio area and have detained three suspects, authorities said Friday.

Ambassador Kyriakos Amiridis went missing on Monday in Nova Iguacu, a city just north of Rio de Janeiro, where the ambassador had been vacationing. The couple lived most of the time in the capital of Brasilia."
More Coverage:
Kyriakos Amiridis killed by wife's policeman lover in Brazil; wife considered 'co-author' of crime - NY Daily
Wife and Her Lover Are Arrested in Killing of Greek Envoy in Brazil - NY Times
---
---
NEWS ARCHIVE - Jan 2017
---
---



---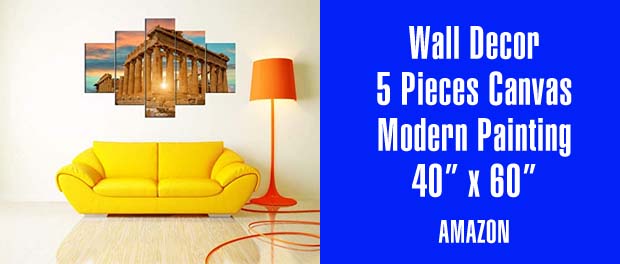 Parthenon Temple on the Acropolis of Athens Greece Artwork Wall Decor 5 Pieces Canvas Modern Painting Wall Art Home Decoration for Living Room Pictures HD Printed Framed Ready to hang(60''Wx40''H)
---
Create Amazon Business Account - save time and money on business purchases with competitive B2B prices and discounts