Greece and the economic crisis 2016
NEWS ARCHIVE - Aug 19 - Aug 31
---
---
Aug 31, 2016
Greece's debt stands at $486.182bn - Neo Kosmos
"Greece's foreign debt has risen from €321.015 billion ($474.909 billion) in March to €328.34 billion ($486.182bn) at the end of June, following the conclusion of the first review of the third bailout program and disbursement of the most recent loan tranche from institutional creditors."
---
Draghi: ECB has no set timeline to include Greece in QE - eKathimerini
"...Greece needs to pass an ECB debt sustainability analysis before it can be included but measures to cut its debt pile are still under consideration, making the analysis difficult."
---
Greece Tax-free Shopping Plummets in First 7 Months of 2016 - GTP
"Revenue in Greece from tax-free shopping (purchases with a VAT return) in the first seven months of the year has dropped by 18.54 percent compared to the same period in 2015. Sector experts are attributing the slump to reduced foreign consumer spending and a plunge in the number of Chinese tourists to Greece, who accounted for 45.5 percent of all tax-free purchases last year."
---
Greece raises 1.14 billion euros in treasury bills sale - Sina
"Greece raised on Wednesday 1.14 billion euros (1.27 billion U.S. dollars) in the latest six-month treasury bills auction, according to an announcement by the Public Debt Management Agency (PDMA).

.... Shut out of international markets since 2010, Greece runs a monthly treasury bill auction program in parallel to bailout aid to cover maturing debts and meet its financing needs."
---
Greece has seen a sudden spike in refugees - ABC News
"Government figures showed that 462 people reached the islands of Lesbos, Chios, Kos and Rhodes in smugglers' boats between Monday and Tuesday morning. Total arrivals for the previous week were 499."
---
Marathon continues with tendering process of television licenses - Ethnos
"Representatives of the eight ventures claiming four television licenses are in hermetically sealed offices GGEE yesterday morning, participating in a lengthy tendering process. None of the participants will come from building GGEE before all four licenses to vest the winners, while there is no possibility of information flow from "inside out", as no one has a mobile phone or a computer with an Internet connection."
---
Aug 30, 2016
Turkish Judge Seeks Asylum in Greece - WSJ
"The 48-year old judge landed on the Aegean island in a boat with a group of migrants and refugees, officials said. He has been charged with illegal entry into Greece, and is expected to formally file for political asylum, according to the officials.

The judge is the 16th person to claim asylum in Greece on the grounds of persecution by the Turkish government."
---
Greece launches auction for TV licences, defies media protests - Reuters
"Prime Minister Alexis Tsipras' government says the move will help bring order to a sector mired in debt and discredited because of its political links. Broadcasters, who have mounted a legal challenge to the process, say it is an attempt to muzzle them.

Greece has eight TV channels broadcasting nationwide, meaning four will have to suspend operations after the licensing process is completed. The starting price for bids was set at 3 million euros."
---
Greece Cracks Down on 'Triangle of Corruption' in TV - NY Times
"...the leftist Syriza party under Prime Minister Alexis Tsipras says it wants to crack down on what it characterizes as a "triangle of corruption," by auctioning off a limited number of licenses on Tuesday.

...Syriza opponents accuse it of a power grab under a different guise. The conservative New Democracy party said the government was seeking "absolute control" of the media. The once-mighty Socialist party, Pasok, has charged Syriza with disrespecting democracy and freedom of speech.

...The auction will limit the number of nationwide TV licenses to four, meaning half of Greece's stations will be forced to close."
More Coverage:
In Bid Against Corruption, Greece to Ax TV Licenses - Bloomberg
TV licences: Procedures to start Tuesday morning - Protothema
Greece media auction will reduce number of TV channels to four - talkingnewmedia
---
Greece may face aid-payout delay as EU warns on backsliding - Chicago Tribune
"Greece's finance chief said the next international aid payout to the country may be delayed as the European Union stepped up warnings about domestic political meddling in the Greek state.

Finance Minister Euclid Tsakalotos raised the possibility of the government in Athens failing to qualify on time for a 2.8 billion-euro ($3.1 billion) disbursement due in September from the euro area. That's what remains of a 10.3 billion-euro tranche that finance ministers approved in principle three months ago."
---
Greek Olympian Anna Korakaki Slams Government for Not Inviting Her to Official Ceremony Honoring Olympians - Pappas Post
"...Korakaki turned to Facebook to share her version of the "truth," claiming in a long post that she was never invited to join fellow Olympians, leaving the government in an embarrassing situation and having to backtrack on several statements about why she wasn't present."
---
Greek bank deposits drop in July after two-month rise -Capital GR
"Greek bank deposits dropped slightly in July after a rise in the previous two months, data released by the country΄s central bank showed on Friday.

Business and household deposits fell by 160 million euros, or 0.13 percent month-on-month to 122.58 billion euros ($138.3 billion), their lowest level since November 2003."
---
Euclid Tsakalotos expects "no delays" for the 2.8bn tranche - Tovima
The Ministry of Finance has argued that there will be no delays in the payment of the 2.8 billion tranche, in response to an article published by Bloomberg.

....According to the Bloomberg article, the Greek Minister commented that "if there is a delay, it'll be days not weeks" ahead of his meeting with European Commissioner Pierre Moscovici and added that "part of the reason for the meeting is to discuss the process to ensure there aren't delays".
---
Second phase of 2016 Antikythera Shipwreck expedition to begin Thursday - AMNA
The second phase of the 2016 underwater excavation of the 1st century B.C. Antikythera shipwreck will begin on Thursday, the head of the Hellenic Ephorate of Underwater Antiquities Dr. Angeliki Simosi told the ANA on Tuesday.

...There is also convincing evidence that there is a second shipwreck on the site, including lead piping of a different diameter from the first, nails, tiles, amphorae and other vessels of a different type.

The expedition is taking place under the aegis of President of the Hellenic Republic Prokopis Pavlopoulos with the participation of archaeologists from Greece and abroad.
---
Aug 29, 2016
Pavlopoulos: The ancient Greek spirit can help defend our culture - Tormosnews
"....The ancient Greek spirit essentially created the modern western culture, because it was the ancient Greek spirit that gradually turned information into knowledge and knowledge into wisdom, therefore created science.

It freed man from the legend, freed from the dogmas and learned the relativity and the questioning of any scientific discovery. In other words, it opened the way for contemporary creation," said the President."This invaluable contribution of the ancient Greek spirit can help people today to defend our culture at risk," Pavlopoulos stressed.
---
Low credit score dampens recovery hopes - eKathimineri
"...after years of sacrifice, wrangling and controversy, the majority of Greeks do not want to take the risk of leaving the euro. They do not seem keen to experience even more strenuous conditions during what many economists believe will be an extremely painful and perilous period of readjustment to a national currency.

Even Prime Minister Alexis Tsipras, who a few years suggested that the discussion the possibility of leaving the euro should not be a taboo, is now encouraging Greeks to stay the course. He hopes the country, and its people, will start to come out of the dark economic period next year, when Greece is forecast to see growth of 2.7 percent."
---
Refugee Children to Start Attending School Classes September in Greece - Greek Reporter
"According to ANA-MPA, the Education Ministry of Greece is about to implement its educational plan to teach thousands of refugee children stranded in the country.

The program is set to start in September and with the support of UNICEF as well as other NPOs the children will either be transported by bus to nearby public schools to attend classes and some in specific reception camps will have classrooms set up on site.

According to government reports, Greece plans to educate around 8,500 refugee children... "
---
Greece urges creditors to back its economic recovery - Pgurus
"Under the previous agreement with international creditors, Greece must meet budget surplus targets of 0.5 percent of the GDP this year, 1.75 percent in 2017 and 3.5 percent in 2018, among others.

Greek officials recently have insisted that the goal is not feasible and requested some alterations.

Tsipras criticized once again in particular Berlin's insistence on "suffocating" fiscal discipline, warning that the "EU is like a sleepwalker nearing the edge of the cliff."
---
Turkish, Greek FMs meet unofficially - World Bulletin
"The minister, who was in Elounda on the Greek island of Crete for an unofficial meeting with Greek Foreign Minister Nikos Kotzias, said: "The solidarity and clear attitude that Greece showed made the Turkish people very happy.

"Especially in Europe, no one can understand better than Greece and the Greek people the danger that Turkey went through."
---
Aug 27, 2016
Tsipras: EU sleepwalking toward cliff, wants debt relief by end 2016 - Reuters
"Greece has kept its part of the agreement and expects the same from its partners. We are not simply seeking, we are demanding and expecting specific measures that will render debt sustainable as part of the deal we are implementing," Prime Minister Alexis Tsipras told the Sunday newspaper Realnews.

"This (debt relief) will be followed by reduced (budget) surpluses after 2018, which will open the way for the economy's recovery," he said.

Greece has committed to attaining a primary budget surplus - excluding debt servicing costs - of 3.5 percent of economic output by 2018 as part of its third bailout package since 2010.
---
Greece facing 'serious challenges,' needs EU help to manage refugee crisis – UN agency chief - UN News
"On Wednesday, Mr. Grandi met with Greek Prime Minister Alexis Tsipras and President Prokopis Pavlopoulos, and then visited a shelter for unaccompanied children run by Praksis, a Greek NGO supported by UNHCR.

Unaccompanied children in Greece are a high-priority concern for UNHCR. Some 1,472 are on a waiting list for a safe shelter. UNHCR has so far provided 345 temporary shelter spaces for children alone. Another 245 spaces are planned.

High Commissioner Grandi called the Praksis centre a model for care of unaccompanied children. It is home to 21 boys aged seven to 17 from Syria, Afghanistan, Pakistan and elsewhere. They receive round-the-clock care, and some attend a neighbourhood school. All arrived in Europe without their parents or relatives, and several spent time locked in detention centres in Greece or living in the streets before coming to the shelter."
---
Aug 26, 2016
Greece Charges Seven Turkish Asylum Seekers With Illegal Entry - WSJ
"Greece faces a delicate balancing act as it confronts the spillover of Turkey's mid-July failed coup...

Turkey's government has requested the rapid extradition of the men it has described as "traitors" to face charges of trying to overthrow the democratic constitution.

The eight officers, who hold ranks up to that of major, say they fear for their lives if they are returned to Turkey.

Greek officials say they have to let their politically-independent judicial system weigh the claims. But the government is worried the case will worsen its already prickly relations with its bigger neighbor. The countries, both North Atlantic Treaty Organization members, have longstanding tensions over territorial disputes. "
---
Opposition parties complain about television license tender - tovima.gr
"...the coalition government's tender for the television broadcasting has provoked the ire of the opposition parties. Earlier, the leader of the Independent Greeks and Minister of National Defense Panos Kammenos claimed one of candidates in the tender – Yannis Kalogritsas – is using 'black money' to pressure the government for a license. SYRIZA MP Giorgos Dimaras also warned that 'mafias' may end up a television license.

Main opposition party New Democracy issued a statement underlining that it does not recognize or legitimize the tender for the television licenses and claims that the Tsipras-Kammenos government is attempting to manipulate the media."
---
Aug 25, 2016
EU tells Greece to defend its economic statistics as questions circle the data's validity - Business Insider
"First, we expect the Greek authorities to actively and publicly challenge the false impression that data were manipulated during 2010-2015 and to protect ELSTAT and its staff from such unfounded claims," [Marianne Thyssen, the EU commissioner for employment] said.

"Second, we call upon the Greek authorities to support and preserve the quality of Greek statistics, as well as the independence of the Hellenic Statistical System, along the lines defined in Greek statistical legislation and in the Commitment on Confidence in Statistics of 2012," added Thyssen."
---
Greece ignores Commission on statistics dispute - Politico
"Andreas Georgiou, the former chief of ELSTAT, is in the crosshairs for allegedly undermining Greece's "national interest" during the country's bailout talks with international creditors by inflating its budget deficit numbers. Earlier this month, the Greek Supreme Court said Georgiou should stand trial, facing charges that could put him in jail for up to 10 years.

...The Greek debt crisis began in 2009, when the incoming government of then-Prime Minister George Papandreou found that the country's budget deficit was over 12 percent of economic output — twice as much as the figure put forward by the former government. When he took over the helm of ELSTAT a year later, Georgiou again revised the budget deficit to 15 percent, a figure backed by Eurostat."
---
GMR eyes Greece, likely to bid for Heraklion Airport - Hindustantimes
"Sources said the Delhi-headquartered infrastructure major had sought and received an "experience certificate" from the aviation ministry to participate for the "international competitive bidding process" to develop Greece's second busiest airport situated in Crete."
---
Aug 24, 2016
EU warns Greece statistics row 'dangerous' for bailout - Reuters
"The European Union called on Greece on Wednesday to quash what Brussels said were false accusations the Greek statistics agency rigged data to help foreign creditors and warned that the row posed risks to Athens' current bailout programme.

...[former Elstat chief Andreas] Georgiou was charged in 2013 with inflating figures on the 2009 budget deficit. His case has seen fellow senior economists and statisticians from around the world rally behind him. Some are helping to pay for his defense costs.

The case had appeared to be languishing but a move at the Supreme Court earlier this month to reopen it has put Georgiou under renewed pressure and, in Brussels' view, raised questions about the independence of Elstat from external pressures."
---
Greece Defies Expectations In Rio, Bringing Home Gold - HuffPost
"Despite predictions it wouldn't do well, the struggling nation won six medals.

...In late July, banking firm Goldman Sachs issued a report in which it predicted the number of medals each country would win. The report, based on data such as each country's growth, income per capita, population size and how it has fared in past Games, proved fairly accurate in some cases (U.S., Great Britain) but way off the mark in others, such as Greece. Despite falling in the "zero medals" category in the report, Greece returned home with six medals, three of them gold, and ranked 26th in the list of medal-winning countries."
---
Desperate Greece pleads with EU to SPEED UP the promised relocation of migrants - UK Express
"A European Commission deal was agreed last year - which the UK opted out of - to ease pressure on Greece and Italy by resettling 160,000 Syrian, Eritrean and Iraqi migrants arriving on their shores in other European countries over two years.

So far just under 4,000 people have been relocated under the scheme which an Italian minister yesterday branded a "flop"."
---
Greek Embassy in Rome says no Greek casualties in quake, calls for blood donations - eKathimerini
"There are so far no Greek victims among the casualties or injured in the earthquake," the embassy said in its announcement and went on to urge any Greeks living or vacationing in the area to respond to an appeal by Italian authorities for blood donations.

The 6.2-Richter quake struck in the early hours of the morning when most people were asleep, razing homes and buckling roads in a cluster of towns and villages some 140 km (85 miles) east of Rome, Reuters reported on Wednesday."
---
Aug 23, 2016
Greece says at least 41,000 asylum seekers on its territory - France 24
"Yiannis Mouzalas told a news conference that Greek and UN services had recorded 54,000 refugees and migrants on Greek territory between June and the end of July.

Over 41,000 of them on the mainland have expressed interest in asylum, or have made formal requests.

Another 2,000 have agreed to be returned home."
---
Troika prompts ministry to tighten debt repayments - eKathimerini
"The government's plans for allowing taxpayers to make debt repayments to the state in 100 installments has been halted by the country's lenders, who are refusing to consent to the scheme on the grounds that it will inflate debts to the state coffers.

Alternate Finance Minister Tryfon Alexiadis told Skai there will be no new regulation for the reypayments, and called on debtors either to service their debts or make use of the existing framework of 12 or 24 installments."
---
From the destruction of Greece to democracy in Europe - Boston Globe
"Last year's third bailout of Greece, imposed by Europe and the International Monetrary Fund, does to Greece what Versailles did to Germany: It strips assets to satisfy debts. Germany lost its merchant marine, its rolling stock, its colonies, and its coal; Greece has lost its seaports, its airports — the profitable ones — and is set to sell off its beaches, the public asset that is a uniquely Greek glory. Private businesses are being forced into bankruptcy to make way for European chains; private citizens are being forced into foreclosure on their homes. It's a land grab.

..Greece was given collective punishment as a lesson. It was done to show that "there is no alternative." It was done to stop any other attempt to develop, articulate, and defend a more rational policy. It was done to protect the power of the European Central Bank, the German government in Europe, and the policy-making authority, in face of a long record of failure, of the IMF."
---
Mouzala: If you break the agreement with Turkey, 180,000 refugees will swamp Europe - iefimerida
"The Deputy Minister of Immigration Policy at a press conference in the presence of the head of the UN High Commissioner for Refugees in Greece Philippe Le Klerk and the European Support Office on Asylum (EASO), warned that they will be in the country over 180,000 refugees if the agreement between the two sides is canceled.

...Mr. Mouzala said that the government's plan to build new camps for refugees and immigrants throughout the country will be completed by Christmas."
---
Aug 22, 2016
'Nobody believes in anything anymore': Why Greece's economic crisis is not over - Yahoo
"...A survey by independent analysis firm DiaNEOsis in June revealed that many Greeks were facing an increasing struggle to get by. Extreme poverty in the Greek population (of 11 million people) had risen from 2.2 percent in 2009, to 15 percent in 2015, the public opinion survey of 1,300 people showed, with 1.6 million people now living below in extreme poverty."
---
The Occupation Loan Imposed on Greece by Germany During the Second World War - Pappas Post
"...In addition to the massacres, Germany perpetrated another atrocity, which was the occupation loan. By 1942, the Axis powers had invaded and occupied Greece. Germany forced Greece to "lend" money to Germany, purportedly to pay for the costs of occupying Greece. The amount of the loan was about 500 million reichsmarks, which, reportedly, was equal to one-third of Germany's gross national product in 1938. The purpose of this article is to present a different legal perspective on how the occupation loan should be characterized.

Under the London Debt Agreement of 1953, the Allies suspended Germany's wartime obligations until East and West Germany were reunited. Germany asserts that it paid reparations to Greece in 1963. It was not until 1990 that East and West Germany reunited under a treaty to which Greece was not a signatory. Germany makes the dubious legal argument that because Greece did not claim any wartime damages when Germany reunited, all claims of Greece for compensation, including the occupation loan, were extinguished."
---
Best year for tourist arrivals in the history of Rhodes, data shows - Protothema
"The island of Rhodes has experienced a 6% rise in tourist arrivals for the month of August compared to the same month in 2015, according to official data. Hotels and rented rooms have reached full capacity over the same period, revealing the degree of success so far in the island's main economic industry of tourism."
---
Tsipras could call snap polls in fall if SYRIZA falls far behind ND - eKathimerini
"If SYRIZA's drop behind ND remains at levels considered to be manageable – a difference of no more than 20 percentage points – Tsipras is expected to try and win time, aiming to bolster the economy and boost SYRIZA, which is to hold a party congress in October.

If, however, SYRIZA's popularity starts to plummet, as happened to PASOK in early 2012, then the premier is expected to call snap polls to ensure that SYRIZA remains a key political player, albeit possibly in the opposition again. The latest opinion polls put the two main political parties between 8 and 10 percentage points apart."
---
Aug 21, 2016
Greece bans blood donations in 12 districts over malaria - BBC
"The Hellenic Center for Disease Control and Prevention (KEELPNO) and the National Centre for Blood Donation both issued warnings, according to Greek news sites Kathimerini and Iefimerida (in Greek).

The 12 districts affected are Farkadona, Trikala, Palamas, Tempe, Achaean and Thebes (central Greece); Evrotas and Andravida-Kyllini (Peloponnesus); Chalcis (Euboea); Marathon (Attica); and Lagada and Pylaia (Thessaloniki region)."
More Coverage:
12 municipalities in quarantine due to malaria - iefimerida
---
The Athletes Behind Greece's 120 Years of Olympic Medals - Greek Reporter
"The country's most successful game was the premiere Olympics in Athens of 1896 when Greek athletes won a total of 50 medals.

Greeks all around the world have rejoiced in hearing their national anthem played some 34 times during the modern Olympic Games as Greek athletes won gold medals.

Additionally, the athletes of Greece have brought home 43 silver medals and 46 bronze."
The site page has a complete list of Greek Olympic medal winners.
---
Biggest loser at the Rio Olympics? - Newsweek
"...Brazilians should look no further than Greece for a cautionary tale, where the massive costs of hosting in 2004 hastened its financial collapse years later. The birthplace of the Olympics was driven into financial ruin partly because of the Summer Games' costs."
---
Aug 19, 2016
---
Turkish military defector makes case for asylum in Greece - Reuters
"Turkey has formally sought their extradition, calling them 'traitors' and 'terrorist elements'. The men - three majors, three captains and two sergeant majors - deny any involvement in the coup and fear for their lives if returned to Turkey, according to their lawyers.

"We are ready to do everything humanly possible and legally feasible, with utmost diligence, to avert the extradition of these eight innocent people to Turkey. And be sure of this, we will make it," their lawyer Stavroula Tomara said.

The case has underscored lingering tensions between NATO allies Greece and Turkey, tho neighboring countries which came to the brink of war twenty years ago over an uninhabited islet in the Aegean Sea.

It has also piled pressure on the left-led government of EU member Greece, which is struggling to emerge from a debt crisis and manage Europe's worst refugee crisis in decades."
Move coverage:
Asylum hearing kicks off in Greece for first Turkish 'coup' soldier - dw.com
---
Greece's exports down by 8% in the first half of 2016 - Tornos
"Greece's exports fell by 8% in the first half of 2016 – the third largest drop in the 28-member European Union, according to data published by Eurostat."
More Coverage:
BoG: Current account surplus rises to 1 bln euros in June - AMNA
---
European divisions 'hardening', warns German think tank - euractiv
"...The crisis-stricken countries of southern Europe fare the worst, with Greece featured last in the 41-nation ranking. Although the financial and economic crisis has passed its peak, social dislocation caused by years of austerity policies is still having a major impact, the study says.

"Long-term unemployment and child poverty are well into the double-digit percentage range in Southern European countries," and the situation does not seem to get any better. In Spain, child poverty has risen yet again, to an alarming 23%, the study warns, compared to only 3.6% in Finland. One in five children in Greece is now affected by poverty."
---
Top 10 greatest movies ever made in Greece - Neo Kosmos
A rundown of the top ten Greece-location films, along with a few honorable mentions. Leading the list are these five:
A Touch of Spice (2003)
Never on Sunday (1960)
The 300 Spartans (1962)
Little England (2013)
Mamma Mia! (2008)
---
NEWS ARCHIVE - Aug 2016
---
---



---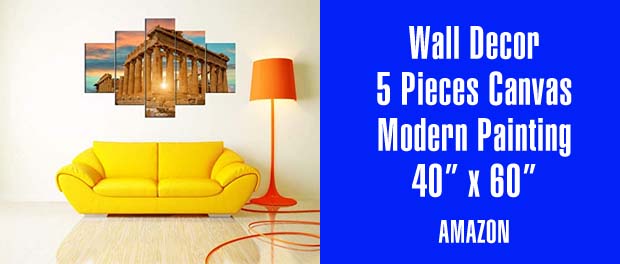 Parthenon Temple on the Acropolis of Athens Greece Artwork Wall Decor 5 Pieces Canvas Modern Painting Wall Art Home Decoration for Living Room Pictures HD Printed Framed Ready to hang(60''Wx40''H)
---
Create Amazon Business Account - save time and money on business purchases with competitive B2B prices and discounts