Greece and the economic crisis 2016
NEWS ARCHIVE - Aug 8 - Aug 21
---
Aug 12, 2016
Turkey and Greece clash over guarantees - In Cyprus
"Greek Foreign Minister Nikos Kotzias was involved in a clash of words with the Turkish Foreign Ministry on Thursday after claiming that the need to abolish guarantor powers in Cyprus was amplified by the recent attempted coup in Turkey.

...The Turkish Foreign Ministry statement accused Greece of "turning a blind eye to the collapse of the common state and the Greek junta-backed coup that was carried out on the island."
---
Turkey, the Refugee Crisis and Brexit: Concerns and Opportunities for Greece - Besa Center
"...Despite their fears, the Greeks see some light at the end of the tunnel. The tension between Turkey and Europe, and to a lesser extent between Ankara and Washington, highlights the Greek position as the most responsible element in the eastern Mediterranean. This might lead to wider strategic cooperation between Greece and the US, in addition to further strengthening strategic ties among Greece, Israel and Egypt.

Greece also hopes the events in Turkey will positively affect its economy. As the only stable democracy in the region, Greece expects the EU to decrease its huge debt, accumulated through bailout schemes over the past six years. Prime Minister Alexis Tsipras has already initiated a campaign in this direction, calling on European leaders to "rise to the occasion and show the greatest display of solidarity."
---
COSCO completes Piraeus port authority takeover - Capital GR
"The Hellenic Asset Development Fund (HRADF) announced yesterday the completion of the 51% stake sale to Cosco through an open market transaction."
---
Initiatives on all fronts by Tsipras - ethnos
"The first anniversary of the last election is expected to produce strong political developments routing with Tsipras on all fronts with a focus on constitutional review, legislative initiatives, as well as procedures for the Conference of SYRIZA to be held in October."
---
Aug 11, 2016
Greece sees 76 percent rise in migrants after Turkey's dispute with Europe following coup - Express Co
"Under an EU-Turkey deal to stem the flow of migrants, those who arrive in Greece can be detained and returned to Turkey as part of an agreement in exchange for cash and visa-free travel across Europe.

But the bloc said Turkey's 80 million citizens will not be granted the concession until it reaches a minimum level of EU requirements, including changing its anti-terrorism laws.

Turkey's foreign minister Melvut Cavusoglu said: "All that is dependent on the cancellation of the visa requirement for our citizens which is also an item in the agreement of March 18.

"If visa liberalisation does not follow, we will be forced to back away from the deal on taking back [refugees] and the agreement of March 18."

When the deal started in April there were 6,232 people waiting on the islands to be processed - now there are nearly double that number, despite the agreement being meant to quell the numbers."
---
Greece's largest port taken over by Chinese firm - RT News
"The deal to sell the operation of Piraeus port to COSCO was signed by Athens in April, becoming the second major privatization for the country since last year.

The Chinese state-owned company COSCO will pay an annual fee to the Greece for running the port. It already operates the container terminal in Piraeus under a 35-year concession it acquired in 2009. The firm is investing €230 million to build a second container terminal at the port, which it plans to turn into a logistics hub for Chinese exports to Europe.

The sale of Piraeus was part of the demands Greece's creditors had required before a third €86 billion bailout package would be provided, but goes against Prime Minister Alexis Tsipras' pre-election promise not to privatize the country's infrastructure."
---
Greece Import Prices Fall At Slower Rate In June - Hellenic Shipping News
"Greece's imports prices declined further in June, though at a slower pace than in the previous month, data from the Hellenic Statistical Authority showed Wednesday.

The import price index fell 4.8 percent year-over-year in June, following a 6.7 percent drop in the previous month."
---
For Yazidis in Greece, safety and security is still out of reach - Citizensjournal
"Petra is the only refugee camp in Greece exclusively for Yazidis, a religious minority in Iraq who have suffered brutal treatment at the hands of ISIS. After the borders closed in March, about 3,500 Yazidis were trapped in Greece. Petra was created around that time to house about 800 Yazidis who were being harassed by some Muslim refugees in Idomeni, on the Greece-Macedonia border.

But because of ongoing situations like the one at Cherso, its numbers have swelled to almost double that amount."
More coverage:
For Yazidis in Greece, safety and security are still out of reach - PRI
---
Retail Sales of Online Retailers in Greece: Market Size, Growth and Forecast to 2020 - SPI
"Retail Sales of Online Retailers in Greece: Market Size, Growth and Forecast to 2020" report is the result of Verdict Retail's extensive market research covering the retail industry in Greece. The report acts as an essential tool for companies active across the Greece's retail industry and for new players considering entering the market. The comprehensive statistics within the report provides insight into the operating environment of the market and also ensures right business decision making based on historical trends and industry model based forecasting."
---
Ancient teenage skeleton unearthed on mountain top could confirm darkest Greek legend - eKathimerini
"...Excavators say it's too early to speculate on the nature of the teenager's death but the discovery is remarkable because the remote Mount Lykaion was for centuries associated with the most nefarious of Greek cults: Ancient writers — including Plato — linked it with human sacrifice to Zeus, a practice which has very rarely been confirmed by archaeologists anywhere in the Greek world and never on mainland Greece.

...Pottery found with the human remains dates them to the 11th century B.C., right at the end of the Mycenaean era, whose heroes were immortalized in Greek myth and Homer's epics, and several of whose palaces have been excavated.

So far, only about 7 percent of the altar has been excavated, between 2007-2010 and again this year."
---
A Turkish-Russian rapprochement - eKathimerini
"...In the past, Turkish businessmen managed to sign major contracts with the former Soviet Union with the vigorous support of Ankara administrations each time. Whatever differences the two countries may have had on a political level did not interfere when it came to business.

...No one can predict how things will develop following the failed coup in Turkey. What emerges from a first reading is that the US – to the extent one can reach a conclusion based on NATO's position – is not willing to mimic the Europeans, who are looking for ways to deter Turkey from entering their club. Washington is aiming for Turkey to remain a member of the West's defense system – thank God, as far as Greece is concerned."
---
Aug 10, 2016
Korakaki brings first gold medal to Greece - To Vima
"After winning a bronze medal on Sunday, Anna Korakaki won her first gold Olympic medal on Tuesday evening, the first for Greece in the 2016 Olympic games in Rio.

The Greek athlete won the gold medal in the women's 25m pistol shooting event...

This is the first time since the 1912 Games in Stockholm that a Greek athlete has managed to win two medals in the same Olympics..."
---
Sailboat with 67 migrants found by Greece's Cyclades islands - Morning Journal
"The 60 men, five women and two children were picked up eight nautical miles (14 kilometers; nine miles) northeast of the island of Amorgos, which is in the Cyclades. The coast guard transported them to the small Aegean island of Leros, where a migrant processing center has been set up."
---
COSCO takes control of Piraeus Port - Protothema
"...The Chinese giant plans to invest a total of 600mn Euros in the Piraeus port with focus on cargo handling, cruises, tourist infrastructure, ship repairing and the Car terminal.

...The Chinese company plans to make changes in the management of OLP, with 8 seats on the directors' board being occupied by its representative... "
---
Aug 9, 2016
Greece plans more apartments for migrants - Wash Post
"A Greek cabinet official for immigration says the government is planning to substantially increase apartment housing for the 57,000 refugees and other migrants trapped in the country.

Deputy Defense Minister Dimitris Vitsas, who heads a task force on migration, said Tuesday the government wants to close or improve many of the state-run refugee camps on the mainland. Fewer than 7,000 people now live in apartments or hotels, well short of the initially targeted 20,000."
---
Greece's June industrial output rises 7.5 pct y-o-y - eKathimerini
"Greek industrial output rose 7.5 percent in June compared to the same month last year after an upwardly revised 3.0 percent increase in May, statistics service ELSTAT said on Tuesday."
---
Tsipras asks for debt relief as he marks 63 years since London Debt Agreement - Capital GR
"On this day, in August 8, 1953, a nearly six-month negotiation between Germany and its creditors was concluded, with the signing of the London Debt Agreement. The debt-ridden and war-torn Germany enjoys the ultimate move of solidarity in modern European history by having 60 percent of its foreign debt cancelled, its internal debts restructured and a trade surplus clause," Tsipras said.

"The deal is implemented with Greece's signature. Since SYRIZA was in the opposition, but also today as government, it has raised the issue of the Greek debt, having won significant ground with specific results reflected in Eurogroup's decision on May 24."
---
Bank Robbery in Athens - Hostages held 2 hours - Ethnos
"With a scene like something out of a Hollywood movie a real robbery took place at noon Tuesday in downtown Athens, when gunmen stormed a bank and kept customers and employees hostage for more than two hours.

...According to preliminary information, masked men stormed a bank in Ambelokipi on Kifissias Avenue at 14:30 but the alarm button was activated at 16:03."
---
MOR Architects Wins Cultural Center Competition for Thessaly - ArchDaily
"MOR Architects has won first prize in the competition to design the Konaki Averof Cultural Center in Thessaly, Greece. The competition sought out proposals to convert an existing complex with historic importance into a modern socio-cultural multiplex."
---
Study reveals salaries in Greece remain low - Greek Reporter
"The majority of high school graduates and professionals with university degrees in Greece earn between 451-1,000 euros per month, according to a new survey by intrajobs.com.

Specifically, the majority of participants have a university or college degree (33.55%), while 38.03% of them possess a Master's degree. Those with a high school diploma are only 15.92% and 11.45% have a post-secondary education. Only 0.53% of participants possess a PhD."
---
Bill on simplifying business licensing posted for public consultation - AMNA
"The economy ministry posted on Tuesday a draft bill which aims at simplifying the licensing procedure followed by businesses in Greece, which will be tabled in parliament in September.

The law will be the guide for all economic activity but initially, the first sectors to be included, will be the manufacturing of food and beverage, restaurants and cafes and activities relating to the operation of tourist accommodation."
---
Aug 8, 2016
Smuggling surges in Greece as migrant frustrations grow - Fox News
"Police say traffickers are using increasingly sophisticated methods — motorcycle spotters, maps of border surveillance "blind spots," and even police informants — to move out refugees who have been stuck in this Greek border town for months.

Higher smuggling fees and steadily worsening odds of success have done little to dent the determination of migrants like Sorah Rahimi."
---
Undeclared Labor Stands at 25% of GDP in Greece - Greek Reporter
"The undeclared labor rate in Greece stands at 25% of the official gross domestic product, as 30% of Greeks have bought undeclared goods and services, says an International Labor Organization report.

Greeks spend an average of 750 euros each per year on undeclared goods and services. The sectors where there is a high propensity for undeclared work are tourism, restaurants, construction, agriculture, domestic services and retail."
---
Greece's first medal in Rio - Neo Kosmos
"Nineteen-year-old Greek shooter Anna Korakaki from Drama, won the bronze medal in the women's 10 meter air pistol event at the Rio Olympics on Sunday, marking Greece's first win at the Rio Games.

The Greek athlete scored 177.7 degrees, while China's Zhang Mengxue, 25, who won the gold medal scored 199.4 an Olympic record.Russian teenager Vitalina Batsarashkina won the silver with 197.1."
---
Top European officials warn of potential consequences of migrant deal with Turkey failing - eKathimerini
"In an interview with Germany's Tagesspiegel, European Commission President Jean-Claude Juncker said it was important to keep the deal with Turkey on track.

According to Juncker, the EU must continue to work with difficult partners like Turkey "not because we like their governments but because we owe it to all those who would suffer if we fail to agree."
---
Awesome tips for backpackers that are traveling to Greece - Best Travel
"It's the perfect place to be if you're looking for some mind-blowing landscapes and pleasant swim in the deep blue salty sea. But no matter how much you think you know the country, you have to prepare for a trip to Greece. Luckily, we provide you with some tips on how to do that..."
---
---
NEWS ARCHIVE - Aug 2016
---
---



---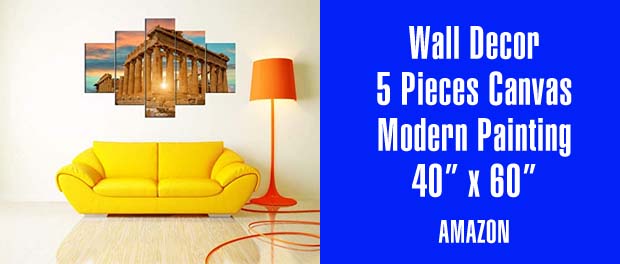 Parthenon Temple on the Acropolis of Athens Greece Artwork Wall Decor 5 Pieces Canvas Modern Painting Wall Art Home Decoration for Living Room Pictures HD Printed Framed Ready to hang(60''Wx40''H)
---
Create Amazon Business Account - save time and money on business purchases with competitive B2B prices and discounts