Greece and the economic crisis 2016
NEWS ARCHIVE - Aug 8 - Aug 21
---
Aug 18, 2016
Syrian refugees in discarded holiday homes dream of anything but Greece - Reuters
"...half of his family are now in Germany while the other half are in Greece, victims of the vicious war devastating his country and a Europe still deeply divided on how to handle the biggest humanitarian challenge in generations.

"My son, brother, sister and father are in Germany. Why am I here?" he asks.

After squatting in a tent for weeks near Athens, Berajikli, his wife and his other son were moved along with about 340 other Syrian refugees to an abandoned holiday resort in the western Peloponnese."
---
Greece Approves New Renewable Energy Law - Renewabe Energy
"Greece's parliament has approved a new law governing the renewable energies sector. The new law, which allows for feed-in premiums, competitive tenders and virtual net metering, comprises a significant rearrangement of the country's energy sector.

According to the new policy, all types of new renewable energy plants connected to the grid after Jan. 1, 2016, need to participate in the energy market. Their compensation will consist of what they make in the power market plus a variable feed-in premium. The latter is the difference between a price depending on market variables (e.g., the system's marginal price) and a set price decided via a competitive tender."
---
Greece seeks to reassure about poor revenue collection in July - Capital GR
"In response to claims by the main opposition that there is high risk the budget may get derailed following the cEUR315m revenue miss in July, govt sources sought to give a reassuring message about budget execution."
---
Jet-Set Bohemian: Greece Beyond the Beaches - Pastemagazine
"One half of island hopping in Greece is basking on the beaches and seeking out hidden rocky coves, but the other is cruising through these isles sampling what they've done best for thousands of years. Map out your route by ferry or hop on a Greek-based liner like Celestyal and make the rounds to the more untouched parts of the islands indulging in tradition, eating and drinking like—and with—the locals. As with any good adventure, it all begins with a toast, and Greece is one of the oldest wine-producing regions on the globe.

In addition to being known as the birthplace of Greek legends like father of mathematics Pythagoras and historian Herodotus, the island of Samos is famous for producing sweet dessert Muscat wine. Once the home of the Vatican's personal winery, Samos still produces communion wine for the Catholic church today and its vino is in high demand by the French market."
---
Learning Greek through Skype - Neo Kosmos
"Nowadays parents in the diaspora do not have much time to nurture their children's Greek roots. Australia is far away and so trips to Greece are limited, making the process of connecting with Greece more difficult.

The general impression I have while talking with parents of the diaspora is that they are afraid of their kids' possible slower integration in their new country if they encourage speaking Greek at home. But I want to believe that this attitude is fading. It is a pity to listen to adult students of mine regretting not having spoken Greek before."
---
Residential property owners prefer tourists over tenants - eKathimerini
"According to the most recent available figures from Airbnb, there are around 30,000 residences to let in Greece. Adding the homes rented via other accommodation sites, the overall number is estimated at more than 50,000 around the country. In the case of Airbnb, the increase in numbers compared to last year is impressive at close to 135 percent. The growth of this market shows no signs of abating."
---
Aug 17, 2016
Greece vows action to seek WWII reparations from Germany - Fox
"Alexis Tsipras urged Germany — the main European contributor to Greece's massive bailout program — to enter negotiations on the matter, which Berlin says has been comprehensively settled in the past.

Tsipras made his comments Tuesday during commemorations for a 1943 Nazi massacre of 317 civilians in the northwestern village of Kommeno."
---
Cyprus and Greece in Search and Rescue exercise - In Cyprus
"The Defence Ministry announced on Wednesday, the commencement of the Search and Rescue exercise "SALAMIS 01/16" which will take place on Thursday afternoon.

The exercise will take place off the coast of Cyprus and within its area of responsibility in a joint exercise between Cypriot and Greek aeronautical forces."
---
Human smugglers thrive amid refugee desperation in Greece - BR Now
"Europe has the capacity to deal with this," Dr. Tomislav Gijatiz of Doctors Without Borders told The New York Times. "Typically, camps are set up in Third World countries because there is no capacity there. These camps are purely the result of policy decisions."

...For undocumented migrants in Greece, it is easy to disappear. Local police say traffickers use increasingly elite tactics: motorcycle spotters, police informants, and maps of dead spots in border surveillance.

Police recently arrested 29 suspects in connection with two trafficking rings in northern Greece. The alleged smugglers moved at least 600 migrants during several months, using a sophisticated fleet of taxis, scout vehicles, and code language. One gang received an insider tip from a Greek police officer on gaps in the night vision border surveillance network."
---
Katrougalos: 80 pct of pensioners will see no changes in September - AMNA
"...The minister was responding to criticism by political parties that pensioners are in for a shock as of September, as their pensions will suffer further cuts.

He said the remaining 20 percent of pensioners will see an 8-10 percent cut in their supplementary pension."
---
Aug 16, 2016
The deceptive August peace in Greece - Der Spiegel
"In Greek politics there is one golden rule: In mid-August should not disturb the peace. The Parliament in Athens is just like the Bundestag in Berlin in the summer break. MEPs have left Athens towards their constituencies or holidays. Sea and sun enjoy those citizens who can still afford holidays ...

...By December, the Greeks must pay 12-13 billion euros in taxes - a new burden on the battered middle class.

....given the difficult situation Tsipras could fall in autumn to a tried and true means There is speculation: early elections. The government insists, however, it remains the official date in autumn 2019."
---
Turkey requests return of 8 officers who fled to Greece - Philadelphia Tribune
"...Some 35,000 people have been detained for questioning and more than 17,000 of them have been formally arrested to face trial, including soldiers, police, judges and journalists. Tens of thousands more people with suspected links to Gulen have been suspended or dismissed from their jobs in the judiciary, media, education, health care, military and local government.

On Tuesday, police in Istanbul launched simultaneous raids on 44 companies suspected of providing financial support to Gulen's movement while authorities issued warrants to detain 120 company executives, Anadolu reported. The private Dogan news agency said the companies searched included a supermarket chain."
---
Petrounias flexes his muscles to win rings of gold for Greece - Reuters
"Greek muscle man Eleftherios Petrounias showed off his superior power in the strongman's event as he edged out local favorite and 2012 champion Arthur Zanetti to win the rings gold medal at the Olympics on Monday.

Petrounias added the Rio Games title to the world and European crowns he holds with a score of 16.000."
---
Aug 15, 2016
Firms fleeing high taxes to face inspections - eKathimerini
"Tax authorities are to begin more intensive checks on companies registered in Bulgaria and Cyprus but which are owned by Greeks to see if they are actually active in Greece and only based abroad to take advantage of much lower corporate taxation.

...According to sources in Athens, discussions with Bulgarian and Cypriot officials have already begun."
---
Greece: We'll take Merkel to court to recover £230BN WW2 reparations - UK Express
"A group of cross-party Greek MPs are due to report early next month after looking into the issue of compensation payments linked to the Nazi occupation between 1941 to 1944.

...In 2000, Greece's Supreme Court rejected a Berlin appeal against a law allowing the seizure of German property in compensation for Nazi war crimes.

But the issue of war reparations has heightened since Greece plunged into near-bankruptcy as a result of the eurozone crisis."
More Coverage:
German debts to Greece should be claimed through diplomacy and in court if necessary, says parliament's report - AMNA
---
Aug 13, 2016
Aid and Attention Dwindling, Migrant Crisis Intensifies in Greece - NY Times
"Seven months after the European Union shut the doors to large numbers of newcomers, Greece remains Europe's de facto holding pen for 57,000 people trapped amid the chaos. Many are living in a distressing limbo in sordid refugee camps on the mainland and on Greek islands near Turkey.

A year after the world was riveted by scenes of desperate men, women and children streaming through Europe, international attention to their plight has waned now that the borders have been closed and they are largely confined to camps. Anti-immigrant sentiment has surged since last year in many countries, especially as people who entered Europe with the migrant flow are linked to crimes and, in a few cases, attacks planned or inspired by the Islamic State or other radical groups. Neither the prosperous nations of Western and Northern Europe, where the refugees want to settle, nor Turkey, their point of departure for the Continent, are living up to their promises of help."
---
NEWS ARCHIVE - Aug 2016
---
---



---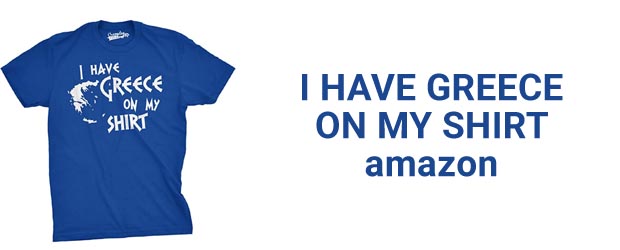 I Have Greece On My Shirt Funny Pun Geography Country Tee (Blue) - XL
---
Create Amazon Business Account - save time and money on business purchases with competitive B2B prices and discounts
---
Andros: The Little England of the Cyclades - AMAZON