Greece and the economic crisis 2016
NEWS ARCHIVE - July 6 - July 14
---
July 14, 2016
Tsipras calls on parties to back electoral reform - eKathimerini
"Regarding the timing of his decision to reform the electoral law, Tsipras said it had been impossible to do last year when his main priority had been negotiating with creditors but that "now the time is right talk about major reforms and changes that the country needs."

Tsipras defended his plans to abolish the 50-seat bonus for the winning party that exists under the current electoral system and to lower the minimum voting age to 17 from 18.

He insisted on the need to introduce a system of simple proportional representation and described the opposition of parties of the center-left as "unjustifiable," noting that such a system would give them greater political leverage."
---
Migrant dies after clashes at camp - Fox
"Police say an Afghan migrant has died and two others were injured following clashes at a camp near Athens, in the latest outbreak of violence involving migrants stranded in the European Union country.

Police said the man died in a hospital late Thursday after clashes involving dozens of mostly Afghan men at the camp where the city's international airport and a sporting complex for the 2004 Olympics were previously located."
---
Greece accepts Italian 45m euro offer for rail operator - Yahoo News
"Greece's privatisation agency Taiped on Thursday said it had accepted a 45-million- euro ($50-million) offer from Italian train company Ferrovie Dello Stato (FS) for Greek rail operator TrainOSE.

The Italians had tendered the only binding offer in a sale that was three years in the making, reflecting tepid interest by foreign investors in a key Greek state asset.

Earlier non-binding expressions of interest for TrainOSE -- including from France's national operator SNCF -- petered out three months ago, and there were no bids for the country's rail maintenance company Rosco.

The contract of sale will be signed once the court of auditors and regulatory authorities have given their approval, said Taiped."
---
July 13, 2016
4 dead, 6 rescued off Greek island of Lesbos -USA Today
"Greek authorities have recovered four bodies and rescued six people — five men and one woman —after a boat full of migrants overturned off the eastern Aegean island of Lesbos.

A large search-and-rescue operation was taking place in the area Wednesday to search for more possible survivors. The survivors and the bodies — of a girl, a boy, a man and a woman — were taken to a hospital in the island's town of Mytilene."
More Coverage:
Italy Replaces Greece as New Frontline for Migrants Entering EU, Frontex Says - Greek Reporter
---
A year after bailout, Greece struggles for brighter future - Frankce 24
"A year after it fought and lost a tug-of-war with its creditors, Greece remains a country that seems adrift, and many of its citizens view the present as joyless and the future as grim.

...According to the European Commission, Greece's economy is this year set to shrink by 0.3 percent, continuing a slide uninterrupted since 2009 except for 2014.

"The government is applying solutions dictated by its ideology," lamented lawmaker Theodore Fortsakis, of the opposition New Democracy (ND) party.

Fortsakis takes Tsipras to task for favouring tax hikes over budget cuts to meet the bailout plan's targets for primary budget surpluses (before debt service)."
---
Effect of Greece's capital controls one year on - World Bulletin
"...despite recent signs that the restrictions on cash transactions could be eased, the 12 months have seen the country brought to a standstill, witnessed chaos in the banking system and the stock exchange and caused distress to ordinary people forced to queue at ATMs to withdraw a daily maximum of 60 euros ($66).

..Alexia Koufopandelis, an investment advisor said that the capital controls had "touched very severely the financial industry in Greece and it has been a one of the worst years for the Athens stock exchange since its establishment."

She added: "Greek investors can only make investments with money that was already invested in securities before that date or with money coming from accounts held abroad."
---
Katrougalos says gov't will not yield to IMF calls for labor reforms - eKathimerini
"He added that the government would also not cut civil servants' salaries any further, claiming that this was not a demand of Greece's creditors for the second review of the country's bailout.

"As long as SYRIZA is in government, wages will not be cut," he said. "
---
July 12, 2016
From wooden glasses to honey, some Greeks innovating to survive - Reuters
"...More than 400,000 Greeks have emigrated abroad since the country's financial crisis started in 2009. Those who stayed are lucky to find jobs -- a quarter of the population is unemployed, and earnings have fallen on average 40 percent. National output has fallen by a quarter since 2008.

..."When things get tough it gets you thinking, you start thinking differently. When things are easy nobody ever makes difficult choices," he says, sitting in the workshop that he and his brother inherited from their father."
---
Banks & Bailout Still At Risk, Moody's Says - Barrons
"The third financial bailout Greece negotiated in June supports a stable outlook for the Caa3 rating on the Mediterranean nation's debt, but Greek banks will remain under pressure, Moody's Investors Service said Monday.

...The Global X MSCI Greece exchange-traded fund (GREK) was up 2.3% in recent trading, while the iShares MSCI Emerging Market ETF (EEM) was up 1.2%. Among Greek banks, Alpha Bank (ALBKY) was up the most, up 6.3%, followed by Eurobank Ergasias (EGFEY), up 3.5%. National Bank of Greece (NBGGY) was up 1.8%. The gambling enterprise Greek Organisation of Football Prognostics (GOFPY) was up 5% while the former national telephone company, Hellenic Telecommunications Organization (HLTOY) was down 1.8%."
---
Greece seeks to ease capital controls, makes proposal to creditors - Famagusta
"Currently Greek citizens can withdraw up to 420 euros (464 U.S. dollars) per week from their bank accounts. In case they do not withdraw the amount one week, they cannot withdraw more the next one.

Addressing the parliament's Economic Affairs Committee during a debate on the central bank's annual report on monetary policy, Stournaras told lawmakers, according to AMNA, that the Greek plan foresees among others that from now on people will be able to withdraw up to 840 euros every two weeks if they have not withdrawn any cash in the same period.

Athens' proposal also includes the lifting of the ban on withdrawing cash for new cash deposits and the full lifting of the ban on repaying loans, according to the central banker."
---
July 11, 2016
Dozens More Companies Set to Tank by the End of 2016 - Greekreporter
"Market experts analyzing the financial crisis in Greece have said that they believe that around 50 significant companies can be expected to go bankrupt by the end of 2016, ekathimerini.com has reported.

With two out of three of Greece's steel companies having been at a virtual standstill over the past few years. Sources say that it is just a matter of time before the industry is drastically changed by threat of default and that the situation in urgent, ekathimerini.com reported."
---
MPs introduce Bill to return 'Elgin Marbles' to Greece 200 years after the UK decided to buy them - Independent
"A cross-party group of MPs has launched a fresh bid to return the so-called Elgin Marbles to Greece on the 200th anniversary of the British Government's decision to buy them — a move that campaigners said could help the UK secure a better deal during the Brexit talks with the EU.

...Greece has sought the return of the sculptures ever since victory in the War of Independence in 1832. During the war, Greek fighters even gave bullets to Ottoman soldiers besieged on the Acropolis because they were damaging the Parthenon by removing lead fittings to make ammunition after running out."
More coverage:
British MPs to unveil bill seeking return of Parthenon Marbles to Greece - eKathimerini
---
Greek power utility workers disrupt meeting on grid spin-off - eKathimerini
"PPC, 51 percent owned by the Greek state, must sell off a stake of up to 24 percent in its now fully-owned ADMIE subsidiary or fully privatise the grid by next year under the terms of a third multi-billion-euro bailout.

"The legislation that has been enacted ... aims to renationalize the grid. The only difference is that it will be bought by a foreign state company," the head of PPC workers' union George Adamides told Reuters.

Adamides said the development would mean higher tariffs for Greek consumers and put PPC jobs at risk."
---
Greece Industrial Production (YoY) increased to 2.9% in May from previous 2.8% - FX Street
---
July 10, 2016
HFSF demands changes at National, Piraeus - eKathimerini
"Sources say that Eurobank and Alpha were found to have the most developed corporate governance structures and for that reason the HFSF-commissioned report only proposed some minor improvements.

In contrast, bigger interventions were deemed necessary at National, whose president, Louka Katseli, does not fulfill all of the law's requirements, and Piraeus, which is already making progress in changes to its governing board."
---
Tsakalotos to Address Restructuring Greece's Budgetary Surplus Targets at Eurogroup Meeting on Monday - Greekreporter
"Even though Greece is not one of the main topics of discussion scheduled to be addressed at the meeting, Tsakalotos will bring to the table the subject of changing and lowering the budgetary surplus targets that Athens has to meet after 2018.

...For the time being, Germany has stated that it will not begin any talks about restructuring the budgetary surplus before elections are held there in 2017, however Greek government officials and specifically the New Democracy party, has stressed urgency for more relaxed budgetary targets."
---
PM lining up greater powers for president - eKathimerini
"Prime Minister Alexis Tsipras is to propose that the president of the republic should be given much greater powers as part of the constitutional reform the government wants to carry out.

Kathimerini understands that Tsipras is considering giving the Greek president the same authority he had under the 1975 Constitution. This would mean that the president could block draft legislation, nominate a prime minister if there is a hung parliament and initiate referendums for issues of national importance."
---
Mitsotakis: Israel is a strategic partner for Greece - Naftemporiki
"Mr. Mitsotakis welcomed the fact that the political rapprochement between Greece and Israel is a policy adopted by all Greek governments over the years.

".... particularly in the field of economic cooperation between Greece and Israel, an economic cooperation, which can lead to significant investments from Israel to Greece, at a time when our country needs to attract foreign investment, "he noted.

...Reportedly Messrs. Mitsotakis and Rivlin agreed that populism destroys any attempt to correct problems. Mr. Rivlin, referring to terrorism issues, said the threat of Islamic fundamentalism, bringing as an example the Islamic State and Iran."
---
Greek domestic tourism drops - Neo Kosmos
[The internal domestic tourism] slump, which has been attributed to the impending increase in taxes, is expected to extend right through to August, when the majority of Greeks are known to take time off.

.... According to head of Halkidiki hoteliers Grigoris Tasios, reservations being made by nationals have dropped from between seven to 10 days to just five days this season.
---
Greece's creditors 21-page directive for mass lay-offs and minimum wage cuts - Protothema
"A 21-page paper handed to Greece by its creditors after the completion of the first review proposes a series of sweeping changes in the labour market.

The creditors propose reforms in the minimum wages, worker's salaries, lay-offs and strikes.

... the paper also calls for the scrapping of benefits paid in the form of 13th and 14th monthly wages, with the lenders pointing out that annual salaries should be limited to a one-off amount with no extra benefits from 2017 onwards."
---
July 9, 2016
Migration to Greece by the Aegean Sea Has Plummeted, U.N. Says - NYT
"The number of migrants risking the perilous voyage from Turkey to Greece via the Aegean Sea has plummeted, according to new figures released by the United Nations, a sign that a deal brokered by the European Union in March to ease the migration crisis has shown some success.

...In June, 1,488 migrants arrived in Greece by crossing the sea from Turkey, down from 31,318 in June 2015; in May, 1,721 arrived, down from 17,889 in May 2015; and in April, 3,650 arrived, down from 13,556 in April 2015. At the peak of the crisis, in October, 211,663 migrants reached Greece via sea routes in a single month. In the first few days of July, only a few dozen migrants have arrived."
---
IMF backs major labor sector liberalization for Greece - Naftemporiki
"The International Monetary Fund (IMF) weighed in on the state of Greece's labor sector this week, calling for extensive interventions to achieve greater flexibility and to reduce the very high unemployment rate for young adults. The IMF's recommendations, contained in a report, come ahead of what are expected to be tough negotiations between Athens and its international creditors in the autumn over labor sector reforms.

The Washington-based Fund also warned that reforms already passed, such as the minimum monthly wage reduction, should not be overturned, pointing out that the figure for Greece is the highest in the EU, in relation to per capita GDP."
---
IMF calls for labor reforms, action on closed professions - ekathimerini
"The IMF, which has yet to confirm its participation in the country's third bailout as it waits for reassurances of measures to lighten Greece's debt, also called for action by Greek authorities on opening up closed professions. Despite years of pressure by creditors on a series of governments, Greece has yet to open up a series of cosseted occupations. The IMF called for priority action as regards engineers, lawyers and dock forklift operators. It also urged Greece to adopt recommendations by the Organization for Economic Cooperation and Development on overcoming barriers to competition in several sectors including logistics, bakeries and pharmacies.

The Fund also pushed Greek authorities to take action to manage the high rate of nonperforming loans that are burdening Greek banks. Cyprus, Ireland, Italy and Portugal share similar problems to Greece with NPLs, the Fund said."
---
Greece: The Struggle Of Sticking To Its Word - Eurasiareview
"While the rest of Europe is still catching its breath after the tenuous migration deal with Turkey, Athens remains on the hook for the sizeable and increasingly desperate population of refugees and migrants now trapped in Greece. With the northern borders shut and Greek officials countering pressure from Brussels to send migrants back across the Aegean, over 50,000 migrants are now living in makeshift facilities in the European country worst equipped to help them.

...For their part, Tspiras and some of his coalition partners have always viewed the debt crisis through a prism of national pride. The prime minister is the same man who said the IMF bore "criminal responsibility" for his country's cash crisis. His lieutenants' language has not been that of negotiation, but defiance. It was Kammenos who rattled the nerves of the entire continent by ominously warning last year: "If Europe leaves us in the crisis, we will flood it with migrants, and it will be even worse for Berlin if in that wave of millions of economic migrants there will be some jihadists of the Islamic State too."
---
Fitch: Capital controls could be relaxed from late 2016 - Capital GR
"Fitch Ratings-said yesterday that Greek authorities are likely to want to see further improvements in investor and customer confidence before capital controls, introduced in June 2015, are materially eased at Greek banks.

In its view, the economic and political environment remains fragile and confidence has not yet returned to the financial system. Fitch's standalone viability ratings assigned to the Greek banks remain at ΄f΄. "
---
July 8, 2016
Greece was once the fast lane to Europe for refugees. Now it's a grim waiting room. - Washington Post
"The human traffickers who brought a million desperate asylum seekers through Turkey to the Greek islands have been stopped. Where once thousands a day were smuggled by the mafias on cheap rubber rafts, very few are making the trip this summer.

...No country has been more overwhelmed than Greece and no place in Greece more than here on the island of Lesbos, which saw 600,000 war-weary people pass through in the past 18 months.

No more.

Now the open turnstile toward a new life in Germany or Sweden has turned into Europe's waiting room."
---
Greece ETF Needs A Shot Of Confidence - Yahoo Finance
"GREK, the first and only ETF dedicated to Greek stocks, is down 32.4 percent over the past year. That is 800 basis points worse than the iShares MSCI Italy Index (ETF) (NYSE: EWI), the second-worst PIIGS ETF of the past 12 months. That is saying something, because Italy and EWI are fraught with problems concerning investors."
---
Greece Won't Reach Budget Targets After 2018, Tsipras Says - WSJ
"Greece's Prime Minister Alexis Tsipras said the country won't be able to reach its primary surplus budget target after its current bailout program expires in 2018 and called on the creditors to renegotiate for lower goals.

...The Greek premier said that maintaining the target "constantly is a joke; it's a fairy tale."

"We are telling [the creditors]... come on let's get serious and look at what is going to happen in the next decade and set a sensible target of 1.5% to 2%," Mr. Tsipras said.

The European Commission, the European Central Bank and the European Stability Mechanism predict the targets set for Greece are reasonable and even the most pessimistic of the creditors believe that its primary surplus could exceed 3% from 2018 until into the 2020s."
---
July 7, 2016
Greek MPs ratify stake deal in Piraeus port to China's COSCO - NewChina
"Greek lawmakers ratified on Thursday with an overwhelming majority the landmark concession agreement with China's COSCO Shipping for the acquisition of a majority stake in Piraeus Port Authority (PPA or OLP in Greek).

During a roll call held in the plenum, 223 MPs of the ruling coalition as well as opposition parties voted in favor of the bill on the approval of the sale, while 25 legislators voted against.

A total of 248 legislators participated in voting which was broadcast live on the parliament's channel and 52 MPs were absent.

The ratification of the contract for the privatization of Greece's largest port came a few hours ahead of Greek Prime Minister Alexis Tsipras' first official visit to China."
---
Greek employment inched up in 2015, OECD report says - eKathimerini
"Employment in Greece in the third quarter of 2015 inched up to 44.7 percent from 43.1 percent in the same period in 2014, data from the Organization for Economic Cooperation and Development published on Thursday show, while the rate is expected to keep rising over the next two years, reaching 45.5 percent by the end of 2016 and 46.8 percent in 2017."
---
10,000 properties to go under the hammer in liquidation sale from banks - Ethnos
"10,000 properties - commercial properties, luxury apartments, and cottages that are listed as "bad payers" at banks are being readied for auction in an effort to sell at least 5,000 by early 2017. "
---
July 6, 2016
Senior Executives Resign From Greece's Bank Rescue Fund - WSJ
"Greece's bank rescue fund said Wednesday that its chief executive and deputy chief executive have stepped down as Greek lenders struggle to get a grip on the €100 billion ($111.3 billion) of bad loans brought on by the country's economic downturn.

...The final decision on their resignations will be made by Greek Finance Minister Euclid Tsakalotos, although he is widely accepted to agree with their decisions. The Finance Ministry declined to comment."
---
Breathtaking Photos Show The Milky Way As Seen From Greece - Huffington Post
In the Northern Hemisphere, the Milky Way appears like a strip of white light and is visible in the southern half of the night sky. This makes Greece one of the best places in the world to see and photograph the galaxy, because of the country's geographic location in southern Europe.
---
Greece:The Warehouse of Souls - BBC
"The deportations back to Turkey of some 8,500 people who came since the deal was done have started (as have the suicide attempts). For the more than 40,000 refugees and migrants who arrived before March 20th and now have no place to go, another long, gruelling story is beginning. The left-wing Syriza government is having to contemplate just how long these refugees will be stuck there. Minister of Migration Yannis Mouzalas knows that the much criticised EU-Turkey deal is the only thing preventing another wave of refugees reaching the shores of Greek islands that are already struggling to cope..."
---
US economist Galbraith sheds light on Varoufakis plan - eKathimerini
'...In the book, "Welcome to the Poisoned Chalice: The Destruction of Greece and the Future of Europe," which has been translated into Greek, Galbraith describes in detail Varoufakis's plan for moving Greece to a parallel banking system last year.

Those privy to the Plan B – or Plan X as Varoufakis is said to have called it – would meet in conditions of high secrecy involving secure communications and the depositing of cell phones in hotel refrigerators."
---
Greece Revolt Betrayed - Global Research
"During the night Tsipras fired Varoufakis, who would have had great difficulties signing the capitulation. On Monday morning he called together the leaders of all the parties to a meeting under the President of the Republic. Those leaders, insignificant persons in any case, and even more so after being rejected just the previous day by the overwhelming majority of the people, spent many hours working on a communique that would reinterpret the verdict of the referendum and explain that Greeks had given them the mandate not to open a rift with the creditors and not to leave "Europe". It took some more days, until the 13th of July, for Tsipras to sign the final capitulation – and his own, moral before anything else, death sentence.

The sudden U-turn of the government, as soon as the vote was over, dealt a devastating blow to the morale and the psychological state of the Greek population, a blow much worse than a military defeat."
---
NEWS ARCHIVE - July 2016
---
---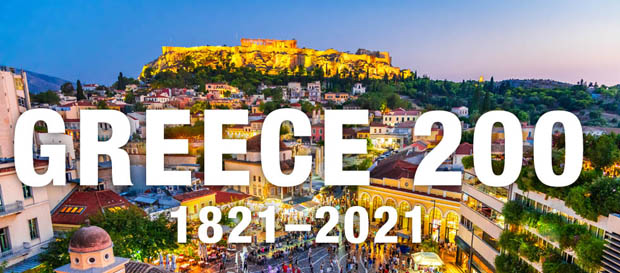 ---
You will see Amazon links on this web site because I am an Amazon affiliate. I earn from qualifying purchases.
Fodor's Essential Greece: with the Best Islands (Full-color Travel Guide)
---

---