Greece and the economic crisis 2016
NEWS ARCHIVE - July 1 - July 5
---
July 5, 2016
Greece ranks second in NATO expenditure - NATO
NATO released spending figures for organization members and Greece is ranked directly behind the United States in a graph of spending in ratio to GDP (Greece ranks 2.3%) NATO asks that member states spend at minimum 2% of GDP on defence, though only four countries actual do this: United States, United Kingdom, Estonia, and Greece.
The NATO chart shows an increase in Greek spending of 9.5% over 2014-2015 costs. This also demonstrates that Greece is paying 1.8% of the total NATO budget through 2017.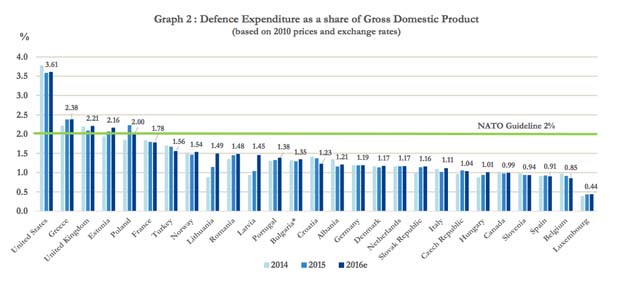 ---
Greece and Italy top European luxury hotel list - Euro News
"According to a Luxury.Hotels.com study published Monday, the most expensive place in Europe to take a holiday this summer is southern Greece. At €1779 a night, the Amanzo'e in Kranidi, Greece tops this year's summer chart.

In second place is Le Dune in Cagliari, Sardinia, Italy (€1645 a night)"
---
July 4, 2016
Before You Rush To Buy Inflated Real Estate Assets, Take A Vacation To Greece - Forbes
"...a stereotypical belief among American investors that real estate never goes down… and if it does, the Federal Reserve is standing buy to help it recover.

In fact, that's what Greeks believed for decades. Parents would buy real estate for children and grandchildren as a certain bet for the future. People would laugh in the village coffee shop at those who argued that real estate would crash.

But since 2009, real estate prices have been heading south with no end in sight. The Greek Home Price Index has dropped from 100 in 2009 to 59.8 in 2016. A popular asset has turned into liability even in the hottest property areas of the country."
---
Greece stocks lower at close of trade; Athens General-Composite down 1.35%
"Greece stocks were lower after the close on Monday, as losses in the Banking, Household and Oil & Gas sectors led shares lower.

At the close in Athens, the Athens General-Composite lost 1.35%."
---
A year on, capital controls still biting - eKathimerni
"...while there was a decline in the number of new businesses dipping their toes into the unwelcoming waters of the Greek marketplace, 12,486 companies still decided to give it a go over the last 12 months, according to ESEE. In many ways it is remarkable, that anyone should want to test their entrepreneurial skills or risk their capital in such a forbidding environment.

Also, though there has been a decline in private consumption, it too has weathered the storm much better than expected. In fact, it rose by 0.3 percent of gross domestic product in 2015 before contracting by 0.4 percent quarter on quarter in Q1 of this year."
---
July 3, 2016
Greece's Opposition Parties React to Electoral Law Change Proposal - Greek Reporter
"The main electoral law amendments are the abolition of the 50 bonus parliament seats to the winning party, strictly proportional representation and the right to vote at the age of 17. In order for the proposal to pass, 200 votes are needed in the 300-seat House.

... The two extreme parties [KKE and Golden Dawn] in Greek parliament are also in favor of proportional representation."
---
Chairman of Greece's Jetoil Found Dead, apparent suicide- Yahoo Finance
"Kyriakos Mamidakis, chairman of Greece's Mamidoil-Jetoil Greek Petroleum SA that sought bankruptcy protection last week, was found dead at his home near Athens Sunday, a Greek police spokesman said.

Mamidakis was found with a gun next to his body in what appears to have been an act of suicide..."
---
Chinese Ambassador: The agreement with Cosco is only the beginning - Ethnos.gr
"The Chinese ambassador stressed that "the significance of the COSCO project for the port of Piraeus is not only about cooperation in the port itself, but is a symbol of mutual trust, asymbol of China's confidence in the Greek market."
---
What Greece Makes, the World Might Take - NY Times
"...Feta cheese, which is increasingly popular throughout the world, is mandated by an E.U. ruling to come from Greece. The country also harvests arguably the best olives for making olive oil. Yet somehow Greece has only 28 percent of the global feta market and a mere 4 percent share of the international olive-oil industry.

....It's hard to believe now, but Greece outpaced the average European growth rate for much of the last 60 years. Its farmers turned bombed-out fields into modestly productive farms. The government rapidly shifted parts of the country from an agrarian economy into an industrial one that developed specialties in construction materials — concrete, aluminum, rebar — and generic drugs. Greece also benefited greatly from the rapid growth in global trade. Greece is now responsible for the largest shipping fleet in the world. No other nation besides Japan even comes close.

Yet Greece still joined the euro zone as the second-poorest country in Western Europe. That's because the Greek economic miracle came during some disastrous governance from both left-leaning leaders and an anticommunist dictatorship."
---
July 2, 2016
Greece Loses 244,000 Businesses During Economic Crisis - Greek Reporter
"Marinopoulos super market chain, which filed for protection from creditors on Tuesday, is the latest of the hundreds of thousands of businesses that shut down in crisis-stricken Greece.

According to European Commission figures, at the end of 2015 there were 244,712 less registered businesses than in 2008, at the onset of the economic crisis. The number is the balance of businesses closed and new ones opening.

Specifically, at the end of 2008 there were 858,685 businesses of all sizes registered. At the end of 2015, the number has fallen to 613,973. The closing of businesses has cost a total of 842,670 jobs and 30.31 billion euros in products. "
---
Princess Tatiana of Greece on Why Royal Life Is Tougher Than You Might Think - Marie Claire
"...she's in town to promote her forthcoming book A Taste of Greece, dedicated to the culture of her adopted country where she lives with her husband Prince Nikolaos of Greece and Denmark.

The new book compiles anecdotes about Greece and recipes from people as varied as Arianna Huffington, designers Mary Katrantzou and Diane von Furstenberg, and writer Margaret Atwood. All proceeds benefit Boroume, a Greek nonprofit dedicated to reducing food waste and providing meals to the hungry."
---
Helping the homeless in Greece - Olean TImes
"Though Chauhdry is an OB‑GYN, he was able to provide all types of medical care while serving at the camps.

"I did ultrasounds, or for anybody that had any problems, something minor like a mosquito bite or something major like a fracture, abdominal pain, chest pain," he said."
---
Greece Central Bank reports 'brain drain' of 427,000 young, educated Greeks since 2008 - DW Com
"Greece's young professionals and graduates are escaping economic hardship at a rate of over 100,000 per year, according to the Bank of Greece. They have gone to Germany, Britain and the United Arab Emirates.

...The author or the BoG report, economist Sofia Lazaretou told "Kathimerini" that it was "no coincidence that both phases took place following an intense period of recessionary upheaval."

It had "fueled the mass departure of people, chiefly young people, who were seeking new opportunities and prospects for progress," said Lazaretou.

Greece ranks fourth among the 28 EU member nations in terms of mass emigration in relation to each nation's work force, the newspaper said."
---
Top 7 Things To Do in Greece - Luxury Travel Magazine
"From wine and cheese tasting to finding hidden coves and beaches and much more, Greece has it all for a luxurious

...If you fall in love with this magnificent country, then why not make the move here permanently? Shopping around and seeing what could be whilst in town is a great way to get to the know the area you're staying in and to see what your money could buy. Investing in property abroad is a fantastic move and in the current economic climate, now is a great time to buy property in Greece."
---
Scotland risks becoming Greece without the sun, says thinktank - UK Guardian
"A centre-right thinktank has predicted Scotland would become "Greece without the sun" if it voted for independence, after Michael Gove hinted he would cut Scottish funding if he becomes prime minister."
---
Why can't we hold the 'deep state' to account?- eKathimerini
"There is a so-called "deep state" in Greece that operates to the knowledge and with the tolerance of the official state. There is nothing new about this observation; everyone is aware of it.

...One student from the Athens University of Economics and Business claimed that he had been brutally assaulted two months earlier by eight individuals who have turned a basement area into their personal lair, who are involved in illegal activities and who bully anyone who tries to stand up to them. Nevertheless, no one, not even members of staff, want to mention their names because the gang has threatened to beat them up, burn their car, and such like."
---
Thousands of Asylum Seekers Registered in Greece - VOA
"The U.N. refugee agency said this pre-registration process is only open to those who entered Greece between January 2015 and March 20, 2016. This is just before the European Union and Turkey signed an agreement aimed at stopping irregular migration from Turkey to the EU.

UNHCR spokesman, William Spindler, said more than 15,500 of an estimated 49,000 people currently on mainland Greece have been pre-registered. He said they have received asylum seeker cards, valid for one year. This allows them to live legally in Greece and access basic services."
More coverage:
Over 15,500 asylum-seekers pre-registered on mainland Greece - reliefweb
---
July 1, 2016
Over 15,500 asylum seekers pre-registered on mainland Greece - Reuters
"A large-scale exercise to pre-register asylum seekers on mainland Greece was launched on 8 June 2016 by the Greek Asylum Service with UNHCR's support. So far, more than 15,500 people residing in open temporary accommodation structures have received asylum seeker cards, valid for one year, allowing them to reside legally in Greece and have the right to access services, pending the full lodging of their asylum application.

...Following the pre-registration, expanded capacity will be needed to fully register, process asylum claims and follow up family reunification and relocation cases. UNHCR is ready to support the Greek authorities in this regard."
---
Closer bilateral cooperation with China a 'strategic choice', Greek PM says- eKathimerini
"In an interview with the state news agency Xinhua, Tsipras said his visit signalled the joint will between the two countries to "take a big step forward."

The Greek coalition leader said that the sale of Piraeus Port to China Cosco Shipping could become the springboard for a "new, mutually beneficial" agreement between the two countries."
---
7 things you must do in Greece - UK Wanderlust
"Convinced that all Greek islands are swarming with tourists? Well, think again! With over 6,000 islands and islets, it's easier to find one that matches your fantasies without the crowds. Anafi is Santoríni (just west) without the hussle or the hassle. Pserimos sits between between Kos and Kalymnos and offers white sand, green sea and a church clinging to a low cliff. Even on islands that get 'busier' in summer like Donoússa, (and we're talking relatively here), it doesn't take much to find a deserted beach or a welcoming tavern."
---
Cosco Greece labels Piraeus port sale terms inconsistent - Loadstar
"Cosco has accused Greece of quietly changing the terms of the deal for its purchase of Piraeus port."
---
Greece's largest supermarket chain on verge of bankruptcy - NeoKosmos
"Faced with the prospect of bankruptcy, Greek supermarket chain Marinopoulos has filed for protection from its creditors in a bid to avoid confiscations.

...The worst case scenario is predicted to lead to the sale of all assets, which Tuesday's application revealed to be €279.14 million euros."
---
NEWS ARCHIVE - July 2016
---
---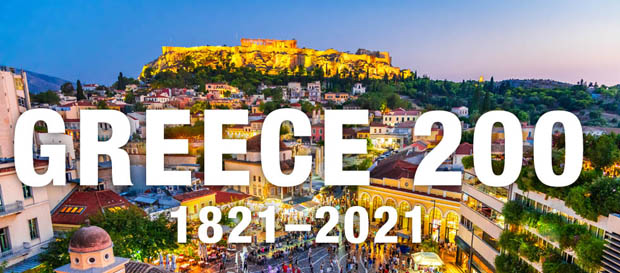 ---
You will see Amazon links on this web site because I am an Amazon affiliate. I earn from qualifying purchases.
Fodor's Essential Greece: with the Best Islands (Full-color Travel Guide)
---

---