Greece and the economic crisis 2016
NEWS ARCHIVE - July 15 - July 21
---
July 21, 2016
Turkey coup plot: Troops who fled to Greece sentenced - BBC
"A lawyer for the group said they had not taken part in the uprising, and had fled to Greece by military helicopter after being shot at by Turkish police.

They arrived in Greece the day after the attempted takeover.

The soldiers are applying for asylum and will be interviewed by the Greek authorities next week.

They are to remain in prison until their cases are heard."
---
U.S. Treasury Secretary Jack Lew urges Greece to stay on budget reform path - Reuters
"Following a meeting with Greek Finance Minister Euclid Tsakalotos in Athens, Lew said Greece needed "to make headway on the next set of milestones due in October, including by following through on privatisation plans and moving forward with critical financial sector reforms."

Athens and its euro zone partners, financing its third bailout since 2010, are trying to reach an agreement with the International Monetary Fund, which has yet to commit to taking part in funding the loan package of up to 86 billion euros."
---
Greece stocks lower at close of trade; Athens General-Composite down 0.13% - investing.com
"The best performers of the session on the Athens General-Composite were Reds (AT:CAMr), which rose 7.30% or 0.027 points to trade at 0.397 at the close. Meanwhile, Elton S.A. (AT:ELNr) added 3.33% or 0.030 points to end at 0.930 and Iaso (AT:IASr) was up 2.37% or 0.011 points to 0.475 in late trade.

The worst performers of the session were Select Textile (AT:EPIr), which fell 14.07% or 0.019 points to trade at 0.116 at the close. Halcor (AT:XAKO) declined 10.46% or 0.034 points to end at 0.291 and Flexopack SA (AT:FLXr) was down 6.78% or 0.1600 points to 2.2000."
---
Thyssen on future of labor market in Cyprus and Greece - Famagusta
"Strengthening employment placement services for the unemployed and promoting vocational education and training, are the two priorities to be set by the Cypriot government in order to reduce unemployment further, according to Marianne Thyssen, the EU Commissioner responsible for employment.

...the Commissioner denies that the European Commission has called for abolition of the 13th and 14th salary in the private sector in Greece , analyzes the reasons behind the high unemployment, heralds mobility and between civil servants and requests a report be prepared for the future labor market changes, the trade union law and collective bargaining . Moreover Marianne Thyssen announces EU financial aid for the reform of the internal market and support for unemployed after the bankruptcies in large Greek companies."
---
Greece a 'pillar of stability' in a fragile region - Sigma Alive
"In a brief dialogue before television cameras as Lew arrived at the Maximos Mansion for the start of the meeting with Tsipras, they also noted Greece's role as a pillar of stability in the surrounding, fragile region.

...It was important that a commitment in principle to restructure Greece's debt should "now become an actual policy," Lew said, since this would act to create certainty that "we are going forward."

...The discussion covered possible areas of cooperation between Greece and the United States, with emphasis on stamping out tax evasion and prosecuting cross-border tax cases."
---
July 20, 2016
Elgin Marbles won't be returned to Greece as Euro court throws out first-ever legal bid - RT
"The first legal bid to have the priceless Elgin Marbles returned from the UK to their native Greece has been ejected from the European Court of Human Rights (ECHR).

The court found that because the removal of the 2,500-year-old marbles from Greece's Parthenon temple happened over 150 years ago, it did not have the power to rule on the issue.

The collection of statues and decorations was originally acquired by the British Earl of Elgin, who in 1816 sold them to the British government when he got into financial difficulties."
---
Chairman of Piraeus Bank Resigns - WSJ
"The chairman of Piraeus Bank, Greece's largest lender, Michalis Sallas, said Wednesday he will step down from his position, marking one of the biggest changes in management seen at a Greek bank during the country's seven year economic slump.

...A German-trained economist, Mr. Sallas oversaw some 20 mergers at Piraeus Bank that helped make it the country's largest lender by assets."
---
Greece Between Rock and Hard Place on Extradition of Turkish Soldiers - Greek Reporter
"The Greek government is under tremendous pressure regarding the eight Turkish soldiers who sought asylum in Greece, as Ankara wants them extradited and the European Union asks that human rights should be protected.

After Turkish President Recep Tayyip Erdogan spoke of considering to reinstate the death penalty in order to punish the perpetrators of the coup attempt, EU officials stated that such an act would be a violation of human rights.

According to international law, when a person applies for asylum because their life is in danger in their country of origin, they cannot be extradited. Despite the fact that Turkey promises a fair trial, the events that took place after the failed coup attempt show otherwise. Perpetrators have been lynched, beaten, tortured and humiliated by Turkish authorities and Erdogan supporters. Thereby, their safety and fair treatment if they are returned to Turkey is far from certain."
---
Greece makes 2.3BN payment to European Central Bank - Business Recorder
"Greece repaid Wednesday 2.3 billion euros ($2.5 billion) to the European Central Bank, a source with knowledge of the matter said.

The sum, representing one of Greece's largest debt milestones this year, was repaid thanks to EU bailout cash.

Greece last month received 7.5 billion euros from its European creditors, part of a three-year, 86-billion-euro rescue accepted by the leftist government of Prime Minister Alexis Tsipras last year."
---
US Treasury Secretary heads to Greece- Lewiston Tribune
"Lew, scheduled to arrive Wednesday, was to meet on Thursday with Greek Finance Minister Euclid Tsakalotos and Prime Minister Alexis Tsipras to discuss the reforms package, which includes labor, pension and social security reforms, tax hikes and privatizations.

Greece has been dependent on bailouts since 2010, after massive debt and loss of confidence in the country's ability to repay it left it locked out of bond markets."
---
July 18, 2016
Trial for eight Turkish military personnel in Greece postponed - eKathimerini
"What must be implemented is Greek and international law," Deputy Defense Minister Dimitris Vitsas said on private Mega television Sunday. He said the asylum application would be examined "but I must say that the argument in favor of extradition from the Turkish side is quite strong, I would say very strong."

On Monday, Vitsas said decisions would be made by the judicial system, and noted that the examination of asylum applications "usually takes from 15 to 25 days."

The military personnel landed in Alexandroupolis Saturday in a Turkish Black Hawk helicopter after issuing a distress call and requesting permission for an emergency landing."
---
Turkish military staffers seek refuge in rival Greece - LA Times
"It is the first time members of the Turkish military have sought refuge in Greece, a country with which Turkey has been at odds for centuries. The two almost went to war in 1996 over an uninhabited islet in the Aegean Sea and have been at odds for decades over the still-divided island of Cyprus.

The Turkish officers who fled to Greece — three colonels, three captains and two sergeants — now find themselves at the heart of a burgeoning diplomatic and political mess that Greece, already at odds with most of its European Union partners because of its financial woes, does not need.

Complicating Greece's position is a newly minted deal with the EU and Turkey in which Turkey gets certain benefits — visa-free travel, for example — in return to stronger policing of its sea borders with Greece. The aim of the effort is to return migrants to Turkey and stem the flow of immigrants into Europe."
---
A tax burden Greeks must bear - eKathimerini
"When you put two recent news items - the sharp rise in Greece's new unpaid taxes in May, and the staggering 26 percent growth rate Ireland is supposed to have posted in 2015 – side by side it is easy to come to the conclusion that the Irish system of low taxation is the only way forward. It is a little more complicated than that, though.

Clearly, the latest tax increases adopted by the government will be damaging for Greece's economy, likely acting as a brake on the slow-turning wheels of recovery. Roughly 1.9 million of Greece's 6 million total taxpayers are facing an income tax bill this year that will be some 1,300 euros higher on average, the top rate of value-added tax has been increased from 23 to 24 percent and the corporate tax rate was increased by 3 percentage points to 29 percent.

There is concern that these measures will backfire by encouraging tax evasion or driving firms out of business or abroad, where tax conditions are more favourable. Greece's corporate tax rate, for instance, is well above the European Union average of 20.5 percent..."
---
European Commissioner Moscovici in Athens today - Capital GR
"European Commissioner for Economic and Financial Affairs Pierre Moscovici will pay an official visit to Athens on July 18. Moscovici will meet with Greek Prime Minister Alexis Tsipras at 12:30 at the Maximos mansion and afterwards will attend a working lunch with the participation of Economy Minister George Stathakis, Labour Minister George Katrougalos, Finance Minister Euclid Tsakalotos and Alternate Finance Minister Giorgos Chouliarakis.

Later, the European Commissioner will give a joint press conference with Finance Minister Euclid Tsakalotos at EU representation office in Athens. Moscovici΄s schedule will conclude with his speech at the Greek parliament and to the parliamentary plenum of the Greek parliament΄s Financial, Production, Trade and European Committees."
---
Mitsotakis says elections the only way forward for Greece - Protothema
".....He dubbed the sudden decision by the government to push for the adoption of a proportional representation electoral system a ploy that proved they were politically amoral.

'We have a duty to react in unison as a political system, we are up against political amoralists', he pointed out. He claimed proportional representation was contrary to common sense, adding it was imperative the proposed draft bill did not receive the needed 200 votes when it came to the plenary session in parliament."
---
July 17, 2016
Alleged Turkey Coup Supporters to Face Trial in Greece - WSJ
"...The military officers appeared before a Greek prosecutor Sunday, who pressed charges of illegal entry into the country. Seven were also charged of instigating illegal flight, while the eighth, who was piloting the helicopter, was accused of executing the illegal flight.

...According to their lawyers, the officers, who were working as helicopter crew in Istanbul, say they didn't know about the coup and had been ordered to help evacuate the wounded.

At some point, police opened fire against them, so they decided to fly to Greece to request asylum, according to Mrs. Ilia Marinaki, the lawyer assigned to four of the officers.

"By that point they knew that a coup was under way and they feared that they would be executed as participants if they stayed in Turkey," Mrs. Marinaki said.

....Extradition isn't allowed to a country where the fugitive will be in danger of torture or if his or her life will be at risk."
---
Thousands in military detained as Turkey's government reasserts control after failed coup - Fox News
"Turkey's elected government on Saturday rounded up thousands of soldiers, including high-ranking officers, as it moved quickly to reassert control after a failed military coup to oust President Recep Tayyip Erdogan.

Turkey's Prime Minister Binaldi Yildirim called the attempted coup a "black stain on Turkish democracy" that left 161 people dead and 1,440 wounded."
---
Raw: Turkish Soldiers Claim Asylum in Greece - USA Today
Video online.
"Eight military personnel who fled Turkey following a failed coup attempt were charged with illegally entering Greece on Sunday, according to their lawyer."
---
July 15, 2016
Tsipras briefed on attempted coup in Turkey - eKathimerini
"Greek Prime Minister Alexis Tsipras has been informed by the head of the Greek secret services Yiannis Roubatis about the attempted military coup in Turkey, according to reports late Friday.

Reports said Tsipras requested Roubatis to also brief conservative opposition leader Kyriakos Mitsotakis about the situation.

The premier has contacted Defense Minister Panos Kammenos and Hellenic Armed Forces General Staff (GEETHA) chief Admiral Evangelos Apostolakis, according to the same reports."
---
IMF: Greece Is a Special Case Regarding its Rescue Program - Greek Reporter
"The failure of the Greek bailout program was due to a variety of factors, said International Monetary Fund Communications Director Gerry Rice on Thursday.

Comparing the success of the rescue programs in Ireland, Portugal, Cyprus and Latvia, to Greece's bailout program progress, Rice called it a failure due to multiple and complex causes, which, however, he did not identify.

In addition, the IMF spokesperson expressed the view that the Greek economy is not at the level it should be regarding growth and employment, adding that all institutions should realistically acknowledge that the Greek economy is behind on both these fronts, and is also lagging in a series of economic indexes."
---
23 ancient shipwrecks discovered off Greece - Sciencedaily
"The team carrying out the investigation, The Fourni Underwater Survey, previously found 22 wrecks in the same area, bringing the total number of finds in a nine month period to 45.

The project, an exciting joint Greek-American venture, is exploring the coastline of a group of islands east of mainland Greece which may contain one of the largest concentrations of ancient shipwrecks in the world, hidden beneath the waves."
---
Authorities arrest 29 suspected of smuggling 600 into Greece from Turkey - Customs Today
"Police said Wednesday the suspects were arrested following a months-long investigation. The police officer was suspended pending an investigation, while those arrested include two men who police suspect were the heads of the networks.

The smugglers allegedly picked up the refugees in the Evros border region, transporting them to Athens or the northern city of Thessaloniki. One group is accused of having transported about 400 people between December 2015 and April 2016, and the second about 200 people between September and May."
---
Nordex receives two orders for more than 30 MW in Greece - Windpower
"The Nordex Group has obtained two new orders from Terna Energy SA for wind-farm projects in Greece. Altogether Nordex will be supplying eight N100/3300 and two N90/2500 turbines. Both sites are located in a strong-wind region near Athens."
---
Greek Foreign Ministry expresses 'abhorrence' at Nice attacks - eKathimerini
"We express our unequivocal condemnation and abhorrence of the new, deadly terrorist attack in France," the Greek Foreign Ministry said in its announcement, referring to the deadly Paris attack in November that left 130 dead. "Our thoughts are with the French people and the families of all the innocent victims, to whom we express our sincere condolences.

"On the anniversary of the French Revolution, the cradle of the ideas of liberty, equality and fraternity found itself once again the target of obscurantism and barbarity," the ministry wrote."
---
Heat wave persists as ozone levels pass safety mark in Greek capital -eKathimerini
"A weeklong heat wave that has seen daytime highs hovering around the 40-Celsius mark in many parts of the country, also contribute to high ozone levels in the Greek capital.

Health authorities have issued several warnings over the week, advising people suffering from heart or respiratory problems to avoid exertion and over-exposure, as ozone levels passed recommended safety level in northern Athens."
---
NEWS ARCHIVE - July 2016
---
---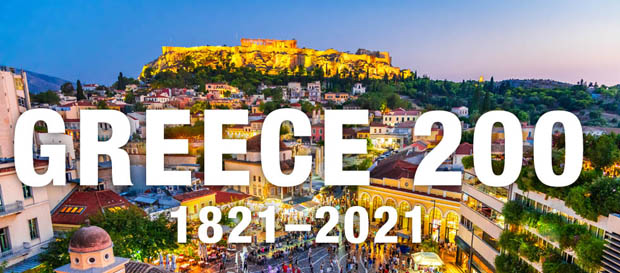 ---
Advertisement: I am an Amazon affiliate
Fodor's Essential Greece: with the Best Islands (Full-color Travel Guide)
---

---