Greece and the economic crisis 2016
NEWS ARCHIVE - July 27 - July 31
---
July 31, 2016
13,583 Migrants Applying for Asylum in Greece - GreekReporter
"...With so many people seeking asylum, the application process will take several months to be processed, leaving many migrants in limbo with an uncertain future for themselves and their families.

The Latest Statistics for Asylum Seekers in Greece

Some 5,731 migrants have filed for asylum in Attica, while Thessaloniki has the second highest rate of applicants with 3,007."
---
Magnitude 5.2 Earthquake Strikes Off Greece's Crete: US Geological Survey - Reuters
"A quake measuring 5.1 struck off the coast of the Greek island of Crete on Saturday, Athens Geodynamic Institute reported, but there were no reports of damage or casualties. The quake's epicenter was at sea, 61 miles (99 km) southwest of Crete at a depth of 6 miles."
---
Greece welcomes EU's adoption of 'Jordan Compact' - Tornos News
"The measures, among other things, provide for the rebuilding of refugee reception communities, the gathering and provision of capital, and more favorable regulations for EU-Jordan trade relations.

"As one of the neighbouring countries of Syria that continue to host a significant number of refugees, Jordan is shouldering an unwieldy burden for its population and its economy, exhibiting a sense of political responsibility and humanism."
---
July 30, 2016
IMF lambasts how it handled Greece and the euro zone crisis - CNBC
"IMF officials suffered from a "culture of complacency" and were unduly positive about the euro zone project, the IMF's Independent Evaluation Office said.

"The IMF's handling of the euro area crisis raised issues of accountability and transparency, which helped create the perception that the IMF treated Europe differently," it said on Thursday."
---
Greece and Sweden win promotion, host to fight Iceland for final ticket - fiba
Iceland put up a brilliant fight against Greece. Thelma Dis Agustsdottir tied the game at 58 heading into the final minute, but Greece gave the decisive ball to their hero of the tournament so far, Elena Tsineke, who connected on a clutch three-point play with 17 seconds remaining, scoring the additional free throw as well, to give Greece a 61-58 lead.

When it mattered most, Iceland failed to inbound the ball, and Elena's twin sister Aikatrini Tsineke sealed the deal with a pair of free throws to make it a five-point game.
---
The Princess of Greece Packed a Stylish Suitcase For Her Birthday Getaway - Popsugar
"But for her birthday, the princess went all out, posing poolside underneath a celebratory sign in Mykonos. Maria-Olympia's swim look is, of course, just as fashion-conscious as the rest of her outfits. So far she's flaunted a Missoni romper, green bandeau bikini, lacy black cover-up, and white crochet dress."
---
July 29, 2016
The IMF's Disastrous Response To Greece - Giving In To Political Pressure - Forbes
"...The serious underlying point here being that the Greek bailout violated all and every one of the IMF's basic instructions for how to deal with this sort of problem. Those basic instructions being based on more than half a century of hard won experience – knowledge that was just thrown out the window under the political pressures of the European project.

...the debt had to be (or at least was) taken over by varied governmental and EU organisations rather than busting the other European banks who had lent most of the money with a haircut. There was a haircut of some of those bonds but the vast majority of the debt was shifted off bank books and onto public ones.

At which point debt forgiveness or a haircut were not politically possible. Because those European politicians could not admit to their own voters that they'd just lost a hundred billion euros or two in pursuit of that European ideal. People tend to go off such ideals when they find out how much they cost and that would just never do."
---
Moody's sees deposit return in local credit system -eKathimerini
"...The rise in clients' deposits will then help Greek banks reduce their dependence in the emergency liquidity assistance (ELA) mechanism of the Bank of Greece, which came to 54.4 billion euros in end-June."
---
EU Residents are Also Exempted from Inheritance Tax for Primary Home in Greece - GreekReporter
"The Greek finance ministry is expected to align with a European Court ruling that says all EU residents are exempted from paying inheritance tax for their family's primary home.

So far the rule applied only to Greek citizens living in Greece. The tax exemption was seen as a social benefit for Greek residents who had lost their parents or relatives and were under stress and grief. Thereby the primary home was not seen as a property with investment potential so as to be taxed."
---
14,000 pipes delivered to Greece, Albania for TAP pipeline's construction- Trend
"...This amount accounts for about 30 percent of all pipes that will be used for the pipeline's construction."
---
Forget the migrant crisis - Samos still offers the best of Greece (and bargains) - UK Telegraph
"Over in the capital Vathy, in the town hall – the stately building where the island signed itself up to be part of the modern Greece in 1912 – Michalis Angelopoulos, the mayor of Samos, is putting on a brave face. "We are down 37 per cent on visitor figures compared to last season," he says. "We are trying to deal with the [migrant] situation on a humanitarian basis, but we are also trying to find our way back to tourism." Down in his office by the harbour, Nikolaos Katrakazos, the island's deputy regional governor, is more despondent. "The community is worried," he sighs. "People think it isn't fair; that it [the low number of visitors] is not based on reality. But tourism is about perception." The consensus is that Samos can survive one year of under-occupancy – but a second would be disastrous."
---
EC allocates 11 million to Italy and Greece formigrant centers - Ansamed
"...In Greece the funding will be used to improve migrant reception and registration capacity. "
---
ELSTAT: Decrease in sales volume in the retail trade in May - Naftemporiki
"Decrease of 6.4% observed in the volume of sales in retail trade in May, compared to the corresponding index of May 2015, as ELSTAT announced.

Specifically, by heading the decline in sales was as follows: Fuel and car lubricants (7.1%), Endysi- footwear (6.8%), foodstuffs; beverages; tobacco (6.8%), supermarkets (6 , 2%), Department Stores (4%), Farmakeftika- cosmetics (2.5%), shoes FURNITURE electric household equipment (2.2%) and Paper Products Books- other gift items etc. (2.2%)."
---
July 28, 2016
IMF failed to push for crucial debt relief in 2010 Greek bailout - Yahoo News
"Critically, there was no rigorous attempt to articulate a convincing path to restoring debt sustainability in Greece, other than a programme of official financing, fiscal adjustment and structural reforms," the IEO said of the IMF's actions in 2010.

The IEO said the IMF's rules on granting exceptional access, which require early board involvement, were "followed only in a perfunctory manner." Amendments to create a "systemic exemption" that allowed the Greek bailout to proceed departed from the Fund's usual deliberative process where major decisions receive careful review, the IEO said.

...Even though some senior IMF staff members did not believe that Greek debt in 2010 was sustainable, the report cited "pressure" to agree to the bailout, adding that then-managing director Dominique Strauss-Kahn decided "to go along with the decision already reached by European policymakers and take a chance" that stability in Greece could be restored without pre-emptive debt restructuring."
---
About 150,000 acres have gone up in flames this season -To Vima
"This summer has been difficult for the Fire Brigade and firefighters, as about 150,000 acres of forests and agricultural land have gone up in flames."
---
Elections are coming ... To Vima
"Currently in our political history, the more the readings show that public opinion is shifting and the "damned Right" is tipped to rise to power, the more efforts there will be to change the electoral system "for the good of Greece".
---
Citi predicts 'Grexit' in 1 to 3 years- Proto Thema
"Citi analysts maintain a Grexit is a real possibility in the next 1 to 3 years

...Citi believes the economy of Greece will continue in recession, predicting a 7.1% contraction of GDP in 2018 and a spike in inflation of 47%, based on its evaluation that Greece will have a new national currency by then."
---
July 27, 2016
Turkish defectors to Greece seek time to prepare asylum case - Reuters
"Greek authorities on Wednesday postponed hearings for eight Turkish soldiers who sought asylum after they fled Turkey following an abortive coup attempt, a case that has underscored lingering tensions between the two NATO allies.

...Last week, the men were handed a two-month suspended jail sentence on charges of entering Greece illegally. Nonetheless, they remain in 'administrative' custody."
---
UK joins Greece at bottom of wage growth league - UK Guardian
"Using data from the OECD's recent employment outlook, the TUC found that over the same 2007-2015 period, real wages grew in Poland by 23%, in Germany by 14%, and in France by 11%. Across the OECD, real wages increased by an average of 6.7%.

The TUC found that between 2007 and 2015 in the UK, real wages – income from work adjusted for inflation – fell by 10.4%. That drop was equalled only by Greece in a list of 29 countries in the Organisation for Economic Cooperation and Development (OECD)."
---
Fire on Chios under control -Tovima.Gr
"The major fire that broke out on the islands of Chios early on Monday morning appears to be under control, with the Fire Brigade having managed to contain the major fronts.

The president of the local gum mastic growers association Giorgos Toumpos told To Vima that producers have suffered many losses, with nearly all mastic trees in the villages of Elata and Vessa having gone up in flames."
---
Downward Spirol in Greece - Greek Reporter
"The General Registry of Commerce figures point to the closure of 16,944 businesses in the first six months of 2016, added to the 24,846 that closed shop in 2015.

Data released by the General Secretariat of Public Revenue showed that there were 1.25 billion euros worth of unpaid taxes in Greece in May. Overdue debt is set to explode to 88.88 billion euros, making up for half of the country's GDP — up from 30 billion euros at the end of 2009."
---
Greece's Hard Left Government Moves To Reduce Influence Of Church -Brietbart
"I think establishing religious neutrality of the state is a mature demand, maintaining for historical and practical reasons the role of Orthodoxy as the prevailing religion, Tsipras said.

Under the proposals, the president – now a ceremonial role – would be elected in a national vote if there were a lack of consensus among members of parliament, who currently pick the head of state."
---
The Strange, Sweet Odyssey of Princess Tatiana of Greece - Vogue
"In 2013, after almost a half-century in exile in London, Constantine II, the deposed king of Greece, quietly moved back to Athens to live "as a commoner" while his former kingdom teetered on the brink of economic catastrophe. Despite the awkward timing, Prince Nikolaos, his devoted second son, relished the moment. He was raised in Britain but, fiercely proud of his family and heritage, had always dreamed of living in Greece. It was a dream that his new wife, Princess Tatiana, was still getting used to.

.... "You can say that this country is chaotic and crazy, but I managed to find my way here. The things that used to bother me don't bother me any more: the noise, the pollution downtown, the traffic. I don't know how to explain it, but I really started to love it all," she says. "If you look at it one way, all you see is disaster, depression, turmoil. But look at Greece another way and you see rebuilding, innovation, creativity, ingenuity. Slowly, you start to find a little bit of order coming out of the chaos."
---
Government eyes direct concessions of public contracts - eKathimerini
"The government is bringing to Parliament a 500-page bill in the middle of the summer lull that was expected last year and which goes one step forward and two steps back: Although its adapts Greek legislation to the most recent European directives on public contracts, it cancels to a great extent the effort of bringing the biggest possible transparency and time-and money-saving to state procurements."
---
Greece Moves Toward Approving First Official Mosque - WSJ
"Athens is one of the few capital cities in the European Union that has no purpose-built mosque, despite being home to an estimated 200,000 Muslims, according to a senior government official.

Until now, Muslims have worshiped in unofficial locations such as private homes, basements, and abandoned warehouses. Greek government officials estimate there are 70 to 80 unauthorized mosques in Athens and the surrounding region. Four such sites have been given a license, but none is a purpose-built mosque. All places of religious worship need a permit in Greece."
---
Greece - Balance of Trade - Tradingeconomics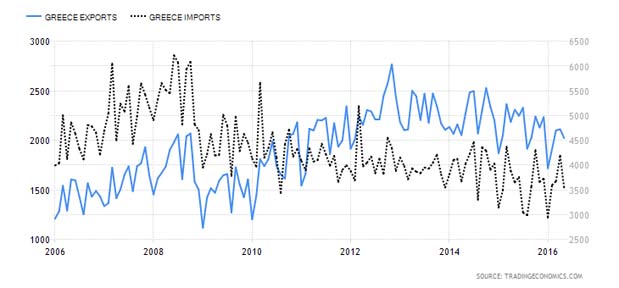 "Greece reports regular trade deficits due to high volume of imports. Main imports are mineral fuels (34 percent of the total imports); machinery and transport equipment (14 percent) and chemicals (13 percent). In recent years, the biggest trade deficits were recorded with Russia, Germany, China, Italy and France. Greece records trade surpluses with Turkey, Cyprus, United States, Algeria and United Arab Emirates."
---
NEWS ARCHIVE - July 2016
---
---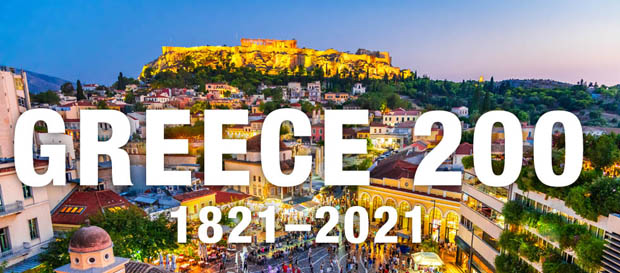 ---
Advertisement: I am an Amazon affiliate
Fodor's Essential Greece: with the Best Islands (Full-color Travel Guide)
---

---