Greece and the economic crisis 2018
NEWS ARCHIVE - August 15 - August 20
---
---
The Trip to Greece - online streaming
The Trip to Greece - Steve Coogan and Rob Brydon reunite in Greece for the fourth installment of THE TRIP series in a delightful odyssey of gut-busting comedy.
---
Oxford Greek-English Learner's Dictionary - 1024 pages - Amazon
---
Taverna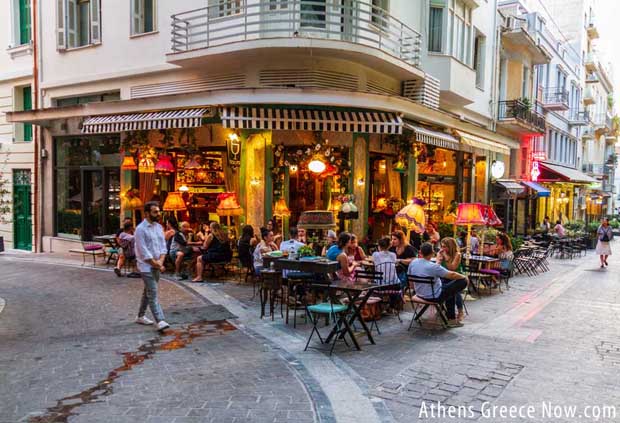 ---
August 20, 2018
Finance
The Tsipra Manifesto - Naftemporiki [Greek]
Greece Emerges From International Bailout, But Will Be Closely Monitored For Years - NPR [English]
Commentary: Don't cheer Greece's bailout exit just yet - Reuters [English]
Greece's Ordeal Is Far From Over - Bloomberg / MSN - Scary Graph charts [English]
Shadows loom over government's 'clean exit' scenario - eKathimerini [English]
IMF's Bob Traa to Kathimerini: Greek politicians failed to forge the necessary consensus - eKathimerini [English]
Varoufakis: Greece should have gone bankrupt - eKathimerini [English]
Editorial: Greeks' sacrifices must not go to waste - In 2015, valuable time, and reserves of trust and sacrifices of the Greek people, was lost. It required new, even harsher commitments to make up for the losses - Tovima [English]
The commitments made are equivalent to a 4th Memorandum - Liberal GR [Greek]
Turkey
Turkey issues Search & Rescue NAVTEX for the area around the Greek island of Chios - Protothema [English]
---
August 19, 2018
Finance
How Crises and Bailouts Have Changed Greece's Economy - MSN News [English]
New start for Greece, but currencies in end game? - Reuters [English]
Greece's bailout is finally at an end – but has been a failure - UK Guardian [English]
Greece bailout programme finally comes to an end - but country faces decades of austerity - UK Independent [English]
Key dates in Greece's debt crisis - France 24 [English]
Athens on post-bailout watch, but can be 'success story' 'Greece is exceptional. It has received much more loans from us than any other country' [English]
---
Audio: Turkey - John Bachelor Show
"Turkey is caught in the midst of a very significant political spat with the United States." @IlanBerman, American Foreign Policy Council. Malcolm Hoenlein.
---
---
August 18, 2018
Finance
Greece Officially Ends International Bailout Program Monday - VOA [English]
In charts: Greece's economy is rebounding — but there is far to go - Output, living standards and house prices are still far below pre-crisis levels - Financial Times [English]
'Greece has Returned to Growth' Says EU's Moscovici - Greek Reporter [English]
The euro is a mixed blessing for Greece - Marketplace [English]
Greece-Cyprus-Israel to Meet in September over Gas Exploration Issue - Greek Reporter [English]
Greek gov't plans low-key bailout exit - Greek Reporter [English]
Turkey
Turkish pilot who escorted Erdogan's plane on coup night arrested over Gulen links - Some 400,000 people have been investigated for suspected Gulen links and tens of thousands arrested - Protothema [English]
Turkey is questioning Greek sovereignty in Oinousses - Liberal GR [Greek]
Berlin to Erdogan: Turkey must appeal to the IMF - iefimerida.gr [Greek]
Erdogan challenges the rating agencies - EFSYN [Greek]
Fire
Woman who lost husband, two children in Mati is suing ministers, officials - A barrage of lawsuits are expected to be filed by victims' families - Tovima [Greek]
More
Semi-finalists from Hungary, Greece and Israel compete for the finals of the Eurovision Young Musician 2018, Edinburgh 2018 - BBC [English]
Father of released soldier posts message of thanks - eKathimerini [English]
University student scores coming Aug 27 - AMNA GR [Greek]
Social "time bomb" strikes in Greece - liberal.gr [Greek]
---
August 17, 2018
Finance
Greece set to exit bailout, still faces daunting challenges - Reuters [English]
Greece's Labor Min Reports Job Losses Outnumber Jobs Added in July - Greek Reporter [English]
Europe moves on from financial crisis, but Greece is still recovering - AXIOS [English]
UBS: "Credit event" on a bond of 150 million Swiss francs by Folli Follie - liberal.gr [Greek]
Immigration
Berlin: Agreement with Athens on the refugee - immigrant - Naftemporiki [Greek]
More
New Democracy: Greek officers were released due to collective efforts - Tovima [English]
Fine up to € 1,000 if you get pebbles from Lalaria Beach - Tanea [Greek]
For Greece's austerity-hit elderly, bailout "will never end" - Reuters [English]
German plane lands in Greece after bomb threat - A local paper reports that fighter jets were scrambled after a German passenger jet reported a bomb threat. It was flying from Egypt to Dusseldorf - DW.com [English]
F-16 escort Condor DE69 to emergency landing in Chania due to bomb threat - Keep Talking Greece [English]
Conservative MEP Kyrtsos says EU eyeing SYRIZA-NEW Democracy coalition - Tovima [English]
---
Athens Greece by night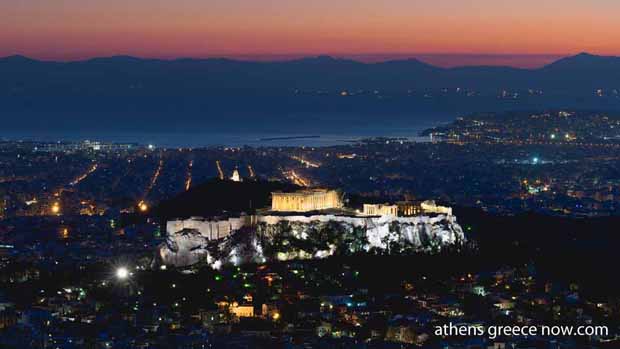 ---
August 16, 2018
Finance
Bonds: More than 4.3% the ten-year yield - Naftemporiki [Greek]
Greece launches open consultation over planned €8B Hellinikon casino venture - CDC Gaming [English]
Τaxpayers will pay will receive ENFIA real estate tax bills by 31 August - Twelve percent of taxpayers will pay up to an extra 50 euros - Tovima [Greek]
Greece brain drain hampers recovery from economic crisis - Thousands of educated citizens have moved abroad and are not rushing back - Financial Times [English]
Handelsblatt: Greece is far from the capital markets - "Alexis Tsipras should not expect 'political discounts' in the markets" writes the German newspaper - Naftemporiki [Greek]
Greece leaves bailouts behind; wonders what's ahead - marketplace.org [English]
Russia
Russia: We Didn't Start Spat with Greece - Greek Reporter [English]
Turkey
Qatar Comes to Aid of Turkey, Offering $15 Billion Lifeline - NY Times [English]
Why an American pastor's imprisonment is at the center of the U.S.- Turkey dispute - Washington Post [English]
Turkey's Erdogan Is in a No-Win Situation With Washington - Time Magazine [English]
Turkey Was Ripe for a Currency Crisis. Will It Spread? - Bloomberg [English]
More
Important finds in Amarynthos of Evia In Greece confirm sanctuary belonged to Artemis - Tornos News [English]
How Greece Marks the Dormition of the Virgin Mary - Greece Reporter [English]
Emirates Is Having a 2-for-1 Sale on Flights to Greece and Italy — and You'll Want to Book Now - Travel and Leisure [English]
---
Lycabettus Hill, Athens Greece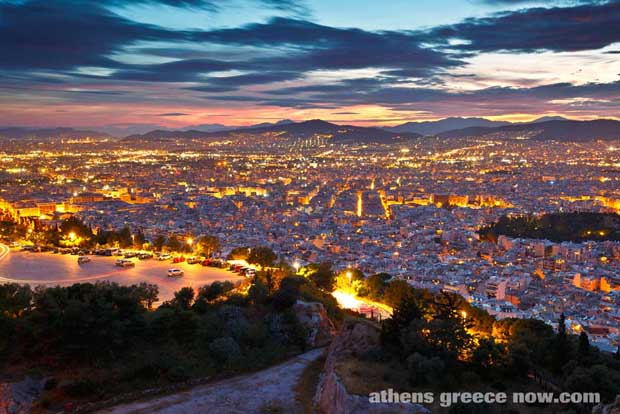 ---
August 15, 2018
Turkey
US ambassador congratulates foreign ministry on soldiers' release - eKathimerini [English]
Ankara: will exercise our rights if the US does not deliver the F-35 fighter aircraft - Naftemporiki [Greek]
Turkey and Capital Controls - Liberal GR [Greek]
The two Greek soldiers have returned to the homeland - Athens News Agency [Greek]
Freed in Turkey before spy trial, Greek soldiers await flight home - MSN News [English]
Tuesday, 14 August 2018 - 13:55 Can Turkey turn to the Arab world for economic support? - Capital GR [English]
Finance
Can Greece finally finance itself? - WUNC [English]
The mistakes of Greece's creditors - eKathimerini [English]
Regling: Greek crisis was the worst since the Great Depression 'It would be arrogant to say we did everything right in Greece. There was no script for this crisis...' - Tovima [English]
Demolition of illegal buildings to begin mid-September, environment minister says - Capital GR [English]
More
August 15 1940: The torpedoing of the Greek cruiser "Elli" (PHOTOS) - Protothema [English]
---
Piraeus, Mikrolimano Marina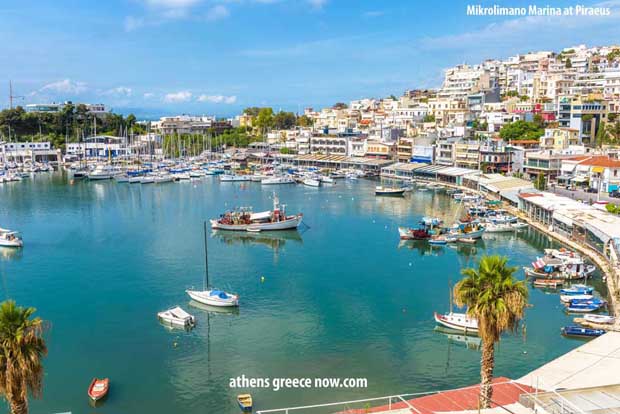 ---
Fodor's Essential Greece: with the Best Islands (Full-color Travel Guide)
---
NEWS ARCHIVE - August 2018
---



---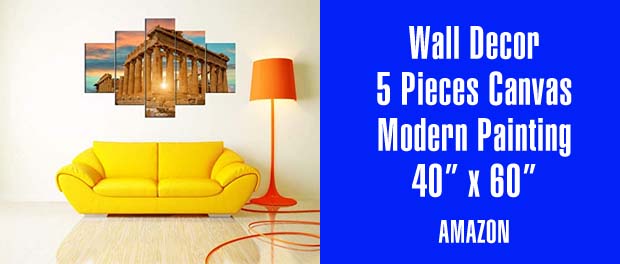 Parthenon Temple on the Acropolis of Athens Greece Artwork Wall Decor 5 Pieces Canvas Modern Painting Wall Art Home Decoration for Living Room Pictures HD Printed Framed Ready to hang(60''Wx40''H)
---
Create Amazon Business Account - save time and money on business purchases with competitive B2B prices and discounts