Greece and the economic crisis 2017
NEWS ARCHIVE - Dec 14 - Dec 21
---
---
Monastiraki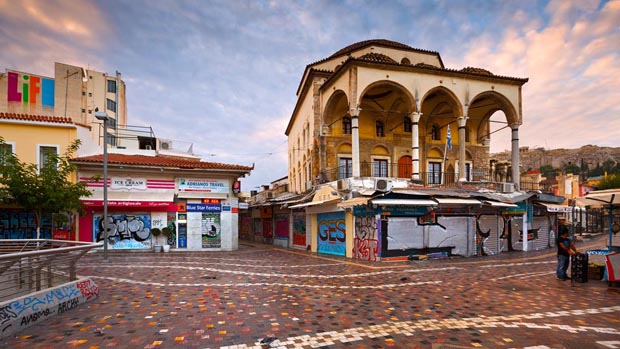 ---
December 31, 2017
4.6 magnitude quake strikes central Greece; no damage - Fox News
"According to a preliminary estimation by the Athens Geodynamic Institute, the 4.6 magnitude tremor occurred at 6:02 a.m. at a depth of 5 kilometers (3.1 miles) on the coast of the Corinth Gulf, in a sparsely populated area."
---
More News:
Greece's Piraeus Bank Agrees to Sell Romanian Subsidiary to J.C. Flowers - Private Equity News
Greece on Turkey asylum row: democracies cannot threaten or be threatened - Reuters
---
December 30, 2017
Asylum Request Approved for Turkish Officer Who Fled to Greece after the Coup - Greek Reporter
"The Committee also ruled that there was no evidence that the helicopter co-pilot played any part in the attempted coup. On the contrary, it ruled that he was persecuted in Turkey for "political crimes", thus he would not get a "fair trial". The other seven Turkish asylum seekers who landed the helicopter in Alexandroupolis are still being held in the Olympic Village police station..."
More: Asylum to one of the eight Turkish soldiers - Naftemporiki
---
More News:
Stock market grows 24.6 pct over 2017 - eKathimerini
Fears for Brits consuming Coca Cola, milk and meat in Greece as anarchists claim they've poisoned supermarket goods with ACID - UK Sun
Greece 'appalled' by attack on Coptic church in Egypt - eKathimerini
Greek economy: New deposits showcase that confidence is making a comeback - Protothema
---
December 29, 2017
Turkey raises energy stakes as drillship sails through Aegean - eKathimerini
"Although the Deep Sea Metro 2 and the Turkish corvette Bafra escorting it were traveling in international waters, their journey from an area southeast of the Peloponnese through the Aegean heading for Istanbul was viewed in Greece as a display of Ankara's determination not to be left out of the region's unfolding energy map, at a time when Athens has already begun initiatives to partially extend its sea zones."
---
German tabloid Bild says Athens a passport supermarket - Tovima
"The problem with bogus travel documents has led German authorities to suspend Schengen rules for Greek citizens and travelers from Greece, with humiliating extra checks akin those implemented with non-EU citizens.

According to the report, a fake Greek passport along with a ticket to Germany costs between 4,000-5,000 euros."
---
More News:
Why an 'art therapy' retreat in Greece is the perfect antidote to life in the 21st century - Telegraph UK
What can you buy for €300k in France, Greece, Cyprus and Cork? - Irish Times
Migrant arrivals in Spain triple in 2017 even as Italy, Greece see decline in inflows - Straits Times
The Year of Chance for the Balkans: The 5 key events of 2018 - EWB
---
---
December 28, 2017
Strong winds in Greece's Aegean Sea keep ships at ports - Tornos
"Strong south winds measuring 8 or 9 on the Beaufort scale have interrupted several sailings in Greece as of Thursday, according to ANA."
---
Labor Ministry to reduce fines for undeclared work, raise minimum wage - KTG
"In an interview with the Athens-Macedonian News Agency (ANA), Labour Minister Efi Achtsioglou revealed plans to overhaul the architecture of the fine system for undeclared labour and contribution evasion, including the option of halving fines for companies that subsequently hire staff on a full-time basis."
---
The decision for the 120 installments was signed - efsyn.gr
"...For debts up to EUR 20,000, the debtor must have a positive result before taxes, interest and depreciation in at least one of the last three financial years before the application is submitted."
---
ND urges ruling coalition to make up its mind over name dispute - eKathimerini
"Speaking to Alpha radio on Thursday, Maria Spyraki, the conservative spokesperson, said it was inconceivable for the two component parts of the coalition – leftist SYRIZA and right wing junior partner, the Independent Greeks (ANEL) - to have different opinions on what name FYROM should have in the event of a solution to the decades-old dispute.

If the government can't present a uniform position then there is no government and elections should be called, she said."
---
More News:
Erdogan Wants to Revise the Treaty of Lausanne - Armstrongeconomics
New Law Simplifies Divorce Proceedings in Greece - Greek Reporter
Record levels of refugees missing - tanea.gr
---
December 27, 2017
Deficit of the state budget of 774 million euros against a surplus of 353 million - TaNea
"...the primary result for January-November 2017 was a surplus of € 4,647 million against a surplus of € 3,074 million. It is noted that for the same period in 2016 it was set at 5.757 million."
---
Turks Fleeing To Greece Find Mostly Warm Welcome, Despite History - KPBS
"...at least 1,000 Turkish citizens are seeking refuge in Greece, according to the refugee support nonprofit SolidarityNOW. It's hard to pin down an exact number because not many have applied for asylum, says Antonis Spathis, a human rights lawyer in Thessaloniki. The Greek Asylum Service told NPR that 186 Turkish citizens applied for asylum in 2016 and noted there has been a "significant" increase in 2017, but did not provide figures, saying those will be available in early 2018."
---
Macedonian PM to spend New Year's in Greece - b92
"Government spokesperson Mile Bosnjakovski said Zaev was invited to Thessaloniki by Mayor Yiannis Boutaris, and specified that the trip will be private."
---
More News:
Greece Gets Ready for Major Food Tourism Workshop in 2018 – Interview with WFTA Head Erik Wolf - GTP
A new Attic landscape coming at Elliniko - Naftemporiki
---
December 26, 2017
Panama-Flagged Cargo Ship Wrecks in Greece - gcaptain.com
"A Panama-flagged cargo ship wrecked on the Greek island of Traganisi near Mykonos on Friday during a voyage from Russia to Cyprus."
---
Universities are 'infested by violent minorities' - eKathimerini
"Speaking to the Athens-Macedonian News Agency in an interview published on Tuesday, Fortsakis said "the universities have unfortunately descended into a mess beyond description. They are infested by violent minorities, some departments of theirs are occupied by extra-university groups, heavy violations of law take place in their spaces, occupations systematically hamper classes, the organization of tuition and mainly of the students' assessment system has serious problems, a large number of students remains stagnant and cheating is rampant in examinations."
---
National consensus wants 7 out of 10 in poll - EFSYN
"More specifically, 82,9% of SYRIZA's voters, 75,8% of New Democracy voters, 78,7% of Democrat Syria, 72,7% of the KKE, 76.9% of the River, 80.2% of the ANEL, 64.5% of the Union Center."
---
More News:
Most Greeks see no 'clean exit' from bailouts in 2018 - eKathimerini
Israeli Embassy in Greece Defaced - Hamodia
---
December 25, 2017
Five Christmas traditions unique to Greece - Protothema
"In Greece, Santa Claus is not Saint Nicholas, but Saint Basil, (Agios Vasilis) and he does not visit the Greek houses on the 25th of December, he arrives a week later, on New Year's Day, when the Greeks traditionally exchange their Christmas presents."
---
---
December 24, 2017
UNHCR Calls for Urgent Transfer of Refugees to Mainland Greece
"The UNHCR reports nearly 20,000 people have reached the Greek Aegean islands since July. More than 70 percent of all arrivals this year are Syrian, Iraqi or Afghan. It says four out of 10 are children."
---
Construction on Greek Satellite "Hellas-Sat 4" Completed -Greek Reporter
"Hellas Sat 4 was built in cooperation with the Royal Institute of Technology of Saudi Arabia. It will offer additional capacity for television and data to our clients in Europe, South Africa and the Middle East and support to the already existing satellite" said Protopapas adding that the new, technically advanced satellite will offer innovative services as: quicker internet to airplanes and governmental organisations as well as to other providers like mobile telephone, explained Protopapas."
---
Greece is the next frontier for Chinese and Russian buyers - Real Deal
"Chinese investors are especially attracted to Greece's "golden visa" program, which gives property buyers a visa to the country and, with it, much of Europe. Chinese investors accounted for 43 percent of the 2,053 golden visas Greece issued between 2013 and October, and Russians came in second place with 18.6 percent. "
---
More News:
Lavrov: Conference for Cyprus with the permanent members of the SA - Naftemporiki
Macedonia Says It's Ready To Give Up Claim As Sole Heir To Alexander The Great's Legacy - RFERL
---
---
December 23, 2017
Kiliktaroglou: In 2019 I will come and I will take these islands - Protothema
"Kiliktaroglou said on Saturday: "Greece has occupied 18 Aegean islands, plus a rocky islet. The Greek defense minister replied, "Come and take them" (Μολών Λαβέ). I will come in 2019 and I will take all these islands. Do you know why I say that? They were saiying the same things ("come and taken them") for Cyprus as well. And what did the late Prime Minister Ecevit do? He went and took Cyprus".
---
Germany breaks its promises to Greece on refugees - Protothema
"By the middle of December, Germany had received only 5.332 refugees from Greece. According to the European Council decisions in 2015, Germany was obliged to accept 17.209 people."
December 22, 2017
---
Athens Explosion damages court complex; no injuries - ABC News
"The blast Friday caused extensive damage to the marble-and-glass facade of the Athens Appeals Court, a large building that is next to the country's Supreme Court and near the Greek Police's headquarters."
---
Powerful bomb blast at Athens Appeals Court - AMNA GR
"[Police] are awaiting the ballistics report on a single 7.62x39mm round fired by the suspected terrorists at a police guard from a Kalashnikov rifle, in order to determine whether it has been used in other terrorist or criminal acts. According to earlier reports, counter-terrorism investigators suspect that the left-wing terror organisation Popular Fighters' Group is behind the attack. Police have also tracked down the mini-van used as a getaway vehicle and later found torched on Kountouriotou Street in Exarchia."
---
Explosion damages court complex - eKathimerini
"It occurred hours after the parliament approved measures to impose penalties against demonstrators who gather regularly at the court to try and disrupt weekly auctions of foreclosed homes."
---
Greece Sells Stake in Thessaloniki Port - penews.com
"The sale of Thessaloniki Port began in July 2014, but has been delayed several times by political resistance and waves of strikes by port workers."
---
More News:
Moscovici: Greece needs its own development strategy - Tovima
New book attempts to pin blame for crisis on PASOK - Kathimerini
---
You will see Amazon links on this web site because I am an Amazon affiliate. I earn from qualifying purchases.
Try Prime Discounted Monthly Offering
---
Greece: Biography of a Modern Nation - AMAZON - Published March 2020 - 600 Pages
---
NEWS ARCHIVE - December 2017
---



---