Greece and the economic crisis 2017
NEWS ARCHIVE - Dec 1 - Dec 7
---
---
December 7, 2017
Turkey's Erdogan calls for border treaty review in Greece visit - BBC
"Mr Erdogan said the 1923 treaty that settled Turkey's borders after World War One was not being applied fairly."
---
Erdogan's visit to Greece starts on tense note - FOX
"Erdogan arrived Thursday for a two-day visit that will also include a trip to northeastern Greece to meet with the country's Muslim minority. His first meeting was with Greek President Prokopis Pavlopoulos, and the televised discussions between the two men were visibly awkward.

Erdogan insisted the Treaty of Lausanne should be updated and also raised the issue of the Muslim minority in northeastern Greece. "
---
Niceties aside, Greece and Turkey take the gloves off for Erdogan visit - Reuters
"In an unusually blunt exchange during a welcoming ceremony, President Prokopis Pavlopoulos ruled out any change to the treaty while a stern-looking Erdogan, seated beside him, said there were details in the treaty which required clarity."
---
Respect for international law precondition for solid bilateral ties, Greek PM tells Erdogan - eKathimerini
"It is important… that we express our disagreements in a constructive way, without provocations," said Tsipras.
---
More News:
How do Greece & Turkey see their relations through their official MFA sites - Protothema
Erdogan touches on everything from Jerusalem, to migrant crisis to Lausanne Treaty in wide-ranging press con'f - Naftemporiki
---
Acropolis and Pireas from Lycabettus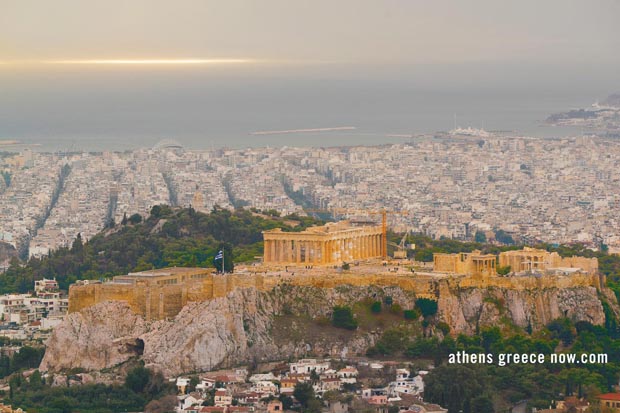 ---
---
December 6, 2017
Scuffles in Greece during protest over teen's death in 2008 - Washington Post
"The tension came during a demonstration by high school students through the center of the capital. Another protest by mainly anarchist groups was planned for the evening. About 2,000 police were deployed in Athens for the commemorations of the 2008 death of 15-year-old Alexis Grigoropoulos, shot by police while out for an evening with friends in Exarchia, a central Athens neighborhood popular with anarchists."
---
Greece, Turkey seek closer ties with Erdogan visit, but no quick fixes - Reuters
"Greece and Turkey came to the brink of war as recently as 1996, but tensions have eased since. The two now cooperate in a deal brokered between Ankara and the European Union on stemming mass migration to Europe through Greece."
---
Athens Greece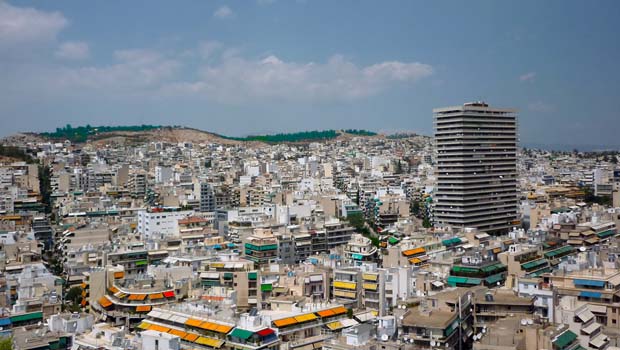 ---
December 5, 2017
Clashes near PM's office over bailout labor reforms - ABC News
"Tuesday's clashes in central Athens occurred hours after finance ministers from the 19 eurozone countries backed a provisional agreement on the terms of a late-January bailout disbursement."
---
Greece, Italy, Israel and Cyprus back natgas pipeline to Europe - Reuters
"Israel has discovered more than 900 billion cubic metres (bcm) of gas offshore. Cyprus' Aphrodite gas field holds an additional 128 bcm and Cypriot waters are expected to hold more reserves."
---
Greece's Dangerous Budget Surplus - Wall Street Journal
"The government has plenty of cash, but the economy is sputtering. The latest bailout looks set to fail."
---
Massive security operation being set up for Erdogan visit to Greece - eKathimerini
"From the Greek side, the Hellenic Police (ELAS) will be dispatching 2,800 officers to guard the Turkish president, including EKAM special forces and bomb disposal experts. Snipers will also be posted all along Erdogan's route, while motorists should brace themselves for delays and traffic jams, as his motorcade will be given strict priority."
---
Greece 'makes provisions' in face of German and Italian political uncertainty - CNBC
"Italy's election, due to be held in the spring, has been singled out by many market players as a top risk for 2018. As more voters have expressed that they are fed-up with mainstream politics, whether in the U.K. or the U.S., this has raised the possibility that the next Italian government may try to divert from tough fiscal rules imposed upon it by the EU."
---
US ambassador dissatisfied with ThPA investors - TaNea
"In his speech, he did not fail to say that the US would continue to support Greece in the energy sector, adding that our country could be an energy hub, although, as he stressed, bureaucracy is still the problem that concerns investors . As he said, Greece will become the third European country after Poland and Lithuania, where the US will export liquefied natural gas (LNG)."
---
More News:
Greek islanders protest in Athens over migrant overcrowding - Associated Press
Communist unionists clash with police, raid labor Ministry to protest new Strike Law - KTG
Costello: We have reasons to be optimistic for Greece - Capital GR
Greece safely steps out of the program in August 2018 - AMNA
How SYRIZA and ND are polling - efsyn
---
---
December 4, 2017
Greece Just Witnessed Something It Hasn't Seen Since 2006 - Bloomberg
"While the third straight quarterly expansion provides some economic stability as the government tries to make a clean break from its bailouts, the slowdown in the pace of growth compared with the second quarter will make it harder to hit its 1.6 percent full-year growth forecast this year."
---
Greece hopes reforms deal will smooth bailout exit - Financial Times
"With the economy showing signs of recovery, the government is anxious to emerge from seven years of dependence on bailout financing, start talks on debt relief and return to regular borrowing on the international capital markets."
---
More News:
Controversy over Saudi Arabia continues - Naftemporiki
Greece, lenders reach deal on reforms under bailout review - Euroactive
---
December 3, 2017
3 Greece, lenders reach deal on reforms under bailout review - Reuters
If the process doesn't run into any roadblocks or side issues, Greece could receive approximately €4 billion euros in bailout funds in the latter part of January, 2018.
"The agreement between Greek officials and European Union and International Monetary Fund representatives on the country's compliance with reforms and future commitments must be approved by euro zone finance ministers, scheduled to meet on Dec. 4."
More Coverage:
Greece, Creditors Strike Deal on the Conditions for Fresh Cash - Bloomberg
Greece reaches preliminary agreement with creditors - MSN
---
Tsipras optimistic about the next elections in 2019 - AMNA
Article about an interview with Prime Minister Tzipras in the Portuguese newspaper "Diario de Noticias":
"Alexis Tsipras is also optimistic about the next elections in 2019. "Adaptation was, of course, smoother than in previous years, but it did not cease to be an adjustment," he adds, adding that "now, in the middle of the term we are at a critical turning point. The political climate is beginning to change - and indeed fast - in Greece. " He states absolutely certain that "when we manage to successfully emerge from the memorandum, in the summer of 2018, the psychology of the world will change". He notes that at the end of the term of the present government, "the comparison will be made between the results of previous governments and the results of our own government". In this regard, it refers to a reduction in unemployment of around 7% since the government took over and then, and expresses the conviction that "in September 2019..."
---
Tzanakopoulos: Exit the memorandum with completion of the evaluation - Tanea
"We have a technical agreement to be ratified in the Eurogroup tomorrow and it does not involve any budgetary measures for the first time," said State Secretary and government spokesman Dimitris Tzanakopoulos, speaking at the radio station Athens 9.84. He added that the country's fiscal adjustment has been completed and this agreement "leads us to exit the Memorandum."
---
December 2, 2017
Auctions put Greek gov't on backfoot - eKathimerini
"Several leading officials also said that a verbal agreement between the government and the banks not to auction off primary residences up to 300,000 euros is simply not enough to keep the lid on ever growing discontent emanating from the party's base and across the board."
---
Increased difficulty with the stress tests for banks - naftemporiki
"This requirement is indicative of the creditworthiness of the supervisor in covering credit risk, especially in the case of Greek banks with the exceptionally high bad debt ratio."
---
More News:
Severe weather affecting Epirus, Aitoloakarnania, Corfu and Kastoria - efsyn
FYROM PM says nationalists moderating stance on name row - eKathimerini
---
December 1, 2017
EU official says SLA possible by Monday - eKathimerini
"[EU Official] also said that the International Monetary Fund is participating in the present mission and making sure that policies accepted and implemented are in agreement with their precautionary program."
---
Greece plans two or three bond offerings in first half of 2018 - Financial Times
"Greece hopes to raise at least €6bn from the new issues to build a cash buffer of €15bn-18bn, which would comfortably cover payments of interest and principal due next year on its €319bn debt next year. Another €9bn would be covered from unused bailout funds under an agreement with the country's creditors, the EU and the International Monetary Fund. "The aim is to build the yield curve as well as to ensure a liquidity buffer," an Athens banker said."
---
Erdogan Going to Greece Next Week in Groundbreaking Visit - NY Times
"Three large-scale joint projects — a border bridge, ferry connections and a high-speed train connection — are under negotiation between the countries ahead of a cooperation meeting in February, Mr. Cavusoglu, the deputy prime minister, said."
---
MEPs call for EU Solidarity Fund to assist Greece with flood relief - Tornos News
"[Dimitris Papadimoulis:] "... we need to increase European funds for natural disasters and increase flexibility and the speed of response, in order to increase efficiency. When people are suffering, and we saw such tragedies recently in Italy, Portugal and previously the Czech Republic and Germany - they want to see European solidarity not only hear about it," he clarified."
---
Terrorism charges brought against 9 Turks held in Greece - ABC News
"The eight were arrested Tuesday on suspicion of links with the Revolutionary People's Liberation Party-Front, which is deemed a terrorist organization by Turkey, the United States and the European Union.

Police said a search of their residences uncovered detonators, a handgun and materials easily available on the market that could potentially be used to make explosives."
---
More News:
Crete celebrates the 104th anniversary of its union with Greece - iefimerida.gr
December 1st 1913: Crete Unites with Greece - Greek Reporter
As a Turkish person whose family fled to the UK from Cyprus, I'm excited about Erdogan's visit to Greece - UK Independent
To swap or not to swap? Greece issues 5 new bonds - Brookings
Nicosia places hope in Erdogan's Greece visit - eKathimerini
Tzanakopoulos: Greece will be a different country in August 2018 - Capital GR
---
You will see Amazon links on this web site because I am an Amazon affiliate. I earn from qualifying purchases.
---
International Real Estate
Buying Real Estate Overseas For Cash Flow (And A Better Life): Get Started With As Little As $50,000
Published by Wiley, 1st edition August 11, 2020, 240 pages
---
Try Prime Discounted Monthly Offering
---
Greece: Biography of a Modern Nation - AMAZON - Published March 2020 - 600 Pages
---
NEWS ARCHIVE - December 2017
---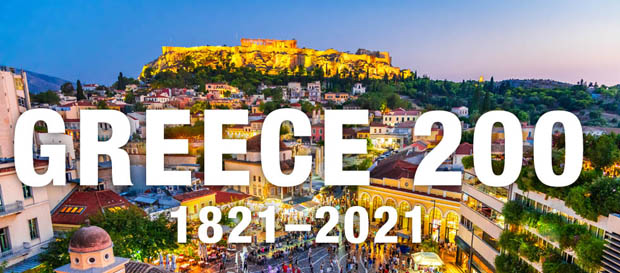 ---
You will see Amazon links on this web site because I am an Amazon affiliate. I earn from qualifying purchases.
Fodor's Essential Greece: with the Best Islands (Full-color Travel Guide)
---

---