Greece and the economic crisis 2017
NEWS ARCHIVE - June 8 - June 14
---
---
June 14, 2017
Tsipras renews call for lenders to tackle Greece's debt - ABC Disney
"European creditors had promised some form of debt relief if Greece implemented austerity measures. Athens has long argued that it needs some form of debt relief for its debt to be deemed sustainable, which would in turn help it return to the international borrowing markets.

But the issue has been complicated by disagreement between the Europeans and the International Monetary Fund, which participated in Greece's first two bailouts, over the country's growth potential and long-term debt sustainability."
---
Island in Greece digs out from 6.3 magnitude earthquake - Business Insider
"Many residents of Vrisa, a community of some 600 people, spent the night in tents, local hotels and a monastery after the 6.3 magnitude quake rippled through the area, toppling buildings.

...State engineers were assessing the extent of the damage, though most homes were damaged beyond repair. "About 75 percent of homes are on the verge of collapse," said Efthymios Lekkas, head of the earthquake planning and protection organization."
---
Greece Celebrates European Music Day with Numerous Events in 50 cities - GTP GR
"From Prespes and Alexandroupoli, northern Greece, to Ancient Olympia in the Peloponnese and Agios Nikolaos on Crete, 350 different events will take place in more than 200 venues, archaeological sites and public spaces (squares, parks gardens) by 20 percussion and dance groups, 24 philharmonic and symphony orchestras, 35 choirs, 95 djs and 367 music ensembles."
---
Greek government official: "We are far from finding a solution at the Eurogroup of 15th June - Tovima
"We are far from finding a solution at the Eurogroup on Thursday, given that Germany has not taken any progress step. If there is no positive move in the next few hours or during the Eurogroup meeting by the German Finance Minister Wolfgang Schaeulbe, then it seems that the hot potato will be handed over to Chancellor Merkel".
---
Greek Entrepreneurship Award: The 10 finalist competing for funding amounting to 1,250,000 euros - Imerisia
"Reviewed Prize committee, consisting of 10 experienced entrepreneurs and executives, carefully evaluating each business plan, resulting in the selection of 10 finalists, based on sustainability, innovation, financial prudence and creating new jobs.

The finalists of this year's competition involved in six different areas, such as education, medical technology, food & beverage, fashion, tourism and technology."
---
June 13, 2017
Greece Declares Emergency After Earthquake Hits Lesbos - NYT
"The quake, centered about nine miles south of Lesbos, an area that was on the front line of the migrant influx two years ago, had a magnitude of 6.1, according to the Geodynamic Institute at the National Observatory of Athens. It struck about 3:30 Monday afternoon local time, and was felt in neighboring Turkey, although no injuries were reported there. Several hours later, rescue workers pulled the body of a 43-year-old woman from the rubble of her home in the village of Vrissa. An additional 15 people were said to have minor injuries.

As a series of milder aftershocks rattled Lesbos on Tuesday, the regional governor, Christiana Kalogirou, told Greek television that an estimated 800 people had been displaced and were being relocated. "What is most important now is people's safety," she said."
---
ECB Said Unlikely to Include Greece in QE in Coming Months - Bloomberg
"Euro-area finance ministers will meet in Luxembourg on June 15 to discuss debt-relief measures that the ECB has said are needed before it will consider purchasing Greek bonds. The so-called Eurogroup is expected to complete a review of Athens's rescue program that would allow for the disbursement of at least 7.4 billion euros ($8.3 billion) in aid needed for a similar amount of bond repayments in July.

An agreement among the ministers will likely allow the International Monetary Fund -- whose participation in the rescue program is a requirement for many nations -- to commit in principle to a conditional loan, said the person, who asked not to be named because the discussions are private. But the extent and wording of debt-relief commitments probably won't convince the Governing Council of the ECB to buy Greek bonds."
---
Security Message for U.S. Citizens: Thessaloniki (Greece), Planned Demonstration on June 13 - osac.gov
"...even demonstrations intended to be peaceful can turn confrontational and possibly escalate into violence without warning. Avoid areas of demonstrations and, if you are within the vicinity of any demonstrations, remain vigilant and exercise caution.

Review your personal security plans, remain aware of your surroundings and local events, monitor local news stations for updates, and report specific incidences of targeted violence to the U. S. Consulate General in Thessaloniki or the U.S. Embassy in Athens. Maintain a high level of vigilance and take appropriate steps to enhance your personal security. "
---
Schaeuble sees Greece deal with lenders on Thursday - eKathimerini
"German Finance Minister Wolfgang Schaeuble said on Tuesday he was confident that Greece and its international lenders will reach a compromise deal this week, a step that would unleash more loans for Athens.

"We'll manage it on Thursday. You'll see," Schaeuble said during a panel discussion in Berlin."
---
June 12, 2017
Greek army helping residents on quake-hit island - The Republic
"Scores of homes have been damaged on the island of Lesbos after a quake, with the worst damage reported in the southern village of Vrisa — where at least 10 people have been injured and one woman has been trapped in a damaged house.

The governor of Greece's north Aegean region told state-run ERT television that "we're using all the resources we have to help the people in southern Lesbos."

Christiana Kalogirou also said that "the information we have is that there are 10 injuries … The army is also helping, and will provide tents for people remaining outside their homes. They will be able to stay in sports facilities."
---
Strong earthquake, 6.3 mag was detected near Plomarion in Greece - Earthquakenewstoday
"A earthquake magnitude 6.3 (ml/mb) strikes 11 kilometers (7 miles) from Plomarion in Greece on Monday. Exact location of earthquake, longitude 26.373 East, latitude 38.8703 North, depth = 5.65 km. The temblor was detected at 14:28:38 / 2:28 pm (local time epicenter). The epicenter was at a depth of 5.65 km (4 miles). A tsunami warning has not been issued..."
---
Greece puts faith in France to solve bailout impasse - ABC Disney
"Athens is also seeking Paris' help on obtaining a concrete pledge from creditors on debt relief, an issue complicated by disagreement among lenders over the country's growth potential and debt sustainability.

..."We are not far at all from a solution. That solution must be found on June 15," Le Maire said.

Successive Greek governments have viewed France as an ally in bailout disputes, in contrast to the more fiscally hawkish Germans."
More Coverage:
Le Maire proposes linking debt relief to growth - eKathimerini
Greece puts faith in France to solve bailout impasse - Missoulian
---
In its bid to join the NATO alliance, (FYROM) to consider other naming - eKathimerini
"(FYROM) is willing to consider provisional names so as to overcome Greek objections, the Financial Times reported on Monday.

FYROM willing to consider provisional names so as to overcome Greek objections - eKathimerini Greece had vetoed the Balkan nation's application to the alliance in 2008.

FYROM call itself Macedonia, but Greece rejects the name as, it asserts, implies a territorial claim to the northern Greek province with the same name."
---
June 10, 2017
Greece approves new austerity measures amid protests - World Bulletin
"The Greek parliament approved a new set of austerity measures on Friday afternoon, amid angry protests in Athens.

Out of 300 Greek lawmakers, only 237 voted. A majority, 153, voted in favor while 84 voted against the new bill which will bring more austerity to the crisis-stricken EU country."
---
Airbnb to help host 35,000 refugees in houses across Greece - eKathimerini
"...The company hopes that its campaign, which is Europe-wide, will help house a total of 100,000 people across the continent.

The initiative is run with the help of the nongovernmental organization Solidarity Now."
---
Regling: Greece would be out of crisis, if it had not gone off the rails in 2015 - Protothema
"Director of the European Stability Mechanism Klaus Regling said that Greece would have been out of there crisis in 2015 of the government under then Finance Minister Yianis Varoufakis had not taken the wrong path. In an interview to German newspaper Bild, Mr. Regling attributed the return of the Greek economy to recession to the policies adopted by the SYRIZA-ANEL government in the first six months of 2015...

In another newspaper from Slovenia, Dello, Mr. Regling stressed that Greece could go to the money markers and ask for a loan of matters proceeded in the next months. "I hope we release the ESM tranche in June or early July ..."
---
Is Greece sending Turkish dissidents back to Erdogan? - neoskosmos
"According to the Stockholm Center for Freedom (SCF), there have been "at least five cases of refoulement which may suggest a systematic and deliberate policy on the part of Greece to send back asylum seekers of Turkish origin back to Turkey to face wrongful imprisonment, torture and ill-treatment", something that is considereed a breach of European Union (EU) and international laws."
---
Greece's Bailout Deal Could Leave IMF's Role in Limbo - WSJ
"Agreement between EU creditors and IMF could breach the fund's lending guidelines - Greece's international creditors are working on a bailout deal that would outline options for limited debt relief but leave financing from the International Monetary Fund in limbo and potentially breach the Washington-based fund's emergency lending guidelines."
---
June 9, 2017
Greece to legislate pending reforms in return for loans, debt relief - Reuters
"... vote takes place a week before euro zone finance ministers meet in Brussels on June 15 to discuss Greece's bailout progress and measures to reduce its debt, which stands at about 180 percent of GDP after seven years of crisis.

"We are submitting amendments on prior actions with which the bailout review is also officially concluded," Labour Minister Effie Achtsioglou told lawmakers before the vote scheduled for later in the evening.
---
Greece to launch new tender for gas grid sale in June - Capital Gr
"Greece will launch a new tender competition for the privatisation of its natural gas grid operator DEFSA in June, Energy Minister George Stathakis said on Tuesday.

Stathakis announced the tender in an interview with Greek news website liberal.gr without disclosing details, Reuters reported."
---
Eurogroup evaluation to close by Friday - toxwni.gr
"...Jeroen Dijsselbloem expects that there will be an agreement on the final completion of the second evaluation at the meeting of the Eurogroup in Luxembourg next week, he said through a spokesman to Reuters.

An evaluation will include completion and payment installments to the Greek government..."
---
June 8, 2017
Greece Jobless Rate Lowest Since Early 2012 - RTT News
"Greece's unemployment rate eased for a third straight month in March to its lowest level since early 2012, preliminary data from the Hellenic Statistical Authority showed Thursday.

The seasonally adjusted jobless rate dropped to 22.5 percent in March from a downwardly 22.9 percent in February."
---
New ELA decrease by 1.1 bn. Euro - Naftemporiki
"Specifically, at the request of the Bank of Greece (BoG), the ECB reduced the ceiling of ELA by 1.1 bn. EUR 44.2 bn. Euros.

The reduction according to BoG, reflects developments in the liquidity of Greek banks, whereas private sector deposits flows."
---
Mother loses child custody due to homeschooling as public education is mandatory in Greece - Keep Talking Greece
"Two years ago, Christiana lost her child's custody because she had decided to educate her 8-year-old daughter at home. Police removed the child following an order by a prosecutor in Athens. Homeschooling is not allowed in Greece, therefore it is considered illegal. The English teacher became the first parent to lose child custody because of home schooling, media report.

Christiana told media that she wanted a more "creative schooling procedure for her child." She says she cannot understand that she is doing something "illegal" when homeschooling is legal in the European Union."
---
Greece's Creditors Undermine Reform - Wall Street Journal
"Another meeting of eurozone finance ministers is coming up next week, with no solution expected to the perennial Greek problem.

Athens went into the previous summit on May 22 having voted for another round of austerity, including pension cuts worth 1% of gross domestic product and new revenue worth a further 1% of GDP from the lowering of the tax-free income threshold. Prime Minister Alexis Tsipras had promised that the measures would secure a deal on debt relief..."
---
Greece targeting sub-5 percent yields for market return - Reuters
It remains enough of an uncertainty that officials involved in the talks are reluctant to call the outcome. But bankers have been quietly sounding out investors for what would be Greece's first return to markets since 2014.

The response has convinced Athens, which still has a public debt ratio of 180 percent of gross domestic product and an economy which is barely growing, to go ahead if the conditions are right.

"A return to the markets with a five-year bond should be with yields below 5 percent," said a Greek government official who requested anonymity.
---
FYROM PM: Previous governments had provoked Greece - Protothema
"Zoran Zaev, the PM of FYROM said the previous governments of Nikola Gruevski had provoked Greece by erecting many statues of historical figures (Alexander the Great, Philip of Macedon etc), as well as renaming main roads and the airport of the country."
---
EU, Greece investigating sex abuse allegations by members of Soros-linked NGO - Fox
"Greek and European Union authorities are investigating a U.S. charity linked to left-wing billionaire George Soros after allegations that two of its members sexually abused refugees at an asylum center. Also under investigation is possible financial corruption by the two members."
---
EU's Dombrovskis Urges Lenders to Unblock New Loans for Greece
"Representatives of euro zone states are meeting on Thursday in Slovenia to try to overcome a months-long stalemate over the Greek program, before finance ministers hold a regular meeting in Luxembourg on June 15.

"It's time to move with the next disbursement," Valdis Dombrovskis told a news conference in Brussels, stressing that Greece had already met its fiscal and reform obligations for the funds to be disbursed."
---
---
---
NEWS ARCHIVE - June 2017
---



---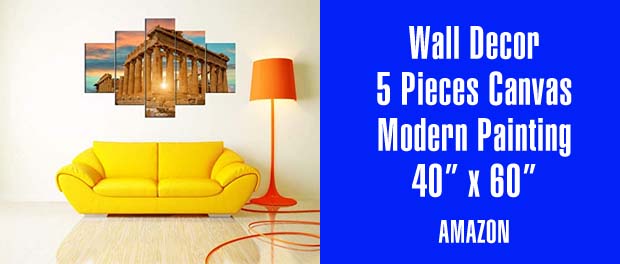 Parthenon Temple on the Acropolis of Athens Greece Artwork Wall Decor 5 Pieces Canvas Modern Painting Wall Art Home Decoration for Living Room Pictures HD Printed Framed Ready to hang(60''Wx40''H)
---
Create Amazon Business Account - save time and money on business purchases with competitive B2B prices and discounts