Greece and the economic crisis 2017
NEWS ARCHIVE - June 15 - June 21
---
---
June 21, 2017
Greece's Tsipras lays out prospect of bond market return - Omaha World Herald
"Alexis Tsipras told his cabinet that this was a result of last week's deal with European creditors, which eased fears Greece might face another brush with bankruptcy this summer.

That's evident in the sharp fall in the interest rates the markets are ascribing to Greek government bonds. The yield on the benchmark 10-year stands at 5.5 percent, way down on the levels seen during the more acute phases of the Greek debt crisis."
---
Europe's Unserious Plan for Greece - Bloomberg
"The deal struck last week between Greece and its euro-zone creditors is business as usual -- and that's not a good thing. This protracted game of "extend and pretend" serves nobody's long-term interests: not those of the Greek government, the International Monetary Fund or, most of all, the people of Greece.

Euro-zone finance ministers have unlocked a payment of 8.5 billion euros ($9.5 billion), the newest installment of a rescue plan worth 86 billion euros. This will let Athens make debt repayments of 7 billion euros that fall due next month. But there's still no agreement on how to get Greece's debt burden under control. The IMF had previously insisted that this question should be settled now.

It was right, and it should have stuck to that position. The new agreement fails to recognize what everybody knows: that Greece's debt is unsustainable on the current terms."
---
EU Says Greece Needs More Debt Relief Despite Buffer - Hellenic Shipping News
"The June 15 deal by euro-area finance ministers commits to capping gross financing needs at 15 percent of GDP for the medium term, and 20 percent thereafter. The country's gross financing needs will drop to 9.3 percent of gross domestic product in 2020 from 17.5 percent this year, before rising again and surpassing 20 percent after 2045, according to the baseline scenario of the commission's debt sustainability report.

The conclusion drawn from the report points to the need for additional "additional debt-mitigating measures," even under the baseline assumptions. "An appropriate combination of debt management measures," including an "extension of maturities and grace periods for principal and interest," is necessary to "bring Greek debt back to a sustainable level in gross financing needs terms," commission staff said."
---
Brussels warns on Greek debt sustainability - eKathimerini
"According to the [European Commission] debt sustainability analysis, the baseline scenario takes the gross financing needs to 17.5 percent of GDP this year, before dropping significantly below 15 percent to reach 9.5 percent of GDP in 2022. They climb again after 2030 but stay within the limit, reaching 20 percent of GDP in 2045 and 20.8 percent of GDP in 2060.

That baseline scenario is based on the condition that the primary surplus averages at 2.2 percent of GDP throughout the period after 2022 – until then it should be at 3.5 percent of GDP, as the Eurogroup decision recently dictated."
---
Real estate values have tanked - eKathimerini
"It's easy to find examples of properties whose value has dropped 60-65 percent in the last few years: Data from estate agents show that a new fifth-floor apartment of 60 square meters in Kypseli, central Athens, which sold for 150,000 euros in 2008, was resold at end-2016 for just 60,000 euros, a decline of 60 percent; a newly built apartment in Ambelokipi, also in Athens, was sold for 270,000 before the crisis, and today is for sale for just 120,000 euros, down 55 percent."
---
June 20, 2017
Greece Reaches Deal with European Lenders for Bailout Installment - iBusinesslines
"Greece will receive an 8.5-billion-euro ($9.48 billion) loan from its creditors after a deal was reached at a Eurogroup meeting on Thursday night.

The decision was taken at a meeting of euro zone finance ministers in Luxembourg, attended by IMF Managing Director Christine Lagarde, after Greece completed all reforms requested by the creditors at this stage of the bailout program. "For Greece, as before, I am confident that we will reach a deal about the payment of the next tranche today", Schaeuble said on arrival at the meeting."
---
In Greece, China Finds an Ally Against Human Rights Criticism - NY Times
"...Greece is increasingly courting Chinese trade and investment as it faces pressure from international creditors and a cold shoulder from its traditional rich allies in Europe. China's largest shipping company, known as China COSCO Shipping, bought a majority stake last year in the Greek port of Piraeus. The Greek prime minister, Alexis Tsipras, has visited China twice in two years. And China will be the "country of honor" at Greece's annual international business fair in September in the port of Thessaloniki.

...Greek ports are critical to China's "One Belt, One Road" initiative, a huge infrastructure project across Asia, Africa and Europe. Just last week, at a concert of the Shanghai Chinese Orchestra in Piraeus, the Chinese ambassador to Greece hailed the cooperation between the two countries. "Greece and China will remain good friends in good and bad times, good partners for mutual progress," said the envoy, Zou Xiaoli, according to Xinhua, the Chinese news agency."
More Coverage:
Greece Vetoes EU Condemnation of China's Human-Rights Record - WSJ
China gratified as Greece blocks E.U. statement over human rights - Washington Post
---
June 19, 2017
Greece Gets a Break in Its Seven-Year Drama - Bloomberg
"The issue has long been what do to with Greek debt exceeding 300 billion euros. That hasn't changed, especially with German elections taking place in the fall. The IMF has advocated debt relief, which the Greek government has sought since coming to power in 2015. Euro finance ministers, led by Germany's Wolfgang Schaeuble, have balked.

The problem now is that the Greek government raised expectations about a spectacular settlement that would pave the way for the country's return to the bond market and free it from the shackles of the bailout programs.

Tsipras told reporters last month that he was expecting an agreement that would be "too good to be true." In fact, he said, it would require him to wear a tie, something the premier declared he wouldn't do until there was debt relief."
---
Greece says court decision not to extradite Turkish soldiers must be respected - Reuters
"We would like Greece to extradite those who clearly staged a coup against our nation," Yildirim said. "We respect the judiciary's decision, but we do not want these putschists to strike a blow to Turkish-Greek relations," he said.

Monday's meeting was held against the backdrop of a fresh reunification bid in Cyprus, divided since a Turkish invasion in 1974 triggered by a brief Greek-inspired coup.
---
Marketing Greece Appoints Ioanna Dretta as CEO and Managing Director - GTP
"Marketing Greece, the private marketing company for Greek tourism, has appointed Ioanna Dretta as its new CEO and Managing Director.

....Ioanna Dretta has a long experience in tourism, having served as an advisor to the president of SETE and worked in various positions in the private and public sector."
---
Greek PM Tsipras to start round of talks with opposition parties - Protothema.gr
"Mr. Tsipras is expected to meet today at 6pm with the leader of "Potami" party Stavros Theodorakis, while at 7pm he will see the president of the centrist party "Union of Centrists", Vassilis Leventis. On Tuesday, the Greek PM will inform the leaders of the Greek communist party (KKE), Dimitris Koutsoumbas at 11am, Fofi Genimata of PASOK at 12pm and finally with the president of major opposition party New Democracy, Kyriakos Mitsotakis at 1.30pm on the results and other current matters.

The government considers the EuroGroup outcome a success ...

...the final agreement was a success, [but Greece] failed to be included in the ECB's quantitative easing programme,
---
June 18, 2017
Greece hoping to finally secure long-term debt relief deal- HealthcareMenu
"Eurozone finance ministers and the International Monetary Fund agreed in Luxemburg on Thursday to release a further tranche of funding for Greece. "There is now light at the end of the tunnel", Tsakalotos said. The IMF compromise was a shock for the Greek government, which lost a major supporter of deeper debt relief."
---
Greece avoids another bailout trauma - Business Mirror
"An outright cut in Greece's debt is not allowed under euro rules, but the length of time the country has in paying back its debts can be extended, and the interest rates on those debts can be cut. For Greece, Thursday's agreement should limit the amount it has to pay out in debt servicing each year, freeing up money it can use to help the Greek economy and society. More comprehensive details should emerge in the coming months."
---
Subsidy up to EUR 25,000 for homes - Imerisia
The program is starting late June or early July and provides amounts to 25,000 euros or 250 euros per square [meter] to upgrade any kind of housing.

...subsidy rates reach up to 70% and is higher for small incomes, and can be increased for each child. The subsidy for the loan rate is 100%. For those with personal incomes of 10,000 or 20,000 the family subsidy is 60% and increased by 5% for each child with a maximum of 70%. For individual incomes of 10,000 to 15,000 and 25,000 euros [per] family the subsidy reaches 50% with a 5% increase for each child and a maximum of 70%."
---
June 16, 2017
Greece Wins 8.5 Billion Euro Payout as Debt Clarity Deferred - bloomberg
"The accord, however, wasn't enough to get the International Monetary Fund to agree to lend to Greece now, something euro-area countries have sought since the latest bailout was inked in 2015. The Washington-based fund, which co-financed Greece's first two rescue programs, held off giving the country more loans until it becomes assured that Greece's 315 billion-euro debt will become sustainable.

Instead, the IMF would suggest its board sign off on a 14-month-long bailout for Greece, but only dole out fresh loans once it receives further assurances from the euro area on how debt will be made sustainable."
More Coverage:
Eurogroup approves loans, details debt relief, IMF to join - eKathimerini
---
E.U. Reaches Debt Deal for Greece Worth 8.5 Billion Euros - NY Times
"European Union officials agreed on Thursday to unlock loans of 8.5 billion euros for Greece, to ensure it meets huge payments on its debt next month.

...The difficulty in completing a deal has centered on a long-running showdown among creditors. On one side, several eurozone countries led by Germany want Athens to carry out what they view as reforms before specifying debt concessions that could take effect next year at the earliest. On the other, the I.M.F., with policy makers in Brussels and the Greek government, has been pushing for immediate commitments on the details of eventual debt relief."
---
Pappas: We are satisfied because we have absolutely clear wording on debt - toxwni.gr
"The most critical item from the Eurogroup decision is that the economic logic of the program, plus the debt service goal is bent in favor of the development target, said Digital Policy Minister Nikos Pappas."
---
Greek budget shows primary surplus of 1.842 billion euros in Jan-May - Captial GR
"A report on state budget execution, on an amended cash basis, showed that the general government? deficit was 1.240 billion euros in the five-month period, from a shortfall of 1.649 billion in 2016 and a budget target for a deficit of 2.033 billion euros, ΑΜΝΑ reported.

Net revenue was 18.684 billion euros, up 1.0 million euros from targets, while regular budget net revenue was 17.917 billion euros, down 3.0 million from budget targets."
---
June 15, 2017
Greece Seeks Credible Debt Deal in Push for Crisis Drama Finale - Bloomberg
"Euro-area finance ministers meeting in Luxembourg on Thursday will seek to reach a deal on ways to ease Greece's debt load, which would close a key chapter in the nation's bailout drama and end months of uncertainty.

A resolution at the so-called Eurogroup meeting would unlock the next slice of financial aid the country needs to repay about 7 billion euros ($7.9 billion) in maturing bonds in July. Crucially, the deal is expected to offer some much-needed clarity on Greece's future debt obligations."
---
Greece woos new Macedonia government, insists on name change - HealthcareMenu
"Now Macedonia wants to be a member of several global organizations. That is a precondition", Kotzias said. "We will support this provided the issue with name is solved", Kotzias said, adding that a new agreement is needed through the United Nations on a new name, which will then be presented to the European Union. Greece claims a historical right to the term Macedonia because the heart of Alexander the Great's ancient kingdom lies in its northern province of Macedonia. Athens has previously insisted that Skopje use a compound name such as "New" or "Upper" Macedonia. Dimitrov acknowledged that the talks ahead would be hard.
---
Debt relief measures on Greece to be discussed after 2018 - Tornos News
"The German spokesperson for budget policy of the Finance Ministry, Jurg Weibgerber said that any measures related to a debt relief for Greece would be considered after the completion of the current bailout program which ends in 2018."
---
Greece pushed to take bailout deal without debt relief - Geo.tv
"...Athens insisted it would veto the deal, furious that the disbursement of the latest tranche of its 86-billion euro bailout agreed in 2015 could come without long-hoped-for firm debt relief commitments.

"We are far from finding a solution at the Eurogroup on Thursday, given that Germany has not made any step," a Greek government source told AFP.

Bitter disagreement between Germany and the IMF has held up the payout of a fresh tranche for Athens to meet seven billion euros of debt repayments due in July."
---
---
---
NEWS ARCHIVE - June 2017
---



---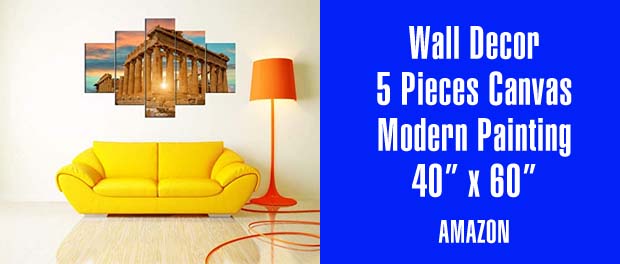 Parthenon Temple on the Acropolis of Athens Greece Artwork Wall Decor 5 Pieces Canvas Modern Painting Wall Art Home Decoration for Living Room Pictures HD Printed Framed Ready to hang(60''Wx40''H)
---
Create Amazon Business Account - save time and money on business purchases with competitive B2B prices and discounts