Greece and the economic crisis 2017
NEWS ARCHIVE - March 23 - March 31
---
March 31, 2017
Impasse stalls review as official sees no deal at Eurogroup - eKathimerini
"In the end, not only was no date announced but officials expressed concern about an impasse in talks, particularly on calls by lenders for further cuts to pensions.

...Both IMF officials and German Finance Minister Wolfgang Schaeuble have indicated that they would like the Greek political opposition to back measures currently being hashed out between the government and creditors. New Democracy leader Kyriakos Mitsotakis has rejected such a move and has said neither he nor his party has been approached by creditors to offer such support."
---
What changes in wages and pensions - who will see reductions - Imerisia
Roundup of changes to calculations for pensions and insurance, among other alterations to current law:
"Reductions civil servants because of the new way of calculating its Katrougalos law regulations (n. 4387/2016), while differences arise and to the heads of government, which is calculated and the liability position bonus in pensionable wage will see their pensions to the payment of social security contributions."
---
Short-term rentals have hoteliers worried - ekathimerini
"...the holes in the legislative framework for short-term rentals, which has not yet been enforced, and explaining its position on the changes it is proposing.

Among the law's problems noted by the chamber is the particularly low fine for property owners who don't comply with its provisions...."
---
EuroGroup President: No deal on April 7 - Protothema
"I hope we can approve a deal soon, but that won't be on April 7 at Valletta", the Dutch politician told reporters in the Hague, according to Bloomberg. This new development came about after the Greek PM and members of the minor coalition party ANEL pressured Greek Finance Minister Euclid Tsakalotos to renege on some of his promises to Greece's creditors that had been agreed last week during talks. The Greek Finance Minister was "left hanging", as he was compelled to send a letter and then dictated to the Greek mission to change stance during the EuroWorking Group meeting ...
---
Golden Dawn main offices attacked - abcnews
"Police say several people have been detained for questioning after the attack Friday. Youths smashed a store front on the ground floor of the party headquarters in Athens on a busy road during rush hour traffic, and threw red paint at the entrance of the building."
---
11 Destinations for a Unique Greek Easter - Greece Is
"Four main events form the basis of Easter celebrations throughout the country: the dyeing of red eggs on Holy Thursday, the funerary procession of the Epitaphios (a bier representing the tomb of Christ) on Good Friday, the end of the 40-day fast with the resurrection of Christ on Easter Sunday (midnight on Saturday) and the festive Easter Sunday meal, accompanied by singing and dancing."
---
March 30, 2017
Migrant fruit pickers win European court case against Greece - Foxnews
A group of strawberry pickers from Bangladesh have won a case against Greece at Europe's highest human rights court, after being shot at by employers for demanding unpaid wages.

The Council of Europe's Court of Human Rights ruled Thursday in favor of 42 Bangladeshi nationals, and ordered the Greek state to pay them damages of 12,000-16,000 euros ($13,000-$17,000) each..."
More Coverage:
European rights court condemns Greece over migrant 'forced labor' - Yahoo
---
Greece's housing market reeling - Neoskosmos
"Despite difficult ongoing economic conditions, Greece's visa-for-investment program is helping draw interest from investors: mainly from the eastern Mediterranean region, Russia, and China. Greek government officials are considering broadening the program to investors spending capital on all asset classes above €250,000, not just real estate.

...Apartment prices in the centres of Athens and Thessaloniki are proving to be more resilient than the broader market, helped by a strong tourism industry and demand for short-term rentals stemming from platforms such as Airbnb."
---
Greece's March Economic Sentiment Perks Up, Commission Says - Gtp.gr
"The economic sentiment indicator (ESI) rose to 93.4 points from 92.9 points in February, with the months of January and December (at 95.1 units) marking the highest value in the last 12 months."
---
March 29, 2017
No confirmation of deal between Greece and creditors - tornosnews
"According to another Eurozone source, however, there appears to be some movement in the last hours, while pointing out that "nothing ïs agreed until everything is agreed. In order to have time to reach a staff-level agreement (SLA) before the Eurogroup on April 7, the source explained, it was necessary to have an agreement in principle at Thursday's Eurogroup Working Group meeting."
---
Greece, EU/IMF lenders said to agree on key labor reforms, pension cuts - eKathimerini
"Negotiations between Athens, the European Union and the International Monetary Fund – which has yet to decide if it will participate in Greece's current bailout – have dragged on for months, rekindling fears of a new crisis in Europe.

The latest progress is expected to help allow the return of EU and IMF mission chiefs to Athens in the coming days to finalize details with Greek finance and labor ministers before the Eurogroup meeting in Malta."
---
No confirmation of deal between Athens, institutions in Brussels - Athens News Agency
"We saw the media reports on this; I cannot confirm," Breidthardt said during the regular press briefing when questioned about the report, which claimed a deal had been struck on pensions and labour market rules.

"There is no deal yet," another European official told the Athens-Macedonian News Agency (ANA)."
---
Greece's New Deal From European Lenders Delivers More Neoliberalism - mintpressnews
"The SYRIZA-led Greek government touted this agreement as a major success that signifies the end of austerity. According to the Greek government, austerity will be averted via the enactment of "equivalent measures" that will offset cuts. But even if this is the case, the agreement is contingent on Greece fulfilling harsh fiscal targets and austerity measures from now until 2019. "
---
Stuck in reverse - eKathimerini
"Meanwhile, Greece's right-wing and centrist politicians are all but apologizing for winning the civil war that saved Greece from turning into a Bulgaria or Albania. This attitude has been one of the ailments of the post-dictatorship era (better known here as the Metapolitefsi), and it must finally come to an end.

The financial crisis, poor education, the penchant for conspiracy theories and growing insecurity have created a mix that blends together the Germans, the Americans, Winston Churchill and Wolfgang Schaeuble. All these have become pieces of a larger national narrative according to which everyone is trying to get us, but we are resisting fiercely."
March 28, 2017
Stournaras issues urgent warning over delayed second review - Capital GR
"Bank of Greece Governor, Mr. Stournaras, pointed to an immediate conclusion of the now utterly delayed second review of the Greek program (third bailout), saying recent negative economic figures are the result of the lack of an agreement with creditors."
---
Italy, Greece reach migrant saturation point, Italy says some NGO boats work with smugglers - foxnews
"The two southern European countries that absorb nearly all boat-borne refugees from North Africa and Turkey are taking steps to halt the arrivals, with both saying they have reached their limit.

...Meanwhile, officials in Italy, which has received about 500,000 migrants in the last three years, say that rescue vessels operated by charities and humanitarian organizations – some of which reportedly receive funding from billionaire George Soros and his Open Society Foundations (OSF) -- are working with smugglers based in Libya."
---
March 27, 2017
Proposal for revision of the Constitution - Ethnos
"From a group of scientists at the Katrougalos...

"Some of the proposed changes are overripe ... such as, for example, the elimination of criminal immunity of civil servants' status....

....Also proposed election of the President of the Parliament, to ensure maximum consent of two thirds of the House in two successive votes. If none, then the third vote will belong to the electorate who will decide between the two of the last voting candidates to Parliament."
---
EU states urged to meet refugee relocation pledge - eKathimerini
"Meanwhile, police in Athens on Monday announced the dismantling of a large racket supplying refugees and undocumented migrants with forged or falsified travel documents.

Raids on several properties around the city center revealed some 1,000 such documents, half of which have been reported as stolen by authorities in other countries, including the United States."
---
Fraport Greece Signs 30-Year Contract With Dufry for Duty Free Shops - Greekreporter
"The agreement will be valid at the starting date of a concession agreement between the Greek state and Fraport Greece for the management and operation of 14 Greek regional airports (among them, Thessaloniki, Aktion, Mykonos, Zakynthos, Kavala, Corfu, Cephalonia, Kos, Mytilene, Rhodes, Samos, Santorini, Skiathos and Chania)."
---
What do Trump and Greece's Tsipras have in common? - Yahoo Finance
"Drama is needed to mobilize voters' support, Gkionakis said. But when elected, leaders often find that "the majority of the things they were proposing cannot actually be implemented because of a large number of hurdles" such as "internal political dynamics."

Gkionakis spoke of the danger of politicians cultivating a mindset in their electorate, and that "without these beliefs actually corresponding to reality, to facts ... people become attached to them and it can be extremely difficult to change people's minds."
---
Kotzias and Anastasiades discuss how to move talks forward - Cyprus
"His Cypriot counterpart Ioannis Kasoulides, said after their meeting at the foreign ministry that Greece was making "diligent and tireless efforts to find a viable and European solution to the Cyprus problem, without anachronistic military guarantee systems".

He also said the trilateral cooperation with Greece and other neighbouring countries with joint efforts to fight terrorism were beginning to show that "we are important countries in tackling asymmetric threats".
March 26, 2017
'We reached our limits': Greece to stop taking back refugees – migration minister - rt.com
"As the European Commission pressures Athens to re-implement the Dublin Regulation – stipulating that refugees can be returned to the first EU state they arrived in – the Greek migration minister told Spiegel his country is not in a position to do so. The agreement was put on hold for Greece back in 2011 over problems in the country's asylum system.

....Asked if Athens is ruling out implementation of the Dublin Regulation, Mouzalas answered in the affirmative, adding, "I want the Germans to understand that this is not because of political or ideological reasons, or failure to appreciate Germany's assistance."
---
Greece in the 1980s: A correspondent remembers - eKathimerini
"...[Andreas Papandreou] described the United States as the "metropolis of imperialism" and demanded a postponement, at least, of the deployment of new American missiles in Europe. He refused to join his European Community partners in condemning the Soviet Union for shooting down a Korean airliner. He talked a lot about turning the Balkans into a nuclear-free zone. We duly wrote articles about all these things. But on matters of substance, he dealt prudently with the Americans. They kept their military bases, their Voice of America transmitters and the right to store tactical nuclear weapons in Greece. Small wonder that one colleague, writing for a leading American newspaper, was quietly discouraged by the American embassy from reporting too much about Papandreou's rhetorical outbursts. "Don't take the rhetoric too seriously, you know he doesn't mean it," the embassy told her."
---
The profile of the Greek tax-evader: Ernst & Young report - Protothema
"The report, which was based on criteria such as profession, place of residence and family status and presented at an event organised by the Hellenic Federation of Enterprises (SEV) and Research and Policy Institute "diaNEOsis", revealed that the profile of a person most likely to commute tax evasion was a professional doctor with a private practice who resided in an urban area in southern Greece with many children. The total tax evasion is estimated to stand at 6-9% of the GDP (11-16 billion per annum). "
March 25, 2017
Greece Needs a 'National Reboot', ND Leader Mitsotakis Says - GreekReporter
"The Revolution of 1821 was a struggle for freedom, independence and justice. This day reminds us that Greeks can take their fate into our own hands even when in the darkest conditions. It is not enough for us, however, to be proud only of our past. The heritage of our ancestors must be the springboard for moving forward.

Today we need a revolution of logic, a revolution of the self-evident. To leave behind the mistakes, the lies and self-deception that led us into crisis and decline," Mitsotakis said."
---
Greece Receives Three Bids in Long-Running Port Saga - WSJ
"Greece has received three binding bids for a majority stake in its second-largest port in Thessaloniki, the state privatizations agency said on Saturday, as the country tries to privatize parts of its infrastructure to meet bailout terms."
---
Senior German ministers bicker over more money for Greece, EU - Reuters
"And during a visit to Greece Gabriel, who is also vice chancellor, held out the prospect of more aid for the troubled country. While Germany has demanded austerity in Greece in return for aid under Merkel, the SPD is ready to put a bigger emphasis on growth and investment.

Wolfgang Schaeuble, a veteran member of Merkel's Christian Democrats (CDU), told Deutschlandfunk radio that Gabriel's suggestion to give the EU and Greece more cash "goes in the wrong direction completely" and sent the wrong message.

"I was annoyed that while in Greece Mr Gabriel gave the Greeks a message that doesn't help the Greeks but rather makes it more difficult for them to make the right decisions," Schaeuble said."
---
March 24, 2017
Greece to Break Off Face-to-Face Review Talks as Issues Persist - Bloomberg
"Greece is edging closer to a repeat of the 2015 drama that pushed Europe's most indebted state to the edge of economic collapse, as the government in Athens and its creditors disagree over reforms to the pension system and the labor and energy markets. Greece needs to complete the review in order to get the next portion of its aid payment before it has more than 7 billion euros ($7.6 billion) of bonds come due in July."
---
Greece to support Rome EU declaration, but wants backing on labor reforms - Reuters
"Greece had threatened not to sign the Rome declaration, demanding a clearer commitment protecting workers' rights -- an issue on which it is at odds with its international lenders who demand more reforms in return for new loans.

The disagreements among Athens, the EU and the IMF -- which has yet to decide whether it will participate in the country's current bailout -- have delayed a crucial bailout review. Greece faces big debt repayments in July."
---
Greece's primary surplus in 2016 higher than forecast - EU official - Yahoo Finance
"Under Greece's 86 billion euro ($92.9 billion) bailout programme, the third since 2010, Athens was supposed to reach a primary surplus - the budget balance before debt-servicing costs - of 0.5 percent of GDP last year.

The EU official said the Greek authorities estimate now that last year's primary surplus will be "around 3.5 percent of GDP", although the final figures will be known only in April. This would be already in line with Greece's target for 2018, when the programme ends."
More Coverage:
Greece's primary surplus in 2016 higher than forecast, says EU official - eKathimerini
---
EU's Juncker pushes for preliminary deal on Greek bailout by April 7 - eKathim
"The IMF is pushing Greece to adopt such reforms as a condition to join an 86 billion euro ($93 billion) bailout program, so far funded only by eurozone creditors.

...The next meeting of eurozone finance ministers is scheduled in Malta on April 7. "Ideally, we should be in a position to present a staff-level agreement by then and we will continue to support you to that end," Juncker said."
---
March 23, 2017
EU hopes Greece will drop objections to unity declaration - Reuters
"Greece has threatened not to sign the Rome declaration setting out the bloc's vision of its future. It wants the text to make a clearer commitment to protecting workers' rights - an issue on which it is at loggerheads with international lenders who want it to adopt more reforms in return for new loans."
---
New survey paints grim picture of shuttered businesses - ekathimerini
"Four in 10 Greek businesses (40.3 percent) consider it likely that they will have to close shop within the year, according to a survey by the Hellenic Confederation of Professionals, Craftsmen and Merchants (GSEVEE), presented by the ANA-MPA news agency on Thursday.

According to the survey, around 18,700 businesses will close in the first six months of the year, forcing thousands to join growing unemployment lines in the crisis-hit country."
---
Regling says he believes IMF will be part of Greek program - Capitol Gr
"The head of the European Stability Mechanism (ESM) Klaus Regling expressed his belief that the International Monetary Fund (IMF) will participate in the Greek program, during an event in Brussels on Wednesday titled "25 Years of Maastricht Treaty - The Future of EMU".
---
Greece eyes bailout deal with lenders within April - Reuters
"Athens is eyeing what it calls a "comprehensive deal" with lenders which would also address the intentions of creditors vis-a-vis debt restructuring for the crisis-hit country.

It wants a deal on "technical reforms" covering pending energy and labor issues before moving on to discussions on medium-term measures for debt and agreeing on levels of primary surpluses."
---
9 Years Later... Greece Is Still In A Debt Crisis! - Zero Hedge
"Greece has had nine different governments since 2009. At least thirteen austerity measures. Multiple bailouts. Severe capital controls. And a full-out debt restructuring in which creditors accepted a 50% loss.

...Right now, in fact, Greece is careening towards another major chapter in its never-ending debt drama."
---
Two Greeks Among Injured of London Terrorist Attack, Both in Good Health - Greekreporter
"The terrorist killed two people and injured 30, then stabbed a police officer to death before he was shot down by British police. "
---
---
NEWS ARCHIVE - Mar 2017
---
---



---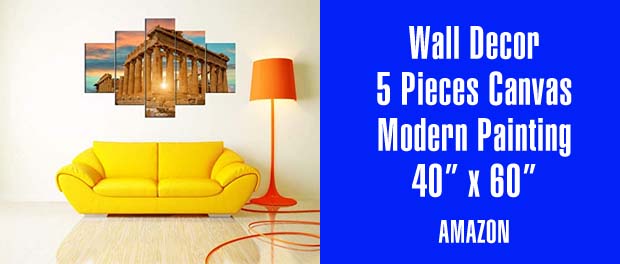 Parthenon Temple on the Acropolis of Athens Greece Artwork Wall Decor 5 Pieces Canvas Modern Painting Wall Art Home Decoration for Living Room Pictures HD Printed Framed Ready to hang(60''Wx40''H)
---
Create Amazon Business Account - save time and money on business purchases with competitive B2B prices and discounts