Greece and the economic crisis 2017
NEWS ARCHIVE - March 8 - March 15
---
March 15, 2017
World's most beautiful street located in Greece - Neo Kosmos
"The wining image submitted by freelance photographer Konstantinos Stamatelis, shows a narrow street in the village of Molyvos, lined with small shop fronts and a 'roof' covering formed by nature itself with the overgrowth of trees and flowers."
---
Gov't fears backlash as it scrambles to wrap up bailout talks - eKathimerini
"Wednesday's elections in the Netherlands will mark yet another missed deadline for the government as it had aimed to conclude the second review of Greece's third bailout before major European countries head to the polls, as the results could narrow the path to a deal even further.

With an agreement highly unlikely by then, the leftist-led coalition has now set its sights on breaking the stalemate by the April 7 Eurogroup in Malta, as was indicated by Prime Minister Alexis Tsipras last Friday in Brussels, when he said that a comprehensive deal, including measures beyond 2019, is possible by early April."
---
'If Turkey-EU deal fails, 200,000 refugees will come to Greece' - Middleeastmonitor
"In an interview with Greece's Skai TV, [Vice President of the New Democracy (ND) party, Adonis Georgiadis] said that if the conflict between Turkey and European countries continues, Ankara will end the refugee deal.

...According to official statistics, the number of migrants and refugees that have reached Greece has declined by 95 per cent a year after the EU-Turkey deal was implemented. Greece is currently sheltering more than 60,000 refugees."
---
March 14, 2017
Greek import price index up 12.1 pct in January - AMNA
"Greece's import price composite index in the industrial sector grew 12.1 pct in January this year, compared with the same month in 2016, after a 6.7 pct decline recorded in the 2015/2014 period, Hellenic Statistical Authority said on Tuesday."
---
Banks poised to take action against thousands of 'uncooperative' borrowers - eKathimerini
"Some 300,000 borrowers and loan guarantors face severe action from Greek banks after failing to respond to warnings of overdue debts under a Code of Ethics process launched in 2015.

Greek banks have sent letters to around 1.2 million borrowers who have delayed paying back their loans, labeling 25 percent of them as "uncooperative" after they failed to reply to requests for a settlement."
---
One in Two Private Sector Employees in Greece Earn Less than €800 per Month - Greekreporter
"The monthly salaries of employees in the private sector rank as follows: 51.6 percent earn less than 799 euros, 15.2 percent earn less than 499 euros, 23.6% earn 500 to 699 euros and 12.8 percent earn 700-799 euros), 17.3 percent earn 800 to 999 euros, 17.8 percent earn over 1,000 euros(11.1 percent between 1,000 and 1,299 euros and 6.7 percent above 1,300 euros)."
---
Turkish Foreign Minister calls Greek Defence Minister a "racist and spoilt brat" - Protothema
"...the top Turkish diplomat [Melvut Cavusoglu] targeted Greek Defence Minister Panos Kammenos calling him a "racist" and a "spoilt brat". After claiming Greek President Prokopis Pavlopoulos was ignorant on matters of international law, Mr. Cavusoglu went on a new rant in an interview with the Turkish newspaper "Miligazete", attacking the Greek Defence Minister for being the leader of a racist party the ANEL (Independent Greeks)... "
---
Princeton's Hellenic Studies Center gets new Athens home - eKathimerini
Interview with Dimitri Gondicas
"The aim of the new center in Athens is to offer support to high-level research in the humanities and social sciences and to promote Hellenic studies. We aim to bolster our already active scientific cooperation network with Greek academics and Greek institutions."
---
The Refugee Archipelago: The Inside Story Of What Went Wrong In Greece - Huffington Post
"A sequence of events beginning with the record refugee flows into Greece in June 2015 and culminating in the photograph of drowned Syrian toddler Aylan Kurdi woke the world to the refugee crisis. The effect of that awakening was to tip the entire humanitarian complex toward Greece, sending resources tumbling out of the developing world into the European Union. It prompted an unprecedented number of international volunteers to descend on the country, the U.N. refugee agency to declare an emergency inside the E.U., and the E.U. to deploy its own humanitarian response unit inside Europe for the first time. In the process, it became the most expensive humanitarian response in history, according to several aid experts, when measured by the cost per beneficiary."
---
March 13, 2017
New Poll in Greece Puts New Democracy 16.5 Points Ahead of SYRIZA - Greekreporter
"New Democracy leads the race by 16.5 percentage points over SYRIZA on vote intention, a new opinion poll published on Sunday shows.

According to the survey conducted on behalf of Eleftheros Typos, New Democracy would get 31 percent of the vote if general elections were held now, compared to 14.5 percent for SYRIZA."
More Coverage:
Poll puts ND 16.5 percentage points ahead of SYRIZA - eKathimerini
---
How does jailing the statisticians fix Greece's financial crisis? It doesn't - washingtonpost
"The Greek government's ongoing attempts to imprison Andreas Georgiou will reshape the Greek economy — in ways that may last for decades. Georgiou is a statistician who's been accused by the government of inflating data on the size of the Greek deficit. He's awaiting trial — for telling the truth about the Greek economy.

Georgiou has been acquitted in four trials since 2011, most recently in December. Greek politicians are still pushing the case, which is now at the Greek Supreme Court. Georgiou appears to be a convenient scapegoat for Greek politicians trying to avoid blame for their country's ongoing financial crisis."
---
Where did the money go? - eKathimerini
"A recent report in The Guardian titled "Where did the money go? How Greece fumbled the refugee crisis," makes one wonder what on earth has happened to the $803 million that has come into Greece."
This is the article:
Where did the money go? How Greece fumbled the refugee crisis - UK Guardian
---
March 10, 2017
Greece, creditors end talks with no breakthrough - Marketwatch
"Greece and its international creditors completed another round of bailout talks without a breakthrough Thursday, dashing hopes for a deal at a meeting of eurozone finance ministers on March 20.

Officials representing creditors ended their mission in Athens and negotiations will continue in the coming days from afar, according to Greek and EU officials."
---
Greece to get EBRD funding for renewable energy drive - Businessinsider
"Greece is heavily dependent on imported fossil fuels and the EBRD aims to mobilize much-needed investment and financing to help exploit the country's huge potential for renewables, including solar, wind, biomass and geothermal power."
---
Greece: IMF says key difference remain in bailout talks - Seattlepi
"In Athens, government spokesman Dimitris Tzanakopoulos said the main point of friction was Greece's bid to restore collective wage bargaining."
---
Greece looks to become top tourism destination in the world - Neoskosmos
"When asked if he thought the number of tourists would increase if Greece were to leave the eurozone, he rejected the idea as disastrous for local inhabitants.

"If Greece returns to the drachma we will have millions of tourists, but Greeks will be [living] in a ghetto, behind a wall that will separate them from the tourist areas, in the logic of the Caribbean. It would be an absolute disaster," he [SETE Andreas Andreadis] said."
---
Mitsotakis, Greece's Main Opposition Leader on Debt, Populism, Trump - Bloomberg
Video Interview
"The leader of Greece's main opposition party Kyriakos Mitsotakis says that while his party is backing structural reforms attached to the country's bailout, he won't lend any support to demands for the additional belt-tightening measures demanded by creditors. The head of the New Democracy Party, which is leading by a wide margin in the polls, spoke exclusively to Bloomberg's Caroline Connan in a visit to Brussels on Thursday."
---
'Comprehensive solution' for Greek programme in April, PM Tsipras says - AMNA
"According to Tsipras, a growth prospect was the "only choice we have" in order for the programme and the country's debt to be sustainable, as well as to finally achieve its main goal and exit the crisis.

The Greek prime minister also referred to the refugee and migration crisis, noting a need to speed up the relocation process and fully staff EASO services on the Greek islands. Even though this had started moving, he said, it was still very far from the targets. In addition, he asked for a fair revision of the European asylum system."
---
George Papandreou re-elected President of Socialist International - Protothema
"During his acceptance speech Mr. Papandreou touched on the modern challenges facing the world, including the rise of populism and nationalism around the globe. "Our priority is to gain and maintain power. Our priority is to use this power for the benefit of all", he underlined. In a direct allusion to US President Donald Trump, Mr. Papandreou said that the socialists invested in humans and education to crate a better world, instead of building walls, producing weapons and taking unilateral decisions."
---
March 9, 2017
EBRD commits EUR300 million to renewable energy development in Greece - thinkgeoenergy
"The European Bank for Reconstruction and Development (EBRD) continues its efforts to support renewable energy development. EBRD has now announced a EUR 300 million finance facility to help strengthen the green economy in Greece.

The EBRD Board of Directors has approved a framework committing up to EUR 300 million ($317 million) to finance renewable energy investments in the country."
---
Greek unemployment steady in December, eurozone's highest - ekathimerini
"The number of officially unemployed reached 1.1 million people. Hardest hit were young people aged 15 to 24 years, with their jobless rate dropping to 45.2 percent from 50.1 percent in the same month a year earlier."
---
March 8, 2017
The claims of Grecovery turned into a continuing economic depression for Greece - Notayesmanseconomics
"If we look at the pattern then it has turned out to be what economists call an "L" shaped recovery or in fact no recovery at all. What I mean by this is that the Greek economy as measured by GDP (2010 prices) peaked at 63.3 billion Euros as the output for the second quarter of 2007 and then fell to 46 billion Euros per quarter as 2013 started and is still there. Remember all those who proclaimed that so-called "Grecovery" was just around the corner? Well it was a straight road and in fact had a gentle decline as the latest quarter had a GDP of 45.8 billion Euros."
---
IMF Chief Urges Greece to Implement Reforms, Europe to Offer Debt Relief - Greek Reporter
"Speaking at an event organized by the CSIS (Center for Strategic International Studies) the IMF head argued that the Greek debt issue must be resolved and Greece must proceed with reforms in order for the Fund to participate financially in the bailout program."
---
U.S.-Israel-Greece Combine Navies For East Mediterranean Exercise - Breitbart
"The trilateral Noble Dina exercise between the American, Israeli and Hellenic navies will begin later this month, with nearly a dozen surface ships, submarines and related air assets scheduled to engage in joint reconnaissance, counterterror and antisubmarine warfare training."
---
Greece's Debt Relief Conundrum - zcomm
Interview/Article:
"SHARMINI PERIES: So, Leo, I guess the big issue is these new structural reforms that the troika wants to examine. What are these structural reforms they want to, that they want to take a look at?

LEO PANITCH: Well, what's going on is that they're still holding this carrot of the 86 billion euro that was agreed a year and a half ago. When Tsipras was forced to back down, after winning the referendum, saying they wouldn't accept anymore. And essentially the Europeans said, either get out of the Eurozone — and implicitly, I think the EU — or accept a new round of cuts. And it's indicative, both of the resistance of the government, and the frustration of the Europeans, with the — what they consider a communist government still — to accept many of the conditions."
---
Greece versus its creditors: Who will blink first? - Zerohedge
"The review also concluded that there was hope of a continued recovery through 2017 with a 2.7% increase, and a 3.1% GDP rise in 2018. However, this was predicated with a very important proviso: That the soon to be held review (planned for February 20th) of Greece's dept relief package concludes quickly; and that Greece may need to embrace additional austerity measures as a result.

And that sent dark clouds to cover the tiny ray of hope!

Greek prime minister's leftist coalition government was quick to dismiss any suggestions of yet more austerity measures. Hardliners within the coalition believe that the Hellenic nation is being asked to tighten its belt more than what was previously agreed – without anything substantial to show in return."
---
---
NEWS ARCHIVE - Mar 2017
---
---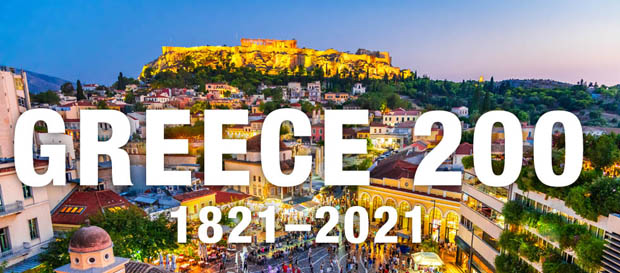 ---
You will see Amazon links on this web site because I am an Amazon affiliate. I earn from qualifying purchases.
Fodor's Essential Greece: with the Best Islands (Full-color Travel Guide)
---

---